Connect and Learn at the Ohio Homeschool Convention
If you are considering homeschooling, the range of options and the challenges of educating your child may seem overwhelming at times.
The best help you can get often comes from people who've been there, and the Ohio homeschool convention gives you ample opportunity to connect, learn, and benefit from others' experiences.
DoNotPay takes an in-depth look at the Ohio homeschool convention and how it can help you!
The Pros and Cons of Homeschooling
Homeschooling involves taking your child out of the mainstream school system and educating them at home.
Parents choose this route for a variety of reasons, including:
Whatever the reason, homeschooling offers an opportunity to tailor-make your child's education, schedule classes when it suits, and use a wide range of teaching methods to fire your child's imagination.
The downside of homeschooling is that it is a huge responsibility and takes a lot of planning, particularly when you're starting out.
A convention is the right place to go to learn how to successfully manage the transition into homeschooling!
What Is the Ohio Homeschool Convention All About?
The Ohio homeschooling convention is a hub for homeschool teachers, education experts, industry representatives, and legal advisors to meet and exchange views.
The convention features:
Keynote speakers
Workshops and breakout sessions
A children's convention
Special events
A trade fair
Keynote Speakers
Several high-profile speakers will attend the convention, including experts on:
Education and pedagogy
Child psychology
Parenting
Workshops and Breakout Sessions
A full program of workshops and breakout sessions covers topics including teaching methodology, the legal aspects of homeschooling, and dedicated curriculums, such as the following:
Children's Convention
To help parents get the most out of the convention, events for children and homeschool students take place during the convention.
Special Events
The Ohio convention isn't all work and no play—a variety of special events such as a comedy night, meet-and-greet sessions with celebrity educators, and fun family activities are planned to relieve the seriousness.
Trade Fair
The extensive trade fair at the Ohio convention features suppliers and providers from across the homeschooling world, including:
What Happens After the Convention?
The idea of a convention is to send you away motivated and full of new ideas on running your homeschool.
Reality soon returns, though, with the day-to-day routine of homeschooling often consigning your enthusiasm to the back of your mind.
Help is at hand, though, in the shape of local:
Homeschool associations
Co-ops
These groups can help you understand the homeschooling landscape in your state, leverage connections and contacts from the homeschool community, and solve problems with others who have already faced them.
As examples of what homeschool associations can do to help you, DoNotPay has info on several state-based organizations, including:
The most difficult step in homeschooling is the first one—getting started, especially if you're doing it in the middle of the school year.
This is where conventions and homeschool associations can help with advice. DoNotPay can also help with hands-on action!
Starting Your Homeschool Journey
The first step in your homeschool journey is to make sure you comply with your state homeschooling laws.
We have all the info you need on each state, as follows:
Each state has specific requirements, but most states have laws in place concerning:
The last point is crucial.
You can have everything in place, but if you do not submit a letter of intent to your school superintendent in good time, you could fall foul of truancy laws and have your homeschooling plans ruined.
This is where DoNotPay can offer practical help—we can take the task of notifying the authorities off your to-do list by for you!
Free Yourself Up To Concentrate on the Important Homeschooling Tasks With DoNotPay!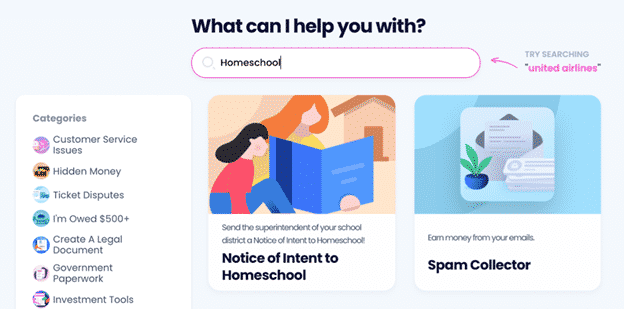 DoNotPay wants you to keep the enthusiasm you found at the Ohio convention and not get bogged down with bureaucracy!
Our Notice of Intent to Homeschool feature automates the crucial task of notifying your school district—we will create the letter you need in the correct format and with the right information in it. We can even get it notarized and send it automatically on your behalf!
Here's all you need to do:
Go to our Notice of Intent to Homeschool feature
Answer a few questions regarding your child
Job done—your letter will be ready in an instant.
You can choose to print it out and take it from there or have it notarized and delivered by us!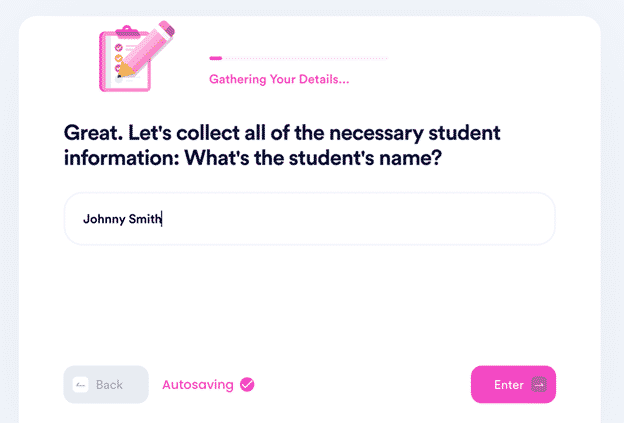 Don't Let Admin or Legal Issues Wear You Down—Hand Them Over to DoNotPay
Do you believe you may have some missing assets? Use DoNotPay's nifty product before the government claims them! Have you ever wanted to enter sweepstakes without purchasing anything? Our app will sign you up for them quickly! Trying to figure out how to reduce your property taxes or utility bills? DoNotPay can show you the way. Want to avoid getting charged for free trials that never fail to auto-renew into paid subscriptions? We'll help you cancel them before they expire.
Anything else you may need? Check out how our app can:
Check Out Our Other Robust Products
It doesn't stop there—DoNotPay can help you send a defamation demand letter, create passport photos, get gift card cash back, get any document notarized, request access to public records, claim insurance and warranty, request a college application fee waiver, appeal parking tickets, and much more.
Sign up now to get access to any of our products for one low monthly fee!