Do You Have To Hire a Homeschool Teacher? DoNotPay Answers
As a parent who chose to homeschool, you want your child to have the best education possible. Homeschooling has its difficulties, one of which is finding a qualified homeschool teacher, but is hiring one actually necessary?
DoNotPay has detailed guides on various homeschooling issues, such as this one. if you need us to send a letter of intent to homeschool in your stead and start homeschooling hassle-free.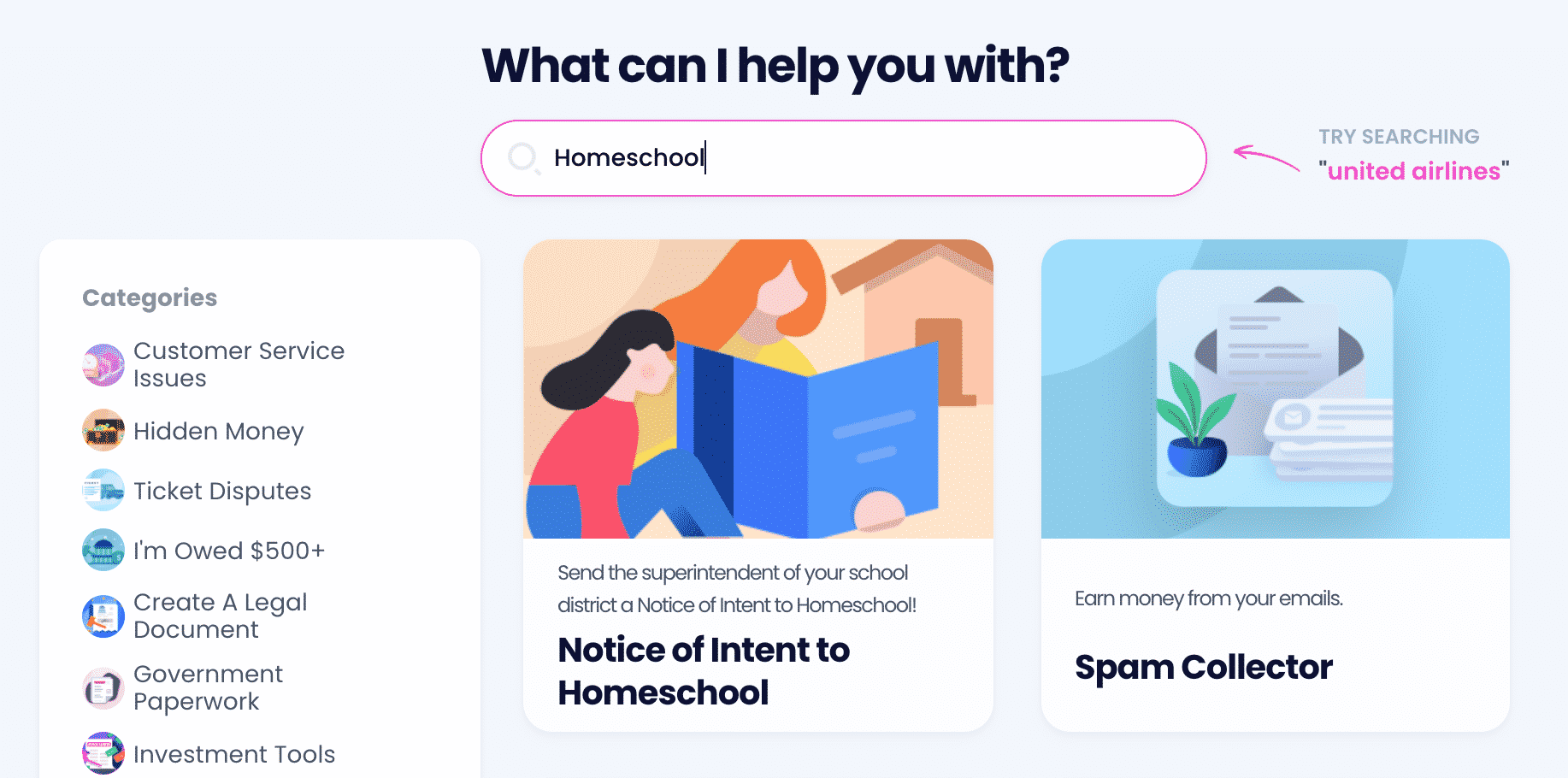 What Is a Homeschool Teacher and What Are Their Duties?
A homeschool teacher is a person who teaches one or more homeschooled students, providing them with primary education on various subjects. The responsibilities of a homeschool teacher may include:
Planning the curriculum and lessons
Teaching using various learning methods (audio, visual, kinesthetic, etc.)
Choosing and acquiring all the necessary teaching supplies and materials (parents usually pay for them or they are provided by the private school)
Assessing the students via all sorts of tests
Providing the meals for the students (if the teacher is also a childcare provider)
Keeping an individual portfolio for every student
Organizing field trips for students
Discussing the teaching plans, student progress, and parent involvement with the parents
How To Find a Homeschool Teacher
You can find a homeschool teacher fast by googling the keyword alongside the name of your town or area (e.g., homeschool teacher Milwaukee). Here are some websites to get you going:
Finding a homeschool teacher is not difficult, but hiring the right one for your child is. An excellent teacher is the one who is:
Dedicated to their job and puts a lot of effort into it
Experienced and has the confidence and expertise that resonates with the student
Energetic, encouraging, and effective in their teaching
Understanding and supportive of the student regardless of their progress or capabilities
Tech-savvy enough to cover the modern methods of learning
How Much Does It Cost To Hire a Homeschool Teacher?
Homeschool teacher fees make up a good chunk of the homeschooling cost. Teachers usually charge by the hour, and the average rate in America is $26. If you multiply their fee by the number of homeschool hours (that are usually state-mandated), you'll know the approximate figure that will cover the teaching expenses.
Other Homeschooling Expenses
Besides covering the homeschool teacher's fee, you'll also have to set aside enough money for many other expenses of homeschooling, as shown in the table below:
Costs of Homeschooling
Brief Explanation
Curriculum
Buying a

curriculum

for the school year is not cheap as their prices range from $300 to $600
Teaching resources
Teaching supplies and materials can cost up to $250 a year
Field trips
Taking students to a zoo, museum, art gallery, and similar amounts to about $350 per year
Extracurricular activities
Doing sports or signing up for a dance, arts, or music class is vital for the development of any child, and the costs of these activities vary
Other expenses
Joining a homeschool organization is beneficial, but it may cost a lot depending on the membership fees
Is Hiring a Homeschool Teacher Necessary?
Hiring someone else to teach your children isn't necessary. In most states, you can teach your kids, but note that some require parents to have appropriate certification. That's why you should get familiar with homeschool laws and regulations in your state before you start homeschooling.
If you don't have enough money to cover the teacher's rates, you should consider homeschooling your kid yourself, provided that your state's law allows it. Besides helping you save money, teaching your children on your own will also help you bond with them even more.
The Letter of Intent To Homeschool Explained
A common requirement for parents that want to teach their children in most states is formally expressing their intent to homeschool by sending a notice in writing to the school district.
If you're not sure how to write the letter, DoNotPay can help you draft one with little to no effort with our Notice of Intent To Homeschool feature. We can send this document to the superintendent of the district a student belongs to and allow you to start homeschooling stress-free.
DoNotPay Is Here To Help You Start Homeschooling Your Child Hassle-Free
Homeschooling isn't easy, and that's why DoNotPay is here to provide answers to all your questions, such as:
If you decided to teach homeschooling on your own and need to send the notice of intent to homeschool, we can help you do that in only five minutes. Here's what you should do:
Open our Notice of Intent to Homeschool product
Enter the information about yourself and the student
You can then choose whether you want us to:
Send you the notice in a PDF file
Help you get the document notarized online
Mail the notice to the school for you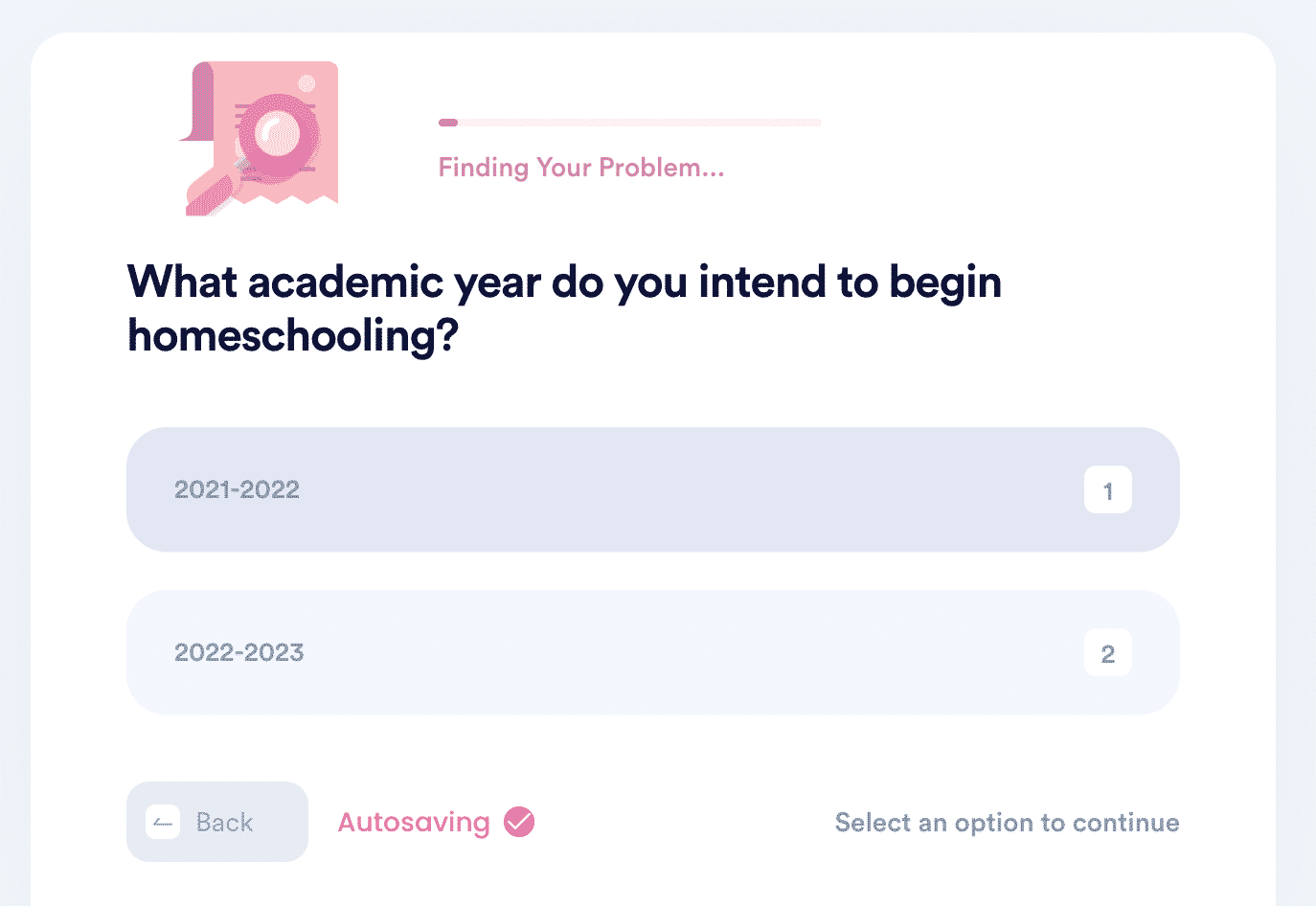 DoNotPay's Features Are Here To Make Your Life Easier
To simplify confusing bureaucratic procedures, we developed a number of features you may find super useful. Sign up for our app and let us assist you in:
DoNotPay Doesn't Stop There!
Assisting you with bureaucratic tasks is only a fragment of what DoNotPay can do—we have a lot more nifty features to offer! We can show you how to:
Struggling to draw up a financial aid appeal letter, an HR complaint, or a child travel consent form? DoNotPay is here to do it in minutes!