What Is Required To Homeschool Your Child—The Breakdown
Many prospective homeschooling parents find it difficult to wrap their heads around the legalities of homeschooling. It can be complicated to figure out how to start homeschooling and what is required to homeschool your child.
Checking state homeschool rules and requirements is one of the first steps you should take.
What Are the Requirements for Homeschooling Parents?
The legal requirements for homeschooling in the United States differ from state to state. Some states have few, if any, regulations.
You don't need to be a certified teacher to be able to homeschool your child in the U.S., but depending on your location, you may need to have a high school diploma or GED.
Common requirements a homeschooling parent may encounter in any state are:
Withdrawing their child from public school (if they're enrolled)
Filing necessary paperwork
Homeschooling for a predetermined number of days or hours a year
Teaching certain subjects
Keeping records and tracking the student's progress
Reporting to a certified teacher
Does a Parent Have To Be Present for Homeschooling?
Parents who work full-time outside of the home may find it hard to fit homeschooling into their schedules.
In some cases, laws explicitly state that homeschooling is only permitted if parents are educating their own children. Other states permit certified tutors to homeschool people's children. This means that a parent doesn't always have to be present for homeschooling.
Tips for Homeschooling Beginners
For a successful start of your homeschooling journey, which can be even in the middle of the school year, consider the following tips:
Find the right teaching method
Understand your child's learning style
Find or create a quality curriculum
Look for interesting online courses
Create a homeschool area in your house
Stick to a timetable whenever possible
Join a local homeschool group or a co-op
Get in touch with other homeschooling families
Hire someone else to teach certain subjects if you feel like you're not competent enough (depends on your location)
What Is the Average Cost of Homeschooling in the U.S.?
Homeschooling isn't as cheap as most people think. The average cost of homeschooling in the U.S. ranges from $700 to $1,800 per child per school year.
The usual expenses include:
Higher home energy bills
Tutoring—if you don't feel comfortable teaching certain subjects
Membership in homeschool groups
Curriculum purchase
Entrance fees for visits to museums, zoos, and other educational locations
Textbooks, workbooks, and craft materials
Educational software
Is Homeschooling Better Than a Public School?
There are various reasons why people choose homeschooling over public school. Some of the most prevalent ones are:
Religious concerns
Safety concerns
Dissatisfaction with the curriculum or teaching technique
Learning difficulties
Peer pressure
Both homeschooling and attending public school have their pros and cons. Discover some pros and cons of homeschooling in the table below:
Pros
Cons

Flexible schedule
One-on-one teaching
The right to create your own curriculum
Parent-child bonding
Safe learning environment

Unskilled homeschoolers
Lack of structure
High cost
Less socialization
No time away from the kids
What Are the Best States for Homeschooling?
Although homeschooling is allowed in all 50 states, the path to educating your children at home will depend on where you live.
Each state has its own set of rules, and not all of them are homeschool-friendly.
The easiest states to homeschool have few requirements for homeschool teachers—they are not obligated to teach specific subjects nor homeschool for a certain number of hours each day.
The best states for homeschooling are:
Alaska
Idaho
Mississippi
Nebraska
New Mexico
Utah
Wisconsin
Wyoming
What Is the Letter of Intent To Homeschool?
A homeschool letter of intent is a formal notice a parent should send to their school district to inform them that their child will be homeschooled instead of attending public school.
Submitting this document is usually the first step you need to take once you decide on homeschooling. Keep in mind that it is not mandatory in every state. Take a look at the table below to find out whether your state requires one:
Trying to write this letter by yourself can be a nightmare. If you're not sure you can do it correctly—rely on DoNotPay!
Sign up for our service and get a personalized letter of intent to homeschool in minutes.
Generate a Letter of Intent in Minutes With DoNotPay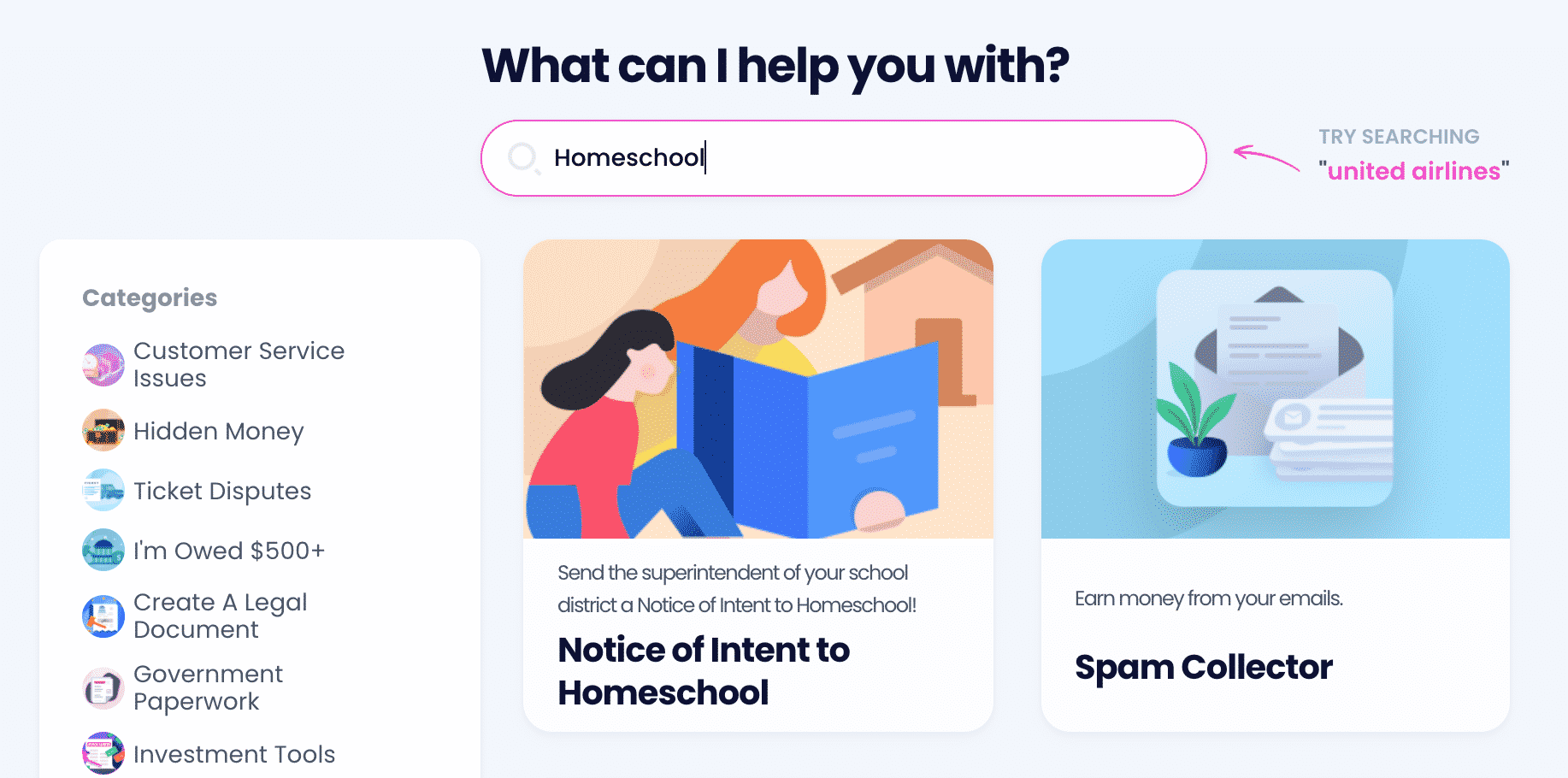 Drafting any kind of formal document could give you a headache—letter of intent included. Don't waste time on this tedious and time-consuming task when there is a much simpler option. To start the process of drafting the letter of intent to homeschool through our app, all you need to do is:
Find the Letter of Intent to Homeschool feature
Answer a few questions from our chatbot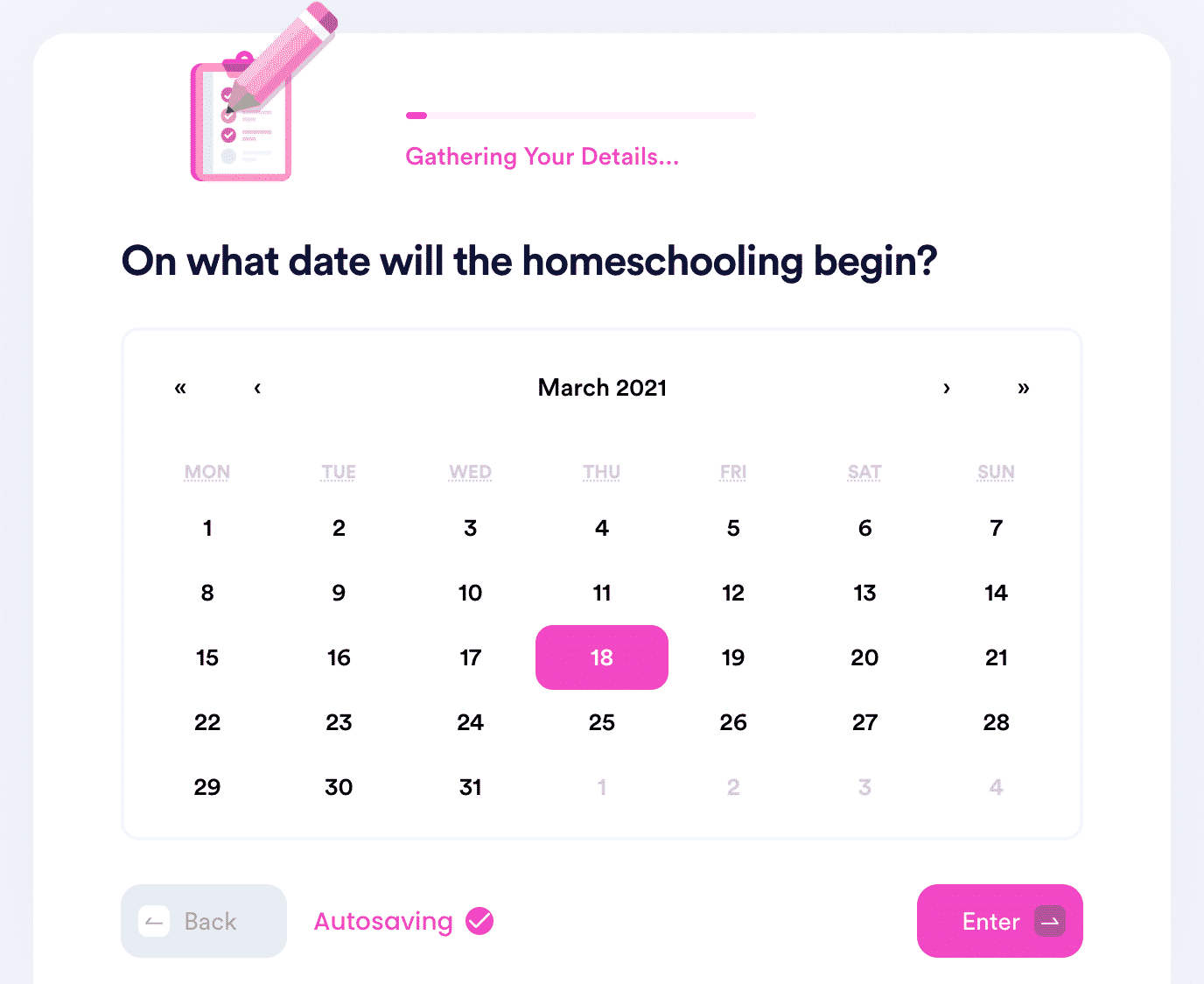 Once you've completed all three steps, we'll generate a personalized letter of intent to homeschool and send it directly to your school district.
Another option is to download the PDF document and send it yourself. You can also get it notarized virtually through our app.
Resolve Any Other Issue You Have Swiftly With Our Assistance
The world's first robot lawyer is capable of tackling any legal or administrative task in your stead. We can draw up any legal document for you—including a power of attorney, child travel consent form, and divorce settlement agreement, to name just a few—help you sue any company or individual in small claims court, send a letter of warning to your noisy neighbors, help you reduce your property taxes and utility bills, and a lot more.
Sign up now if you want to stop email and text spam, claim any insurance or warranty, appeal parking tickets, schedule a DMV appointment in a flash, mail anything worry-free, find your missing assets, create passport photos, or contact embassies and consulates effortlessly.
Let DoNotPay Guide You Through Any Obstacle
Are you tired of corporations not taking their customers seriously? So are we, and that's why our nifty product will assist you in suing any company or individual in small claims court!
If you don't want to have any online service take advantage of you, you can sign up for any free trial completely risk-free with our virtual credit card's help, cancel any membership on time, and demand a refund or chargeback in a split second. DoNotPay can also draw up an airtight return request and send it to a company of your choice instantly.