The Essential Info About Homeschooling in NH
If you are serious about taking your child out of school and teaching them at home, you must thoroughly research your local homeschooling laws. Education is not under federal jurisdiction, so not all states have the same rules and requirements.
Will homeschooling in NH be an easy endeavor or a real ordeal? to understand the homeschooling laws in New Hampshire and prepare for the process on time.
Everything You Should Know About New Hampshire Homeschool Laws
According to New Hampshire law, homeschooling is "an enduring American tradition and right." Parents can choose the appropriate educational alternative for their children. The Granite State falls into the group of states with moderate regulations.
These are the steps to take to abide by the NH homeschooling law:
Notify the authorities that you are going to homeschool your child
Teach the required subjects
Keep records
Evaluate your child every year
Notify the Department of Education if the

student

graduates before the age of 18
Notifying the Authorities About Your Intent To Homeschool in NH
Parents in New Hampshire need to file a notice of intent to the participating agency (commissioner of education, principal of a nonpublic school, public school district superintendent) in the following situations:
When moving to a different school district and changing participating agencies
Within five days of starting to homeschool
You must state the name, address, and birthday of your child in the notice. If you decide to stop homeschooling, you will also need to provide written notice of termination. This document needs to be sent to the appropriate participating agency within 15 days.
Note that you don't have to write the letter of intent to homeschool yourself because DoNotPay can do it for you!
Teaching the Required Subjects in New Hampshire
The NH statute requires parents to teach the necessary subjects while homeschooling. Your child should study the following:
Science
Language
Government
History
Mathematics
Health
Reading
Writing
Spelling
Exposure to and appreciation of art and music
The history of the constitutions of New Hampshire and the United States
Keeping Records While Homeschooling in New Hampshire
As a homeschooling parent in New Hampshire, you must keep a portfolio of records and materials. It should consist of:
Reading materials used
Samples of writing exercises
Worksheets
Workbooks
Creative materials used or produced by the child
You need to keep the portfolio for two years.
Child Evaluation as Part of Homeschooling in New Hampshire
You are required by NH law to evaluate your child every year in your home education program. The process entails the following:
The results of any national student achievement test with a composite score at or above 40%. It can be administered by a person meeting the publisher's or provider's qualifications
A written evaluation of educational progress by a certified teacher of your choosing. The evaluation comes after reviewing the child's portfolio and discussing it with you or the student
The results of the state student assessment test administered by the resident district. The composite score needs to be at or above 40%
An evaluation using any other valid measurement tool you agreed upon with the participating agency
You should keep the results, but you don't have to send them to the participating agency. According to the law, the evaluation results can be used to show your child's academic proficiency and allow them to be a part of a public school program. The results should provide a basis for a constructive relationship between the parent and the evaluator and may not be used as a reason to terminate homeschooling.
Notifying the Department of Education if Your Child Graduates Before Turning 18
According to the New Hampshire homeschooling law, children younger than 18 who have completed a high school level homeschool program may be exempt from compulsory attendance. You only need to document the completion of the program by submitting a certificate or a letter to the Department of Education.
DoNotPay Generates a Letter of Intent To Homeschool in a Flash
If you need help drafting a letter of intent to homeschool, you should turn to DoNotPay. We can deliver an airtight legal document to send to the superintendent of your school district. To ease your busy schedule, we can also mail the letter on your behalf.
Here are the steps to follow:
Choose our Notice of Intent to Homeschool product
Provide us with the relevant information about your family and school district
Once you're done with our short questionnaire, you can have your letter of intent notarized online.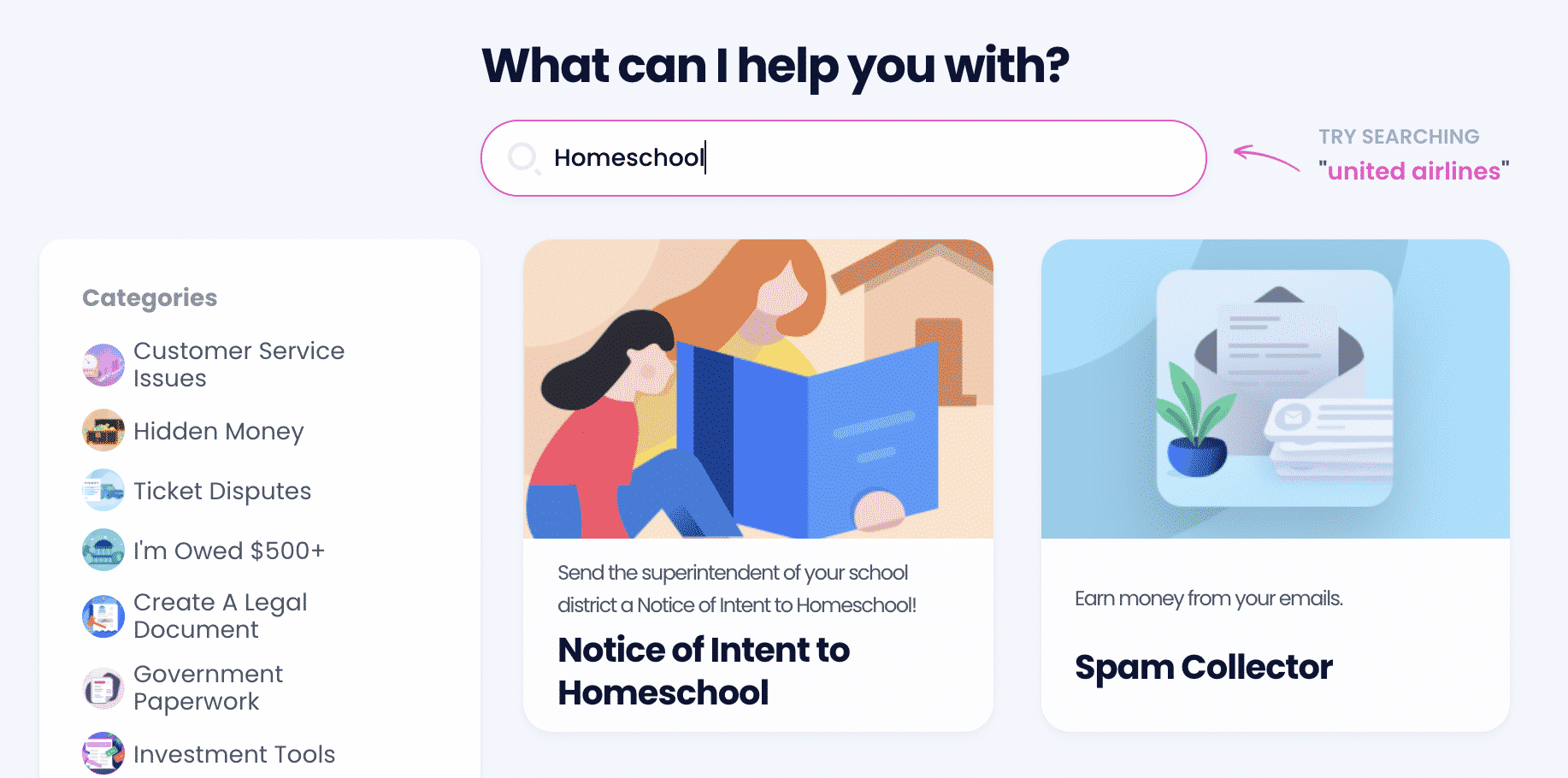 Other Helpful Homeschooling Information
Check out the table below for handy articles on homeschooling:
Curriculum Info
General Homeschooling Info

How to choose a curriculum

High school homeschool curriculum
Can DoNotPay Help Me With Any Other Admin or Legal Issue? You Bet It Can!
DoNotPay's robust products can assist you in fighting companies, individuals, and institutions that have wronged you in any way. Once you subscribe to our platform, we'll ensure that you never have to deal with any of the following again:
Our Product Range Offers So Much More
Subscribing to DoNotPay will bring you peace of mind as you won't have to go through tedious task completion on your own anymore. With our AI-powered app, you can get what's rightfully yours in the blink of an eye.
If you want to claim warranty or insurance, find your missing assets, get compensated for a canceled flight or a violent crime that you were a victim of, track your missing parcel, or draw up a child travel consent form, divorce settlement agreement, power of attorney, or any other legal document, you can count on us to lend you a helping hand.
Sign up today to get access to the entirety of our product range and forget about dealing with time-consuming and energy-draining chores!