The Ultimate Guide to Sign Language Homeschool Curriculum
Sign language can be a fantastic subject to teach a homeschooled student. It's complicated, but learning it brings so much joy and a valuable skill. The problem arises when parents have to find an appropriate curriculum. There are various resources, but not all of them are reliable or provide quality materials.
DoNotPay helps you find the best sign language homeschool curriculum. Not only do we offer a list of great homeschool curriculum providers, but we also teach you all about effective sign language learning.
How Can Your Child Learn Sign Language Within Their Homeschool Program?
There are several options for finding the adequate sign language learning routine when homeschooling your child:
Taking up classes in the local deaf community—Learning languages from native speakers is the best option, so there's no better way to learn sign language than from teachers who cannot talk or hear. Deaf community members often give free classes, which is an excellent chance to adopt the language
Letting your child attend deaf community events—These activities can be a part of their sign language curriculum. You can get all the necessary information from the local communities, such as the exact dates when specific events occur. They usually include casual hangouts, dinners, coffee time, or other forms of socializing. These events would be a perfect opportunity for your child to practice sign language and make new friends
Learning sign language at church—Google nearby churches that have an ASL interpreter. Many of them also offer sign language classes separately or as a part of the congregation program
Taking online sign language courses from home—Learning from books is great but sometimes lacks important language aspects, such as the opportunity to see the formation of the signs. That's why digital courses are an excellent teaching resource
Start teaching your child yourself—If you are deaf or know how to use sign language, you can create your child's curriculum and homeschool them at your place
What Are Some Reliable ASL Homeschool Curriculum Providers?
Whether you want to create a sign language curriculum for your child or fuel up their learning resources, the materials below can make a huge change:
Books
Digital Courses and Resources

"My First Book of Sign Language"—Joan Holub
"Sign Language for Everyone"—Cathy Rice
"Signing Illustrated"—Mickey Flodin
"You Can Learn Sign Language"—Jackie Kramer
"Don't Just Sign… Communicate!"—Michelle Jay
"The American Sign Language Phrase Book"—Barbara Bernstein Fant and Lou Fant
"Talking with Your Hands, Listening with Your Eyes: A Complete Photographic Guide to American Sign Language"—Gabriel Grayson

Lifeprint
Handspeak
Signing Time
Sign It! ASL
Living Language
Rocket Languages online courses
ASL for Homeschoolers by Mr. D Math
ASL Adventure Homeschool Sign Language Course
ASL Virtual Academy
What Else You Must Know About Homeschooling
Taking up sign language classes as part of home-based education is fantastic, but you should first check if you meet specific homeschool requirements. Here are some factors to consider:
How Can DoNotPay Assist You in Creating Your Notice of Intent?
Teaching at home brings on various administrative tasks that can become overwhelming. You should delegate as much as possible and focus on actual education. Why spend hours piling up unsuccessful drafts when DoNotPay can compose a personalized letter of intent to homeschool within minutes? Once you access our app and provide the essential information, we will prepare a ready-made notice tailored for you.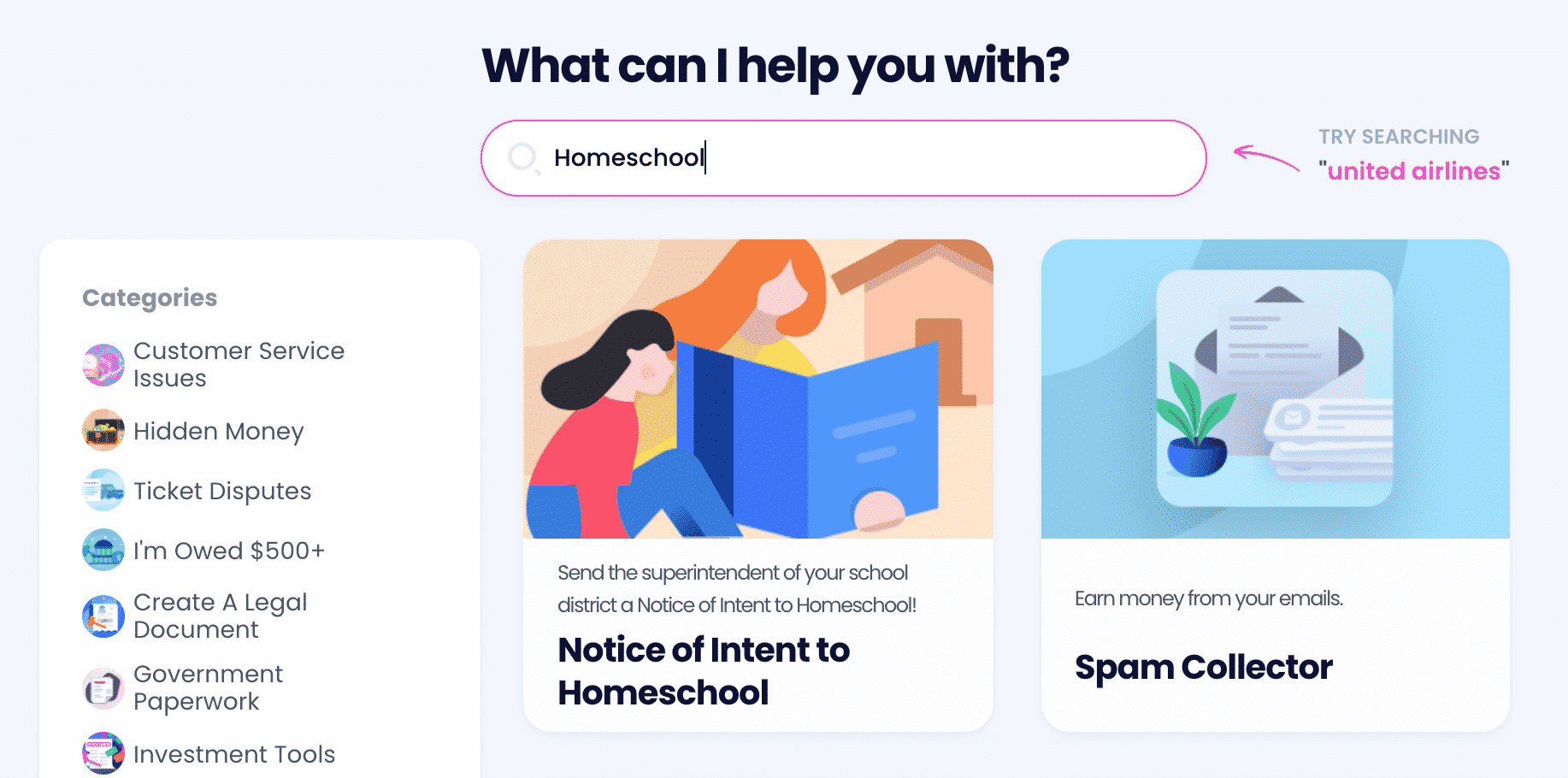 That's not the best part—we can also forward the letter to the appropriate institution or help you get it notarized if necessary!
To use this service, proceed as follows:
Select Notice of Intent to Homeschool
Enter the details about:

Your school district
You and your child
Homeschooling plan you want to implement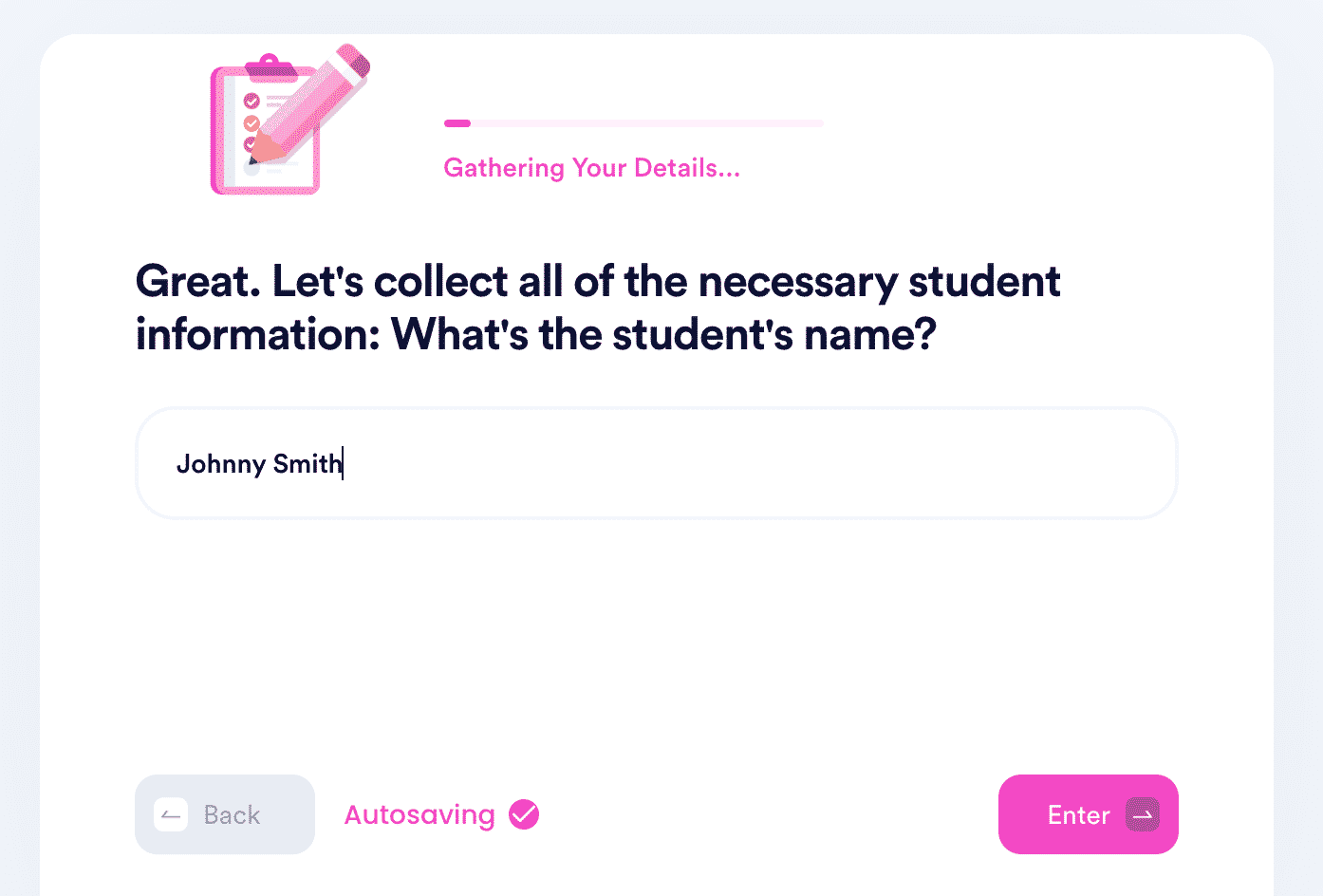 DoNotPay Offers More!
and check out our other guides to find out more about important aspects of homeschooling, such as:
Don't Let Admin or Legal Issues Wear You Down—Hand Them Over to DoNotPay
Do you believe you may have some missing assets? Use DoNotPay's nifty product before the government claims them! Have you ever wanted to enter sweepstakes without purchasing anything? Our app will sign you up for them quickly! Trying to figure out how to reduce your property taxes or utility bills? DoNotPay can show you the way. Want to avoid getting charged for free trials that never fail to auto-renew into paid subscriptions? We'll help you cancel them before they expire.
Anything else you may need? Check out how our app can:
Check Out Our Other Robust Products
It doesn't stop there—DoNotPay can help you send a defamation demand letter, create passport photos, get gift card cash back, get any document notarized, request access to public records, claim insurance and warranty, request a college application fee waiver, appeal parking tickets, and much more.
Sign up now to get access to any of our products for one low monthly fee!