How To Choose the Best Homeschool Curriculum
Embarking on the homeschooling journey is a complex process that requires a lot of careful planning. Choosing the right homeschool curriculum for your child is essential for successful home-based education. DoNotPay will provide you with a detailed guide on how to pick an adequate program.
Since homeschooling requires extensive paperwork, we can also help you send a letter of intent to homeschool to the superintendent in your school district.
What Homeschool Curriculum Should You Use?
Before choosing a homeschool curriculum, you should consider the following factors:
Schedules and homeschooling hours
The type of learning you would prefer
Your budget
Religious issues, if any exist
Grade level
Other parents' experience
What You Should Know About Subjects You're Going To Teach
In some states, specific subjects are mandatory in both traditional schools and private tutoring. Others allow more freedom in the homeschooling environment. It is crucial to check local laws before choosing a curriculum. See the table below for homeschooling rules in all U.S. states:
Homeschool programs differ significantly in scope and approach. Some offer only traditional subjects (reading, writing, and arithmetic), while others focus on natural and student-guided learning. You can also combine the options and create a unique curriculum that works best for you as a teacher.
The Essential Info on Homeschooling Hours You Should Be Aware Of
Time management and organization of homeschooling hours mostly depend on your preferences. You decide whether you'll teach a few days a week but cover more material or vice versa.
When looking for a curriculum, you should check the average time to complete a unit of study to fit everything into your schedule and habits.
How Are the Learning Style and the Curriculum You Choose Connected?
An adequate curriculum should match your child's learning style and habits. There are three most commonly used learning styles:
The Relation Between a Curriculum and Your Budget
Before choosing your curriculum, mark the highest price you're willing to pay. Note that a more expensive curriculum is not necessarily a better choice.
You should also consider what additional homeschool materials the program requires, such as maps, crayons, calculators, or trips to museums.
With all the info laid out, it won't be difficult to calculate the final homeschooling cost.
Curriculum for Homeschooling—Religious Aspect
Many people opt to homeschool their children because of religious beliefs requiring a specific type of education. Particular homeschooling programs like Christian homeschool curriculums are designed for religious students and parents.
Homeschool Curriculum Options Based on the Grade Level
When choosing a curriculum, you must consider your child's age and grade level. Your options are as follows:
Why Talking To Other Homeschooling Parents Is Important
It is essential to discuss homeschooling and curriculum options with parents who already have experience with the process. Their opinions and mistakes they made can help you find the appropriate program and method faster.
Is Writing a Letter of Intent To Homeschool Necessary?
Before you choose a curriculum, you will need to let the local authorities know about your choice to homeschool your child. State laws mandate whether you need to submit a notice of intent to homeschool. In most states, it is a necessary step.
The good news is that you don't have to go through this process alone because DoNotPay is here to help!
Use DoNotPay To Generate a Letter of Intent Easily
We can help with drafting a perfect letter of intent to homeschool. DoNotPay will provide a PDF version instantly, but you can also get it notarized and sent to the district superintendent in your stead. To generate this document, you should:
Select the Notice of Intent To Homeschool product
Give us the essential info about your school district
Answer a few questions about you and your child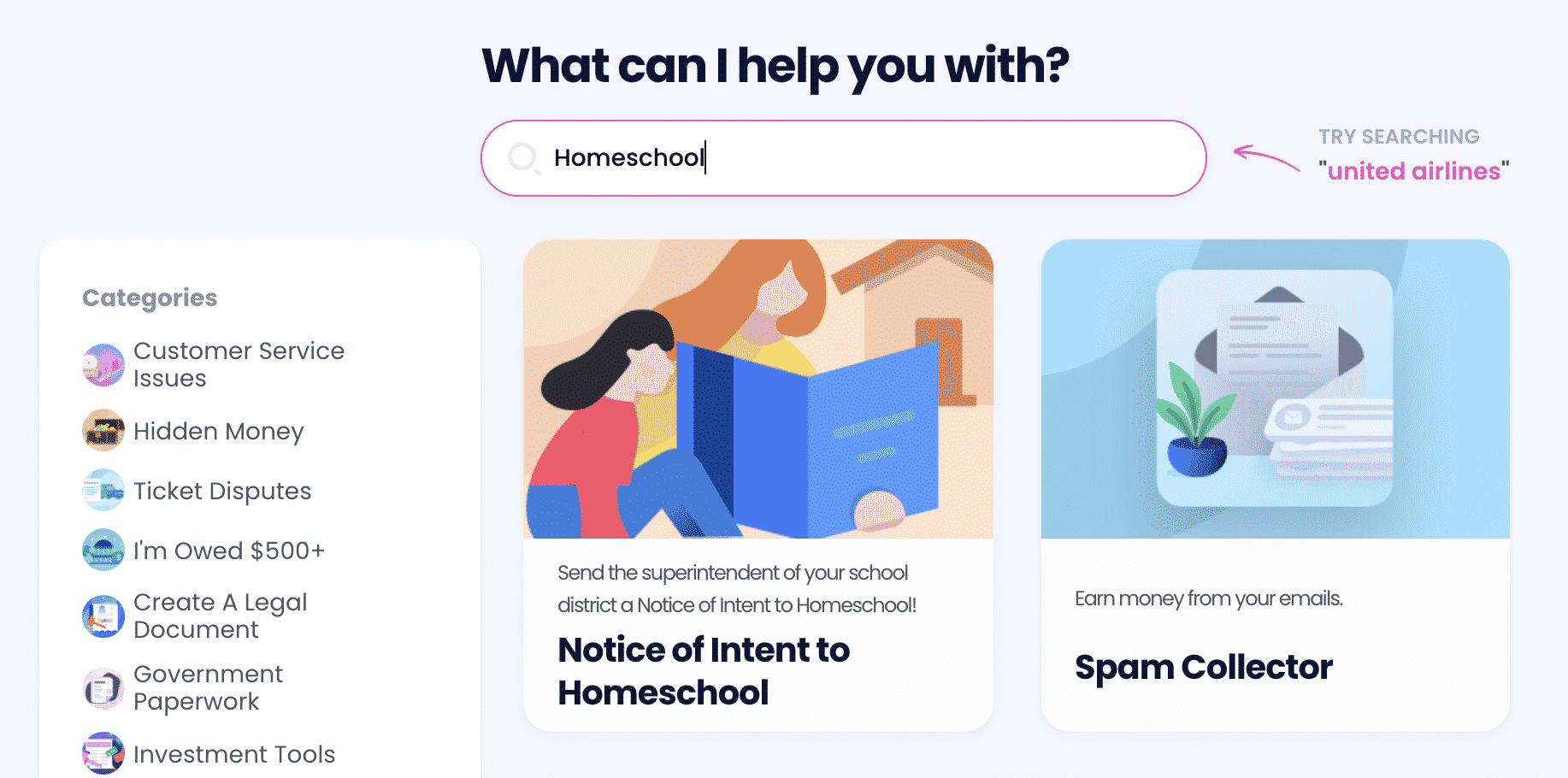 Homeschooling is a hot topic, so DoNotPay offers definitive answers to the following questions:
DoNotPay Helps You Run Errands Without Leaving the Comfort of Your Home!
If you're on a tight schedule and you can't afford to spend hours running errands, DoNotPay steps in with a perfect solution! You can skip going to the post office to request an item return or visiting a notary public to get your documents notarized—Our app will help you get it all done without going anywhere!
Visiting your local Walmart to have your passport photo taken is unnecessary since DoNotPay can help you get it at home!
Consult the list below to see what other tasks you can complete using our app:
Unsubscribe From Unwanted Services at Any Time
Companies tend to keep charging their clients monthly subscription fees automatically if they don't end their subscriptions. Stop wasting money on forgotten memberships—DoNotPay will show you how to terminate your subscription in a few clicks!
You can also learn how to sign up for a free trial without getting charged, create a burner phone number or a virtual credit card hassle-free!