Learn the Ropes of Homeschooling in Idaho
Having the right information about homeschooling—from the state laws you must follow to the specific homeschool requirements you need to fulfill—helps you decide whether to start homeschooling.
In case you're not sure if you should homeschool your child, this article contains details about homeschooling in Idaho that may simplify the process for you. DoNotPay can also help you notify the school district superintendent or principal of your intent to homeschool.
Idaho Homeschool Laws Explained
To begin homeschooling in Idaho, you'll have to meet the following requirements:
Homeschooling Requirements in Idaho
Details
Compulsory attendance
Children in Idaho have to be enrolled in a formal school or comparable homeschool from the age of seven to 16
Homeschool hours
The state of Idaho requires students to have up to 990 hours of homeschooling per year, depending on the grade:

Kindergarten—450 hours
First to third grade—810 hours
Fourth to eighth grade—900 hours
Sixth to twelfth grade—990 hours

Homeschool curriculum
In Idaho, you, as a homeschooling parent or teacher, are responsible for the choice of curriculum
Attendance records
You are not required to keep the attendance records, but the state recommends it
Teacher certification
You don't have to be a certified teacher to educate your child at home
Idaho Homeschooling—Recordkeeping and Graduation Requirements
Homeschooling laws in Idaho don't require parents or teachers to keep records, but creating a homeschool portfolio is beneficial for students in many ways. That is especially true for those who wish to attend college and build an academic career.
Here is what a homeschool portfolio should include:
When you consider the graduation requirements, Idaho is one of the easiest states to homeschool in. Here is why:
You can determine when your child is ready to receive the diploma
The student doesn't have to take a graduation test
As a homeschool teacher, you can create high school transcripts
You can assign credits for courses your child attends
The students who want to meet the GED requirements:

Don't have to be residents of Idaho
Must be 18 years old
Don't have to be enrolled in an accredited high school
Standardized Tests for Homeschoolers in Idaho
Homeschooled students in Idaho cannot take part in the state testing. If you wish to measure the student's progress, they can take national standardized tests. For instance, ACT and SAT will be required if your child wants to attend college.
What Is the Cost of Homeschooling in Idaho?
If you wish to educate your child at home in Idaho or any other state in the U.S., you'll have to plan your budget for the following:
School equipment and supplies
Curriculum
Field trips
Extracurricular activities
When you put everything on paper, the average cost of homeschooling is between $700 and $1,800 per year.
How To Start Homeschooling in Idaho
To start homeschooling in Idaho, you should thoroughly research the requirements and possibilities you'll have. You will also have to:
Include the following subjects in the homeschool curriculum:

Language arts
Math
Social studies
Science
Fine arts
Physical education
Health education

Decide whether you'll teach your child or hire someone else
In Idaho, the state law requires you to submit the notice of intent to homeschool only in your first year of homeschooling. If you're not sure how to write this document, subscribe to DoNotPay. Our app will generate the letter of intent instead of you in no time!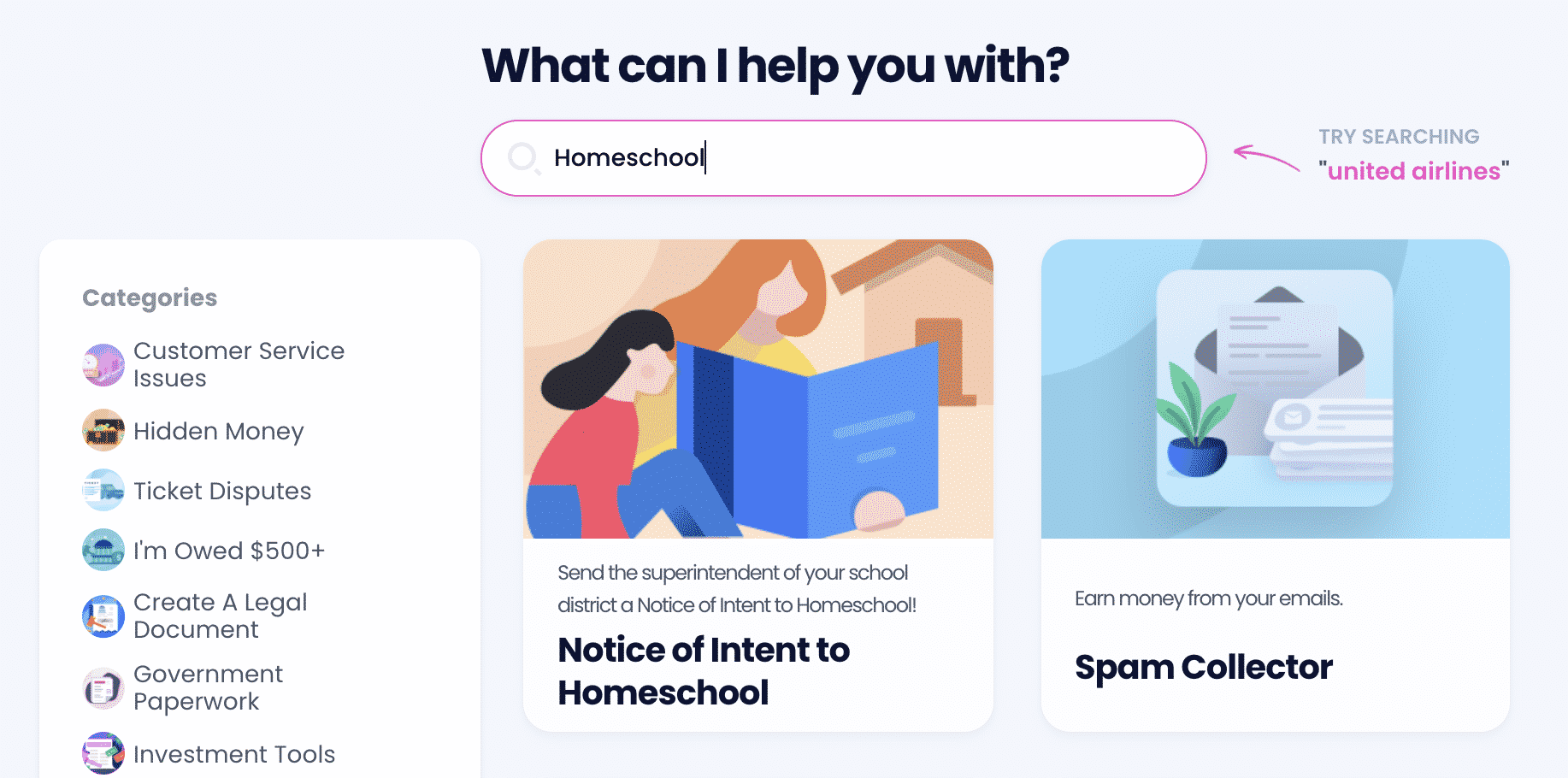 Use DoNotPay To Prepare a Letter of Intent To Homeschool Without Hassle
Instead of wasting hours researching how to draw up a letter to inform the school district's superintendent or school principal that you have decided to educate your child at home, turn to our app.
To get this document in a couple of minutes, sign up for DoNotPay and follow these steps:
Find our Notice of Intent to Homeschool feature
Type in the information about your school district
Enter details about your child
Our services don't end there! If you want, we can save you from the trouble of mailing the letter and send it instead of you. You can also choose to receive the PDF version of the document and submit it yourself.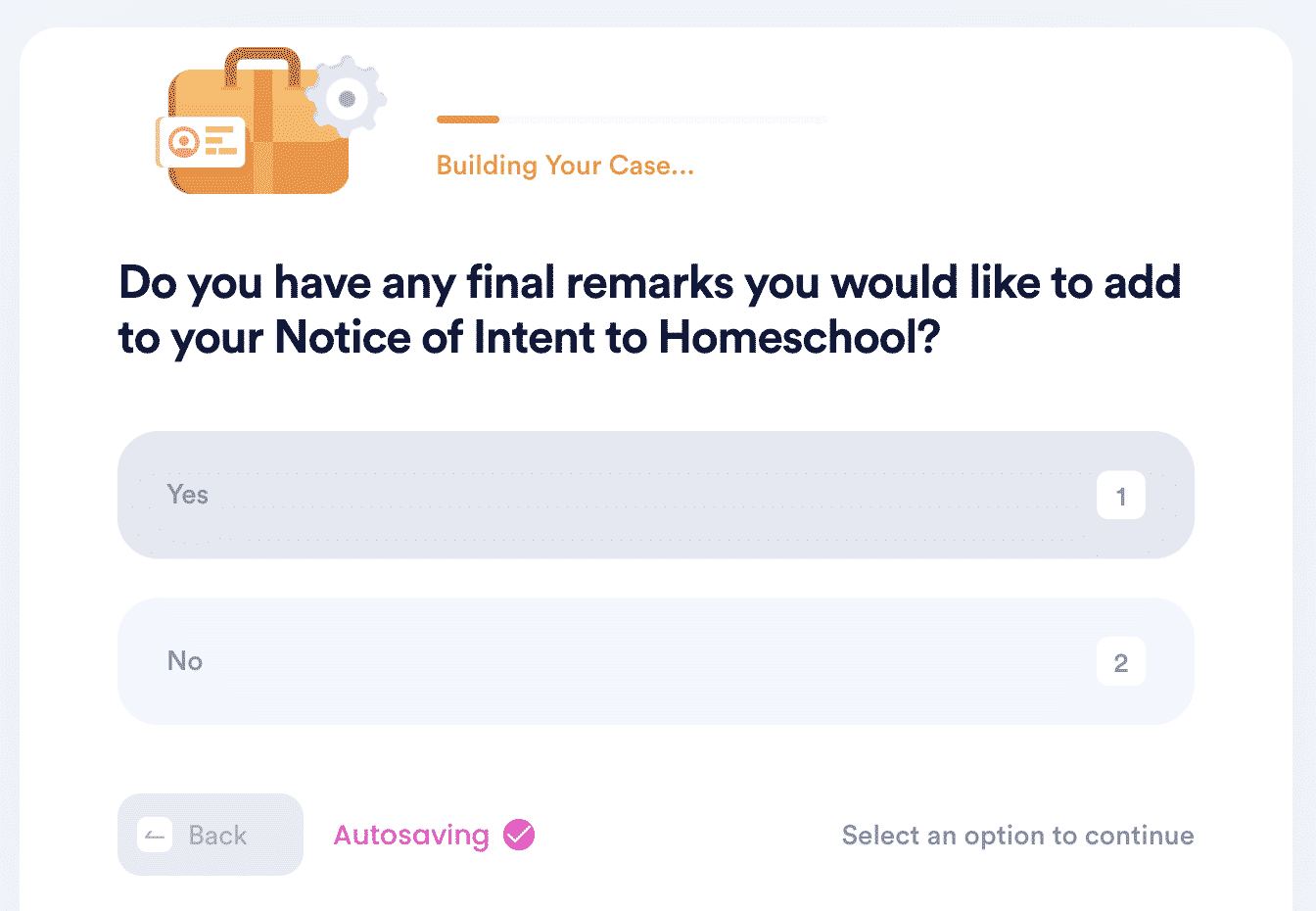 To get the info you need to start homeschooling, you should explore our learning center. It contains numerous useful guides that will help you figure out how to homeschool your child successfully.
These are some of the dilemmas we can help you with:
Discover DoNotPay's Solutions to Mundane Tasks
Our product range doesn't end there—we can also help you sue anyone in small claims court, cancel any subscription, start a free trial risk-free with our virtual credit card, get refunds and chargebacks, send anything through online fax, pay your utility bills, demand airline compensation, and deal with your annoying neighbors.
As soon as you sign up, we can also put an end to robocalls, copyright infringement, email and text spam, and stalkers and harassers. Our app's abilities don't stop there either—get perfect passport photos, free raffle tickets, compensation for victims of crime, or insurance or warranty instantly!
There's So Much More We Can Assist You With
Check out how else we can help—DoNotPay can:
Sign up now to take advantage of our nifty products!