When and How To Start Homeschooling in Arkansas
If you want to know the dos and don'ts of homeschooling in Arkansas, you've come to the right place. We'll guide you through the legal requirements and help you get started in no time.
When it comes to rules and regulations, Arkansas is one of the easiest states to homeschool. You're free to teach your kids at home so long as you fulfill a few administrative tasks.
, you can generate and get important documents notarized, including the letter of intent to homeschool. If you're still on the fence about home education, allow the world's first robotic lawyer to help you decide.
Homeschool Laws in Arkansas Summarized
Parents who plan to homeschool in Arkansas need to complete the following process:
Declare your intent to homeschool officially
Notify the authorities five days before you remove your child from classes. You're only required to do this if the school year has already begun
Fill in the proper paperwork annually
Devise a detailed curriculum and plan school activities
The compulsory school age in Wonder State is from 5–17 years. Your child needs to have attendance within the designated period. If you want to delay their preschool education for some reason, you'll have to file a kindergarten waiver.
Arkansas Homeschooling Requirements
Arkansas homeschool laws are quite lenient as there are only a few mandatory steps parents must complete. Take a look at the table below for a detailed overview of the Arkansas homeschooling requirements:
Legal Requirement
Yes/No
Record-keeping
No.

You don't need to keep records of your child's academic development or immunization nor create a homeschool portfolio. While not mandatory, a homeschool transcript can serve as proof of a completed education. Employers can use the attendance records for background checks, so the transcript would serve a highly practical purpose

Standardized testing
No.

Homeschooled students don't have to take standardized tests to be evaluated. If you wish to do so anyway, several homeschool programs in Arkansas offer guidelines on performing standard learning assessments

Graduation requirements
No.

Since parents are the ones issuing the diploma, there are no state-ordered guidelines for homeschooling. The Arkansas homeschool laws also don't provide a list of mandatory subjects. You can research the graduation requirements for a regular high school and use that as a reference

Parent/legal guardian qualifications
No.

If you decide to homeschool in Arkansas, you don't have to get certified or even finish a parent qualifying course

Notice of intent to homeschool
Yes.

The only legal way to start homeschooling is submitting a notice of intent to homeschool in Arkansas
How To File an Intent To Homeschool in Arkansas
To begin your journey, you'll need to file an intent to homeschool in Arkansas. Completing the form is mandatory, and you must submit it each year before August 15.
You can create an Arkansas intent to homeschool yourself, but it's much better to use pre-existing templates. The three official sources for the affidavit are:
The Arkansas Department of Education
The Home School Legal Defense Association (HSLDA)
DoNotPay's Notice of Intent to Homeschool product
You need to include the following information in the Arkansas intent to homeschool form:
Once you've completed the form, you can:
Send it via mail or electronically
Personally deliver the intent to homeschool in Arkansas
Use DoNotPay to forward the document to the relevant authorities
Sign Up for DoNotPay and Create a Notice of Intent To Homeschool in Minutes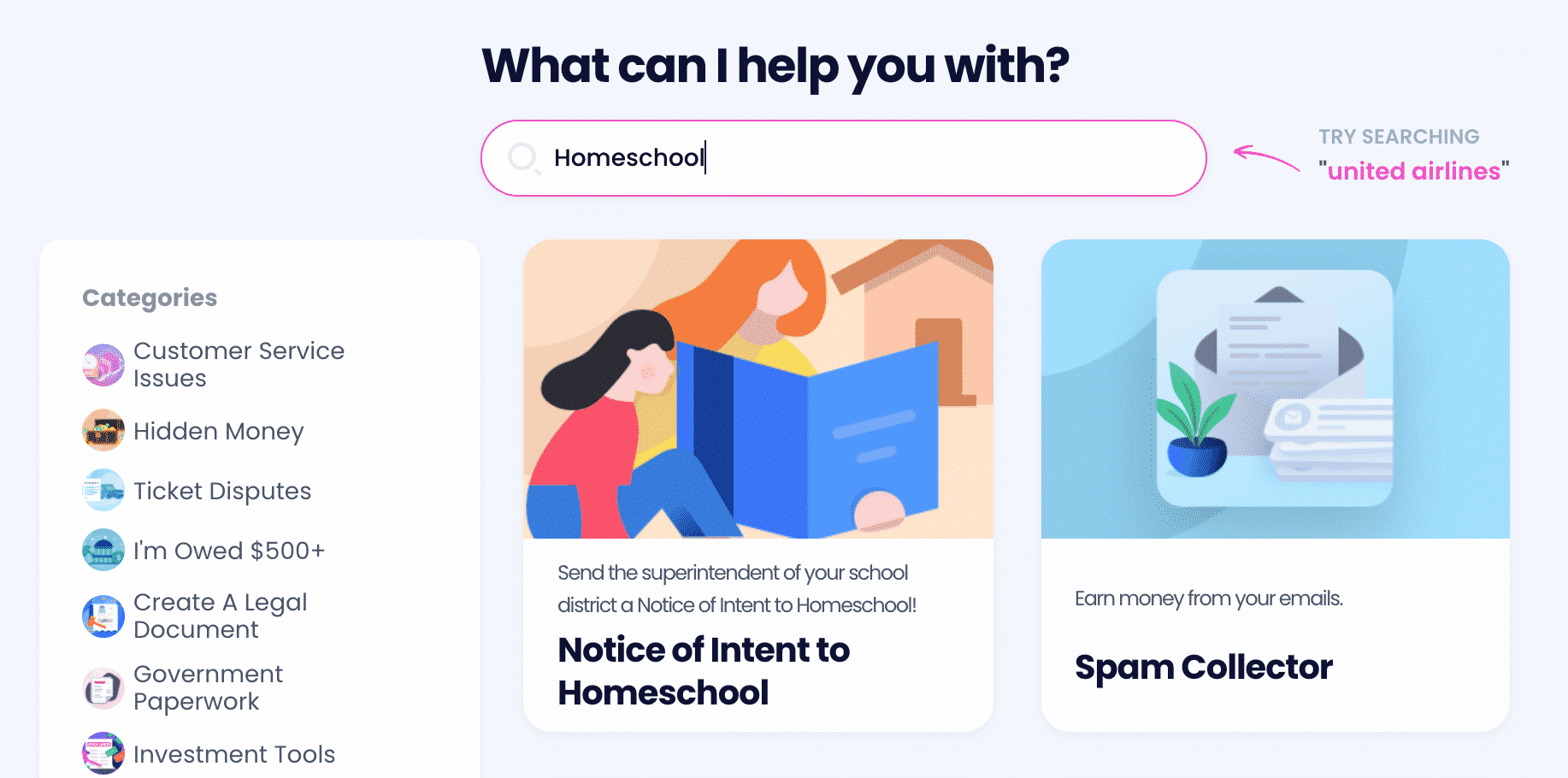 DoNotPay offers the best method of handling administrative chores that can save hours of your time. Using our Notice of Intent to Homeschool product, you can create a letter of intent with a few clicks. The steps are so easy you'll be able to repeat them in your sleep:
Access the Notice of Intent to Homeschool feature
Submit the required details about your school district
Answer a few essential questions about yourself and the student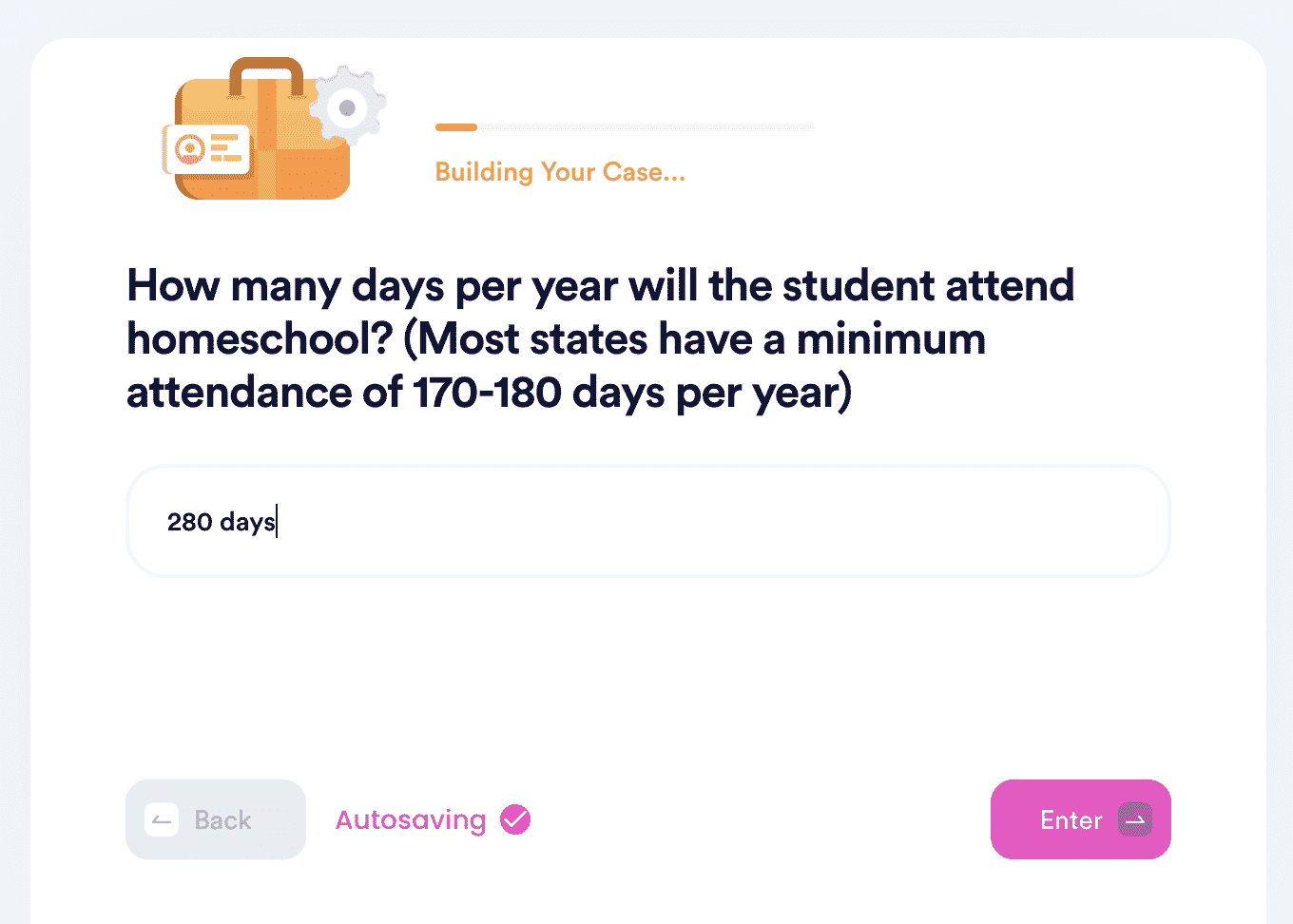 Since the intent to homeschool is an official document, you need to get it properly notarized. DoNotPay can help you with that as well! The Notarize Any Document product offers the same services as a notary office. Allow us to ease you through the bureaucratic procedures and focus on your child's education instead.
Choosing Between Different Homeschool Programs in Arkansas
Parents are solely responsible for choosing a homeschool program. When mapping out the upcoming academic year, you should consider the following:
What's the best teaching style for your family
How many homeschool hours do you plan to accumulate
Does your child have any learning disabilities (e.g., dyslexia)
How much money can you set aside for school activities
If you're still unsure how to homeschool your kids, you can look to homeschool co-ops and organizations for guidance.
Don't Stop There—Check Out DoNotPay's Product Range
DoNotPay has many tricks up its sleeve—no matter the admin or legal issue at hand, our AI-enabled app can power through it in a split second. Look into our product range to find out how you can:
What Else Do You Need? DoNotPay Will Provide!
If you want to cancel a subscription before your free trial expires so that you don't get charged, you can count on our virtual credit card to do it in your stead! We can also make sure that you get what's rightfully yours—be it a refund, insurance, warranty, unclaimed money, flight refund, raffle ticket, or gift card cash back.
You no longer have to go through legal or administrative hurdles on your own—as soon as you sign up for DoNotPay, you'll get access to our app's assistance and will be able to use it to fight injustice.