DoNotPay Breaks Down Homeschooling in VT
Due to various co-op groups and easy-to-handle regulations, Vermont is one of the easiest states to homeschool in. If you don't know where to get started, it might be tricky at first.
That's why DoNotPay has prepared a guide to give you a kick start with homeschooling in VT. We'll tell you all the details you need to homeschool your child.
If you also check out our other articles, you'll learn how to manage homeschooling costs efficiently, who can teach your child, and when you can start your homeschooling journey.
Vermont Homeschool Laws
Getting familiarized with homeschool laws and requirements in Vermont is the first step you should take. To comply with laws in VT, you will need to:
Send an enrollment notice
Submit a narrative
Get an acknowledgment of compliance
Teach the necessary subjects
Assess your child annually
Sending an Enrollment Notice
You must get a Home Study Enrollment notice from the state's official website and submit it for each student by August 1st every year. The form needs to contain:
Your child's name and age
Your name, mailing address, place of residence, and phone number
An assessment of the progress of your child
Independent and professional evidence on whether your child has a disability or not
Contact info and signatures of persons who will be providing instruction
Signatures of parents or guardians who are in charge of making educational decisions for the child
Submitting a Narrative
The narrative you must submit is an outline of the content your child will be receiving in each subject. In case your child has a disability, you must include it in the narrative as well, along with any special services needed to accommodate the disability.
Getting an Acknowledgment of Compliance
The acknowledgment of compliance needs to state that you can start homeschooling your child immediately or within 45 days. To receive it, you must first file a letter of intent to homeschool. The letter must contain important details, such as your child's name and homeschooling plan. You can either write it yourself, which is very time-consuming, or hire a lawyer to draw it up for you.
If you don't want to waste your time or money on expensive lawyers, . We'll generate this document in a snap and even forward it in your stead to ease the process of withdrawing your child from school.
Teaching the Necessary Subjects
The subjects you are required to teach and have in the curriculum of your choice are:
Reading
Writing
Citizenship
History
Physical education
Literature
Sciences
Fine arts
Assessing Your Child Annually
When filing the paperwork for the school year, you must also submit an annual assessment of your child. The assessment can be:
A report written by a certified Vermont teacher
The student's work portfolio with samples to demonstrate their progress during the school year. If you're not sure how to create the portfolio, the Agency of Education has uploaded a video, which can help you out
Results of the completed standardized achievement test, which was:

Approved by the Secretary of Education
Administered with regulations approved by the company which issued the test
Scored in accordance with the Vermont laws
If you want your child to participate in a statewide assessment at a public school, you can contact your local school and check the availability. There's also more information on the official Agency of Education website.
Get a Letter of Intent To Homeschool and File It the Easy Way With DoNotPay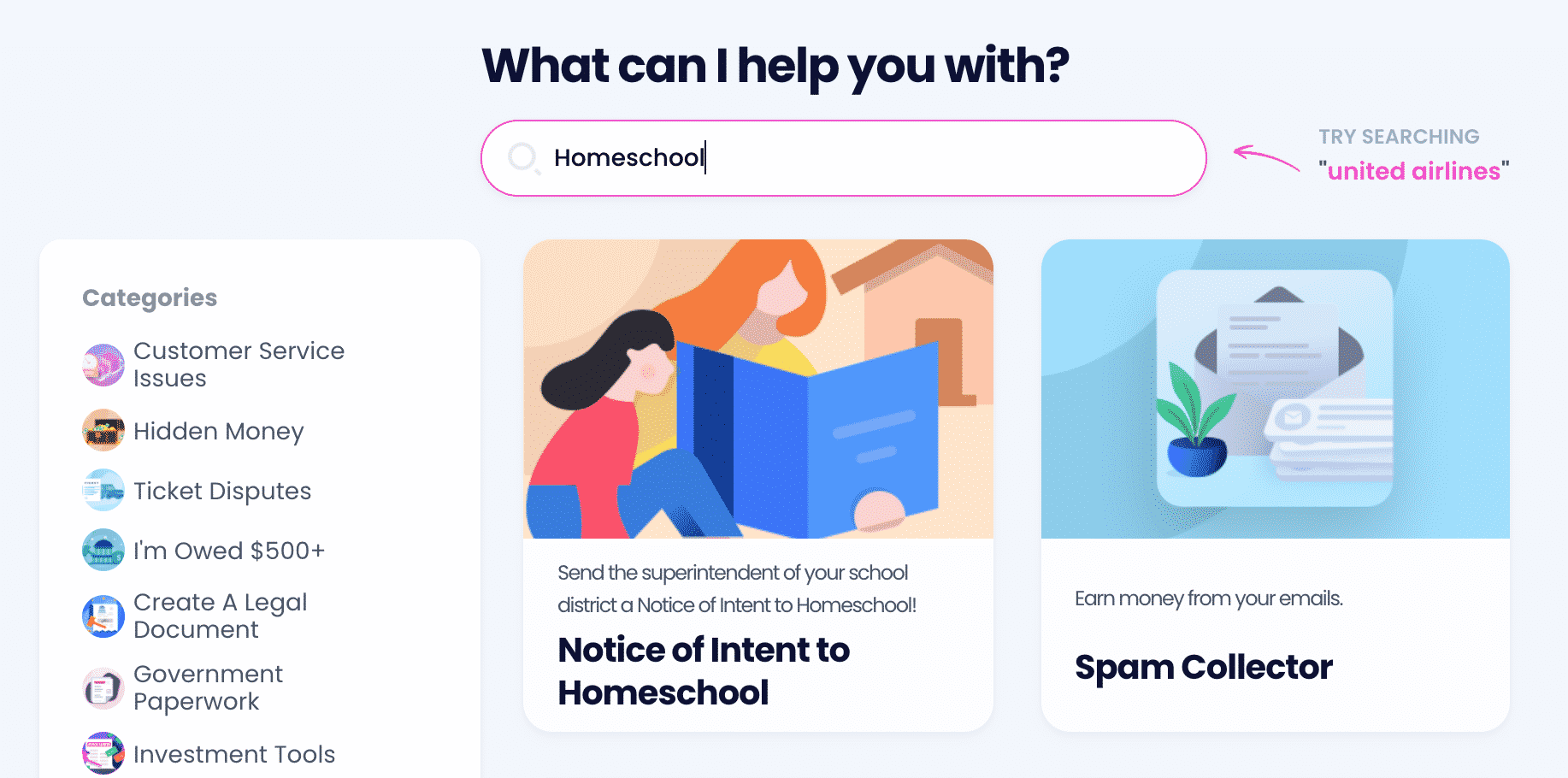 If you want to homeschool your child, you'll need to file a letter of intent to homeschool to get started. The easiest way of getting one is by using DoNotPay's handy tool as it requires you to follow a few easy steps.
Here's what you have to do:
Select our Letter of Intent to Homeschool feature
Give us the necessary homeschool details by answering our chatbot's questions
Hit Submit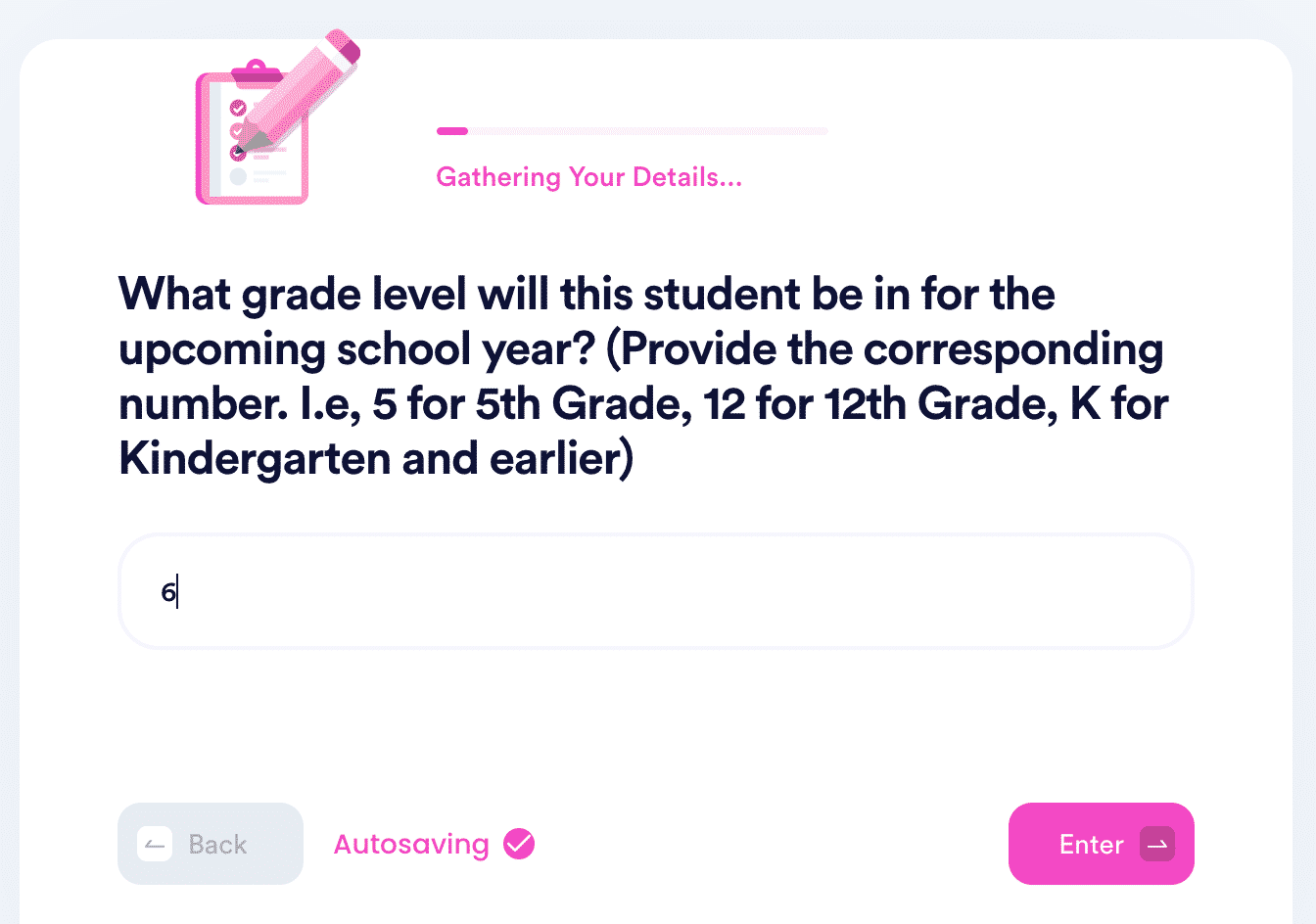 We will process the request and generate your letter quickly. You can then choose whether you want to receive it via email in PDF form or you want us to send it to the superintendent of your school district.
Need more help? Check out DoNotPay's articles and learn:
Are There Any Vermont Homeschooling Co-Ops?
If you want to join a co-op group in Vermont, you're in luck because there's an abundance of them in the Green Mountain State. They organize field trips, meetings, community-building events, and various other activities. We've selected a few of them you can contact. Check out the table below:
Discover DoNotPay's Solutions to Mundane Tasks
Our product range doesn't end there—we can also help you sue anyone in small claims court, cancel any subscription, start a free trial risk-free with our virtual credit card, get refunds and chargebacks, send anything through online fax, pay your utility bills, demand airline compensation, and deal with your annoying neighbors.
As soon as you sign up, we can also put an end to robocalls, copyright infringement, email and text spam, and stalkers and harassers. Our app's abilities don't stop there either—get perfect passport photos, free raffle tickets, compensation for victims of crime, or insurance or warranty quickly!
There's So Much More We Can Assist You With
Check out how else we can help—DoNotPay can:
Sign up now to take advantage of our nifty products!