Thinking About Joining the Minnesota Homeschool Alliance? Get the Scoop!
Joining a Minnesota Homeschool Alliance (MHA) is a smart move for homeschooling beginners in Minnesota. This guide will tell you all about the organization.
If you sign up for our service, we can assist you in drafting a letter of intent to homeschool. Submitting this letter to your school district superintendent is the first step you need to take after you decide to start homeschooling your child in Minnesota.
What Is the MN Homeschool Alliance?
The Minnesota Homeschool Alliance (MHA) is a statewide organization that provides information and assistance to homeschooling families residing in the state of Minnesota. MHA is nonsectarian, meaning it has no religious affiliation and welcomes people of all faiths and beliefs. Its main focus is to encourage and support parents who choose to homeschool their children by:
Hosting community-building activities
Providing peer support
Organizing four annual events for homeschoolers, such as:

Conventions
Science fairs
Summer picnics
Book sales

Giving tips on how to start homeschooling
Explaining state homeschool laws
Providing necessary forms
Helping families to connect with other homeschoolers with different approaches to homeschooling
Maintaining an active blog
Minnesota Homeschool Laws
It's critical to get familiar with state legislation before embarking on a homeschooling journey and joining the Minnesota Homeschool Alliance. According to Minnesota homeschool laws, homeschoolers must fulfill the following requirements:
Requirements
Details
Submitting a letter of intent to homeschool
You are required to submit this document to your school district to be able to start or continue homeschooling
Providing evidence of immunization
Immunization records must be submitted when you start homeschooling for the first time and once again in the seventh grade. Parents have the right to decline immunizations for medical reasons or religious convictions but must also provide a notarized statement indicating their child's immunization status
Keeping detailed records of your homeschooling program
The documentation must include the following:

Proof of annual testing and descriptions of assessment methods
Copy of the homeschool schedule
Samples and description of all educational materials

Administering standardized tests for homeschool children aged seven to 17 every year
The exams must be approved by the superintendent and listed on the annual report form.

You are allowed to change your mind about them but make sure to notify the superintendent. The exam results are not reported to the state
Parents don't need to be certified teachers to homeschool their children in Minnesota, but if they decide to hire someone else for that purpose, that person must possess specific credentials.
Parents or tutors must teach the following subjects:
Reading and writing
Literature and fine arts
Mathematics
Science
History
Geography
Economics
Government and citizenship
Health
Physical education
Homeschooled students are welcome to participate in extracurricular activities offered by their school district.
The Best Homeschooling Tips for Beginners
As a homeschooling beginner, you're probably feeling overwhelmed. Consider taking the following steps to make the process a little less stressful:
Learn about teaching
Find a suitable curriculum
Set learning goals together with your child
Make homeschooling fun
Connect with other homeschooling families in your community by joining the Minnesota Homeschool Alliance
Create a designated learning space in your home
Make a schedule and stick to it to create a routine
Teach your child for one to four hours each day (depending on the grade level)
Prepare financially—the average cost of homeschooling ranges from $700 to $1,800 per year
Writing and Submitting a Notice of Intent
The notice of intent must include:
Name, birth date, and address of the homeschooled student
Names of annual tests you plan to use
Instructor's name
Don't forget to include the proof of immunization and evidence of teaching credentials if the parent isn't the instructor.
You are required to submit these documents to the superintendent of your school district by October 1st each year.
If you are taking your child out of public school to homeschool (which can be done even in the middle of the school year), make sure you submit the letter of intent within fifteen days. If you're too busy to write the letter yourself or not sure whether you'll do it correctly, sign up for DoNotPay.
Let DoNotPay Take Care of Writing Your Notice of Intent
Why should you waste your free time on the tiring task of writing a homeschool letter of intent? Our software can do it in minutes.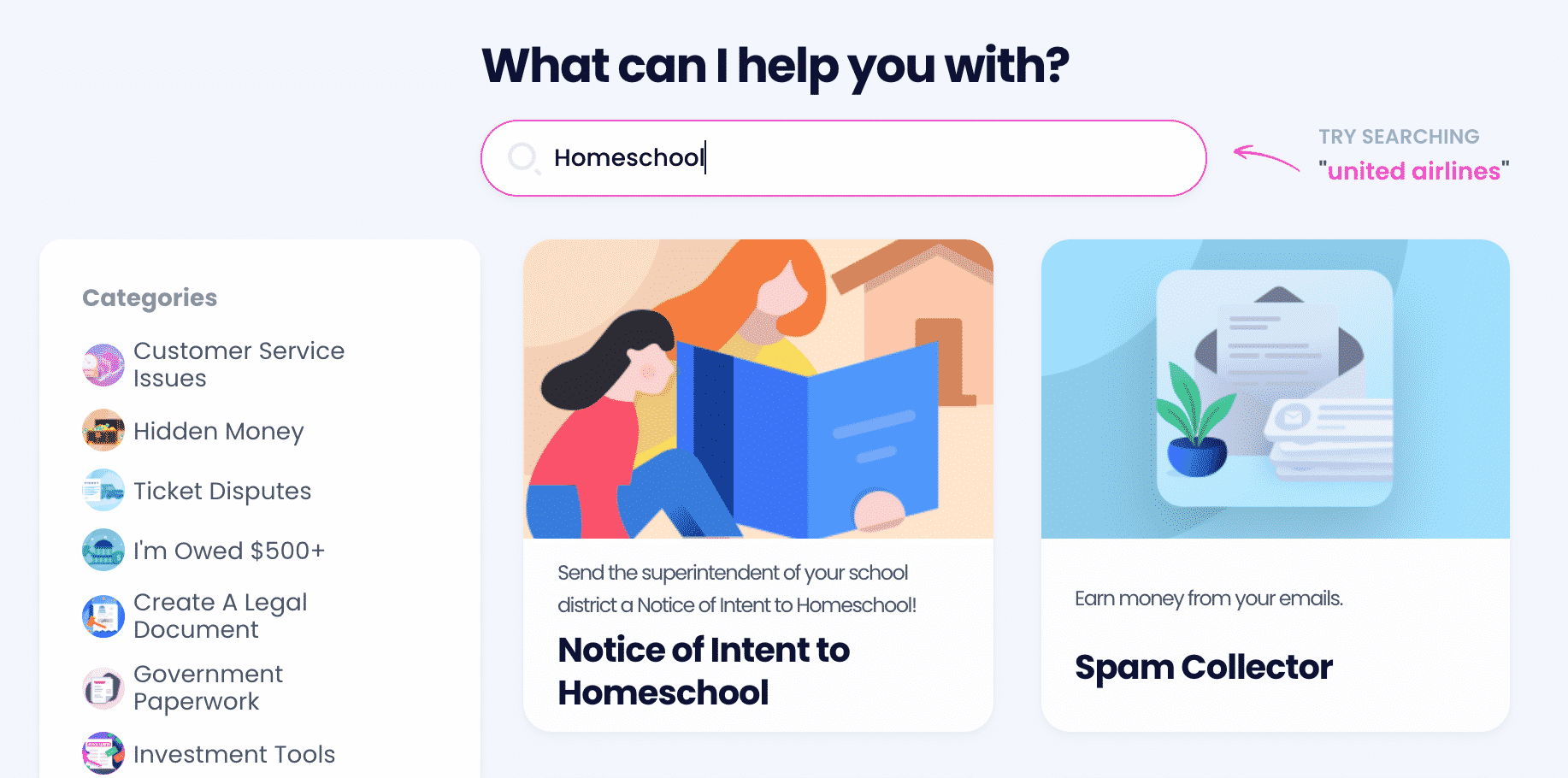 All you need to do is take the following steps:
Access your DoNotPay account from any web browser
Look for the Notice of Intent to Homeschool feature
Provide us with info about yourself and your child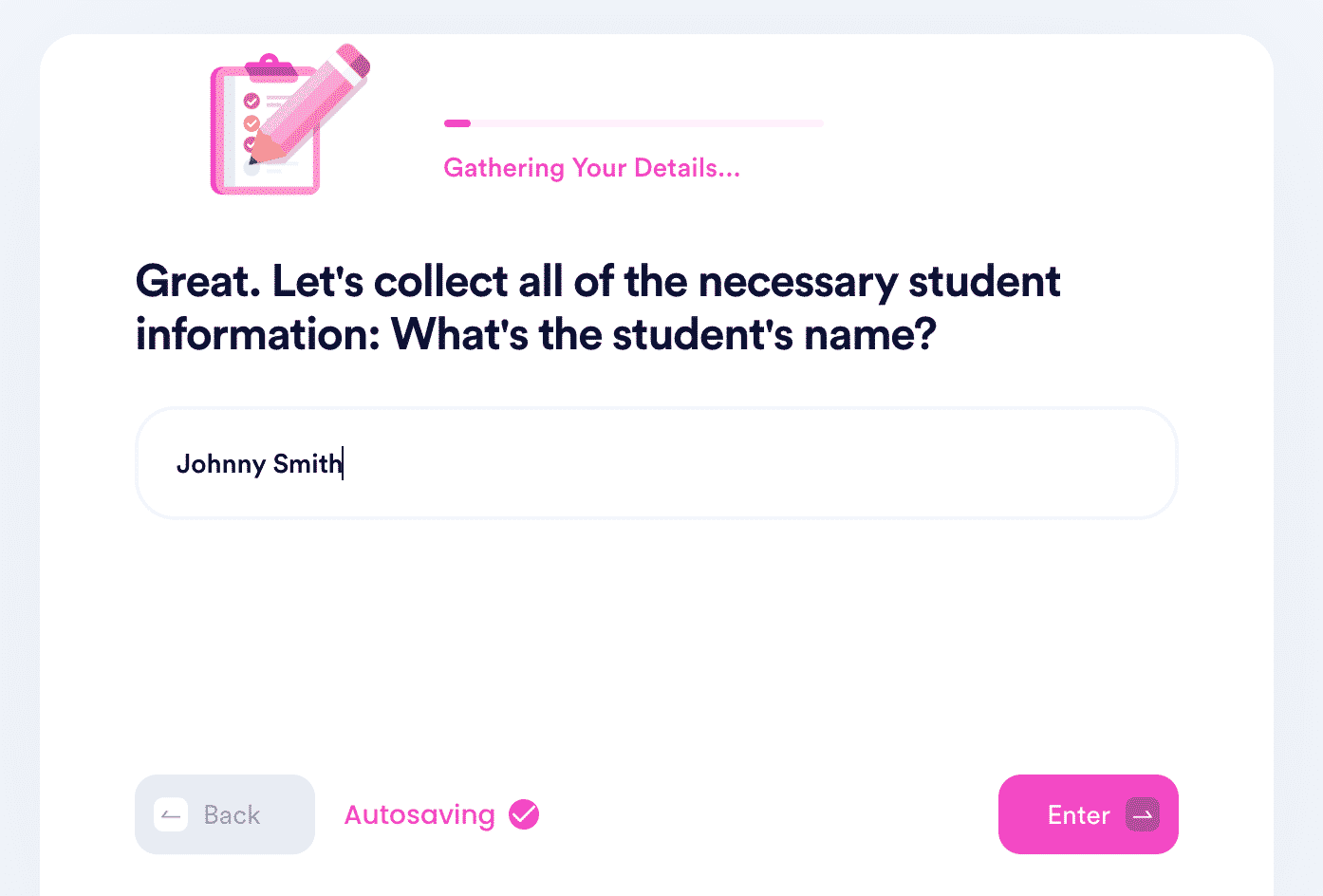 You can also get the letter notarized virtually and choose to send it via our app. It is available for download if you want to submit it yourself.
What Other Statewide Homeschooling Organizations You Can Join
Joining the Minnesota Homeschool Alliance is not your only option when it comes to homeschool associations in Minnesota. The other two options are:
Resolve Any Other Issue You Have Swiftly With Our Assistance
The world's first robot lawyer is capable of tackling any legal or administrative task in your stead. We can draw up any legal document for you—including a power of attorney, child travel consent form, and divorce settlement agreement, to name just a few—help you sue any company or individual in small claims court, send a letter of warning to your noisy neighbors, help you reduce your property taxes and utility bills, and a lot more.
Sign up now if you want to stop email and text spam, claim any insurance or warranty, appeal parking tickets, schedule a DMV appointment in a flash, mail anything worry-free, find your missing assets, create passport photos, or contact embassies and consulates effortlessly.
Let DoNotPay Guide You Through Any Obstacle
Are you tired of corporations not taking their customers seriously? So are we, and that's why our nifty product will assist you in suing any company or individual in small claims court!
If you don't want to have any online service take advantage of you, you can sign up for any free trial completely risk-free with our virtual credit card's help, cancel any membership on time, and demand a refund or chargeback in a split second. DoNotPay can also draw up an airtight return request and send it to a company of your choice instantly.