Everything You Should Know About a Common Core Homeschool Curriculum
Parents opt to homeschool their children for various reasons, but it all boils down to the freedom to decide how your child will be educated. How much free reign you'll have depends on your local homeschool laws, so it's necessary to learn about them beforehand.
One of the most important decisions you'll need to make once you take your child out of school is what curriculum you'll use to teach at home. If you are considering the common core homeschool curriculum, you can count on DoNotPay to explain all the details. You can also use our app to create a notice of intent to homeschool and make the administrative part of home-based education a little easier!
What You Should Know About the Common Core Standards
The Common Core is a set of academic standards in math and English language arts/literacy (ELA). These learning goals are meant to state what students should know at the end of each grade. When the standards were created, the main idea was to provide children with the necessary skills to do well in college and future careers.
These standards are:
Aligned with future college and career expectations
Built upon the current state standards
Based on rigorous content
Evidence- and research-based
Clear, consistent, and understandable
In tune with other best-performing countries to prepare students for achievements in the global economy and society
How To Implement the Common Core Approach Into Your Teaching
If you want your children to match their public school peers in education but also get an advantage, you should see the table below:
Steps To Take
Brief Explanation
Get the standards

You can get the standards directly from CoreStandards.org
At the beginning of each grade level, you should print out the Common Core State Standards for math and English/language arts

Match the standards with schoolwork

If you want to have more freedom in your child's education, you don't need to use a full common core curriculum
As a teacher, you can combine the lessons with workbooks that fit your child's individual needs

Track progress and achievements

You can match the printed-out copies of the common core standards with the mastery of each benchmark
This will serve as your child's portfolio for every grade

Assess how well your child mastered the standards

You can test the mastery of the standards by using a book like the Spectrum Common Core Resource series (AL) that includes every standard of the common core
You should let the child complete the book without help
Is Having a Common Core Homeschool Curriculum a Good Idea?
The common core way of teaching is not a favorite among homeschooling families. Parents are typically trying to move away from the public education system and are afraid that using common core programs brings the same results in a different environment.
The reality is different—you can have a common core curriculum but not be limited to this way of teaching. Parents are free to add other methods and activities to their student's lessons, but the children will have the same competencies as their peers attending traditional school programs.
It all boils down to what your goals are for homeschooling your child. You can try a few methods and curriculums and mix them until you see what suits your family.
A Step You Must Take Before Starting To Homeschool Your Child
No matter what homeschool curriculum you choose for your child, you will probably need to send a notice of intent to homeschool first. Most states require parents to complete this step and mail the document to the superintendent of their school district. You should do this before you start homeschooling.
If you don't have time to bother creating this letter or are not sure how, you can !
Use DoNotPay To Create a Letter of Intent To Homeschool
DoNotPay offers a straightforward way of creating a notice of intent to homeschool. You don't have to bother writing the legal document yourself—we can handle the task for you. Here's how the process works:
Choose the Notice of Intent to Homeschool product
Provide some information about your family and school district
After you complete the short questionnaire, you can count on DoNotPay to mail the letter on your behalf. If you wish, you can download the PDF and send it to the superintendent yourself. We can also help you get this legal document notarized if the local laws mandate it!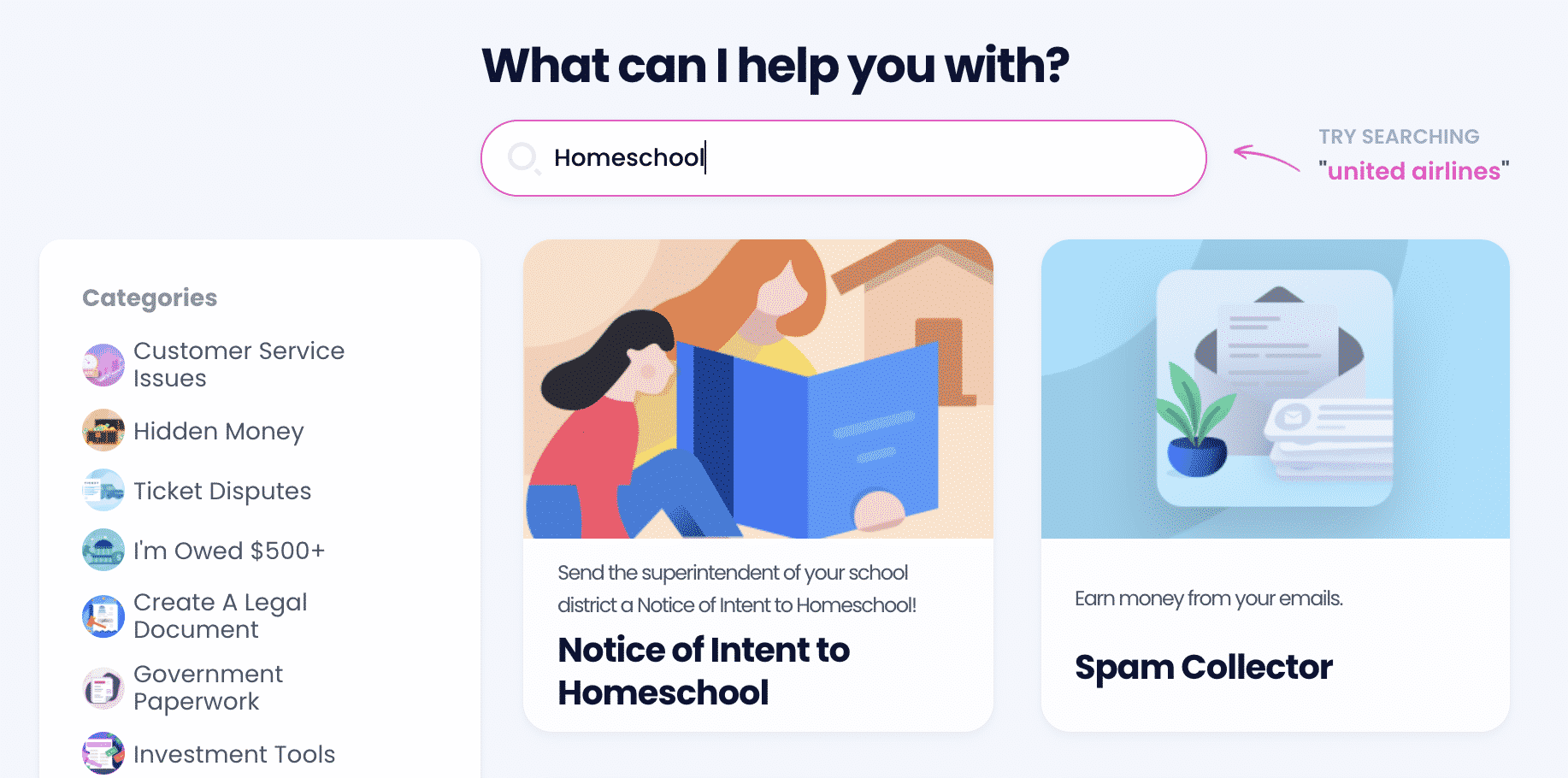 More Homeschool-Related Questions DoNotPay Can Answer
If you have more questions about homeschooling, DoNotPay will gladly answer them. Learn about the following issues:
Can DoNotPay Help Me With Any Other Admin or Legal Issue? You Bet It Can!
DoNotPay's robust products can assist you in fighting companies, individuals, and institutions that have wronged you in any way. Once you subscribe to our platform, we'll ensure that you never have to deal with any of the following again:
Our Product Range Offers So Much More
Subscribing to DoNotPay will bring you peace of mind as you won't have to go through tedious task completion on your own anymore. With our AI-powered app, you can get what's rightfully yours in the blink of an eye.
If you want to claim warranty or insurance, find your missing assets, get compensated for a canceled flight or a violent crime that you were a victim of, track your missing parcel, or draw up a child travel consent form, divorce settlement agreement, power of attorney, or any other legal document, you can count on us to lend you a helping hand.
Sign up today to get access to the entirety of our product range and forget about dealing with time-consuming and energy-draining chores!