Homeschooling in NY Explained
While you could have decided to homeschool your child for various reasons, you need to cover many different aspects before you get started with the process. There's a lot to think about—from legal requirements, curriculums, and mandatory subjects to homeschooling hours and the cost.
If you're wondering where you could find relevant information about homeschooling in NY, you've come to the right place! DoNotPay shares details about the process in this article.
Comply With NY Homeschool Laws
New York is not among the easiest states to homeschool your child in. It might be one of the strictest U.S. states regarding the requirements to fulfill for homeschooling.
It doesn't mean you should give up on your idea, as homeschooling your kid might be the best fit for the whole family. You only need to follow the necessary steps to ensure you comply with NYS homeschool regulations.
Requirements for Homeschooling in NY
To comply with New York home school laws, you should take these steps:
Submit an Individualized Home Instruction Plan
Meet hour, day, and subject requirements
Deliver regular reports
Carry out annual assessments
Create and Submit a Letter of Intent to Homeschool in NY
Homeschool parents need to notify the state of their intent to homeschool before they can:
Start

teaching their kid at home
If you'd like to go through this initial stage seamlessly, here's what you need to consider:
Meet the Deadline
Submit the Notice of Intent to the Right Address
You must file a letter of intent to homeschool:

By July 1 every year
Within 14 days of creating a new homeschool program (if you do that during the school year)

You need to file your notice of intent to the:

District superintendent—Unless you reside in New York City
New York City Department of Education's Office of Home Schooling—If you live in NYC
Keep in mind that there could be additional requirements you'll need to meet if you choose to take your child out of their current school in the middle of the year.
Present an Individualized Home Instruction Plan for Homeschooling in NY
Aside from a letter of intent, you also need to file an Individualized Home Instruction Plan (IHIP) every year:
The IHIP form must include:
Your—or homeschool teacher's—name

Homeschooled student's

name, age, and grade level
List of:

Syllabi
Textbooks
Curriculum materials

Plan of instruction
Dates of filing the required quarterly reports
You should also provide a confirmation stating that your child will take up full-time study, i.e., a minimum of 12 hours per semester.
Keep Attendance Records To Comply With NYS Homeschooling Regulations
To comply with NYS homeschool laws, you need to maintain records of attendance to show that your child has attended school for:
180 days per year
900 hours per year (for grades 1–6)
990 hours a year (for grades 7–12)
You—or someone else who's teaching your kid—must make sure to cover the required subjects and include them in the attendance records.
Submit Regular Reports
You need to file quarterly reports to the district superintendent. Your reports must include:
The number of hours of instruction
A description of the material you used in each subject
Your child's grade or written evaluation for every subject
Make Annual Assessments To Meet NYS Homeschool Requirements
When homeschooling in New York, you need to carry out an assessment every year in the following way:
For grades 1–3—You can either:

Organize a standardized test for your child
File a written narrative evaluation for your kid

For grades 4–8—You:

Need to have your kid take a standardized test at least every other year
Can provide a narrative evaluation in the year your student isn't taking the test

For high school—Your child needs to take standardized tests every year
How To Start Homeschooling in NY—Prepare a Letter of Intent to Homeschool
To draw up a letter of intent, you could:
Consult a lawyer—This is the most expensive option you could go for
Use online sample letters of intent to homeschool in NY—Make sure you check the ones you come across as some might not meet all requirements, so you'll need to amend them significantly
—Our app knows state laws and can:

Generate a valid notice of intent in a matter of minutes
Deliver your letter to the right address hassle-free
Use DoNotPay's Fast and Reliable Product To Draft a Notice of Intent To Homeschool
When you need a notice of intent to homeschool your kid, you shouldn't waste your patience and time exploring state and local regulations. Use DoNotPay to get a valid letter of intent in a flash!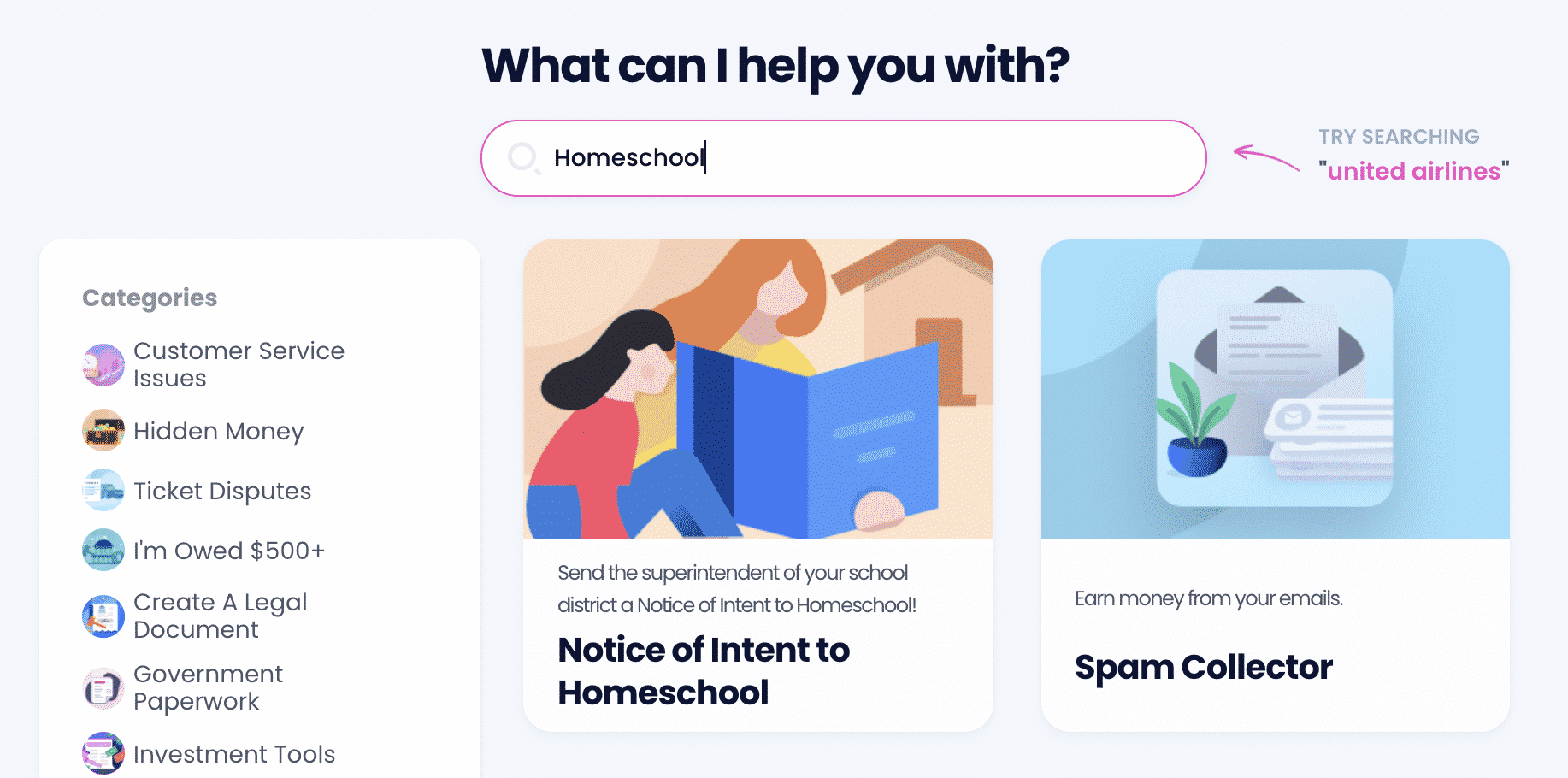 Here's what you need to do. and take these steps:
Open our Notice of Intent to Homeschool feature
Enter information regarding your student, school district, and yourself
State whether you'd like DoNotPay to:

Help you get the letter notarized
Send the notice of intent in your stead
Provide you with a PDF file you can print and file yourself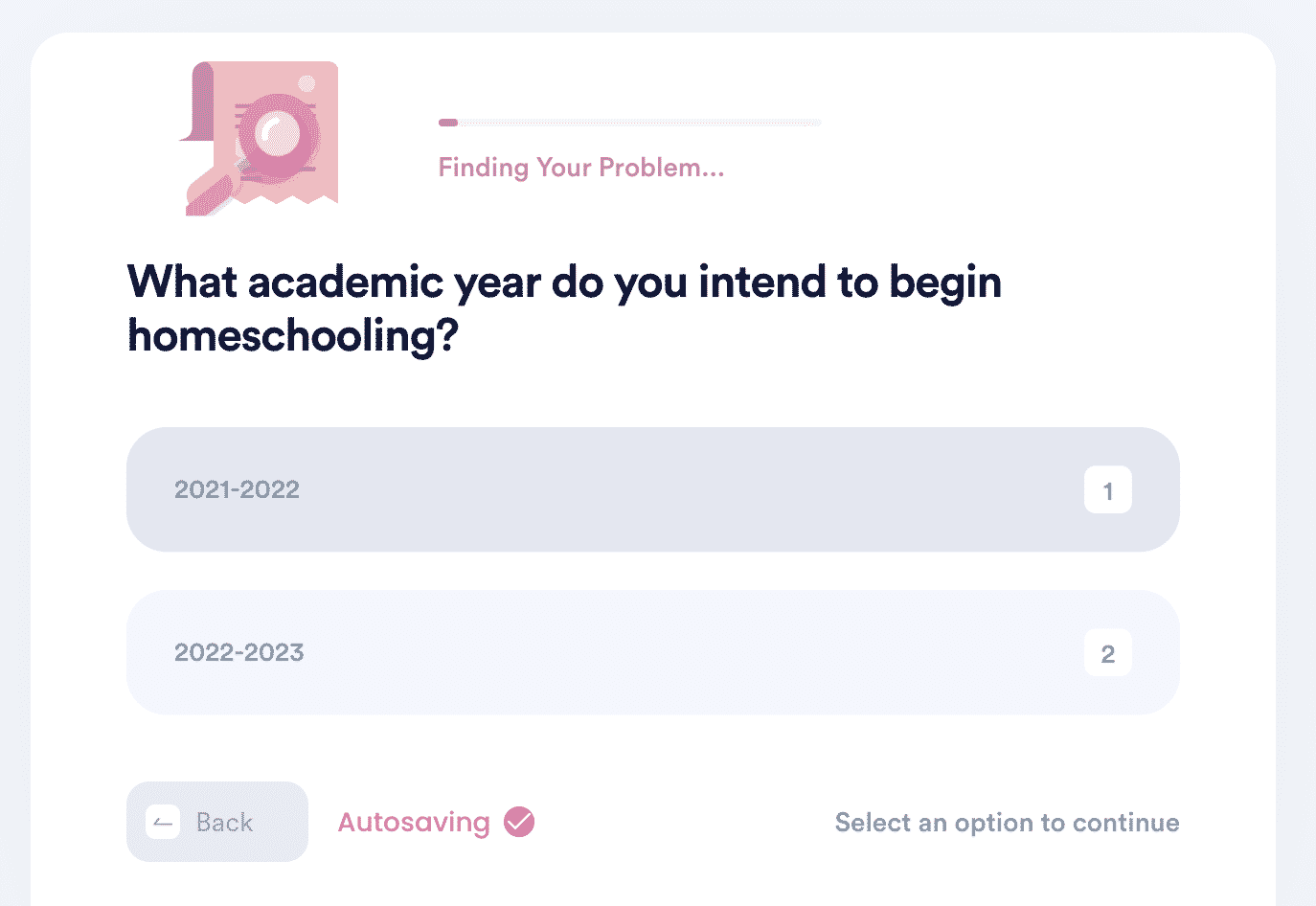 Can DoNotPay Help Me With Any Other Admin or Legal Issue? You Bet It Can!
DoNotPay's robust products can assist you in fighting companies, individuals, and institutions that have wronged you in any way. Once you subscribe to our platform, we'll ensure that you never have to deal with any of the following again:
Our Product Range Offers So Much More
Subscribing to DoNotPay will bring you peace of mind as you won't have to go through tedious task completion on your own anymore. With our AI-powered app, you can get what's rightfully yours in the blink of an eye.
If you want to claim warranty or insurance, find your missing assets, get compensated for a canceled flight or a violent crime that you were a victim of, track your missing parcel, or draw up a child travel consent form, divorce settlement agreement, power of attorney, or any other legal document, you can count on us to lend you a helping hand.
Sign up today to get access to the entirety of our product range and forget about dealing with time-consuming and energy-draining chores!