Do You Have To Be Certified To Homeschool Your Child in the U.S.?
Millions of parents consider homeschooling the best option for educating their children, but not all of them believe they are qualified for the role of a teacher. Many of them question their ability to convey knowledge to their kids or don't know if they need to have any teaching qualifications for this endeavor.
Do you have to be certified to homeschool your child? Is having a high school diploma or a degree mandatory? What duties do you have as a homeschool teacher? Can you get a perfect notice of intent for your children's school by ? This article offers you the answers to all the questions you may have!
What Are the Responsibilities of a Homeschool Educator?
The job of a homeschooling teacher is rewarding but entails many responsibilities that exceed your duties as a parent. Once you opt your child out of school and begin educating them at home, you need to take up the following tasks:
Working with your child on specific or all existing topics and subjects covered by your child's homeschool program
Determining your child's interests and affinities to create the best possible homeschool curriculum
Brainstorming the desired content of the curriculum and finding appropriate educational resources for the

homeschooled student

Purchasing a curriculum from a specialized organization if you don't believe you can create one yourself
Ensuring that:

All chosen materials comply with the local homeschool requirements
The student completes the required minimum of homeschool hours per day

Planning lessons and other extracurricular activities, such as movie projections, field trips, or recreational activities
Coordinating knowledge assessment tasks and grading your child's school assignments
Keeping track of the student's educational progress—if the state you live in proposes this rule
Informing yourself about the newest teaching methods and updated learning technologies
Paying the homeschooling costs or finding appropriate sources of additional funding for this purpose
You should also be patient and keen on working with your kids. In most cases, homeschooling requires one of the parents to leave their full-time job to have enough time for teaching.
Do You Need a Degree To Homeschool Your Kid?
No law in the USA states you must have a degree to homeschool your child. This means you don't need to be a certified teacher or have teaching experience to do it. Some homeschool laws require parents to be qualified or competent to educate their kids but don't define these terms further.
While teaching qualifications are flexible in most states, some areas may require you to have a GED or a high school diploma to be a homeschool teacher. The following table shows the regulations in all U.S. states:
GED or a High School Diploma Are Required In:
GED or a High School Diploma Aren't Required In:

Nevada

Mississippi

Wyoming
You Don't Meet the Homeschool Teaching Requirements—What Should You Do?
If you live in one of the states that propose some teaching qualifications and you don't meet them, don't despair—you can still have your child homeschooled. All you should do is choose one of the available alternatives, such as:
Asking your friends or family members who have a required diploma if they can educate the student in your stead
Hiring another person—usually a professional teacher—to teach your kid
Enrolling your child in the courses offered by local homeschool organizations
Sending the student to an umbrella school—if you want a religion-oriented education
Ask another homeschooling family to have your child at their place and give them classes
Don't Forget About the Letter of Intent—Draft It With DoNotPay
One of the most significant parts of starting to homeschool your children is writing a letter of intent to homeschool. With this document, you explain to the superintendent of your school district that you opted for continuing your child's education at home. You can spend hours drafting this document yourself or rely on online templates, but you'll get the best results with DoNotPay!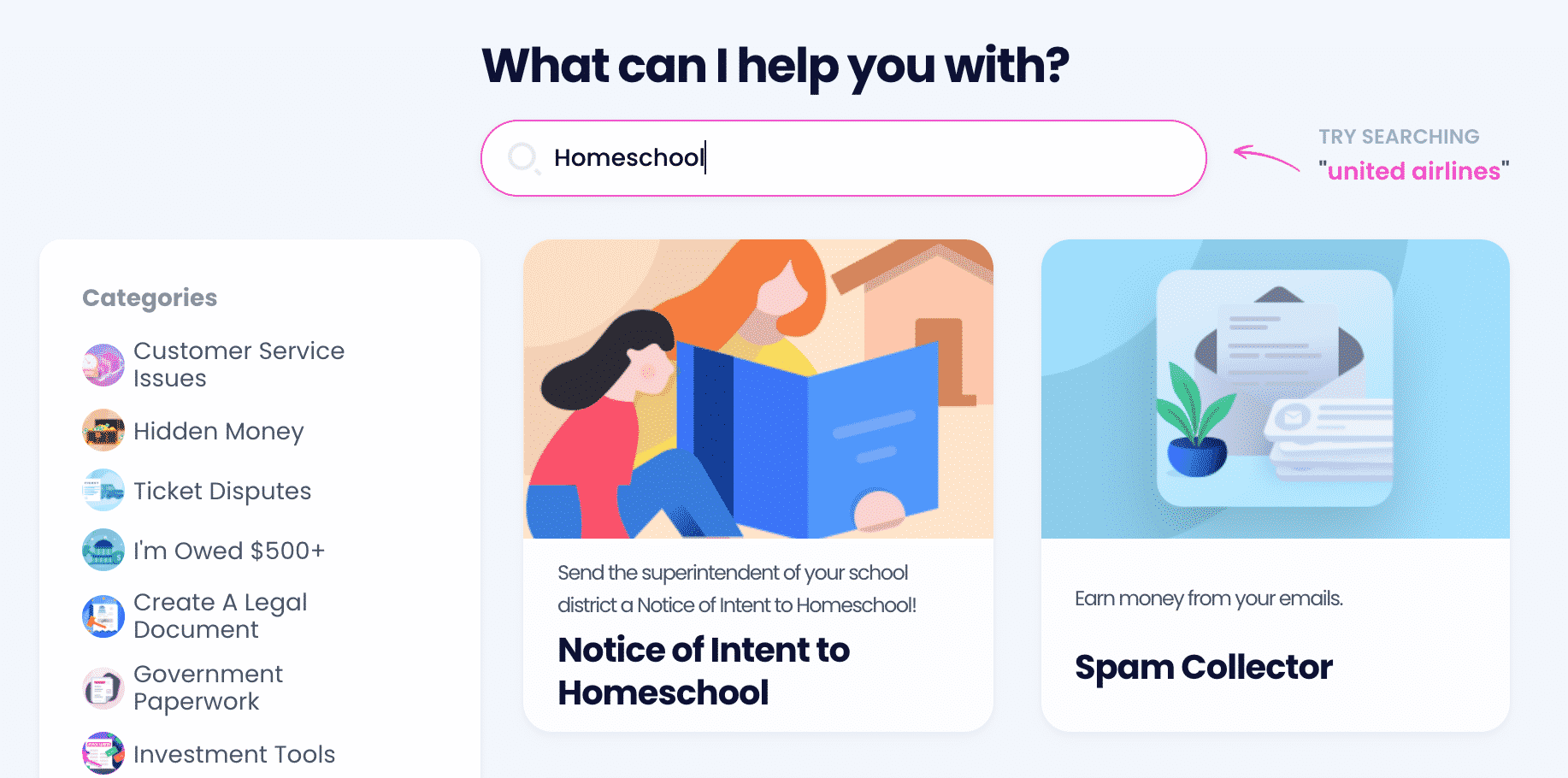 We developed the Homeschool Notice of Intent tool that helps you create a letter of withdrawal by asking you a few short and simple questions. Once we process the info you give us, we generate a full document with all the required details and send it to the local school authorities.
To create your notice, do the following:
and log in
Search for the Homeschool Notice of Intent product
Provide our chatbot with your school district info
Disclose more details about you and your kid
Our app can also set an appointment with a remote notary if you need a notarized letter or create a PDF version of the document so that you can print it out.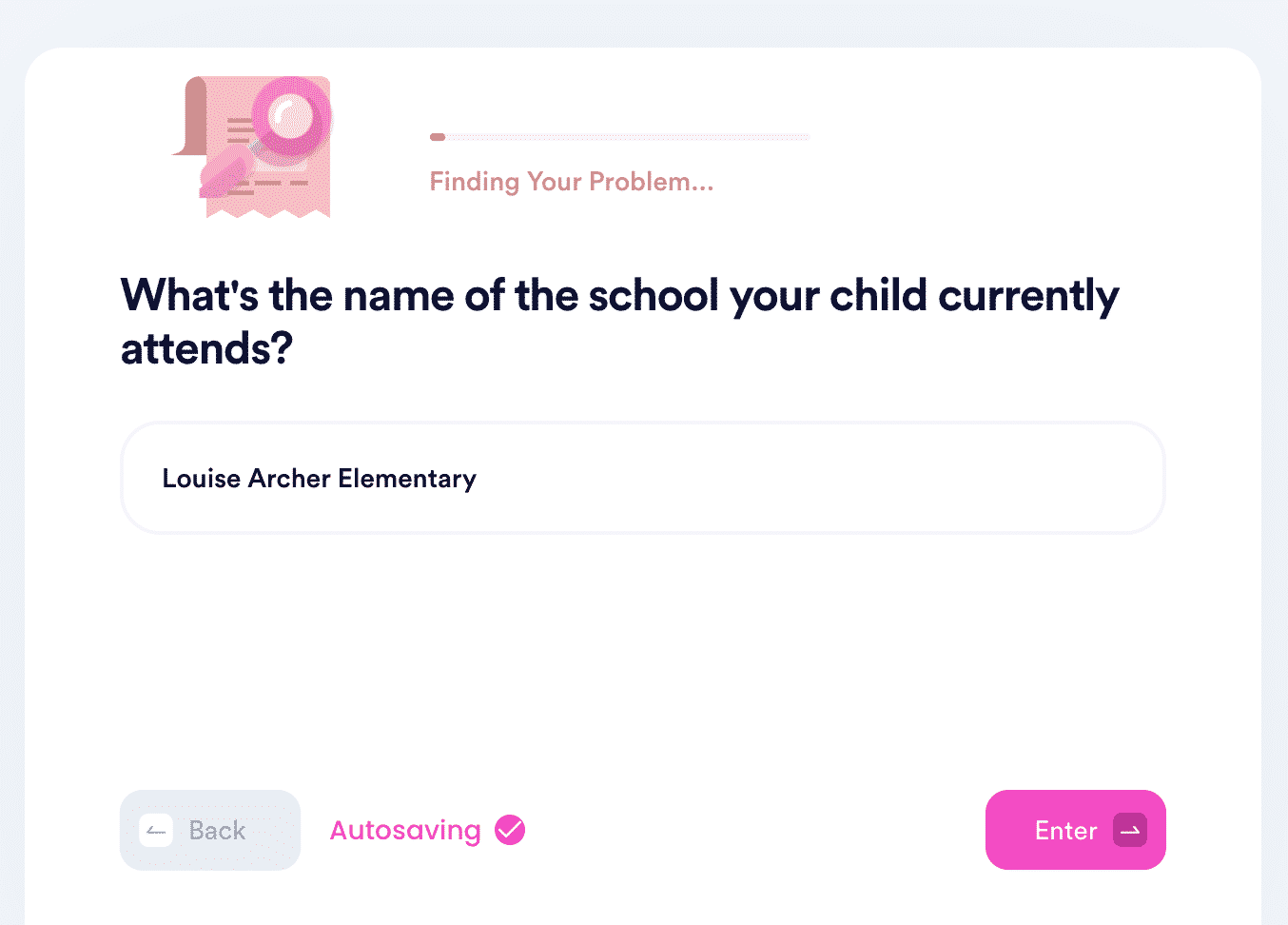 Below you can find other DoNotPay guides that can help you prepare yourself for homeschooling the easy way:
How does homeschool dual enrollment work

?
Don't Let Admin or Legal Issues Wear You Down—Hand Them Over to DoNotPay
Do you believe you may have some missing assets? Use DoNotPay's nifty product before the government claims them! Have you ever wanted to enter sweepstakes without purchasing anything? Our app will sign you up for them quickly! Trying to figure out how to reduce your property taxes or utility bills? DoNotPay can show you the way. Want to avoid getting charged for free trials that never fail to auto-renew into paid subscriptions? We'll help you cancel them before they expire.
Anything else you may need? Check out how our app can:
Check Out Our Other Robust Products
It doesn't stop there—DoNotPay can help you send a defamation demand letter, create passport photos, get gift card cash back, get any document notarized, request access to public records, claim insurance and warranty, request a college application fee waiver, appeal parking tickets, and much more.
Sign up now to get access to any of our products for one low monthly fee!