Homeschooling in Nebraska Done Right
Before starting to homeschool your child, it is paramount to understand local homeschooling laws. Some states have lax statutes, while others require parents to put in more effort. What is homeschooling in Nebraska like?
Check out DoNotPay's detailed guide to homeschooling requirements in the Cornhusker State. We can also help with initial paperwork by creating a letter of intent to homeschool and sending it to the designated office.
Nebraska Homeschooling Laws
Nebraska law views a homeschool as a private school that chooses not to meet approval or accreditation criteria based on religious or non-religious reasons. To have your child homeschooled, you first need to "open" a private school in your home and enroll your student in it.
Other steps you must take to follow the homeschooling law in Nebraska include:
Filing a parent or guardian form each year
Submitting a parent representative form annually
Providing an information summary every year
What You Should Know About Filing a Parent or Guardian Form
Both parents must submit a notarized Parent or Guardian form (Form A) in Nebraska. With this document, you declare under oath that the requirements for state approval and accreditation of your school:
Interfere with your decisions in directing your child's education
Violate your religious beliefs
You need to submit this form when you start homeschooling in Nebraska and every following year by July 15.
What You Should Know About Filing a Parent Representative Form
You need to submit a Parent Representative form (Form B) when you start to homeschool and by July 15 every subsequent year. With this document, you accept the following responsibilities:
Submitting info on student enrollment and attendance
Displaying info about instructional monitors (parents)
Sharing info about the sequential program of instruction
What You Should Know About Filing an Information Summary
Filing the Information Summary is mandatory within 30 days of submitting the other two forms (A and B) for the first time. You should repeat the action by July 15 each year. The form must include:
A scope and sequence for each grade level
All "instructional monitors" in your homeschool (usually the parents). You should enter their ages, names, and levels of education
A calendar for the school year (July 1–June 30)
How To Homeschool in Nebraska—Other Requirements
Take a look at the table below for other homeschooling requirements you meet as a homeschool teacher in Nebraska:
Nebraska Homeschool Requirements
Details
Who can homeschool
Parents or legal guardians can homeschool their children
Attendance age
Children aged 6–16 need to attend school
Homeschooling hours
You must

teach

1,032 hours in the case of elementary students and 1,080 hours if your students are in secondary school
Subjects required
The following subjects are mandatory:

Language arts
Mathematics
Science
Social studies
Health

Curriculum
You can choose the homeschool curriculum without restrictions
Vaccination requirements
You must state that your school complies with vaccination requirements if you indicate a non-religious reason for homeschooling. If you have an exemption from vaccinating, you can skip this step
Teacher requirements
Nebraska doesn't require any specific teacher qualifications
Do You Need To File a Notice of Intent To Homeschool in Nebraska?
Nebraska requires parents to send a letter of intent to homeschool to the superintendent of the appropriate school district. You must file it along with your child's birth certificate by August 1 of the first year of homeschooling.
If you don't want to bother creating a notice of intent to homeschool yourself, you can .
DoNotPay Creates a Letter of Intent To Homeschool in a Heartbeat
Want to have a rock-solid letter of intent without bothering to write it? If you use DoNotPay, this is a possibility! We generate the letter for you in a matter of minutes and send it on your behalf. You can also choose to download the PDF and mail the document yourself.
These are the steps to follow:
Choose our Notice of Intent to Homeschool product
Provide us with the necessary info about your family and school district
Once you answer our chatbot's questions, you can have the letter of intent notarized with DoNotPay's help.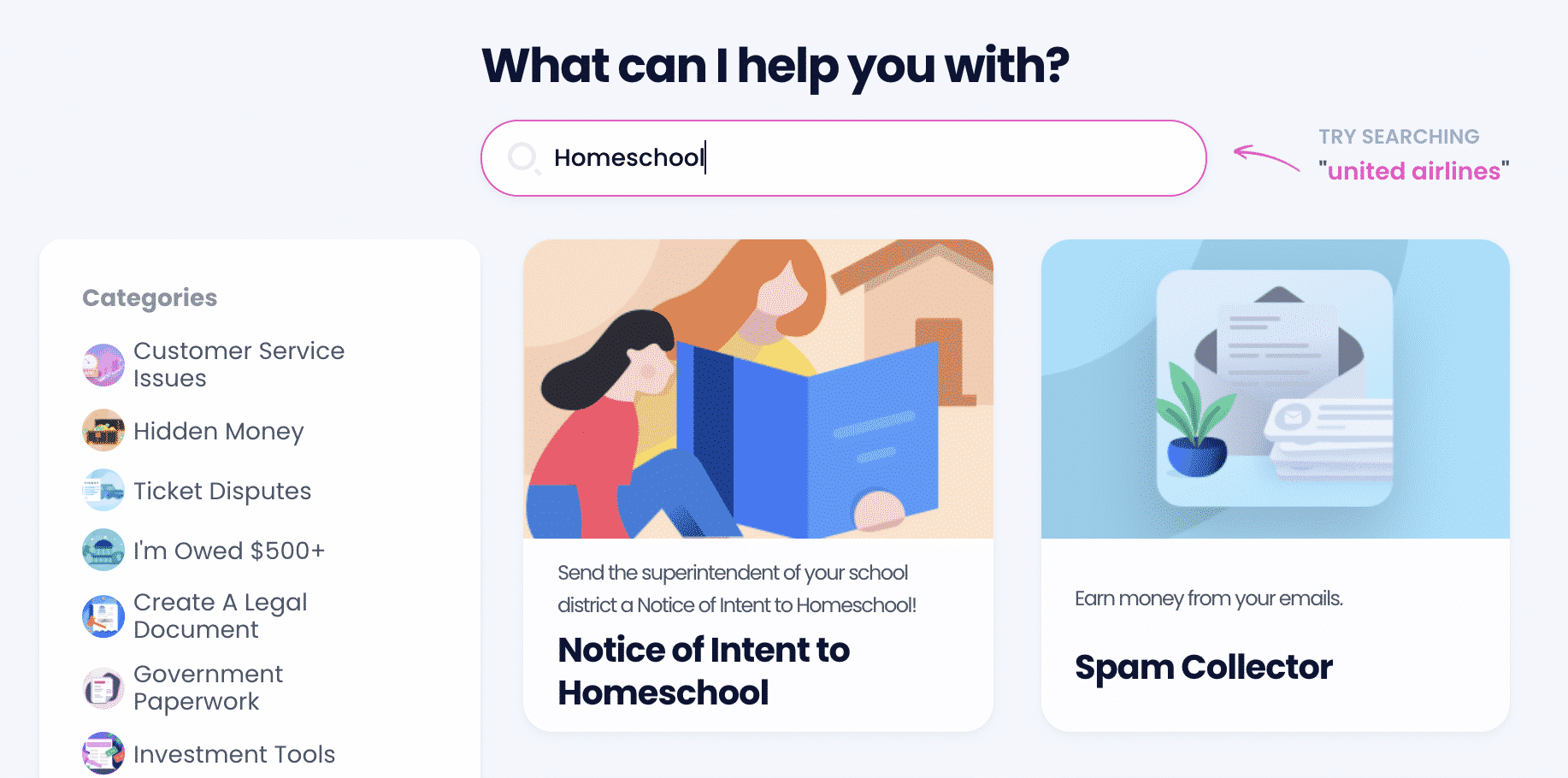 Other Homeschooling Info Every Parent Should Know
As a homeschooling parent, you might have numerous other questions about teaching at home. Tackle the common issues with DoNotPay's helpful articles:
Can DoNotPay Help Me With Any Other Admin or Legal Issue? You Bet It Can!
DoNotPay's robust products can assist you in fighting companies, individuals, and institutions that have wronged you in any way. Once you subscribe to our platform, we'll ensure that you never have to deal with any of the following again:
Our Product Range Offers So Much More
Subscribing to DoNotPay will bring you peace of mind as you won't have to go through tedious task completion on your own anymore. With our AI-powered app, you can get what's rightfully yours in the blink of an eye.
If you want to claim warranty or insurance, find your missing assets, get compensated for a canceled flight or a violent crime that you were a victim of, track your missing parcel, or draw up a child travel consent form, divorce settlement agreement, power of attorney, or any other legal document, you can count on us to lend you a helping hand.
Sign up today to get access to the entirety of our product range and forget about dealing with time-consuming and energy-draining chores!