What You Should Know About the Project-Based Learning Homeschool Approach
Project-based learning is educational philosophy suitable for all ages that can be used with any homeschool curriculum.
If you're a homeschooling beginner and want to encourage child-led learning, one of the best options available is project-based learning (PBL). Read this guide and find out what a project-based learning homeschool approach is and how to get started with homeschooling with our app.
What Is a Homeschool Project-Based Learning?
Project-based learning empowers children to manage and direct their own learning, taking all the responsibility for their projects. They may undertake:
Short-term projects
Long-term projects
As a homeschooling parent, you are there to help your child navigate their learning. You should not intervene—PBL loses its purpose if you do.
What you should do is:
Ensure your child has supplies and a designated space for schoolwork
Take them to museums, libraries, zoos, or historical sites
Give a helping hand if your child requests it
Help your child prioritize their work
Keep in mind that there is no formal training to become a PBL teacher since there is no accrediting authority.
If your state requires formal lesson plans and testing, PBL might be a useful supplement to your core topic studies.
Can You Find a Project-Based Homeschool Curriculum?
There aren't any prescribed PBL curriculums or materials—children choose the resources, format, and length of home instruction. The ultimate goal is to let your children acquire knowledge about something that matters to them.
How Is PBL Different From Traditional Homeschooling?
Project-based learning focuses on fostering natural curiosity and advocates the belief that children are able to find answers on their own. Field trips, videos, movies, online research, libraries, museums, etc., are part of this educational method, which moves away from worksheets, textbooks, and traditional teaching.
How To Start Homeschooling With a Project-Based Homeschool Approach
Before you start homeschooling, you should check the homeschool laws for your state. Look for mandatory subjects, hours of homeschool, and requirements for homeschool teachers. Don't forget to check if you're allowed to hire someone else to help you homeschool your child.
To begin homeschooling, in most U.S. states, you will need to send a letter of intent to homeschool to your school district superintendent. If your child is already enrolled in a public school, but you want to transfer them to homeschool, you're allowed to do that whenever you want.
For a successful start in PBL homeschooling, take the following actions:
Steps
Details
Secure a comfortable learning environment and tools
The designated learning space in your home should have good lighting and suitable furnishing.

Your child should be able to reach what they need easily

Help your child find the resources they can use
A younger child will need more help and direction, but a high school student can complete this task independently. Some resources you may propose are:

Google
Library
YouTube
Documentaries
Textbooks
Encyclopedias

Keep a learning journal
This is extremely important when it comes to PBL because you'll be able to reflect on finished projects and remind your child of some interest they may have forgotten
Agree on the details of the project presentation together with your child
Define the structure of the presentation and find the audience, for example, family or homeschool co-op
The Pros and Cons of PBL
PBL has numerous advantages for homeschooled students. This approach:
Encourages independent learning
Focuses on the child, their interests, and learning style
Allows for the in-depth understanding of different concepts
Works great for any age and learning style, as well as for children with special needs
Provides children with real-life skills
Develops creativity
Improves research skills
There aren't many cons to project-based learning. One downside might be the cost, but homeschooling can be expensive regardless of the method.
You may find this approach unsuitable because it makes it difficult to plan your day. People who like to know exactly what they will do the following day often have trouble adjusting. If you have two or more children, finding time to homeschool each child could also be complicated.
How To Write a Letter of Intent To Homeschool
In most states, a letter of intent to homeschool should include the following information:
The name, address, qualifications, and signature of the homeschooling parent
The student's name, date of birth, and grade level
The start date of homeschooling
To find out if your state requires submitting such a letter to your school district, refer to the table below:
Drafting a Letter of Intent To Homeschool Is Much Easier With DoNotPay
You already have your hands full starting with your project-based learning—writing and submitting a letter of intent to homeschool is an additional tiring task. DoNotPay, the world's first robot lawyer, can do it for you in minutes.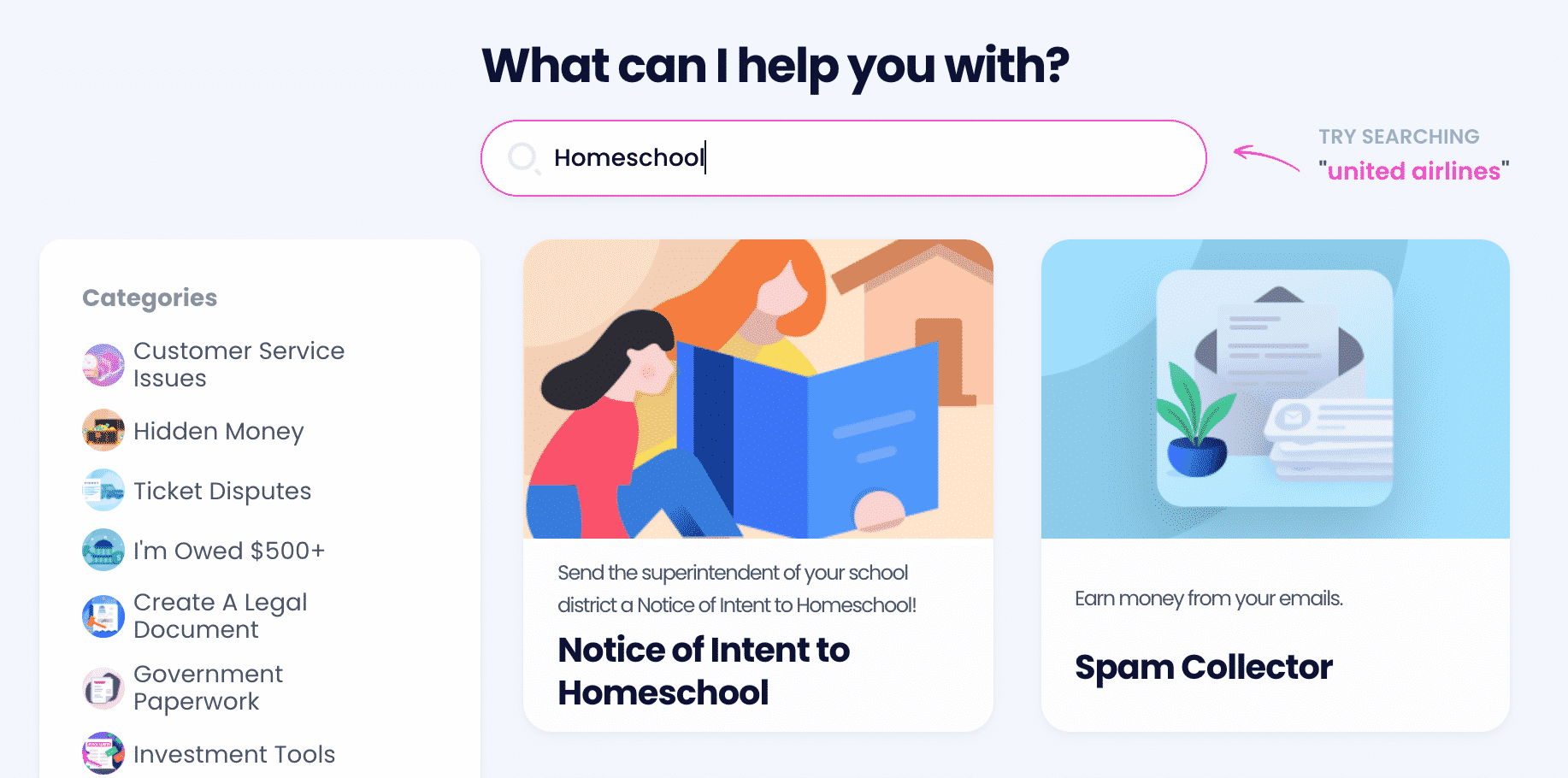 All you need to do is:
Search for the Notice of Intent to Homeschool product
Provide us with information about yourself, your child, and your homeschooling plan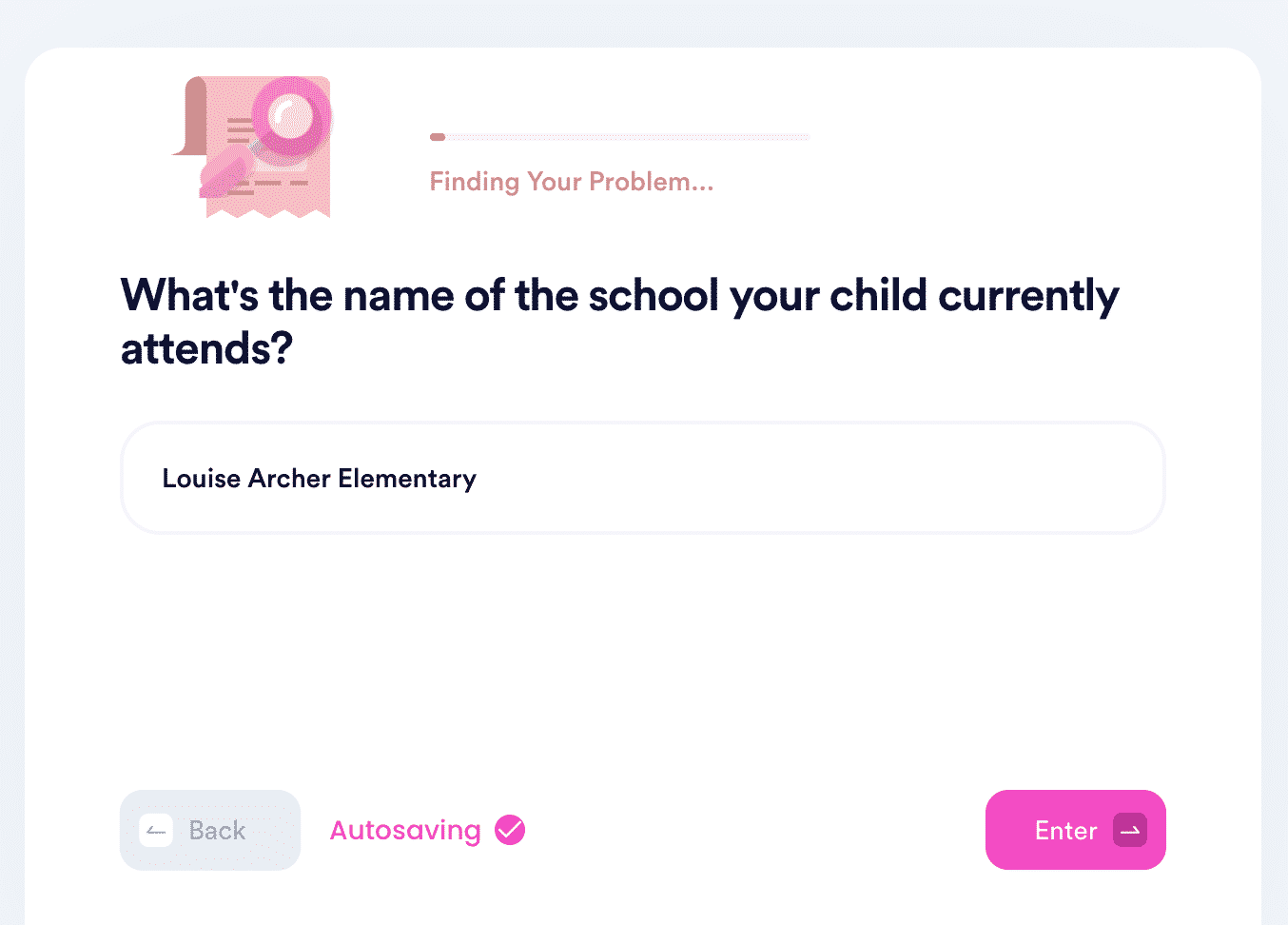 Once you've filled out our online form, we will instantly generate a personalized letter of intent to homeschool. You can use our app to send it to your school district office or download it in PDF format and send it yourself.
Fast-Track Different Tasks With DoNotPay
Are you trying to get a refund from a company and can't reach its customer service? Was your flight canceled or delayed, and you want to get compensated? Is hiring a lawyer out of the question because they're too expensive, but you have to draft some legal documents? Once you register for DoNotPay, we'll be able to help you with all of the above and more!
Rely on our app to finally put an end to text spam, annoying robocalls, and spam emails.
Do you need help canceling your forgotten subscriptions? We'll help you detect all your active memberships or subscriptions and get rid of the ones you no longer want.
In case you're studying for your driving test, you can use our Government Tests Prep product and ace this and many other exams. We can also schedule an appointment with the DMV on your behalf.
If you have to claim your car or any other insurance or warranty, rely on DoNotPay. Use our app to also contest parking tickets in a jiffy!
Protecting Your Privacy Is Easy Using Our App!
While staying anonymous online can be difficult, we can turn it into a breeze. Get a temporary number when you sign up for various platforms. Do you want to keep other personal info to yourself? Use our virtual credit card and avoid hidden charges for free trials.
We'll also help you stay safe from stalkers and harassers, sex offenders, defamation, and workplace discrimination.