Homeschooling a Gifted Child Explained by DoNotPay
Wondering whether homeschooling a gifted child is a viable option? This article will help you with the decision! We'll tell you what the benefits are and list all the tips you need to homeschool your child like a pro.
Once you decide to homeschool your gifted child, read our other helpful articles that tell you all about the homeschooling costs and the hours you need to teach daily. We'll show you who can homeschool your child and when you can start.
Should I Homeschool My Gifted Child?
Gifted kids usually learn basic skills quickly and don't need much practice. They pick up cues fast and are highly inquisitive. These characteristics, along with being highly intelligent and interested in numerous topics, make them stand out from their peers.
In public schools, gifted children are often pushed aside because they know the material or are one step ahead of other kids.
This is where homeschooling comes in. Instructing your gifted kid at home enables you to:
Teach them what they want to learn—The biggest advantage of homeschooling is that your gifted child will learn what they're particularly interested in. If they love maths, for example, you can focus on it and include other related subjects
Go through the topics faster—If your kid is devouring their course material, you can add additional resources and help them advance faster
Make their learning enjoyable—If they don't have a pleasant experience learning in public schools, withdrawing and homeschooling them will make it much more enjoyable while they're surrounded by parents and family
Minimize bullying—Gifted children are usually picked on and bullied in school, so homeschooling them can help them avoid this as much as possible
Homeschool for Gifted Students—The Basics
Before homeschooling your gifted student, you should first find the best approach to teaching. It varies from child to child, and the best way to find out is to try out a few methods or talk to other homeschooling families.
The most popular approaches you should consider are:
| Approach | Explanation |
| --- | --- |
| Charlotte Mason method | This method uses well-written and engaging books instead of worksheets and textbooks. It focuses on music, art, poetry, and literature and asks the student to retell everything they've learned from the reading |
| Interest-led learning | Letting your child's interests and curiosity guide you is what this concept is all about |
| Unschooling approach | Unschooling is based on the idea that children can learn at home by engaging in their environment rather than using a curriculum |
| Montessori method | This method of education emphasizes independence and is focused on the child's natural psychological and social development |
| Waldorf method | Waldorf emphasizes outdoor play, screen-free learning, and arts. It takes a holistic approach to grading and tests |
Tips for Homeschooling a Gifted Child
Here are some tips to help you get started once you decide on the optimal approach for homeschooling your gifted kid:
Let your child advance through the curriculum at their own pace—Don't be afraid to let your child go through the curriculum quickly. If they're advancing at high speed, you should provide them with extra material
Hire a professional teacher—If your kid keeps going through curriculums, seek out teachers who can help them cover the material on a deeper level than you can
Be content with their strengths and weaknesses—Sometimes, a gifted child will excel in one field while being weak in another. For example, musicians are usually bad at maths—if you acknowledge their strengths and weaknesses, it will give them a chance to work on both
How To Start Homeschooling Gifted Children
If you want to start homeschooling, the laws and requirements are the same whether your child is gifted or not. You may need to:
Withdraw them from school by sending a withdrawal notice (if necessary)
File a letter of intent to homeschool your child
If you need an affordable way of getting the letter, subscribe to DoNotPay! We'll generate it according to the details you give us and even forward it to the superintendent of your local school district.
Getting and Submitting a Letter of Intent To Homeschool Is a Breeze With DoNotPay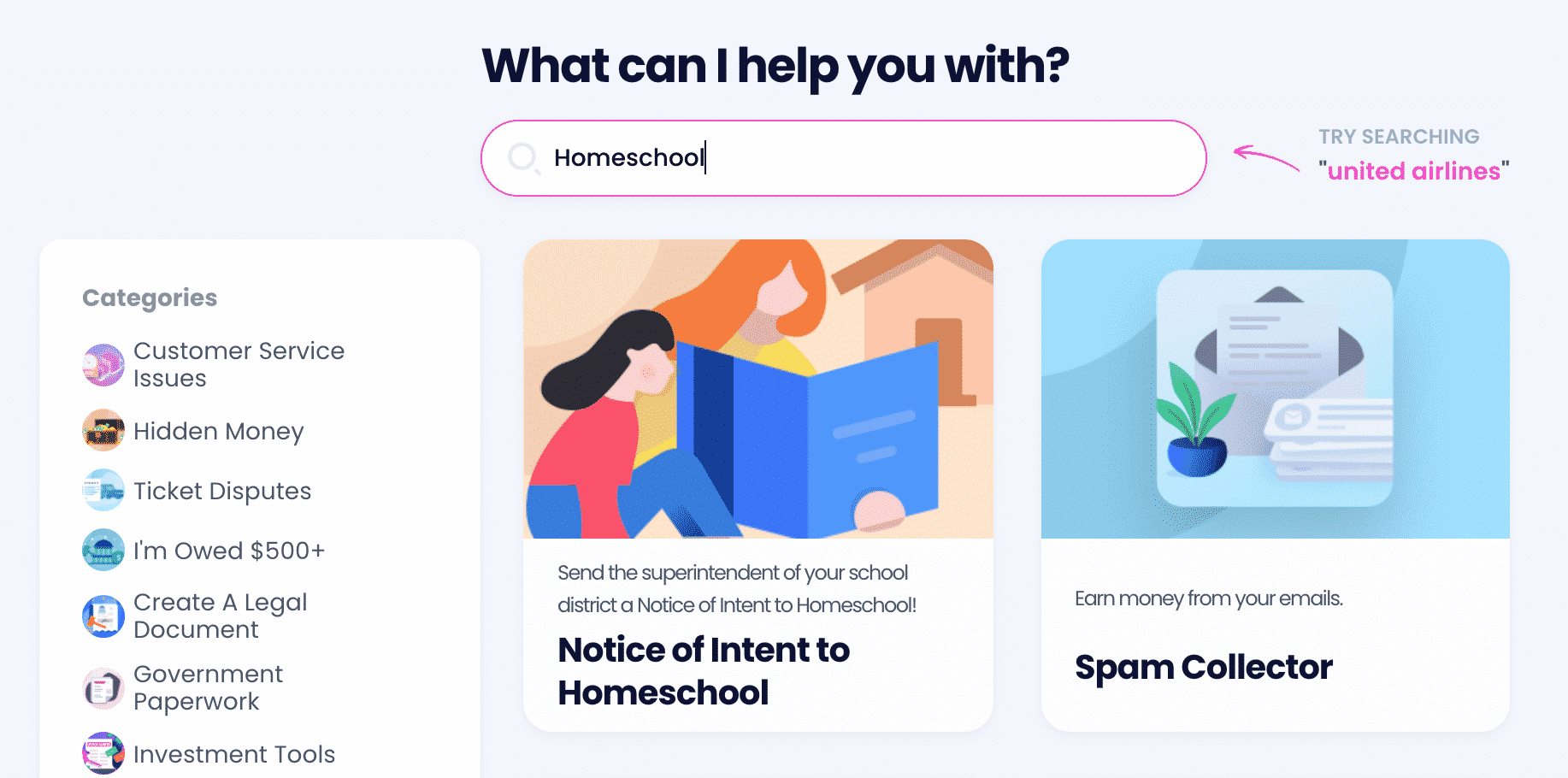 Decided to homeschool your child? You will need to get a letter of intent to homeschool. This task doesn't have to be tedious or expensive because DoNotPay has developed a tool that'll help you draw up this important document instantly.
All you have to do is:
Sign up for DoNotPay from your preferred browser
Locate our Letter of Intent to Homeschool tool
Give us details about your homeschooling plan, yourself, and your child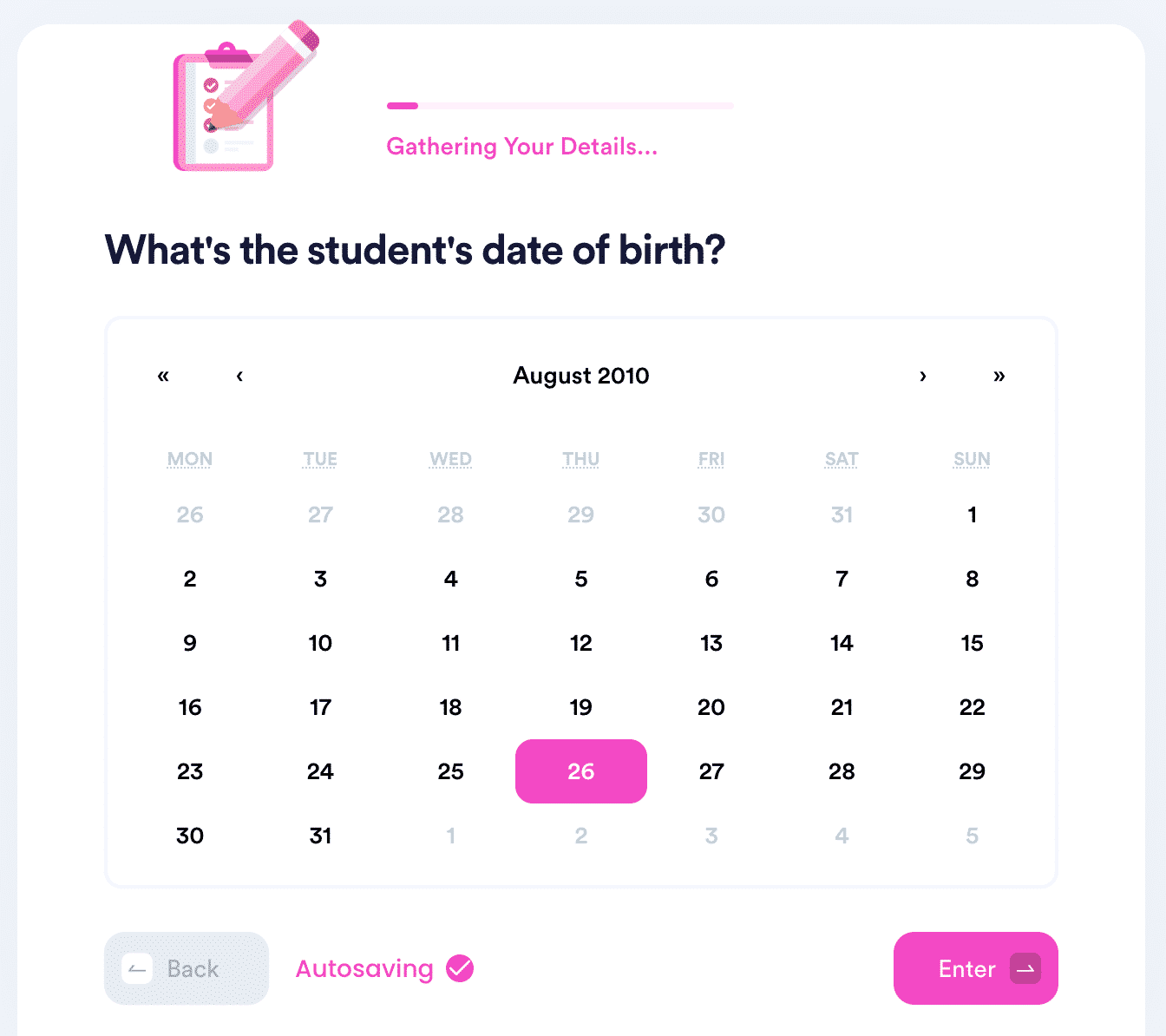 We will process the details you give us and generate the letter accordingly. You can then choose whether you want us to send it to you or forward it to the correct address.
Do you live in a state that requires you to have the letter notarized? We'll connect you with an online notary so that you can do it without leaving your home.
Discover DoNotPay's Solutions to Mundane Tasks
Our product range doesn't end there—we can also help you sue anyone in small claims court, cancel any subscription, start a free trial risk-free with our virtual credit card, get refunds and chargebacks, send anything through online fax, pay your utility bills, demand airline compensation, and deal with your annoying neighbors.
As soon as you sign up, we can also put an end to robocalls, copyright infringement, email and text spam, and stalkers and harassers. Our app's abilities don't stop there either—get perfect passport photos, free raffle tickets, compensation for victims of crime, or insurance or warranty instantly!
There's So Much More We Can Assist You With
Check out how else we can help—DoNotPay can:
Sign up now to take advantage of our nifty products!