The Ins and Outs of Homeschooling in Florida
While homeschooling might be the best option for your child and family, you need to investigate the process thoroughly to know what lies ahead. Get familiar with state laws and available curricula, and make sure to check the cost fits your budget.
Where to start with homeschooling in Florida? This article provides information on all the requirements you need to meet.
Florida Homeschool Laws
If you're wondering how to get started with homeschooling in Florida, you should check out the requirements presented in the following table:
Florida Homeschool Requirements
Details
Required age
In Florida, school is required for children between the age of six and 16
Homeschool options in Florida
You can choose to homeschool your child:

Under the homeschool statute
With a private tutor

Letter of intent
To teach under the homeschool statute, you need to file a letter of intent to homeschool. If you need help with this step, to create the document hassle-free
Teacher qualifications
While you could check out who else can homeschool your child besides you, keep in mind that parents don't need to have any special qualifications to homeschool their children in Florida
Subjects
You've got the freedom to pick a curriculum and subjects you'd like to cover with your student at home
Evaluation
If you're the one homeschooling your kid, you must evaluate them every year
How To Legally Homeschool in Florida
Once you've decided to homeschool your child, you need to take the following steps to meet Florida homeschool statute legal requirements:
File a Florida letter of intent to homeschool—You must:

Notify your school district's superintendent of your intent to homeschool your kid
Submit this notice within 30 days of taking your child from school (even if it's in the middle of the year)

Keep a portfolio—You need to maintain a portfolio for two years after the homeschool program has ended. The portfolio needs to include the records of the following:

Educational activities log with the instruction and titles of all materials you've used
Samples of writings, workbooks, worksheets, and any other materials your child has used or created

Evaluate your student—You must evaluate your child every year. The following options are at your disposal:

Have a certified teacher review the portfolio and evaluate the progress of your child
Allow a certified teacher to administer a student achievement test
Get a licensed (school) psychologist to evaluate your child
Keep in mind that while you don't have to keep records of homeschool hours or days, you need to file a notice of termination to the superintendent of your school district:
How Much Does It Cost To Homeschool in Florida?
While the average cost of homeschooling in Florida goes from $700 to $1,800 per child per year, the total price depends on different criteria, including:
The curriculum you choose
School supplies
Extracurricular activities (e.g., sports)
Field trips
If you'd like to get information on field trips, activities, available resources, and events, you should consider going to the Florida Homeschool Convention and joining a homeschool association or co-op.
Free Virtual Classes for Florida Homeschool Programs
You and your child can take free virtual courses some schools provide to students in Florida and across the States. Here are some institutions you should consider:
While the last two institutions offer less formal online programs, FLVS classes and materials for grades 6–12 fully comply with Florida standards.
You cannot register your kid for virtual courses at FLVS or your district's virtual school until you've filed your letter of intent.
Generate a Letter of Intent To Homeschool With DoNotPay
You don't have to rack your brain going through different statutes to prepare the letter of intent according to state laws. Our AI-powered app knows the requirements and can easily generate the document in no time.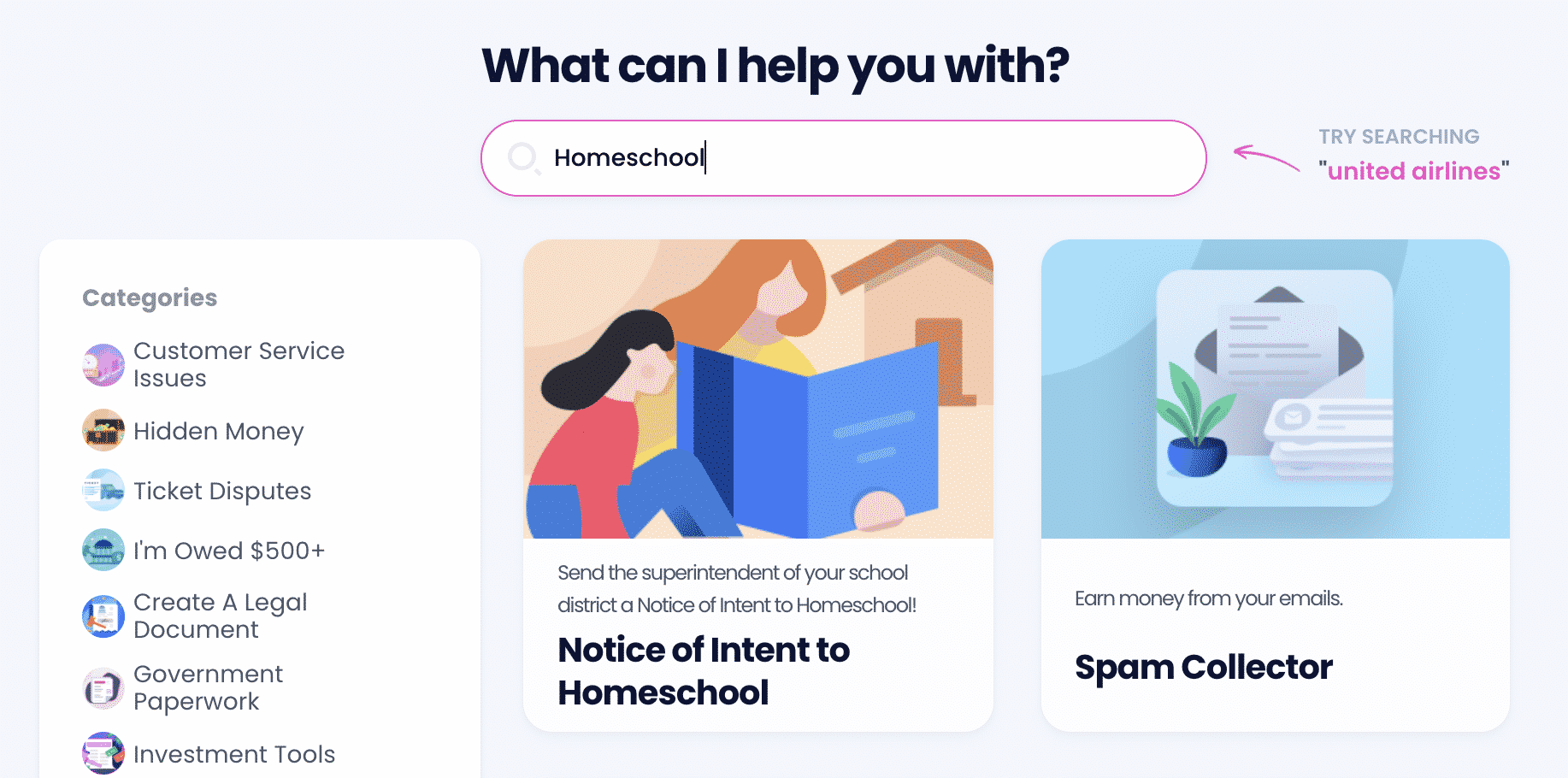 and take these steps:
Access our Notice of Intent to Homeschool product
Provide information on your school district, your child, and yourself
Select if you'd like DoNotPay to:

Have your letter notarized
Send the notice of intent to your school district's superintendent in your stead
Deliver the letter in PDF format so that you can file it yourself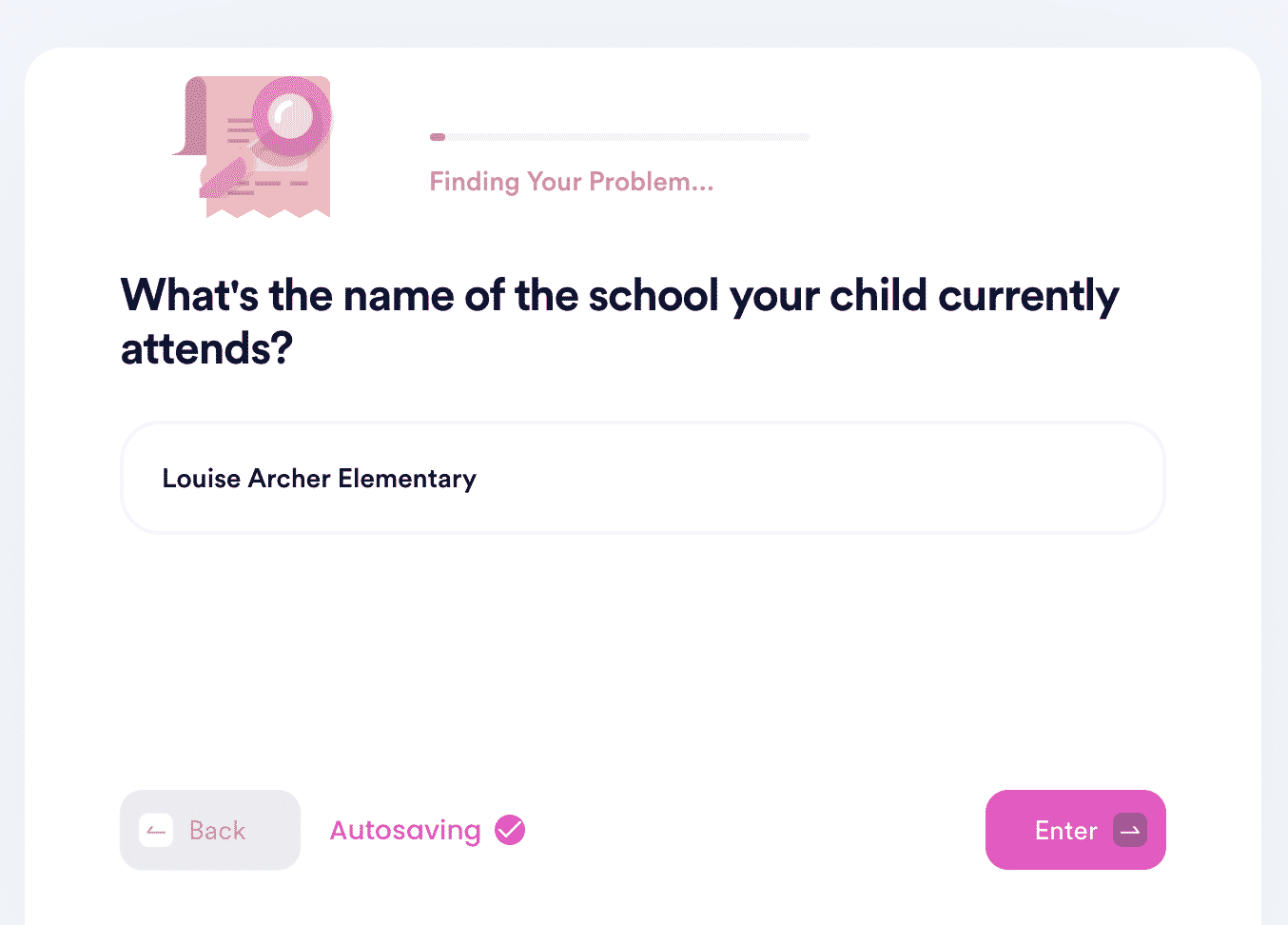 DoNotPay keeps you updated on different aspects of homeschooling. Our articles deal with hot topics, such as:
Stuck in a Bureaucratic Mess? DoNotPay Is Here To Help!
Since handling dull administrative tasks is a burden and no one likes doing them, DoNotPay developed a variety of neat features to ease many processes! With our nifty app, you can:
Appeal a property tax assessment

Draft power of attorney documents
Deal With Companies Like a Pro
We all love shopping, but it's no secret that companies sometimes turn a fun experience into a nightmare, especially when they refuse to cooperate. DoNotPay is here to help you reach customer support without the hour-long wait and sue an uncooperative merchant in small claims court if necessary!
Need a refund? We can show you how to get your money back from any company in a snap!
Should you need to file an insurance or warranty claim and request gift card cash back or an item return, you can count on our app to assist you! DoNotPay can also show you how to discover any unclaimed funds under your name so that you can continue shopping like a pro.