How Do You Start Homeschooling in Utah?
If you're warming up to the idea of homeschooling but are unfamiliar with the local requirements, DoNotPay can help. The infallible robotic lawyer will take you through the process of homeschooling in Utah and generate the necessary documentation. and make use of our top-notch document-drafting services.
What Are the Utah Homeschool Laws?
When it comes to legislation, the Beehive State is widely known for its lenient attitude toward homeschooling. The minimal Utah homeschooling requirements and simplified enrollment procedure are a testament to that.
You can read a summary of the Utah homeschool laws in the table below:
Homeschooling Requirement
Yes/No
Compulsory age for homeschool
Yes.

Your child can attend home school in Utah between the ages of six to 18

Filing a declaration of intent to homeschool
Yes.

If you want to start homeschooling, you need to submit a homeschool affidavit first

Parental qualifications
No.

You don't have to be certified to teach at home. You are also free to hire a homeschool teacher to educate your kids

Participation in standardized testing
No.

Homeschooled kids aren't obligated to participate in standardized testing

Keeping a homeschool transcript
No.

Record-keeping is not a homeschooling requirement in Utah, but most families choose to create a homeschool portfolio anyway
The Utah homeschooling laws provide a unique dual enrollment opportunity for home-schooled students. If you think your child would benefit from a particular public school class or extracurricular program, they're free to apply.
Another option for home-schooled kids is to spend half their time in school and the other half at home. The part-time arrangement has proven helpful to single parents without a good support system.
Creating a Homeschool Curriculum in Utah
Homeschool programs in Utah are devised and implemented by the person in charge of the education. You're free to assume full responsibility or hire a third party to map out the coursework.
Before you get started on the curriculum, you should know that according to state laws:
You won't have to include any mandatory subjects in your lesson plan
The choice of learning materials and educational methods is yours to make
You can design the curriculum according to your religious beliefs, your child's disposition (e.g., if they have any learning disabilities), or other chosen parameters
The number of homeschooling hours you accumulate per year is arbitrary
You set the graduation requirements and issue the diploma
When and How To Submit the Utah Homeschool Affidavit
If you've officially decided to teach at home, you'll need to file an affidavit or declaration of intent to homeschool. The procedure is as follows:
Compose a letter of intent
Get it notarized
Forward the Utah homeschool affidavit to the school district superintendent via mail. You can also make an appointment and hand it in
Wait for the official approval before taking your child out of school. It usually takes around 30 days after the document submission
You can file a notice of intent at any point during the school year. To generate the document, you can:
Download the form from the official Utah State Board of Education website
Subscribe to DoNotPay
Unlike in other states, you won't have to re-submit the affidavit so long as you stay in the same school district. The local authorities will send you an exemption certificate for every year you continue homeschooling.
Eager To Start Your Journey? Use DoNotPay To Create a Notice of Intent To Homeschool Fast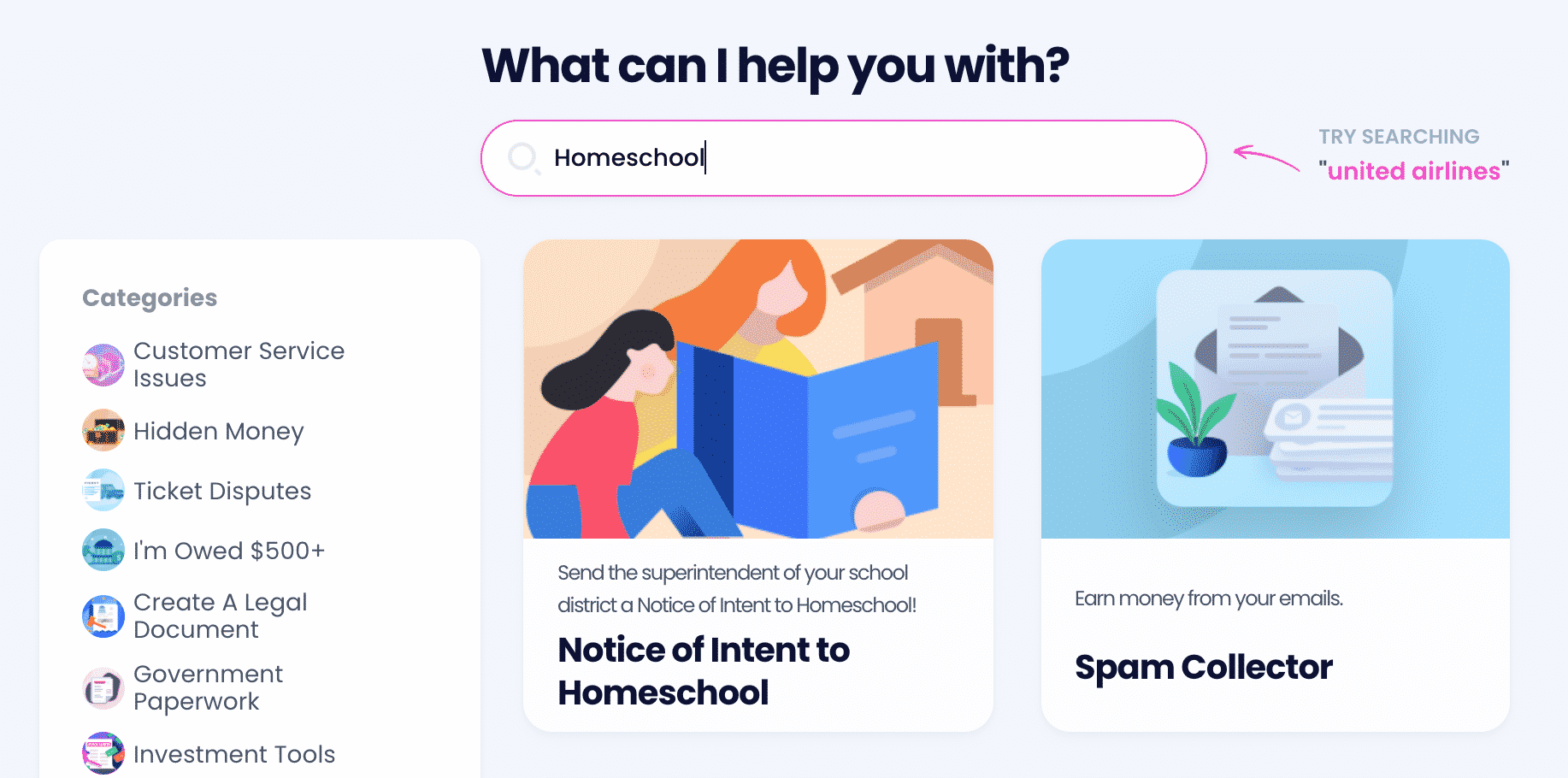 It's impossible to start homeschooling in Utah without submitting a notarized copy of the homeschool affidavit. Filling out paperwork is always a chore, even when it's brought down to a minimum. Once you sign up for DoNotPay, you'll gain access to our Notice of Intent to Homeschool product and sail through the process.
Here's a step-by-step breakdown of how to compose a letter of intent using the amazing feature:
using your browser
Open the Notice of Intent to Homeschool product
Submit your school district information
Answer a series of questions regarding yourself and the student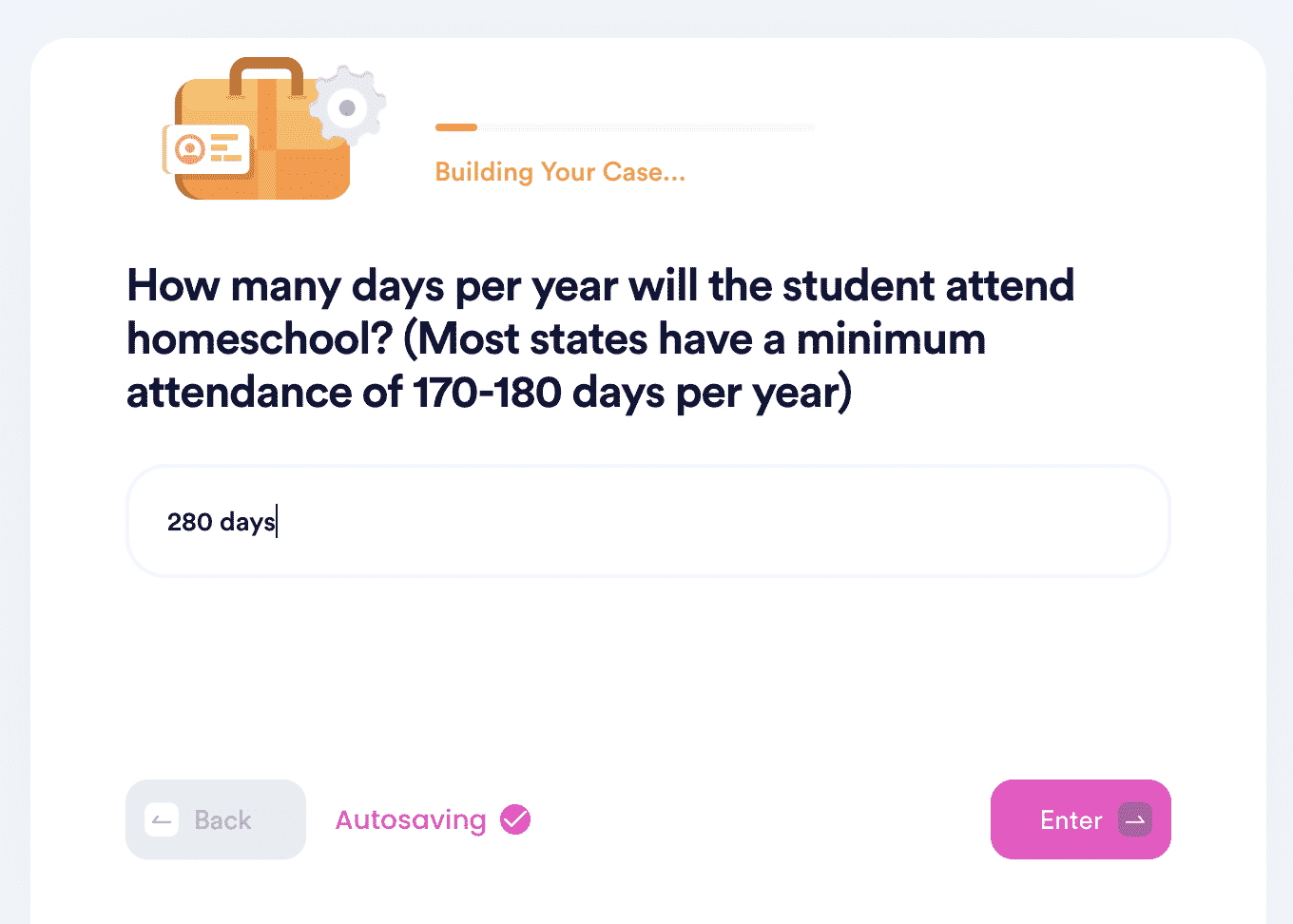 If you'd also prefer to skip the visit to the notary office, DoNotPay offers a solution. The Notarize Any Document feature can get your affidavit attested within seconds. You can then rely on the cutting-edge algorithm to forward the paperwork to the school district office.
Joining a Utah Homeschool Association
Utah has an incredibly developed support system for homeschooling families. The Beehive State is home to numerous homeschool organizations you can join. Apart from secular groups, there are also many Christian homeschooling communities, such as the Utah Christian Homeschoolers Association.
Joining a co-op is a great way to meet other homeschooling parents and learn more about the lifestyle. You'll get a hold of reliable and up-to-date information on various homeschooling topics, such as:
Don't Stop There—Check Out DoNotPay's Product Range
DoNotPay has many tricks up its sleeve—no matter the admin or legal issue at hand, our AI-enabled app can power through it in a split second. Look into our product range to find out how you can:
What Else Do You Need? DoNotPay Will Provide!
If you want to cancel a subscription before your free trial expires so that you don't get charged, you can count on our virtual credit card to do it in your stead! We can also make sure that you get what's rightfully yours—be it a refund, insurance, warranty, unclaimed money, flight refund, raffle ticket, or gift card cash back.
You no longer have to go through legal or administrative hurdles on your own—as soon as you sign up for DoNotPay, you'll get access to our app's assistance and will be able to use it to fight injustice.