Deciphering Homeschooling in Oklahoma
Starting a homeschooling adventure with your child in Oklahoma can be challenging since it's a huge change. If you want to help your little one transition from traditional school to home-based education smoothly, this article is all you need. helps you discover everything about homeschooling in Oklahoma and assists in drafting the letter of intent to homeschool, one of the crucial documents in the process.
Is Oklahoma Homeschool a Good Idea?
If you are still wondering whether to homeschool your child in Oklahoma, here are some pros and cons to consider:
Advantages
Disadvantages

Homeschooling offers more freedom and allows an individual approach—you can adapt the program to your child's needs and abilities
You can participate more in your child's educational routine and gain insight into their way of learning
There's no homework, as the child completes all the necessary assignments during their classroom hours
Your child can still participate in various activities, such as:

Field trips
Sports classes
Amateur and recreational leagues

Besides being a parent, you take on the responsibilities of an educator and organize everything yourself, which can be difficult
Your child may experience a lack of socialization while being homeschooled
There are fewer financial aid opportunities for this type of education
Some teaching resources used in public schools may be unavailable for homeschool needs
Homeschooling Laws in Oklahoma
Homeschooling requirements and laws in Oklahoma are pretty lenient. In most states, if you want to withdraw your child from a regular school and start homeschooling, you must notify the school authorities about that. That's not the case in Oklahoma—you can submit a letter of intent to homeschool, but it isn't a mandatory step. You also don't need to ask school officials of your district for approval or let them visit you or inspect your home.
If you still decide to send a notice of intent to homeschool, you should include the following details:
Basic info about you, your child, and the schooling institution your child attends at the moment
The academic year in which you want to start homeschooling
All details of your planned homeschooling program
You can start homeschooling your child when they turn five, as this is the minimum age for compulsory attendance at regular schools. It's possible to teach the student yourself or hire someone else to do it in your stead—a certified teacher, for example.
The child needs to complete 180 days of education with six classroom hours per day, and you should document it for future reference because you may need to prove that the appropriate home education has been provided at some point.
Homeschooled students aren't required to undergo testing unless they want to return to a public school. If they do, they must take a standardized achievement test.
What Subjects Should Homeschool in Oklahoma Include?
The Sooner State doesn't mandate specific subjects as a part of a homeschooling curriculum. It's recommendable to make the homeschooling program similar to the one in traditional schooling institutions by including:
Math
Health
Safety
Science
Writing
Reading
Physical education
What Are the Most Popular Oklahoma Homeschooling Support Groups?
Oklahoma boasts many helpful homeschooling associations you can reach out to. Most of them are religion-based and include:
LIGHT Homeschool Group
Homeschooling in OKC Metro
Norman Area Home Educators
Cornerstone Christian Academy
Lawton Christian Home Educators
Red River Christian Homeschoolers
Christian Home Educators Fellowship
Trailblazers Homeschool Association
The Christian Education Alliance
Oklahoma Christian Home Educators Consociation
Educators for Christian Homeschoolers in Oklahoma
Northeast Oklahoma Association of Homeschools Jaguars
DoNotPay Is Your Way to a Perfect Notice of Intent To Homeschool
If you don't know how to compose a letter of intent to homeschool yourself or are too busy to do it, DoNotPay has a solution! We have created a tool that helps you collect the necessary info and generate the document in a few taps.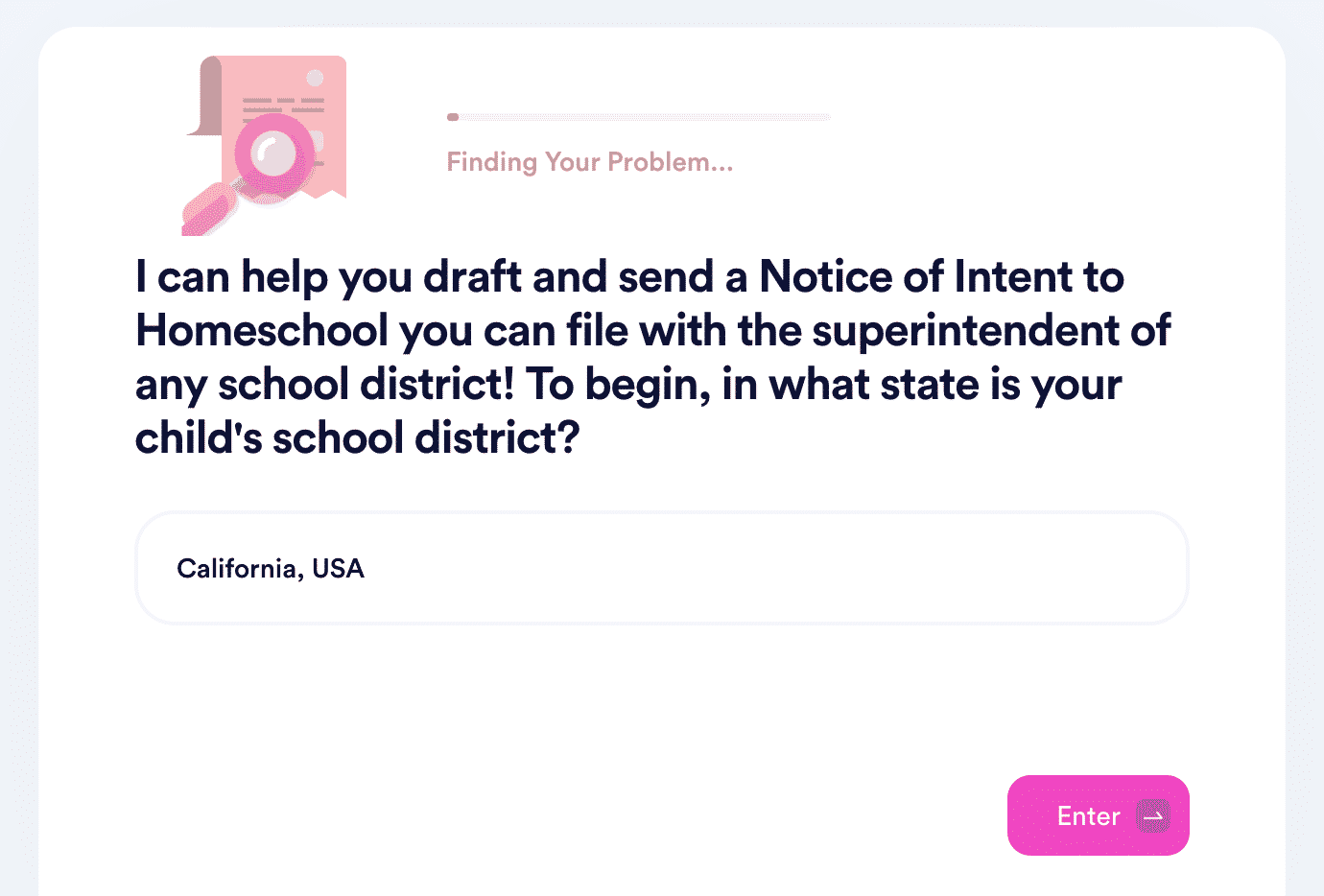 The procedure is simple:
Navigate to the Notice of Intent to Homeschool product
Tell us what your school district is
Provide other necessary info to help us draft your letter
After completing these steps, you can:
Have your letter of intent notarized by an online notary quickly
Let us send it in your stead to save time
Receive a ready-made letter in PDF format if you want to submit it personally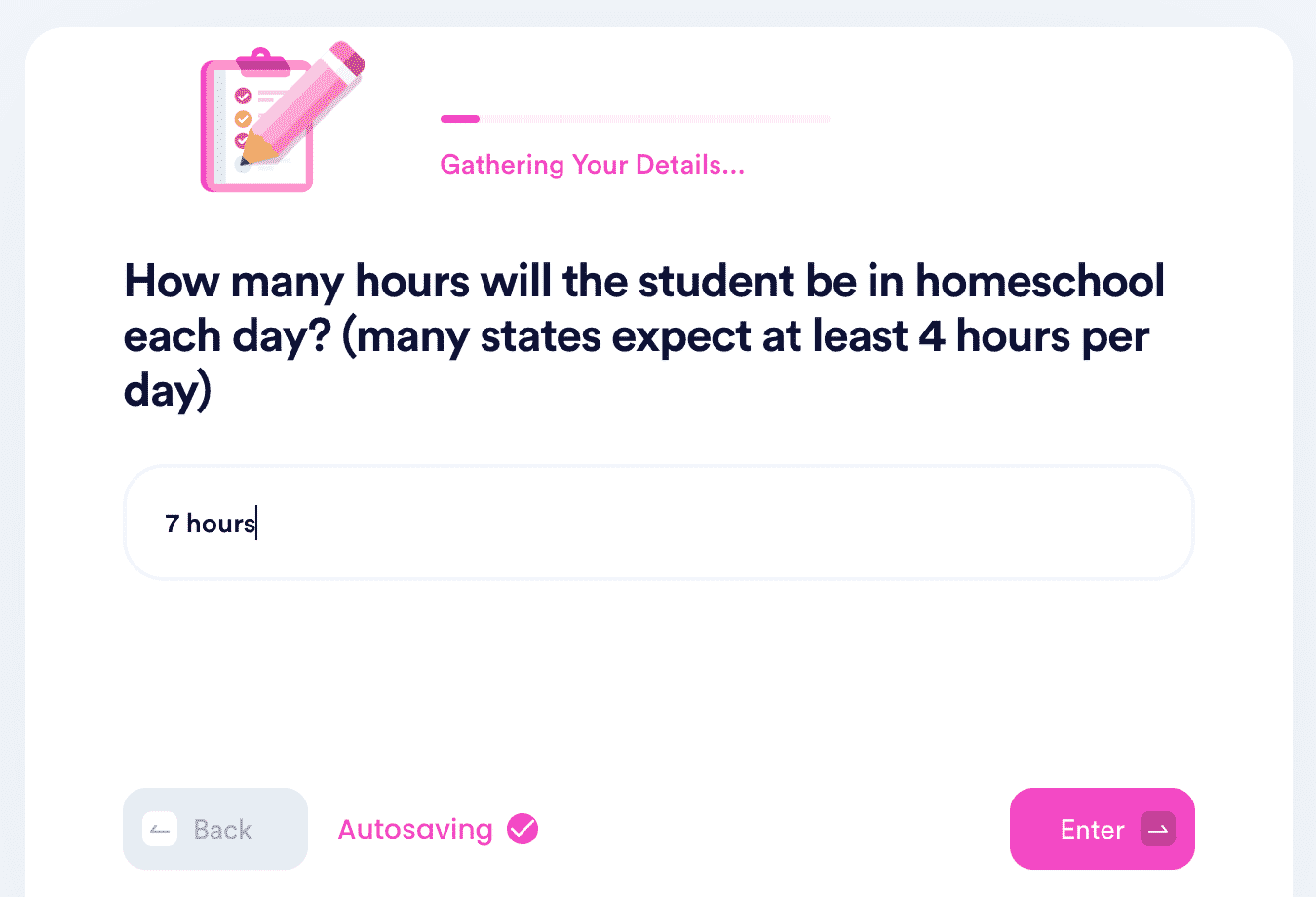 Check out our helpful articles on other relevant homeschool-related topics, such as:
Don't Let Admin or Legal Issues Wear You Down—Hand Them Over to DoNotPay
Do you believe you may have some missing assets? Use DoNotPay's nifty product before the government claims them! Have you ever wanted to enter sweepstakes without purchasing anything? Our app will sign you up for them quickly! Trying to figure out how to reduce your property taxes or utility bills? DoNotPay can show you the way. Want to avoid getting charged for free trials that never fail to auto-renew into paid subscriptions? We'll help you cancel them before they expire.
Anything else you may need? Check out how our app can:
Check Out Our Other Robust Products
It doesn't stop there—DoNotPay can help you send a defamation demand letter, create passport photos, get gift card cash back, get any document notarized, request access to public records, claim insurance and warranty, request a college application fee waiver, appeal parking tickets, and much more.
Sign up now to get access to any of our products for one low monthly fee!