Do You Need a Homeschool Grading Template? DoNotPay Has the Answers
Do you plan to homeschool your child? If so, you're probably thinking of getting a homeschool grading template. Our article will show you the benefits of owning one and list all the ways you can get one yourself.
Need more help with homeschooling? DoNotPay can tell you all about the requirements you need to meet and how much money you need to set aside. You can also discover the easiest states to homeschool in and learn how to excel at homeschooling.
What Is a Homeschool Gradebook Printable?
Having a homeschool gradebook is an excellent way of keeping track of what your child has studied and how well they're progressing through the material. This allows you to track the courses your child took, as well as the grades they got in each subject in the curriculum. There are numerous choices that will fit your child, regardless of their age and level.
The gradebooks usually contain the following:
Summary overview—Grades in all courses and the overall student's grade
Attendance record—This section is for tracking your child's attendance, which is mandatory in some states
Reading list—Record of all books read by the student throughout the school year
A record of extra-curricular activities—List of all extra activities that aren't in the curriculum
Course list—List of all courses, descriptions, curriculums, and resources used for teaching
Detailed instructions—Instructions on how to use the gradebook
Why Should You Get a Printable Homeschool Gradebook?
The biggest reason people get printable homeschool gradebooks is that in most states, you're required by law to track your kids' progress during homeschooling. Some colleges even require you to present one instead of a diploma.
There are even more benefits of printable gradebooks as they can:
Help students take constructive criticism—When your child receives grades, especially bad ones, they'll learn to use them to their advantage by improving the weak areas of their studies
Help kids learn what they're good at—By seeing that they need to work hard to get good grades, your child will also notice what their strengths and weaknesses are
Make parents accountable—Without grading templates, parents can't be 100% certain that their child is successful at learning. For example, if you see that your child is not getting consistently good grades at math, you may want to tweak the curriculum or focus on other subjects less
How To Get a Homeschool Grading Template
There are several ways you can get a homeschooling grading template, such as:
| Method | Details |
| --- | --- |
| Download one online | You can find various websites that sell templates at low cost or offer them for free. Once you download one, you can print it out and then use it to track your kid's progress |
| Buy one in person | Co-op group conventions often have curriculum sales where you can consult other homeschool teachers and find a suitable template |
| Ask other parents | If you can't decide on a template, ask other homeschooling parents for recommendations and see what's worked for them |
What Else Do You Need Besides a Homeschool Gradebook?
Once you find a homeschool gradebook for your child, you will also need to withdraw them from school and file a letter of intent to homeschool to get started.
By submitting this form, you will notify the superintendent of your school district that you want to homeschool your kid. The document has to specify your homeschool plan, the date when you want to start homeschooling, who will teach your child, etc.
Obtaining the letter of intent to homeschool is possible in several ways, including:
Hiring a lawyer—If you decide to hire a professional to draw this document up for you, you will have to spend a lot of money on their services
Writing one yourself—Drafting the letter on your own is possible, but it will take a lot of time, especially if you don't know the legal intricacies
—This is the most affordable and efficient option as our AI-powered app isn't only able to generate the letter but even forward it in your stead
How Can DoNotPay Help You Submit a Letter of Intent To Homeschool?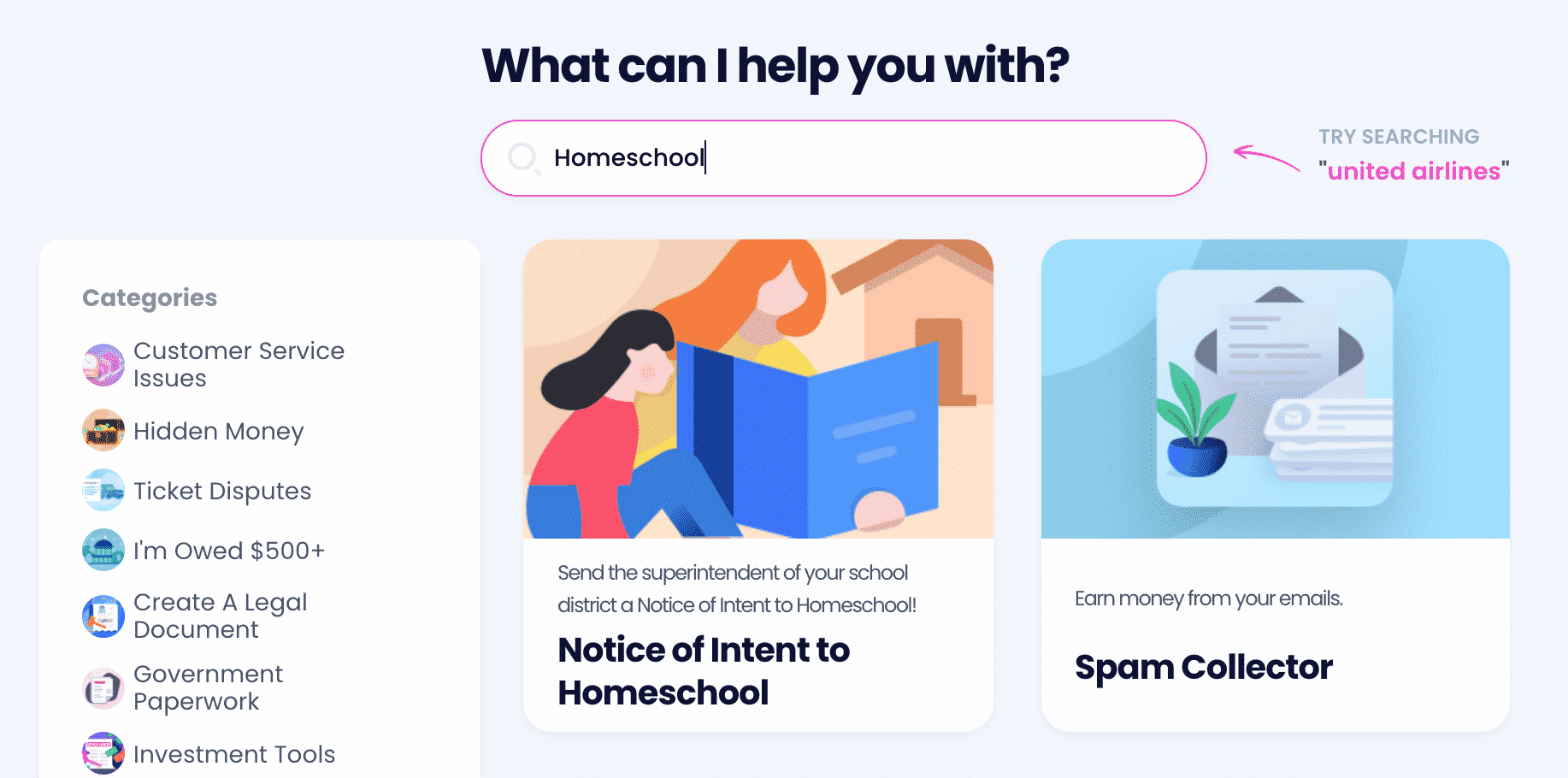 If you want to save time and money, forget about hiring lawyers or writing the letter of intent to homeschool yourself—use DoNotPay instead! We'll generate the letter for you in no time, and all you'll have to do is follow a few steps.
Here's the drill:
in your preferred browser
Select the Letter of Intent to Homeschool tool
Give us the necessary details of your homeschool plan by answering our chatbot's questions
Tap on Submit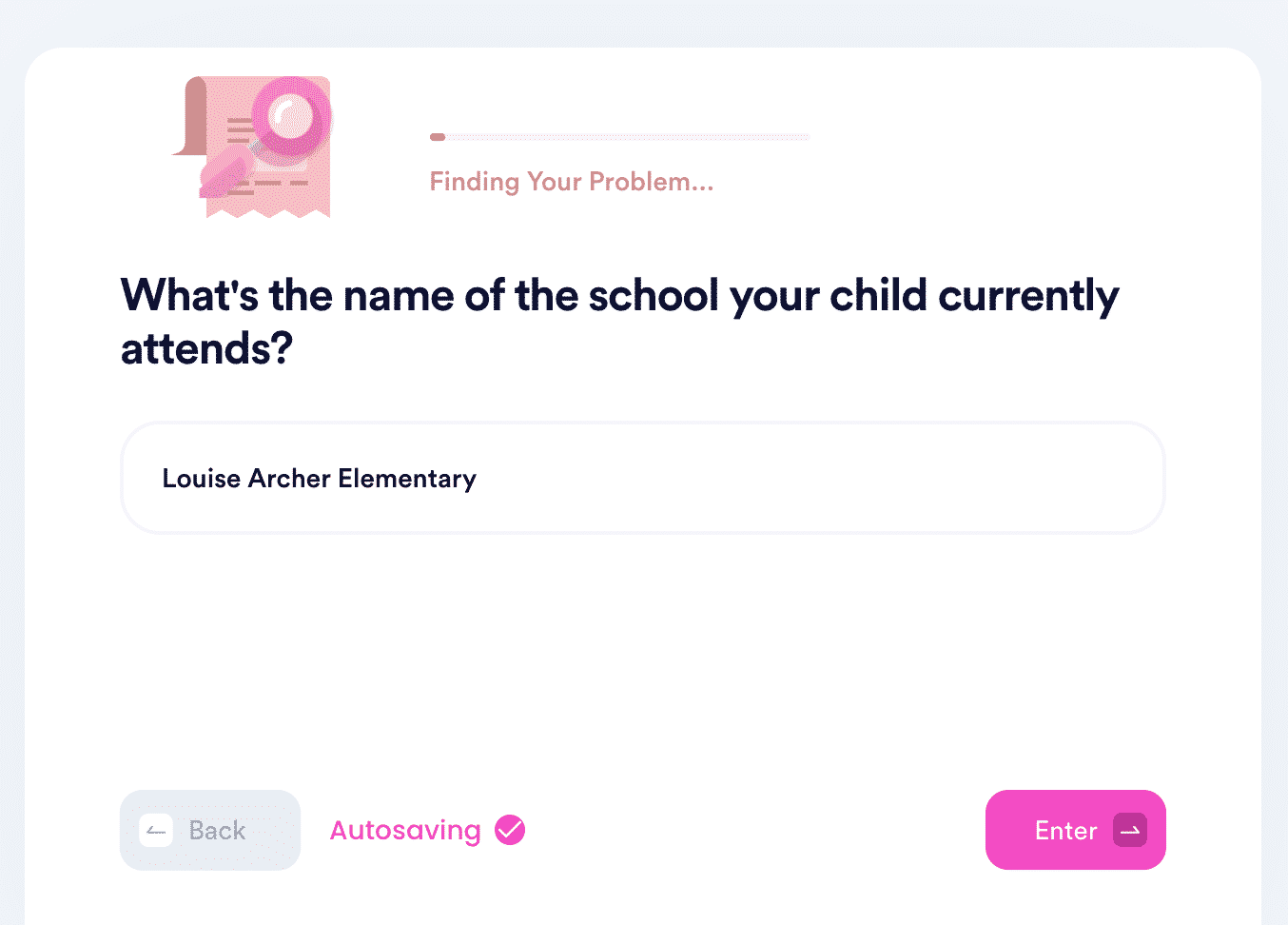 And you're good to go! After creating the letter for you, depending on what you choose, we'll either:
Send it to you
Forward it to the correct address
Connect you with an online notary if you live in a state that requires you to get the letter notarized
Can you start homeschooling in the middle of the year? How many hours do you have to teach? These are only some of the questions DoNotPay can give you the answers to—find all the info you need in our learning center!
Discover DoNotPay's Solutions to Mundane Tasks
Our product range doesn't end there—we can also help you sue anyone in small claims court, cancel any subscription, start a free trial risk-free with our virtual credit card, get refunds and chargebacks, send anything through online fax, pay your utility bills, demand airline compensation, and deal with your annoying neighbors.
As soon as you sign up, we can also put an end to robocalls, copyright infringement, email and text spam, and stalkers and harassers. Our app's abilities don't stop there either—get perfect passport photos, free raffle tickets, compensation for victims of crime, or insurance or warranty quickly!
There's So Much More We Can Assist You With
Check out how else we can help—DoNotPay can:
Sign up now to take advantage of our nifty products!