The Lowdown on the African American Homeschool Curriculum
Homeschooling is becoming more popular among African Americans. Though there are a variety of reasons to switch to homeschooling, many families cite bullying and racism as the primary motivators.
Another concern for most Black parents is the lack of Black history and Afrocentric values in the traditional curriculum.
To get all the information about homeschooling and find the best African American homeschool curriculum for your needs, read our guide!
How To Start Homeschooling
Getting started in homeschooling is challenging for all families with no experience in home education. If you are planning to start providing home instruction soon, some important steps you should take are:
Study your state's homeschooling regulations—If you want to withdraw your child from public school to start homeschooling immediately (even in the middle of the school year), you can do it as long as you follow your state's laws
Decide who will teach your kid—You can do it on your own, but make sure you have two to four hours (depending on your kid's age) each day for homeschooling. Approximately 45 minutes per subject is usually enough. In case you don't have enough time, you can hire a certified tutor. In some states, grandparents can homeschool their grandchildren, or the children can join another homeschooling family
Find and join a local homeschool group or a co-op—The National Black Home Educators, for example, is a homeschooling organization created to assist African American homeschooling families. They offer a sense of community as well as valuable information on the challenges that African American homeschooling families might face
Connect with other African American homeschooling parents on the internet—You can find a variety of blogs, Facebook groups, and YouTube channels that focus on Black homeschooling
Calculate the budget—Homeschooling is not free. The average cost ranges from $700 to $1,800 per child per school year
Prepare a letter of intent to homeschool—This is a legal document mandatory in most states. It serves the purpose of notifying your school district about your decision to switch to homeschooling
Check out the available African American homeschool curriculums
How To Choose a Black Homeschool Curriculum for Your Child
Choosing an Afrocentric homeschool curriculum is not an easy task because there are so many of them. To get an idea of what types of African American curriculums are right for your family, check out the table below:
Do You Need Teaching Experience To Homeschool Your Child?
You don't have to be a certified teacher to homeschool your child. Most parents teaching their kids don't have a teaching background. Only a few states require a homeschooling parent to have a high school diploma or GED, so make sure to verify whether you live in one.
Some factors you should consider as a homeschooling parent are:
How To Write a Letter of Intent To Homeschool
Most U.S. states require homeschooling parents to submit a letter of intent to homeschool to the superintendent of their school district.
Make sure your letter includes the following details:
Your child's name, address, birth date, gender, and grade
Name of the person who will be in charge of homeschooling
A statement saying that the child will be homeschooled for the following school year
Date and signature
Drafting formal documents is one of the tasks most people want to avoid because it's tedious and time-consuming. The good news is—DoNotPay can do it for you. Our app specializes in creating all kinds of legal documents, and the process lasts only a few minutes! To initiate it, you'll need to and fill out a short form.
Create a Letter of Intent To Homeschool in No Time With DoNotPay
Don't waste time reading state laws on homeschooling! Our AI app can draft a perfect letter of intent for you in minutes!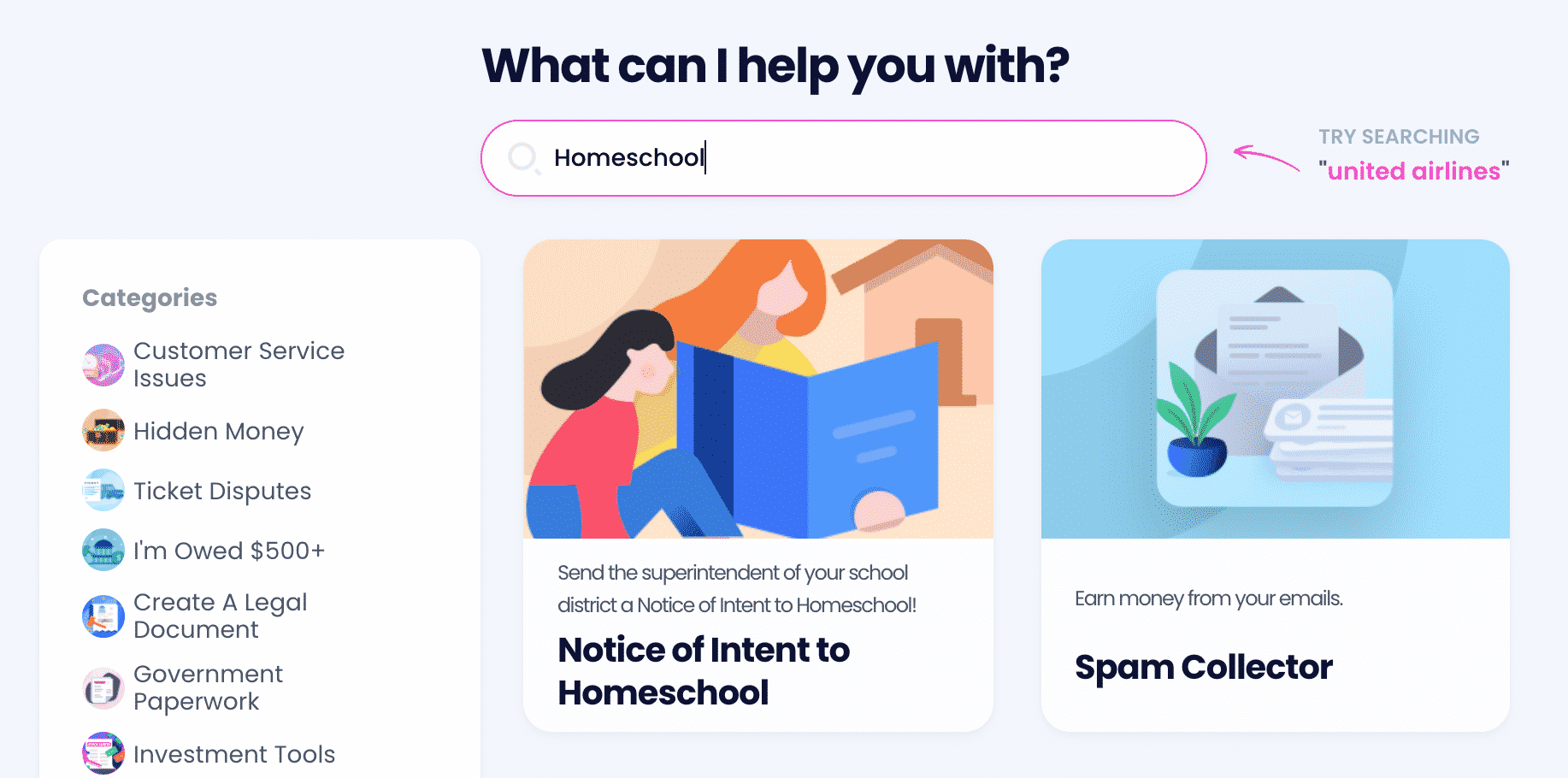 What you need to do is:
from any web browser
Look for the Notice of Intent to Homeschool feature
Answer a few questions from our chatbot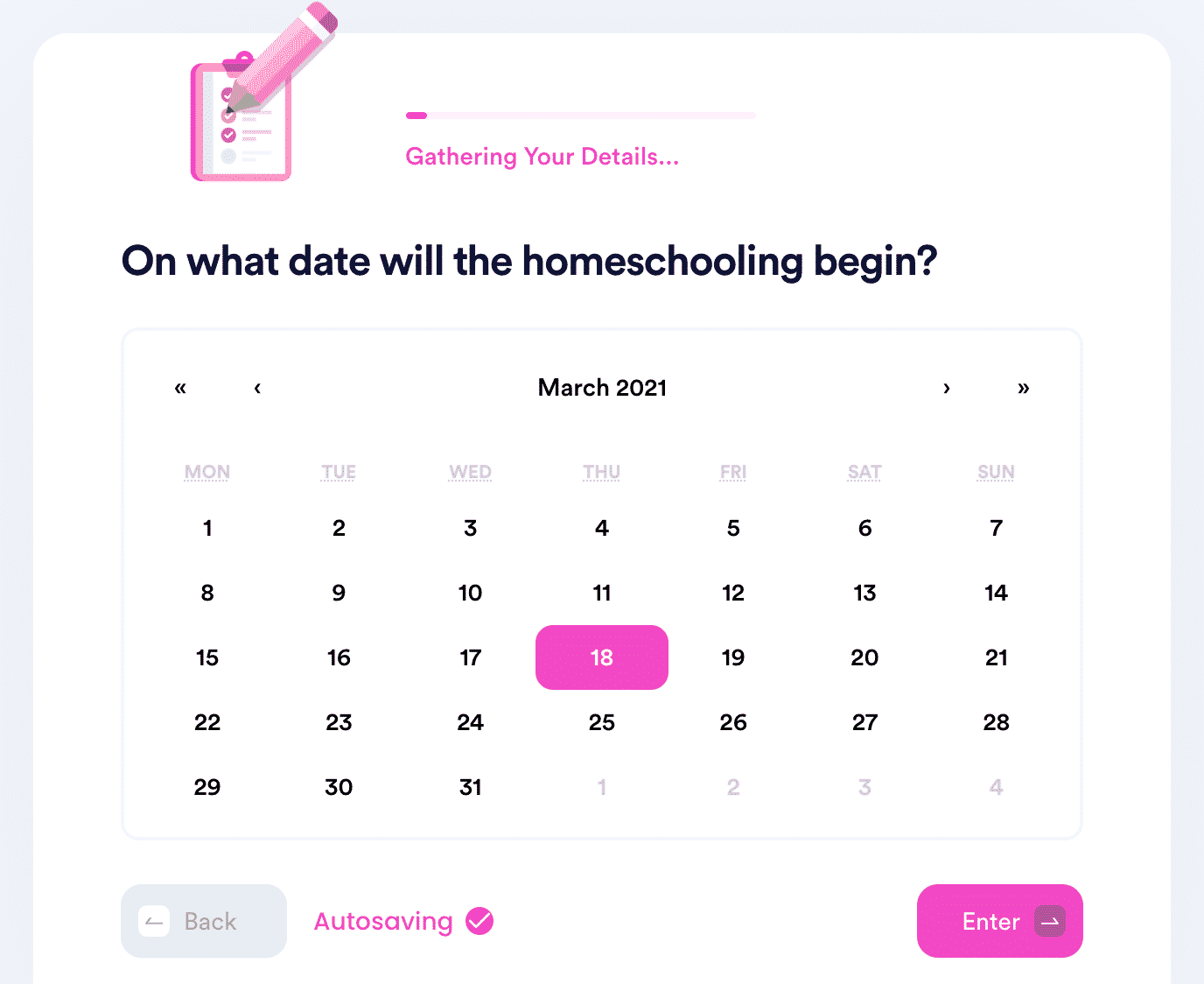 You will also have the option to get the letter of intent notarized virtually if your state requires it. We can send the letter to your school district on your behalf, or you can download a PDF document to send it by yourself.
Resolve Any Other Issue You Have Swiftly With Our Assistance
The world's first robot lawyer is capable of tackling any legal or administrative task in your stead. We can draw up any legal document for you—including a power of attorney, child travel consent form, and divorce settlement agreement, to name just a few—help you sue any company or individual in small claims court, send a letter of warning to your noisy neighbors, help you reduce your property taxes and utility bills, and a lot more.
Sign up now if you want to stop email and text spam, claim any insurance or warranty, appeal parking tickets, schedule a DMV appointment in a flash, mail anything worry-free, find your missing assets, create passport photos, or contact embassies and consulates effortlessly.
Let DoNotPay Guide You Through Any Obstacle
Are you tired of corporations not taking their customers seriously? So are we, and that's why our nifty product will assist you in suing any company or individual in small claims court!
If you don't want to have any online service take advantage of you, you can sign up for any free trial completely risk-free with our virtual credit card's help, cancel any membership on time, and demand a refund or chargeback in a split second. DoNotPay can also draw up an airtight return request and send it to a company of your choice quickly.