What Is a Secular Homeschool Curriculum, and Where Can You Get One?
Starting to homeschool your child will require you to make many decisions. The most important one you'll have to make is deciding on the right curriculum.
If you're looking for a secular homeschool curriculum, you've come to the right place! We'll dissect this type of curriculum and help you find one in no time!
DoNotPay can also give you answers to popular homeschool-related questions you may have, such as:
What Is a Secular Homeschooling Curriculum?
A secular homeschooling curriculum is not written from a religious worldview and it:
Only contains religious discussions from an anthropological perspective
Isn't faith neutral in subjects such as science and history
Doesn't present religious and biblical beliefs as historical fact
Who Is a Non-Religious Homeschool Curriculum For?
Non-religious homeschool curriculums are for parents (religious or not) whose beliefs don't fit a specific doctrine or they:
Believe most religious curriculums are biased and make the

teaching

about other cultures or beliefs difficult
Want a secular curriculum because they want to teach religion as a separate subject from academics
Want to use a free homeschool curriculum provided by publicly funded charter schools, and these curriculums don't have religious materials
Secular Homeschool Curriculum Reviews
To help you pick a secular homeschool curriculum, we've taken some of the most popular curriculums and reviewed them by category. Check out the list below:
Complete secular homeschool curriculum
Secular science homeschool curriculum
Secular high school homeschool curriculum
Secular language arts homeschool curriculum
Secular math homeschool curriculum
Secular arts homeschool curriculum
Complete Secular Homeschool Curriculum
The most commonly used complete secular homeschool curriculums are:
Secular Science Homeschool Curriculum
If you're looking for a reliable secular science homeschool curriculum, check out the following ones:
Scientific Connections Through Inquiry (SCI)—SCI is an interactive science curriculum that makes it easy for

students

to learn by providing pictures, activities, book lists, and more
Real Science Odyssey—This is a perfect science curriculum if you don't have any certifications or a science background
Mr. Q Science—Mr. Q is your go-to curriculum if you want materials that are easy to explain and have loads of experiments and science-related notes
Secular High School Homeschool Curriculum
Need a secular high school-level homeschool curriculum? Here are some that you might find useful:
Bozeman Science—This curriculum was created by Paul Anderson, an educational consultant who's been teaching science for 20 years. He provided hundreds of science resources for high schoolers on various topics such as biology, physics, earth science, and more
CK12—CK12 is a foundation that provides a vast library of online textbooks, videos, flashcards, and more for high school homeschoolers
Secular Language Arts Homeschool Curriculum
Check out the following curriculums if you want to teach your child language arts:
Literary adventures for kids—This curriculum is for you if you want to provide your child with countless easy-to-follow online literary lessons
All about reading—This is a program that covers phonics, vocabulary, and comprehension through 20-minute lessons over the required span of homeschool hours
Brave writer—Brave writer offers user-friendly materials and online classes to help you turn your child into an expert writer
What Else Do You Need Besides a Curriculum To Start Homeschooling?
Once you decide to homeschool your kid and find the best curriculum, you will also need to obtain a letter of intent to homeschool. Filing this document to the superintendent of your school district will notify them of your wish to homeschool your child. You have several methods of getting one, including:
| Method | Explanation |
| --- | --- |
| Hire a lawyer | If you want to hire a professional to draw up the letter for you, be prepared to spend a lot of money on their expensive fees |
| Write one yourself | Writing one yourself is a viable option, but it's incredibly time-consuming, especially if you haven't written a similar document before |
| | Our AI-powered app can create this crucial document for you in a snap, and we can even send it in your stead |
How To Use DoNotPay To Get a Perfect Letter of Intent To Homeschool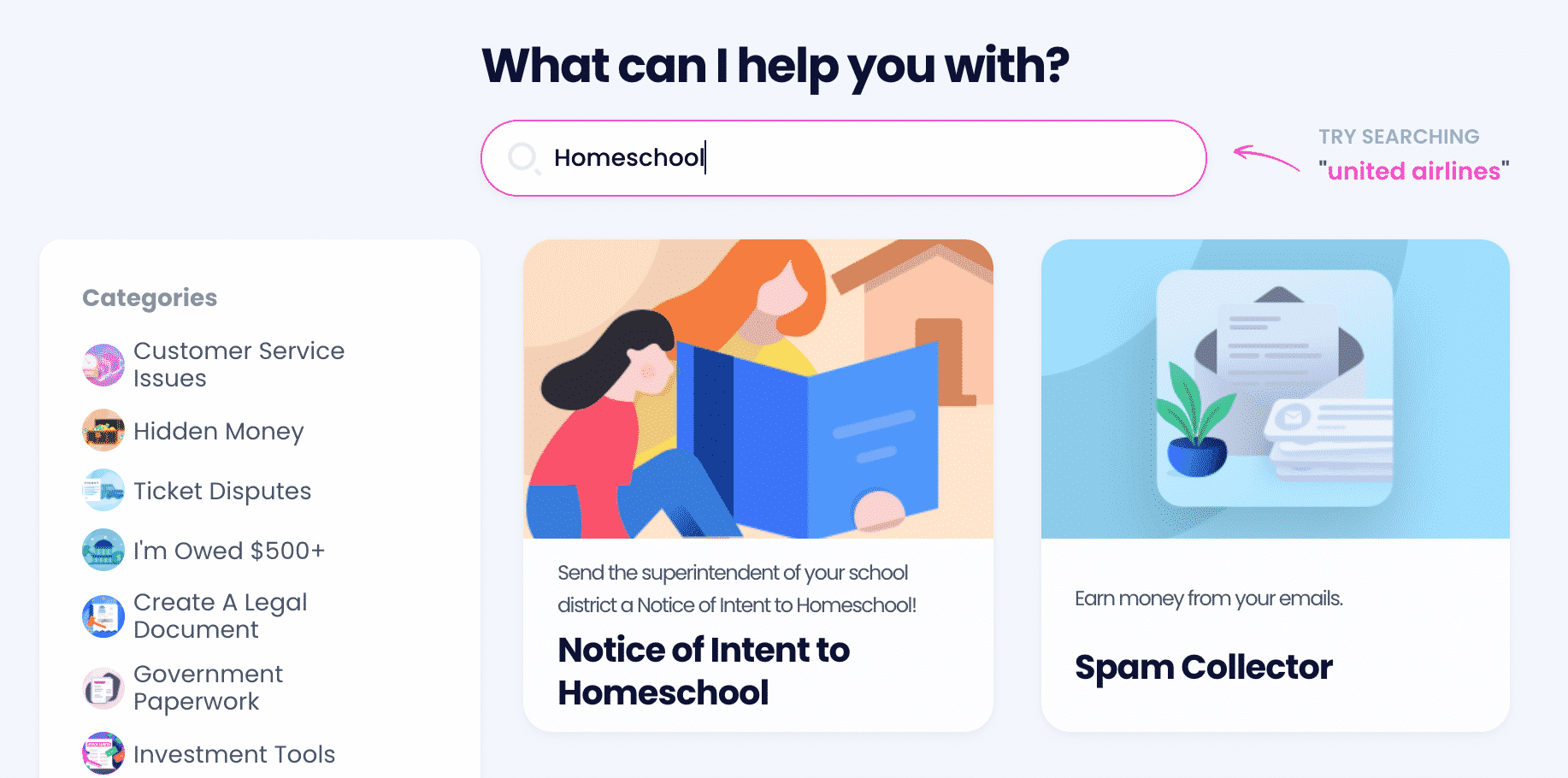 Obtaining the letter of intent to homeschool is a piece of cake with DoNotPay! Whether you'll homeschool your child or hire someone else, you can count on our help.
You won't have to waste your time and money. Instead, you can get this document in only a few clicks. Here's the drill:
Locate our Letter of Intent to Homeschool product
Answer our chatbot's questions about:

Your child
The homeschooling plan you intend to use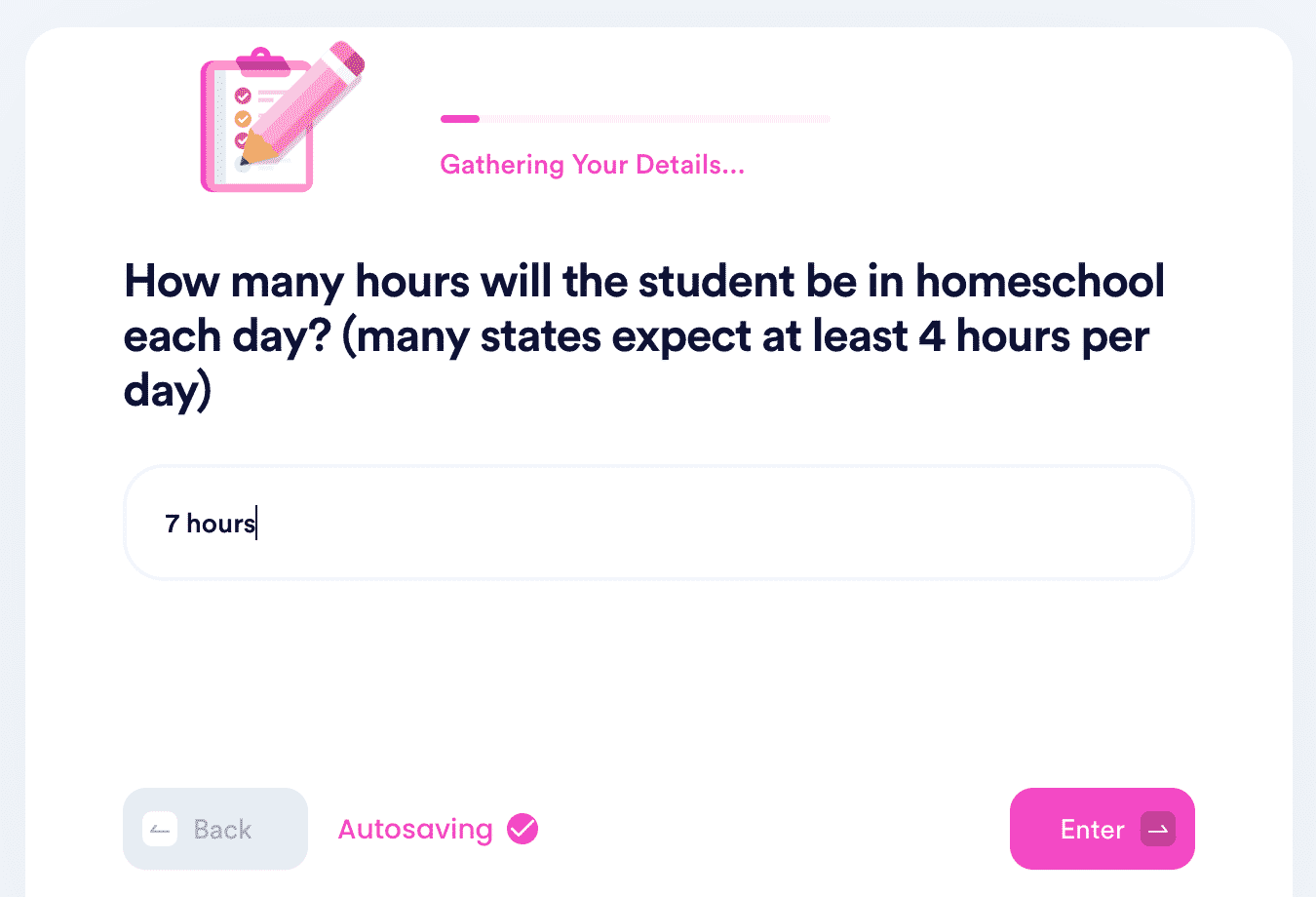 We will generate the letter for you in a snap, and you can choose whether we forward it or send it to you via email in PDF form. DoNotPay can also connect you with an online notary so that you can get your letter notarized with ease.
Need more help? We'll break down the homeschool laws for you and help you start homeschooling, even if it's the middle of the year!
Discover DoNotPay's Solutions to Mundane Tasks
Our product range doesn't end there—we can also help you sue anyone in small claims court, cancel any subscription, start a free trial risk-free with our virtual credit card, get refunds and chargebacks, send anything through online fax, pay your utility bills, demand airline compensation, and deal with your annoying neighbors.
As soon as you sign up, we can also put an end to robocalls, copyright infringement, email and text spam, and stalkers and harassers. Our app's abilities don't stop there either—get perfect passport photos, free raffle tickets, compensation for victims of crime, or insurance or warranty quickly!
There's So Much More We Can Assist You With
Check out how else we can help—DoNotPay can:
Sign up now to take advantage of our nifty products!