Homeschool Curriculum for Gifted Students: A Complete Guide
If you're apprehensive about homeschooling your child due to their advanced learning skills, don't worry. Read DoNotPay's guide for designing a gifted homeschool curriculum and learn to motivate your above-average student.
Children who demonstrate incredible academic potential can grow weary of the regular homeschool curriculum. As a parent, you need to rise to the challenge and devise a lesson plan that'll keep them engaged.
Not only can we help you create a gifted homeschool curriculum, but we can walk you through the enrollment process as well. , and get started in homeschooling today.
What Does It Mean To Be a Gifted Student?
Since the term "gifted student" is quite vague, it's somewhat difficult to identify them. According to the National Society for Gifted and Talented, "giftedness" can translate into the following:
| Disposition for learning | Gifted children are lovingly referred to as "sponges" due to their natural-born ability to retain information. They often demonstrate an overwhelming talent for a particular area at an early age |
| --- | --- |
| Academic performance | Above-average students perform splendidly in academic settings. The "giftedness" translates into higher test scores, the ability to complete advanced tasks with ease, and the tendency to outperform their peers |
| Behavioral patterns | Since they're used to standing out, gifted students are prone to perfectionism. They often have visceral reactions to failure and can be extremely competitive. It's also not uncommon for gifted kids to suffer from anxiety |
The most common way of identifying gifted students is through testing. If your child's scores show above-average skills, consider using an advanced homeschool curriculum.
Designing a Homeschool Curriculum for Gifted and Talented Children
If you think your child will benefit from an advanced homeschool curriculum, here are some tips:
Include subjects with high difficulty levels in the gifted homeschool curriculum (e.g., choose some high-school grade lessons for kids in middle school)
Pick up the pace. You can increase the number of lessons, activities, and tasks in a homeschool curriculum for gifted and talented children. They retain information quickly and can keep up with a fast learning tempo
Provide in-depth answers to their questions. Gifted students have an insatiable appetite for learning. When conveying complex or abstract concepts, be as thorough as possible, or you won't satisfy their curiosity
Don't teach them through facts—use patterns and conceptualization instead
Make sure your homeschool curriculum for gifted students plays into your child's strengths and weaknesses. Above-average students can excel in one area while being average in others
Always challenge them. Gifted children are prone to boredom, so you need to come up with engaging materials, demanding tasks, and multiple sources of knowledge
Making an advanced homeschool curriculum is quite an endeavor. Remember, you can find someone to homeschool your kids or ask a homeschool teacher for guidance.
How To Start Homeschooling Gifted Children
Once you've outlined the gifted homeschooling curriculum, you'll need to file a declaration of intent to homeschool to the competent authorities. Follow these steps:
Fill in a declaration of intent
Print it out
Have it notarized
Submit the document to the school district superintendent
Depending on the homeschool laws, the form's layout can vary. Some states require parents to enclose a homeschool transcript and immunization records in their declaration of intent. It's best to familiarize yourself with local regulations before you decide to remove your child from school.
Sign Up for DoNotPay and Embark on Your Journey Today
As if designing a homeschool curriculum for gifted students isn't difficult enough, you also have to deal with paperwork. If you're feeling overwhelmed, DoNotPay offers a solution. Try our Notice of Intent to Homeschool product and generate a letter of intent with lightning speed!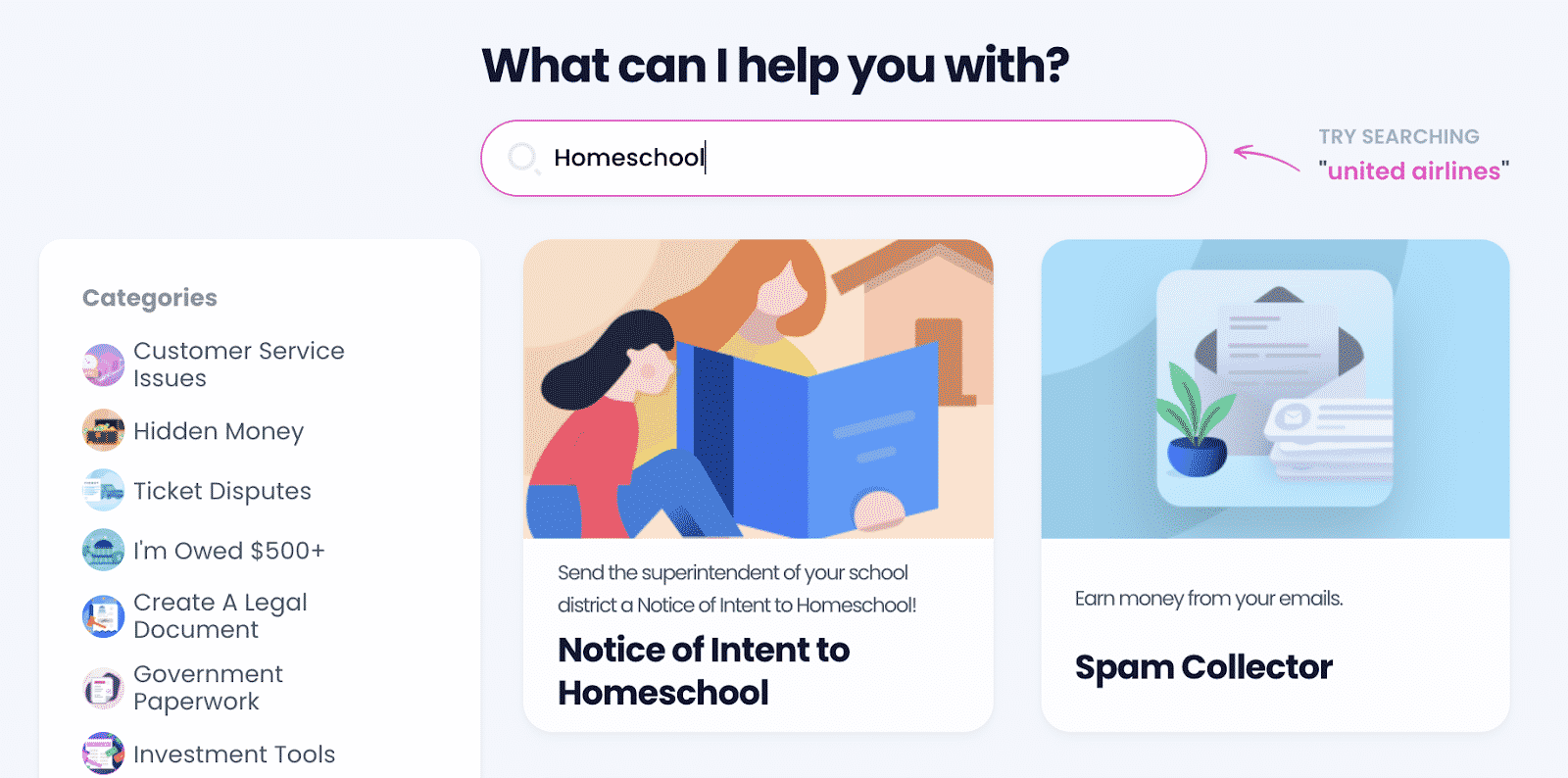 Here's how to do it:
using your browser
Access the Notice of Intent to Homeschool product
State which school district you belong to
Answer questions about yourself and the gifted student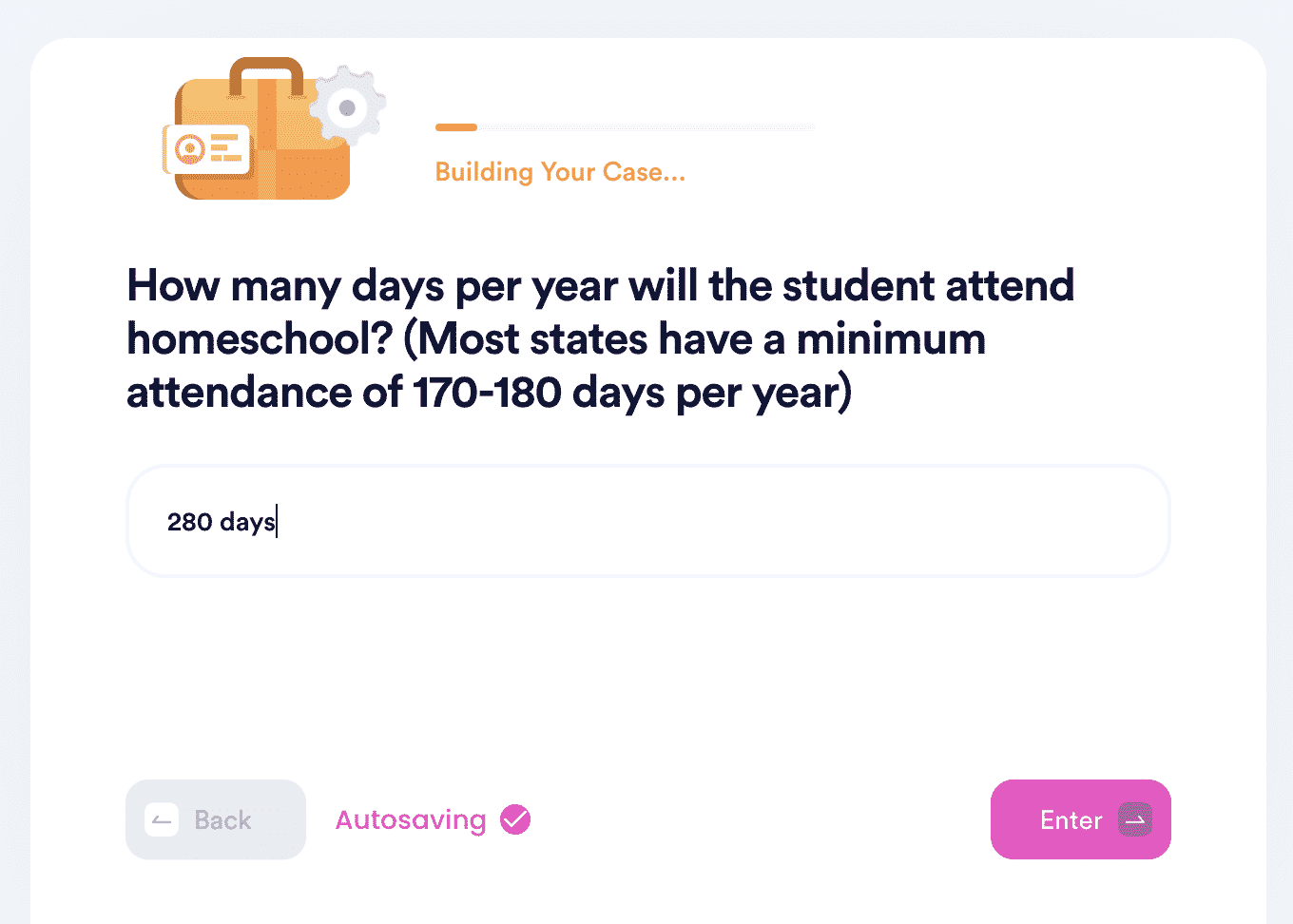 DoNotPay offers other services as well. The Notice of Intent to Homeschool product is integrated with a notarizing tool. You can check going to the notary office off your to-do list thanks to our Notarize Any Document feature.
Don't Be Afraid To Seek Out Homeschooling Advice
Homeschooling a gifted student is a full-time job, so you'll need a solid support system and a reliable resource. Consider joining a homeschool co-op or organization to exchange experiences. You can learn about the different aspects of home education, such as:
Don't Stop There—Check Out DoNotPay's Product Range
DoNotPay has many tricks up its sleeve—no matter the admin or legal issue at hand, our AI-enabled app can power through it in a split second. Look into our product range to find out how you can:
What Else Do You Need? DoNotPay Will Provide!
If you want to cancel a subscription before your free trial expires so that you don't get charged, you can count on our virtual credit card to do it in your stead! We can also make sure that you get what's rightfully yours—be it a refund, insurance, warranty, unclaimed money, flight refund, raffle ticket, or gift card cash back.
You no longer have to go through legal or administrative hurdles on your own—as soon as you sign up for DoNotPay, you'll get access to our app's assistance and will be able to use it to fight injustice.