When and How To Start Homeschooling in Texas
If you're a proud resident of the Lone Star State who's interested in home education, you're in the right corner of the internet. We've created an all-encompassing guide to homeschooling in Texas with special emphasis on the curriculum requirements.
and gain access to a wide range of services. The pocket lawyer will guide you through the administrative procedures!
A Brief Overview of the Homeschool Laws in Texas
The permissive home education laws in Texas make it one of the easiest states for homeschooling in the U.S. At-home education is encompassed by the same regulations as private schools. While parents who teach at home have many freedoms, they still have to meet certain expectations.
If you're thinking about homeschooling in Texas, here's an overview of your rights and responsibilities:
Homeschooling in Texas is conducted in good faith (bona fide) without the intention to deceive or corrupt
You can hire a third party to homeschool your kid (e.g., a homeschool teacher)
The compulsory age for school in Texas is between six and 19 years old. You must homeschool your child during that time
If your child has never attended public school, you don't have to file a declaration of intent to homeschool
The cost of homeschooling is entirely your responsibility
You have to map out the lesson plan, school activities, and field trips
What Are the Texas Homeschool Requirements?
Homeschool programs in Texas are designed by parents or legal guardians with some guidance from the state. If you want to prepare the student for future studies, it's best to abide by the Texas homeschool requirements.
Take a look at the table below for more details:
Requirements
Details
Curriculum requirements
You don't have to use accredited homeschool programs in Texas, but there are a couple of prerequisites. The homeschool curriculum should:

Be in written form and contain visual elements (textbooks, videos, etc.). Online homeschool in Texas also applies
Contain the five mandatory subjects (spelling, grammar, reading, math, good citizenship)

Keeping records
Parents who homeschool in Texas don't have to keep records, but it's advisable. A detailed homeschool transcript usually contains the following:

Homeschool attendance records (i.e., the number of homeschool hours per year)
Immunization records
A homeschool portfolio (learning materials sample, details about the coursework, etc.)
Homeschooling files (legal documentation, notice of intent to homeschool, and others)

The records will further legitimize your child's homeschool diploma and can also be used for background checks

Participation in standardized testing
The State of Texas Assessment of Academic Readiness (STAAR) doesn't evaluate homeschooled students. Your child can take a standardized test if you arrange for it yourself
Graduation requirements
Kids who attend homeschool in Texas must meet the same graduation requirements as their public school peers. Regular high school programs amount to 26 credits after completion, so you can use that as the basis for your curriculum
How To Start Homeschooling in Texas
Unlike many other states, you don't have to file an official letter of intent to homeschool in Texas if your child is younger than six or was never enrolled in school. You can start homeschooling right away. It doesn't matter if it's the beginning, middle, or end of the school year.
If you want to remove your child from public school, the homeschool enrollment procedure is different. Here's what you'll need to do:
Notify the school authorities
Compose an official withdrawal letter
Send it to the school district superintendent
Since public schools keep attendance records, filing an intent to homeschool in Texas is necessary in this case. If you don't alert the competent authorities, your child will be considered absent from class instead of homeschooled.
DoNotPay—The Most Efficient Way To Generate a Notice of Intent To Homeschool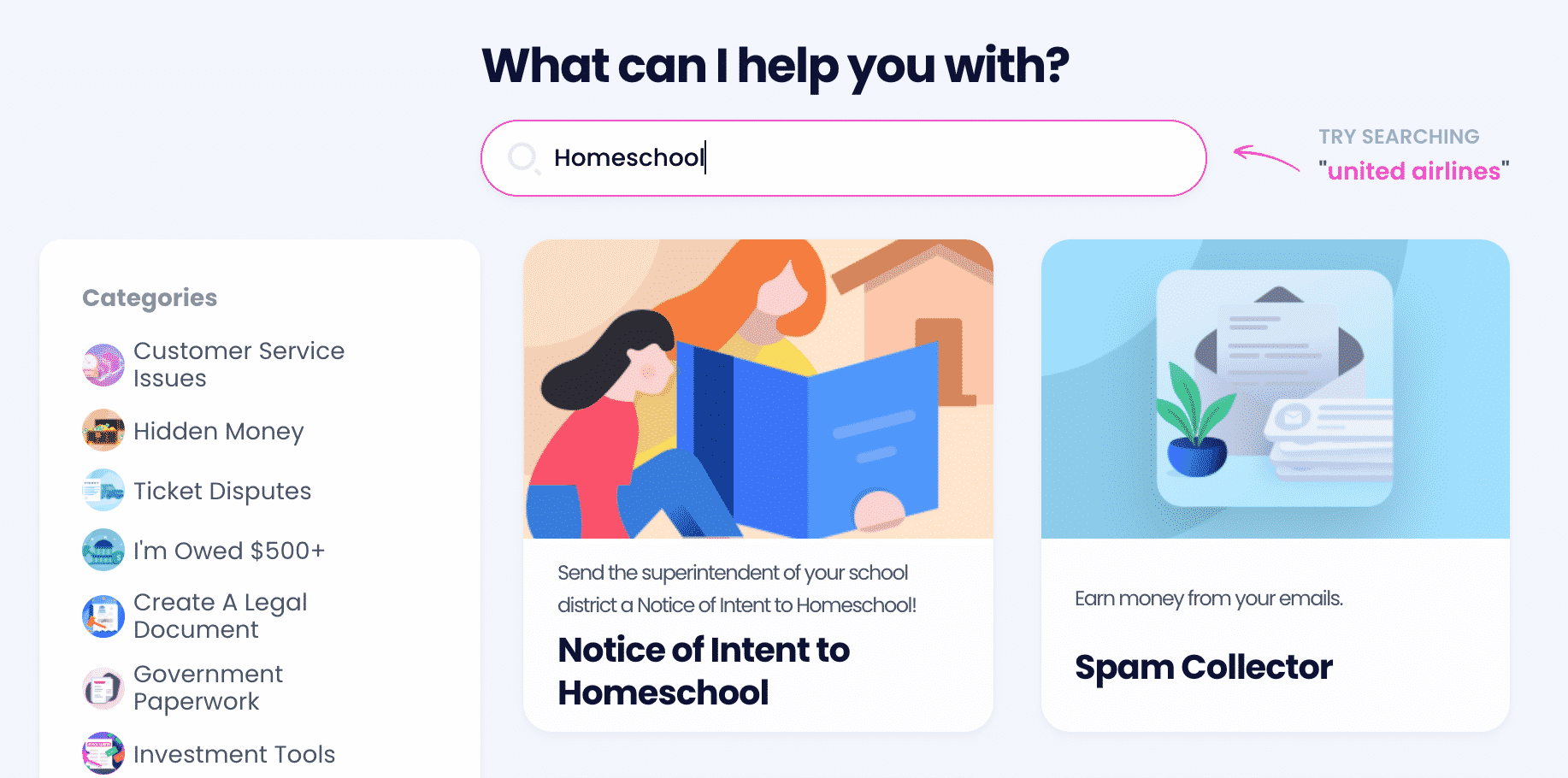 If you've changed your mind about public school, you'll have to go through the motions and submit the right paperwork. DoNotPay can generate your Texas letter of intent and forward it to the school authorities in record timing.
Try our Notice of Intent to Homeschool product by following these simple steps:
Select the Notice of Intent to Homeschool product
Provide information about your current school district
Answer some questions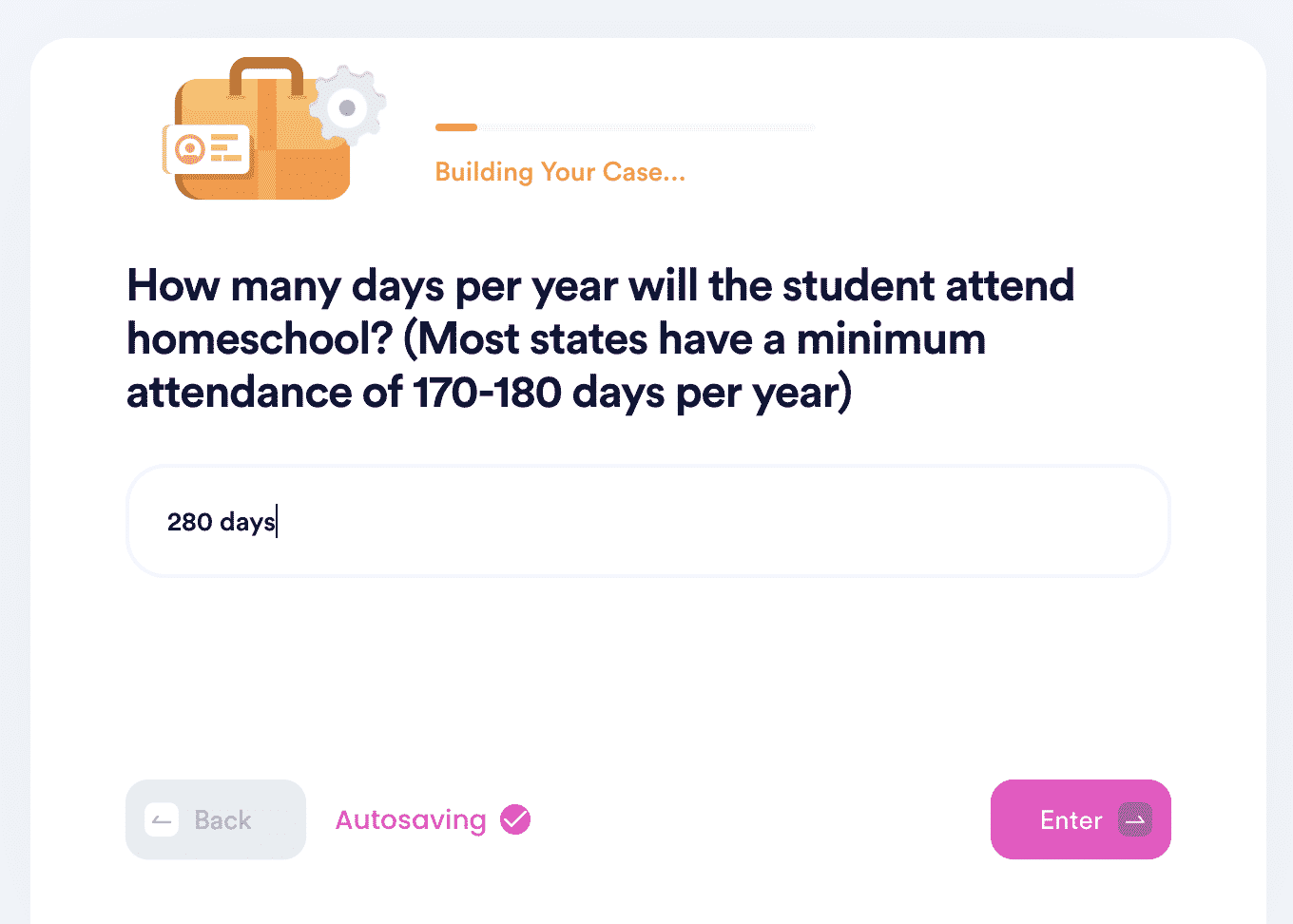 It doesn't end there—by using our Notarize Any Document feature, you can get your letter of intent notarized online.
Texas Homeschooling Associations—Should You Join?
It might be beneficial for both you and your kid to join a homeschooling group in Texas. Apart from sharing experiences with like-minded people, you can also ask for tips on how to homeschool your child.
Reaching out to a homeschooling co-op can be especially helpful for novices. Veteran members can provide first-hand advice on a wide range of homeschooling topics, such as:
Don't Stop There—Check Out DoNotPay's Product Range
DoNotPay has many tricks up its sleeve—no matter the admin or legal issue at hand, our AI-enabled app can power through it in a split second. Look into our product range to find out how you can:
What Else Do You Need? DoNotPay Will Provide!
If you want to cancel a subscription before your free trial expires so that you don't get charged, you can count on our virtual credit card to do it in your stead! We can also make sure that you get what's rightfully yours—be it a refund, insurance, warranty, unclaimed money, flight refund, raffle ticket, or gift card cash back.
You no longer have to go through legal or administrative hurdles on your own—as soon as you sign up for DoNotPay, you'll get access to our app's assistance and will be able to use it to fight injustice.