All You Need To Know About Homeschooling in Alabama
Choosing to homeschool your child is a potentially life-changing decision.
Removing children from school and opting to educate them yourself demands planning, dedication, and a willingness to accept challenges—but the rewards for your child can be immense.
Alabama offers several options for homeschooling your child, and this article has all the information you need to get started with your homeschool in the Cotton State.
Learn all about homeschooling in Alabama with DoNotPay!
How To Homeschool in Alabama
While you are automatically entitled to homeschool in many states, Alabama requires you to jump through a few hoops to comply with its homeschooling law.
Your three options for homeschooling your child in Alabama are:
Signing up with a church school
Founding a private school
Using a private tutor
Signing Up With a Church School
Many churches in Alabama operate cover schools—also known as umbrella schools—that offer an opportunity for you to homeschool your child while being affiliated with their program.
A cover school usually takes care of much of the admin around homeschooling, such as:
Academic records
Support meetings for parents
Graduation protocols
Some cover schools will require you to:
Submit attendance records
Submit a statement of faith before you can enroll
While a church-based Alabama cover school can relieve you of some of the bureaucracy of homeschooling and offer extracurricular activities for your child, you should be aware that most cover schools charge school fees—this should be factored into your planning.
Founding a Private School
A recent change in Alabama homeschooling laws allows you to set your homeschool up as a private school.
A 2014 revision to education legislation removed all the restrictions on private schools, meaning that you can register your homeschool as a private school and teach the way you want.
You do not need to report on your activities, the only requirement being that you register your child as being enrolled in your school.
Using a Private Tutor
You can homeschool your child by engaging a private tutor in Alabama, but the teacher must be certified in the state.
This can be an expensive option, though, so you need to make sure the tutor will deliver the kind of teaching you want for the price you pay.
What Are the Curriculum, Graduation, and Attendance Requirements in Alabama?
Alabama does not regulate homeschools heavily, so you are largely free to set your homeschool up however you want.
The main areas you should look at are:
Homeschool Regulation Area
Explanation
Curriculum
Alabama does not insist on a set curriculum or a required range of subjects that you must teach. Your child doesn't need to take any standardized tests or be assessed, but you can sign a homeschool student up for state-wide standard tests to benchmark their progress against public school children.

You also don't have to prepare an annual homeschool portfolio, although it is recommended as a way to chart your child's progress through the grades

Graduation
As a homeschool teacher, you can determine the criteria for graduation as you see fit.

Many homeschool parents create annual homeschool transcripts—these can be of benefit when your child applies for college, the military, or employment

Attendance
You do not have to keep records of school hours or attendance, and there is no prescribed minimum teaching requirement in Alabama
Where Can You Get the Best Homeschool Programs in Alabama?
As there is so little regulation of homeschooling in Alabama, you can make your own choice of curriculum to suit your needs.
Your options are:
Creating Your Own Program
While creating a homeschool program for your child represents a considerable amount of work, it does mean that you can vary teaching methodologies to get the best results based on your child's learning style.
You can create a program that mixes traditional classroom teaching with other methods, such as:
Buying a Curriculum
Buying an off-the-shelf program is the most convenient way to homeschool your child, and you are guaranteed to get all the resources you need to teach the appropriate material for your child's grade.
While you are usually limited to a particular teaching approach, you can choose a specialized curriculum, such as:
How To Start Homeschooling in Alabama
The only legal requirement for you to start homeschooling in Alabama is to notify your school district of your intent to homeschool.
You can do this at any time by sending a letter of intent to the county or city superintendent of schools.
If your child is already in a public school, you might want to inquire whether it needs you to fill out any withdrawal paperwork, but, in most cases, your letter of intent is all you need.
The good news is that DoNotPay can do this for you—we can !
DoNotPay Gets Your Alabama Homeschool Off on the Right Foot!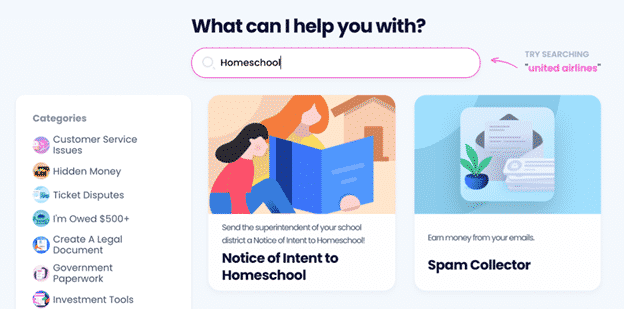 DoNotPay believes that your job is to focus solely on teaching your child—not getting tied up in red tape!
This is why we have developed our Notice of Intent to Homeschool product.
In a matter of minutes, you can generate the letter of intent you need to get your homeschool on a solid legal footing. If you choose, we can even get it notarized for you and send it on your behalf!
All you should do is follow these steps:
Navigate to our Notice of Intent to Homeschool feature
Answer a few quick questions to give us the homeschool info we need
Your letter will be ready in an instant, and you can get on with educating your child!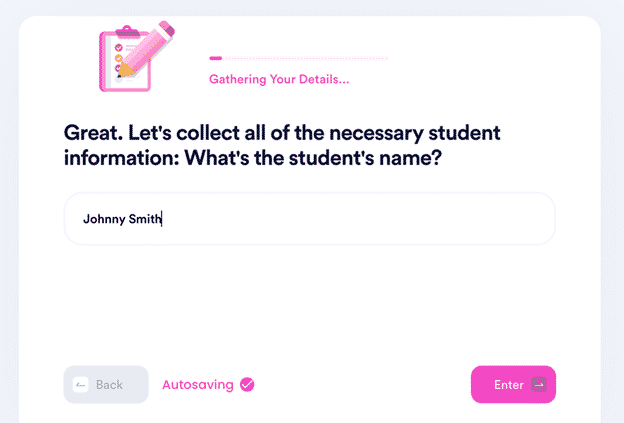 Don't Let Admin or Legal Issues Wear You Down—Hand Them Over to DoNotPay
Do you believe you may have some missing assets? Use DoNotPay's nifty product before the government claims them! Have you ever wanted to enter sweepstakes without purchasing anything? Our app will sign you up for them instantly! Trying to figure out how to reduce your property taxes or utility bills? DoNotPay can show you the way. Want to avoid getting charged for free trials that never fail to auto-renew into paid subscriptions? We'll help you cancel them before they expire.
Anything else you may need? Check out how our app can:
Check Out Our Other Robust Products
It doesn't stop there—DoNotPay can help you send a defamation demand letter, create passport photos, get gift card cash back, get any document notarized, request access to public records, claim insurance and warranty, request a college application fee waiver, appeal parking tickets, and much more.
Sign up now to get access to any of our products for one low monthly fee!