A Complete Guide to Homeschooling in Massachusetts
Once you've made up your mind about homeschooling your kid, you need to gather the intel about the process. You should get familiar with state and local regulations, curriculum criteria, and recommended teaching hours to understand what's required for homeschooling.
The legislation varies from state to state, so homeschooling in Massachusetts entails specific rules and paperwork. DoNotPay's guide spells out the details.
How To Homeschool in MA
To get started with homeschooling in MA, you must file an educational plan to your school district every year. You should also file a notice of intent to homeschool, although this document is not mandatory. Additional requirements include:
Teaching the required subjects
Maintaining records of all assessments
While Massachusetts is not on the list of the easiest states to homeschool, you can go through the process smoothly if you get familiar with legal requirements and prepare adequately.
Massachusetts Homeschooling Laws
Every district in MA can have a different approval process for homeschooled students. To start teaching your child at home, you must submit your homeschooling program for review. When the superintendent or school committee of your district grant the approval, you need to determine how to:
Get a homeschool diploma
Transfer your child to public school if you want to end homeschooling
Massachusetts Home Schooling Requirements
The following table presents state laws homeschool parents need to comply with when homeschooling in MA:
Required Subjects
Reporting
When homeschooling your child, you must teach the following subjects:

English language and grammar
Reading
Writing
Orthography
Arithmetic
Geography
Drawing
Music
History and constitution of the United States
Duties of citizenship
Health and physical education
Good behavior

Your school district might ask you to provide an educational plan with the following information:

Your educational credentials
List of subjects and teaching materials
Evaluation method you plan to use

Keep in mind that you need to inform your school district of all assessments you agreed on. For this purpose, you should file your child's:

Standardized tests
Progress reports
Work samples
How To Move From Public School to Homeschool in Massachusetts
As soon as you've filed your educational plan for review, you can:
Take your child out of school—While Massachusetts homeschool laws don't require you to inform your child's school of your intent to homeschool, you should send a letter of intent to the principal to avoid truancy inquiries
Start homeschooling—Keep in mind that you can start teaching at home or some other location while your educational plan is still in review
Let your child take part in interscholastic activities—While homeschooled children are allowed to participate in sports and other activities organized in public schools, you should first check with your school district as rules may differ
Massachusetts Home School Records
While you don't have to maintain records, MA homeschool laws require you to submit proof of your educational process every year.
Evidence you need to provide might vary from the district, but most families choose to present one of the following:
Results of standardized tests
Progress reports and work samples
Creating a homeschool portfolio might come in handy if you opt for the latter option as it also:
Includes all coursework you've covered
Helps if you need to create a homeschool transcript for your high school student
Keep in mind that you should inquire about additional local criteria at the superintendent's office.
Graduation Requirements and Homeschooling in Massachusetts
You or a hired homeschool teacher can:
Set graduation requirements
Issue a diploma
Prepare a homeschool transcript
The last option on the list is important if a homeschooled student wants to attend college.
If your child wants to get an accredited high school diploma, they can take the High School Equivalency Test (HiSET). Keep in mind that most universities in Massachusetts and throughout the USA will accept a transcript if your child doesn't have an accredited high school diploma.
Create a Notice of Intent To Homeschool in MA
The homeschooling process starts with a notice of intent you need to draft and submit. To create a letter of intent to homeschool, you could:
Research state and local requirements in case you want to draw up the document yourself—Make sure to arm yourself with patience as it'll take time to go through everything
Use online templates—You should check the forms you come across carefully since some don't comply with local rules
—Our AI-powered app has a vast database of state laws and can create a notice of intent in a flash!
DoNotPay Has a Fast and Efficient Notice of Intent Product
DoNotPay generates the notice of intent to homeschool to help homeschooling parents deal with the overwhelming paperwork home-based education usually entails.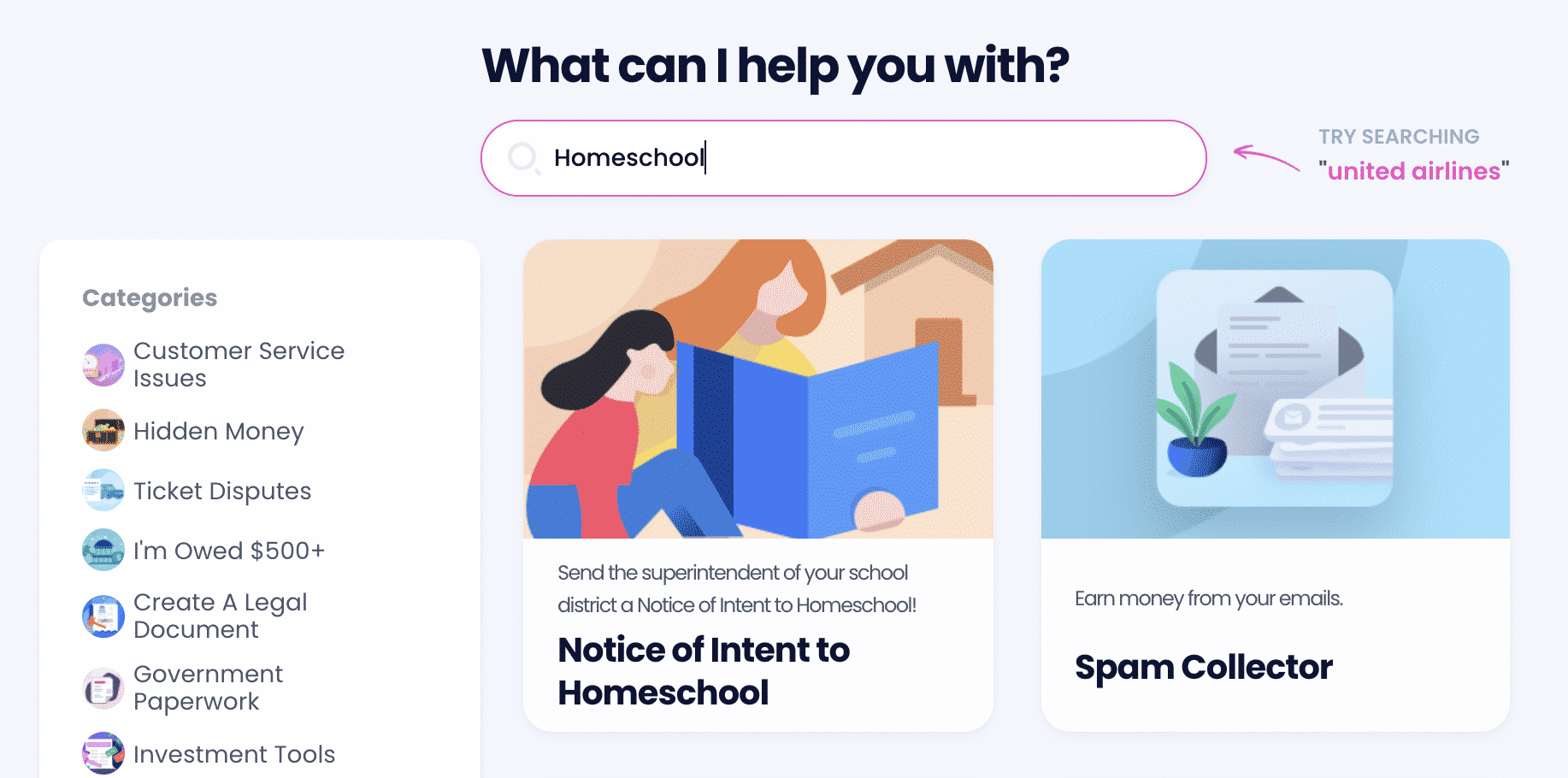 Here's how you can receive your letter of intent in a matter of minutes:
Access our Notice of Intent to Homeschool product
Give us the essential details about yourself and your child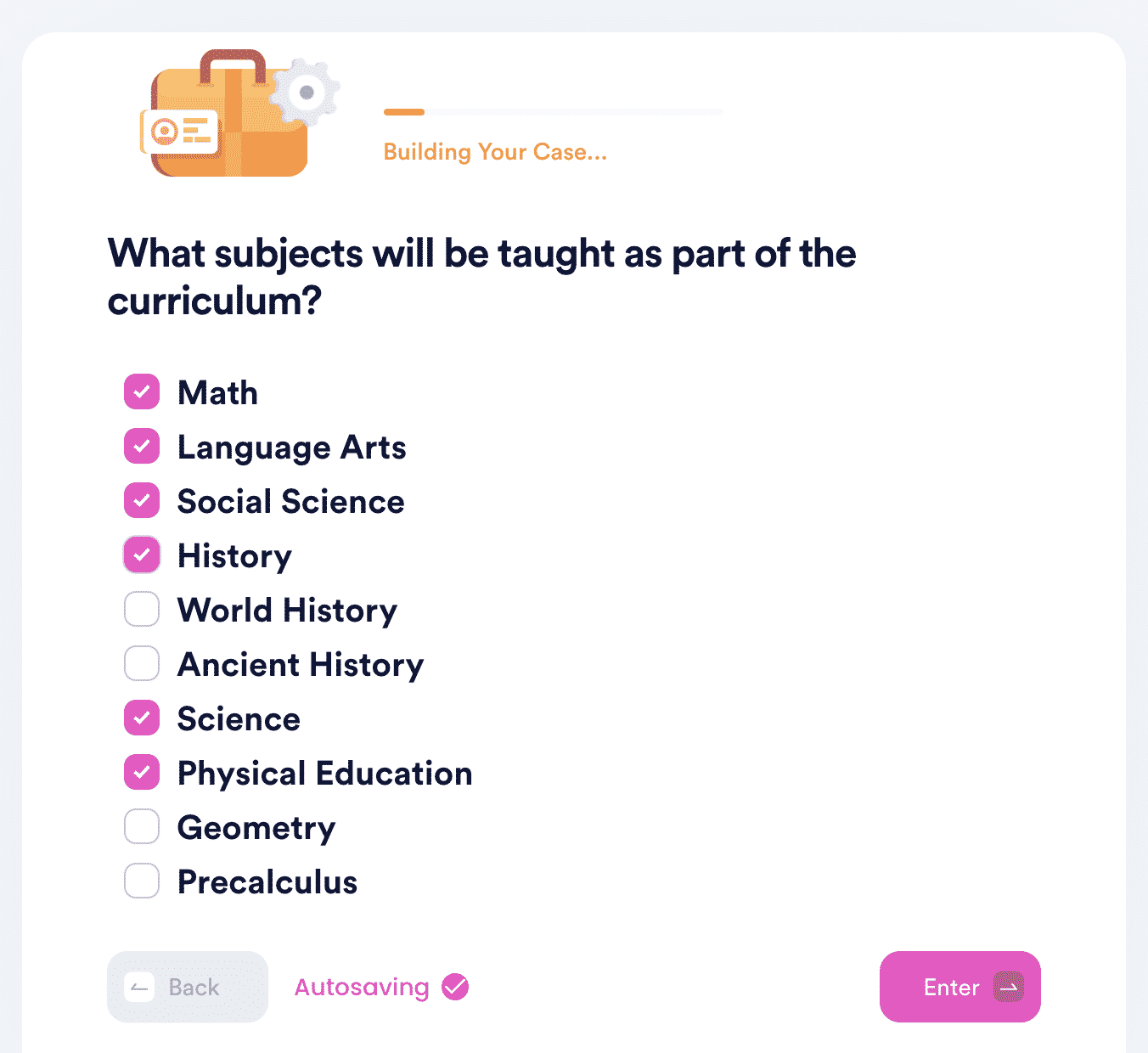 We also help you get the letter notarized remotely and:
Send it to the appropriate institution in your stead
Generate a PDF file you can print and submit personally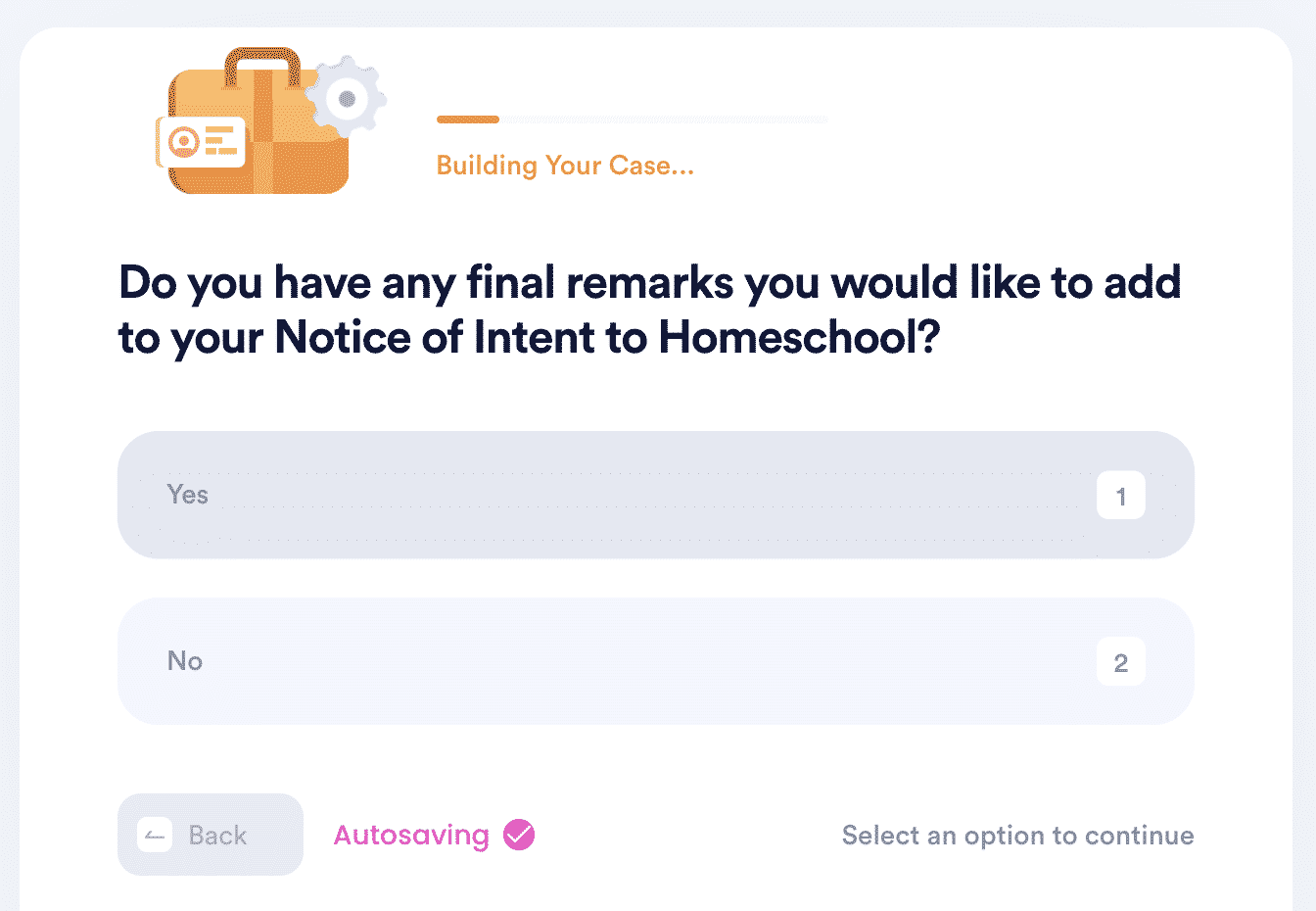 If you have additional questions about teaching at home, get the answers in our helpful articles on:
Can DoNotPay Help Me With Any Other Admin or Legal Issue? You Bet It Can!
DoNotPay's robust products can assist you in fighting companies, individuals, and institutions that have wronged you in any way. Once you subscribe to our platform, we'll ensure that you never have to deal with any of the following again:
Our Product Range Offers So Much More
Subscribing to DoNotPay will bring you peace of mind as you won't have to go through tedious task completion on your own anymore. With our AI-powered app, you can get what's rightfully yours in the blink of an eye.
If you want to claim warranty or insurance, find your missing assets, get compensated for a canceled flight or a violent crime that you were a victim of, track your missing parcel, or draw up a child travel consent form, divorce settlement agreement, power of attorney, or any other legal document, you can count on us to lend you a helping hand.
Sign up today to get access to the entirety of our product range and forget about dealing with time-consuming and energy-draining chores!