A Guide to Expressing the Intent To Homeschool Your Child Formally
If you've decided to homeschool your child due to religious, health, or other reasons, you should consider the specific homeschooling laws in your state. One of the main requirements in most states is submitting a formal notice of intent to homeschool your child.
DoNotPay is here to help you draft, send, and even get the notice notarized in only five minutes! We can help you understand other homeschooling requirements as well—our website has numerous guides for parents interested in homeschooling.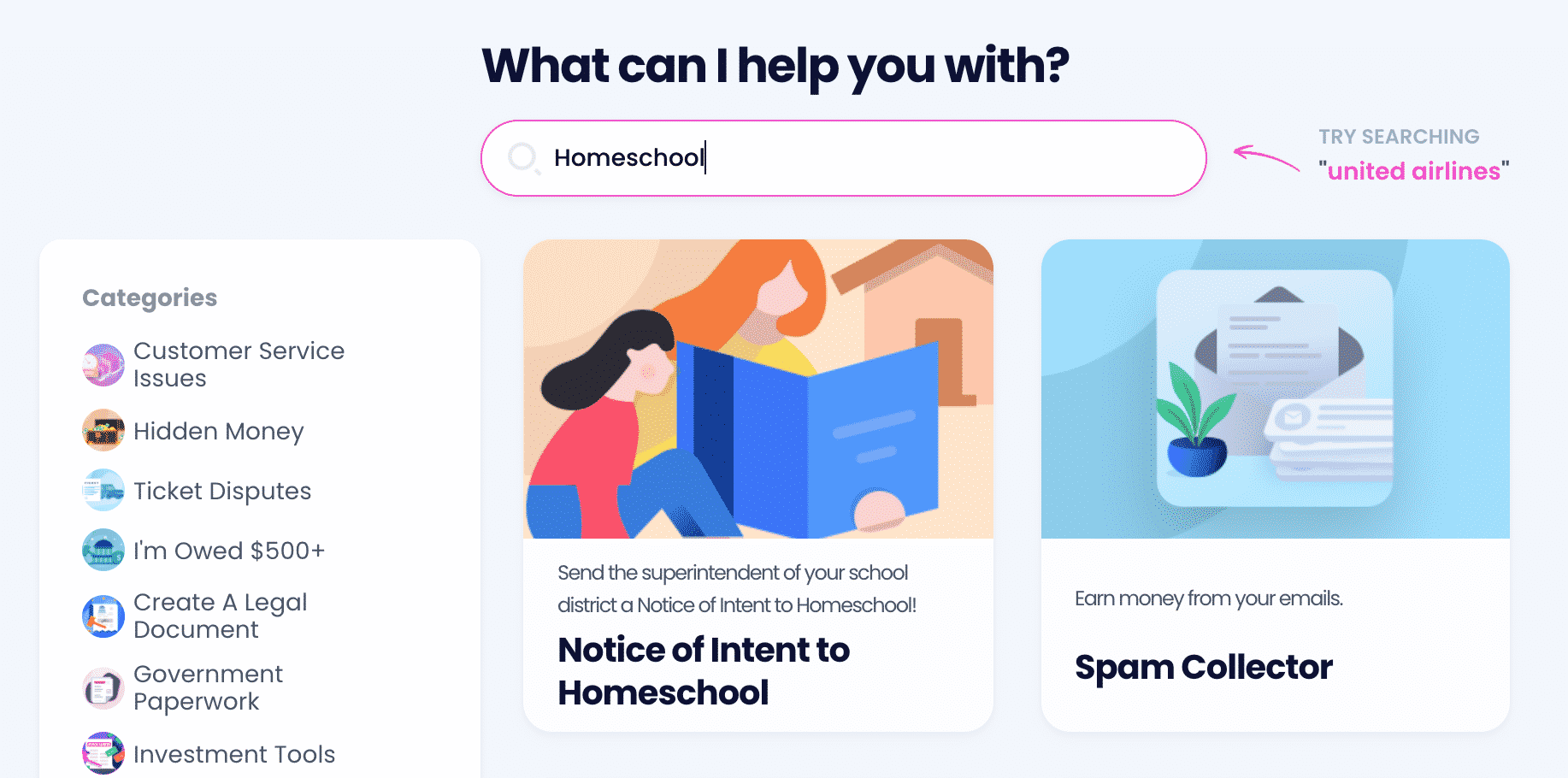 What Is the Declaration of Intent To Homeschool?
The purpose of a notice of intent to homeschool is to inform your kid's school district that you wish to take your child out of school to homeschool. If you have more than one child that you'd like to homeschool, you'll need to submit a separate letter for each kid.
This document is also called a:
Declaration
Notification
Affidavit
Letter of intent to homeschool
Note that not all states require you to submit this document, but you should draft one just in case.
Which Elements Should an Intent To Homeschool Notice Include?
While each state has different laws regarding this document, general rules and requirements are always the same. Typically, a well-written notice of intent to homeschool needs to contain the following elements:
Notice of Intent To Homeschool Elements
Description
Introductory note
Inform the school district that you wish to start homeschooling your child with a simple, formal statement. You should also indicate for how long homeschooling will last
Child's info

Birthdate
Full name
Address
Grade

Parent's or legal guardian's info

Full name
Home address and the address of the homeschooling location
Current date
Other specifics, if required
Ways To Get a Notice of Intent To Homeschool
You can get a notice of intent to homeschool in a few ways, as follows:
Online—You can find various letter of intent to homeschool templates online. While this option is usually affordable, the samples you find might not comply with your state's laws, which can make your document invalid
Lawyer—Hiring a professional to draft this document for you is a safe option, but it's an unnecessary expense since lawyers charge sky-high fees even for a simple document such as this one
DIY—While you can probably draft this document on your own, this option can be time-consuming, especially if you've never written a similar document
DoNotPay—Our Notice of Intent To Homeschool product is the quickest solution as we will fill out a notice of intent to homeschool on your behalf and send it to your school district within minutes
Let DoNotPay Write and Send Your Letter of Intent To Homeschool
If you wish to avoid administrative hurdles and get a letter of intent to homeschool drawn up in no time and with minimum effort, DoNotPay is here to help you! Our streamlined process takes several minutes, and your only job is to follow the steps below:
Open the Notice of Intent To Homeschool feature
Provide detailed info about your homeschooled student and their school district
Give us your personal details
DoNotPay takes over from there! You can choose whether you want us to send the letter to the superintendent of your child's school district in your stead. If not, we will send you the document in PDF, and you can mail it on your own.
Besides providing a professionally written notice of intent to homeschool, we can also help you overcome other difficulties related to homeschooling. Rely on DoNotPay, and get the answers to numerous homeschool-related questions—such as:
Every state has different homeschooling laws and requirements when it comes to a letter of intent to homeschool, which is why we compiled a table with state-specific guides to help you out: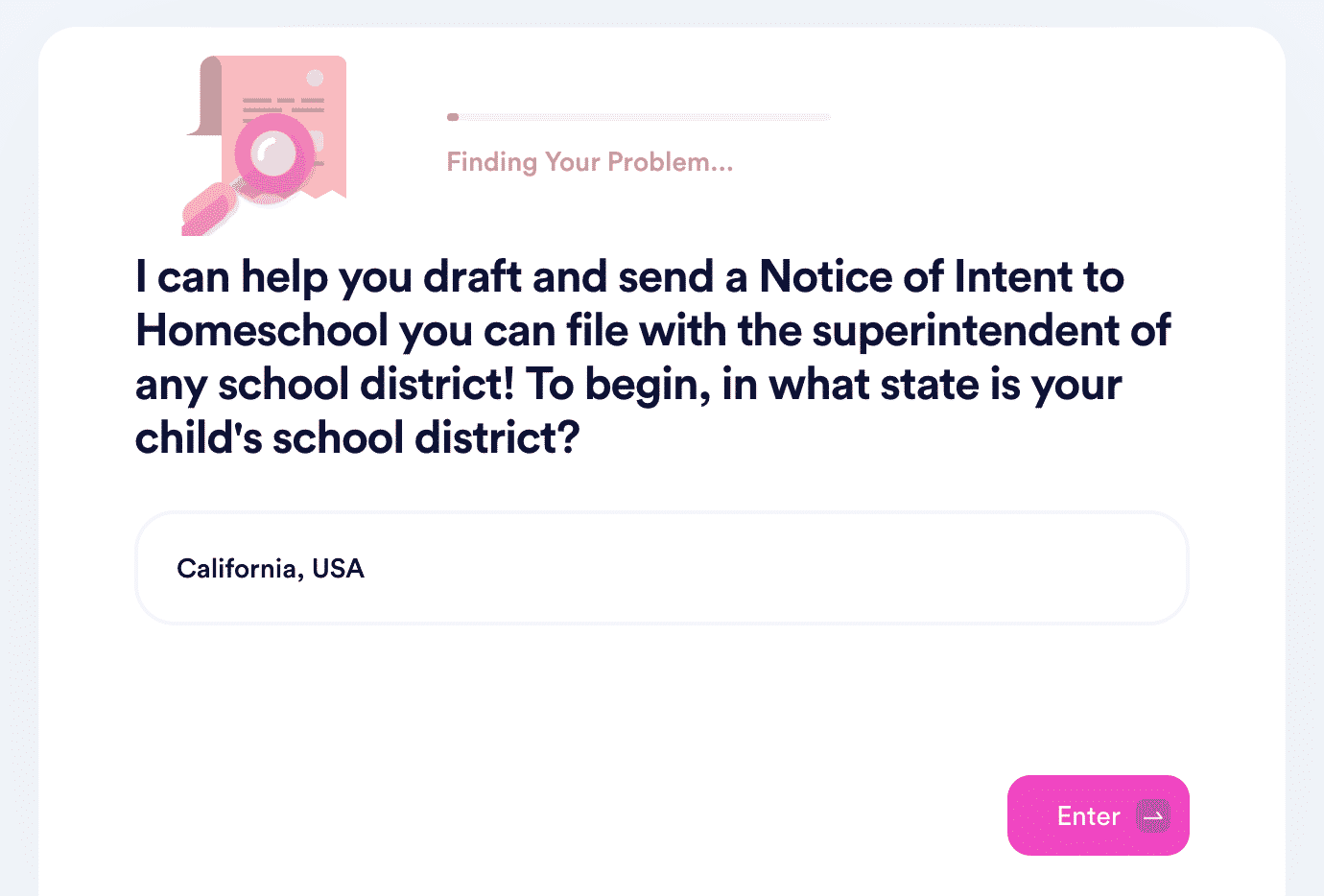 Key Aspects To Keep in Mind When Homeschooling
Getting started in homeschooling is not an easy process, but it gets easier with time. Once you fulfill the initial requirements, learning how to homeschool your child becomes more manageable. Important factors of homeschooling are often state-mandated, and they usually include the following:
Explore DoNotPay's Vast Database To Handle Administrative Issues Head-On
Dealing with administrative issues is never a fun experience, but you can save yourself from unnecessary hassle with our app! Once you sign up for DoNotPay, there is little you can't do. Aside from helping you deal with everyday tasks, such as reaching customer services, you can also use our app to:
Make Your Legal Troubles Disappear
Is a company giving you a hard time? Don't fret! DoNotPay can walk you through the process of suing it in small claims court and help you get the justice you deserve!
The best part is that assisting you take companies to court isn't all our app can do! We can also help you with: