The Ins and Outs of Homeschooling in Illinois
Whether the homeschooling process runs smoothly depends on how much relevant information you've collected and how well you prepared beforehand. You must get familiar with homeschooling state regulations and look for the right resources, a curriculum suitable for your child, and available support.
Homeschooling in Illinois can be the best option for the entire family as it allows flexibility in the educational process. DoNotPay outlines the requirements you need to fulfill for your smooth transition from a conventional school to homeschooling.
Illinois Homeschool Laws
Illinois is one of the easiest states for homeschooling since state laws are pretty lenient. The main requirement is the list of subjects you need to cover while teaching at home.
Here's what you need to include in your instruction:
Fine arts
Mathematics
Language arts
Social sciences
Physical education and health
Biology and physics
Everything else is up to you. A homeschool parent or teacher decides:
On the teaching material to use and curriculum to choose or create
How to evaluate or grade the work and keep track of the

homeschooled student's

progress
How To Homeschool in Illinois
You have all the freedom to homeschool in Illinois the way you find suitable for your child and family.
What you should do before starting with homeschooling in IL is follow these steps:
Use DoNotPay To Generate a Notice of Intent To Homeschool
Teaching at home entails some red tape, so you should get help with administration. We know the state and local regulations and will help you create a formal document to inform the right institution about your child's homeschooling journey.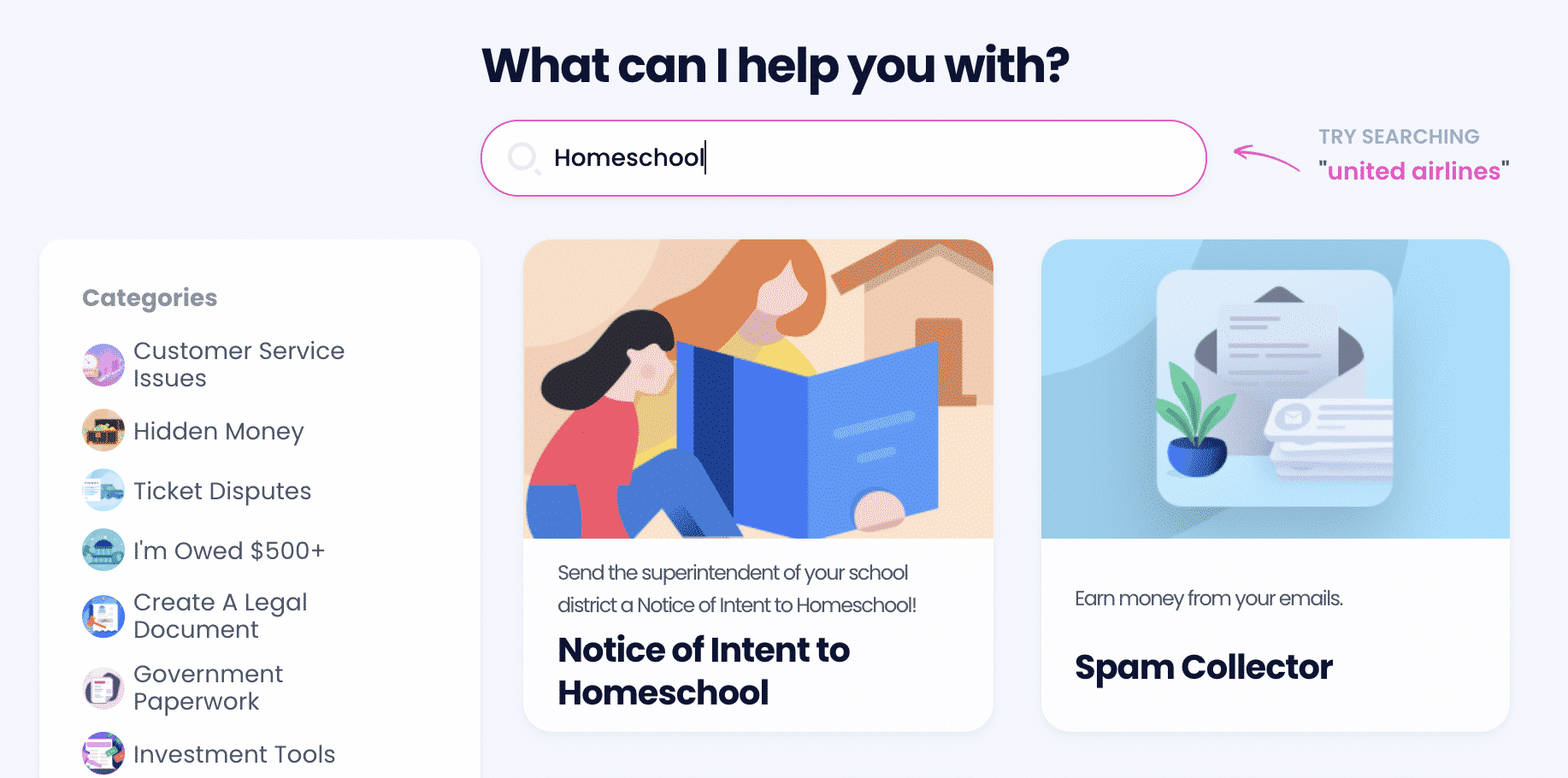 and follow these simple steps:
Access the Notice of Intent to Homeschool product
Enter the relevant info about your family and school district
Choose if you'd like our app to:

Help you get the notice notarized remotely
File the letter in your stead
Send you a PDF file to submit yourself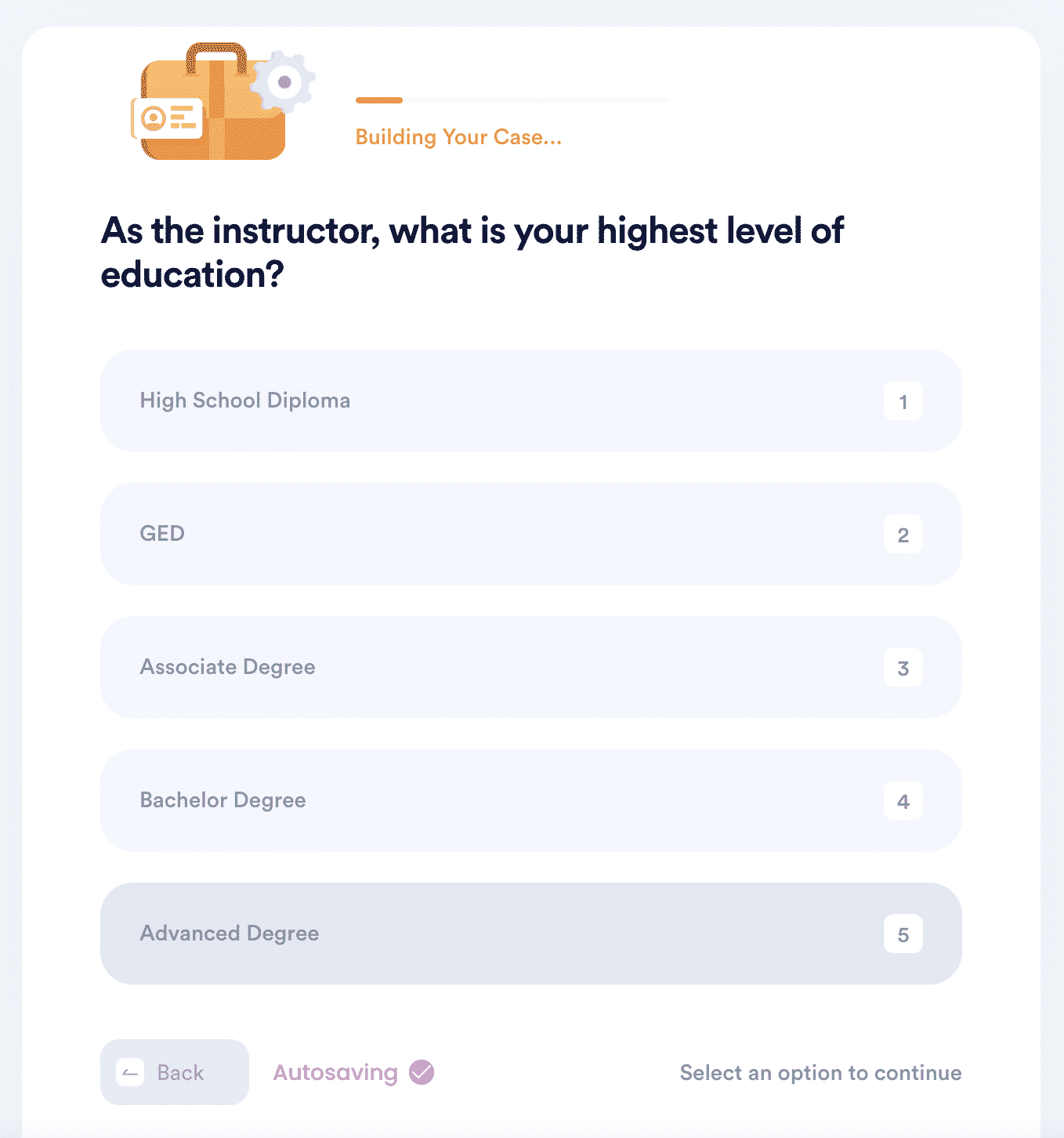 Part-Time Homeschooling in Illinois
Illinois, unlike other U.S. states, allows part-time homeschooling. It means that your kid can take part in all academic and extracurricular activities within a regular school system if:
You file a request to a school from your homeschool district by May 1
There is available space for your child within the selected school
You could choose this option if you cannot make up your mind about homeschooling your child.
Illinois Homeschooling Recordkeeping
While Illinois homeschooling laws don't require you to file any reports, you should maintain records of your homeschooling process, especially if your child would like to:
Keep in mind that you should include the following in your homeschool portfolio:
An outline of the curriculum you've used
Progress reports for all homeschool years
Results of any standardized tests your child took
Samples of any work your child carried out, including:

Quizzes or tests
Assignments
Essays
Your homeschool portfolio should also contain a transcript if your homeschooler is in high school.
Illinois Homeschool High School Diploma Criteria
Parents decide on graduation requirements when homeschooling in Illinois. Before you determine what courses, subjects, grades, or tests you'll use, you should:
Research specific requirements of desirable colleges, employers, the military, or vocational schools
Adjust your homeschool program to these particular criteria
Keep in mind that some families align their homeschool programs with the following state requirements for traditional school programs:
Testing requirements—Students in grade 11 must take one of the following:
Diploma requirements—Students need to complete a minimum of 16 units to:

Graduate in IL
Receive a diploma

Transcript requirements—Public school transcripts must include:

Identifying information
Attendance records
Credit totals
Standardized test scores
A complete credit history by course
Continue Learning About the Homeschooling Process
You should explore DoNotPay's learning center whenever you have a dilemma about homeschooling. We answer many common questions, including:
Can DoNotPay Help Me With Any Other Admin or Legal Issue? You Bet It Can!
DoNotPay's robust products can assist you in fighting companies, individuals, and institutions that have wronged you in any way. Once you subscribe to our platform, we'll ensure that you never have to deal with any of the following again:
Our Product Range Offers So Much More
Subscribing to DoNotPay will bring you peace of mind as you won't have to go through tedious task completion on your own anymore. With our AI-powered app, you can get what's rightfully yours in the blink of an eye.
If you want to claim warranty or insurance, find your missing assets, get compensated for a canceled flight or a violent crime that you were a victim of, track your missing parcel, or draw up a child travel consent form, divorce settlement agreement, power of attorney, or any other legal document, you can count on us to lend you a helping hand.
Sign up today to get access to the entirety of our product range and forget about dealing with time-consuming and energy-draining chores!