How To Homeschool in Hawaii—All Questions Answered
A child's transition from traditional to homeschool in Hawaii can be challenging for parents and students. The good news is it doesn't have to be complicated if you have accurate information and help from reliable sources.
We will break down the most important aspects of homeschool in Hawaii, including the rules, preparatory procedures, and essential documents, such as the letter of intent to homeschool!
Before You Start Homeschooling in Hawaii
A few tips may help you develop your schooling plan more easily before starting your homeschool endeavors:
Get informed about homeschooling to understand what it entails. You can get more info from:

Books and other library materials
Specialized magazines, such as Homeschooling Today
Various homeschool-related websites
Interactions with other parents who chose this education type. There are many homeschooling groups and co-ops you can join

Check out the Hawaii homeschooling laws in advance. The Aloha State proposes strict requirements for homeschooling hours, curriculum, and teacher qualifications. Revise them on time and ensure you comply with all the rules
Find local homeschooling associations and groups because these organizations provide necessary support and help with teaching and costs. The two most prominent Hawaii homeschooling coalitions are:

Prepare a letter of intent to homeschool. If you decide to take your child out of regular school to homeschool them, you must inform the local school principal about it. In Hawaii, you can do it by:

Completing Form 4140 offered by the Hawaii Department of Education
Writing a letter of intent yourself and submitting it to the school
Subscribing to DoNotPay and letting us compose the letter of intent for you
When Can You Start Homeschooling in Hawaii?
You can start teaching your child or hire a certified educator to do it as soon as you send a letter of intent to the local authorities.
Hawaii Homeschool Laws in Brief
Homeschooling allows parents to choose an education program and method with almost no restrictions, but there are specific rules you must adhere to. They are explained in the table below:
Aspect
Details
Curriculum
Your curriculum must:

Focus on educational objectives
Be adapted to the child's needs
Offer relevant, up-to-date knowledge and useful skills

Hours

The student must complete 1,080 homeschooling hours per school year

Subjects
The state doesn't propose specific requirements regarding subjects but offers some recommendations in the statute. As per Chapter 12 of the Hawaii Administrative Rules, homeschooled students in elementary school should learn about:

Art
Music
Science
Languages
Social studies
Physical education

Secondary school students can focus on:

Health
English
Science
Guidance
Mathematics
Social studies
Physical education

Recordkeeping
A homeschool teacher must keep a record of the process. It must contain:

Start and end date of the homeschooling program
Number of teaching hours per week
Subjects covered by the program
Methods to present the appropriate materials and subjects
List of books and other teaching materials used in classes

Annual progress report
You or the teacher homeschooling your child must file an annual report to the local superintendent. It can be:

A written evaluation
Score on the standardized achievement test
Results of Hawaii Statewide Testing Program, if applicable
Can Your Child Apply for College After Homeschool in Hawaii?
Yes—homeschooled students can apply for the same college. Your child will need a written acknowledgment from a high school superintendent in your district. This document confirms that the homeschooling was performed according to Chapter 12 of the Hawaii Administrative Rules.
Let DoNotPay Compose a Letter of Intent To Homeschool in Your Stead
Home-based education in Hawaii entails numerous administrative tasks, so getting help with bureaucracy helps you focus on the more important parts of the process, such as teaching.
Drafting an appropriate letter of intent to homeschool your child is especially tricky as you must:
Check out what it should contain according to the local law
Write the document using the appropriate terms and vocabulary
Make sure not to make any mistakes or forget important info
Submit the letter to the officials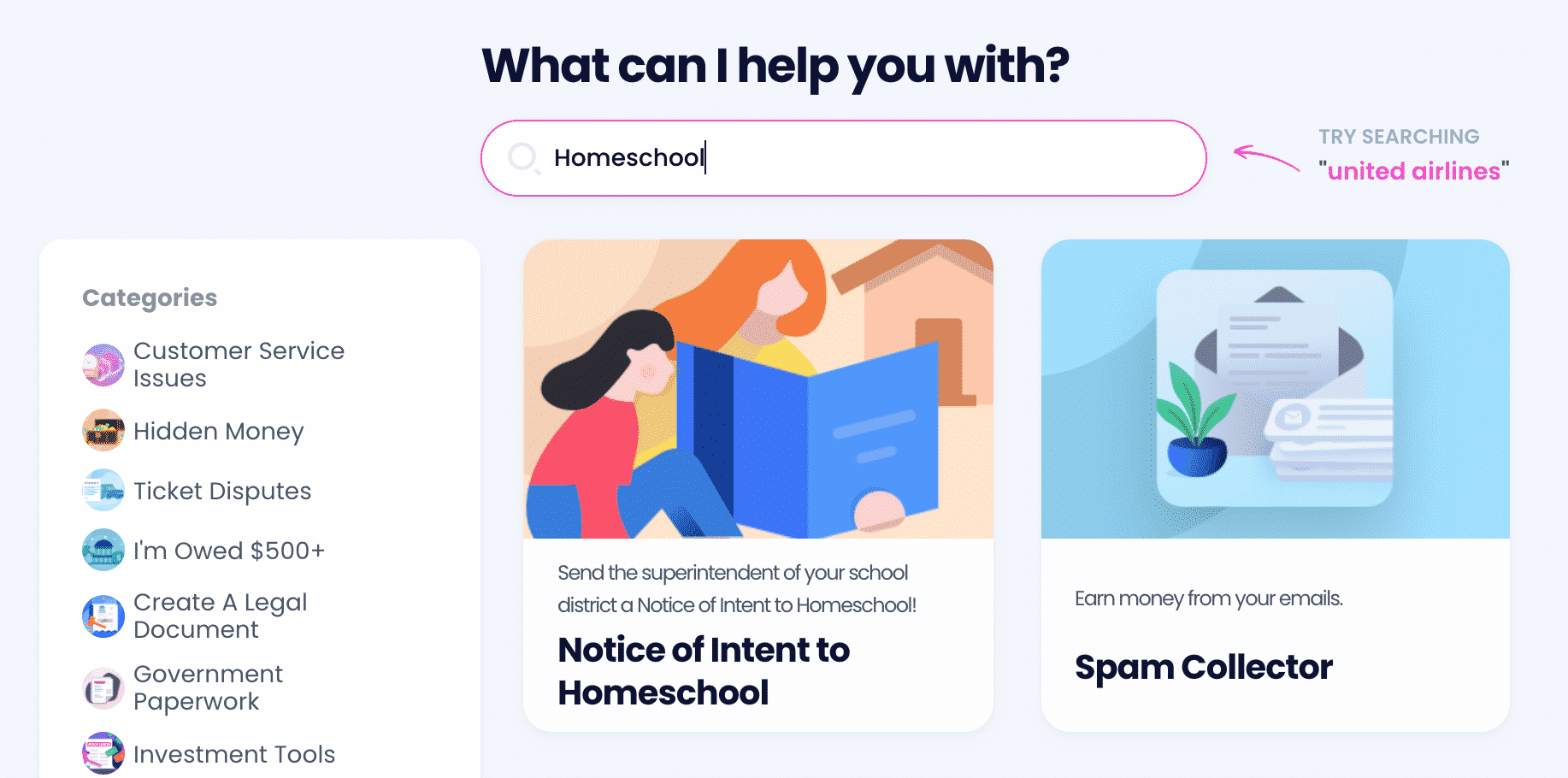 DoNotPay brings you a top-notch tool that solves this bureaucratic hurdle in less than five minutes! We will collect the necessary info from you and draft the letter on your behalf without complications.
Here's how to get our help:
Open DoNotPay and log in to your account
Select the Notice of Intent to Homeschool option
Provide the necessary info about your family and school district
You can also choose to get your document notarized and sent on your behalf to the correct address!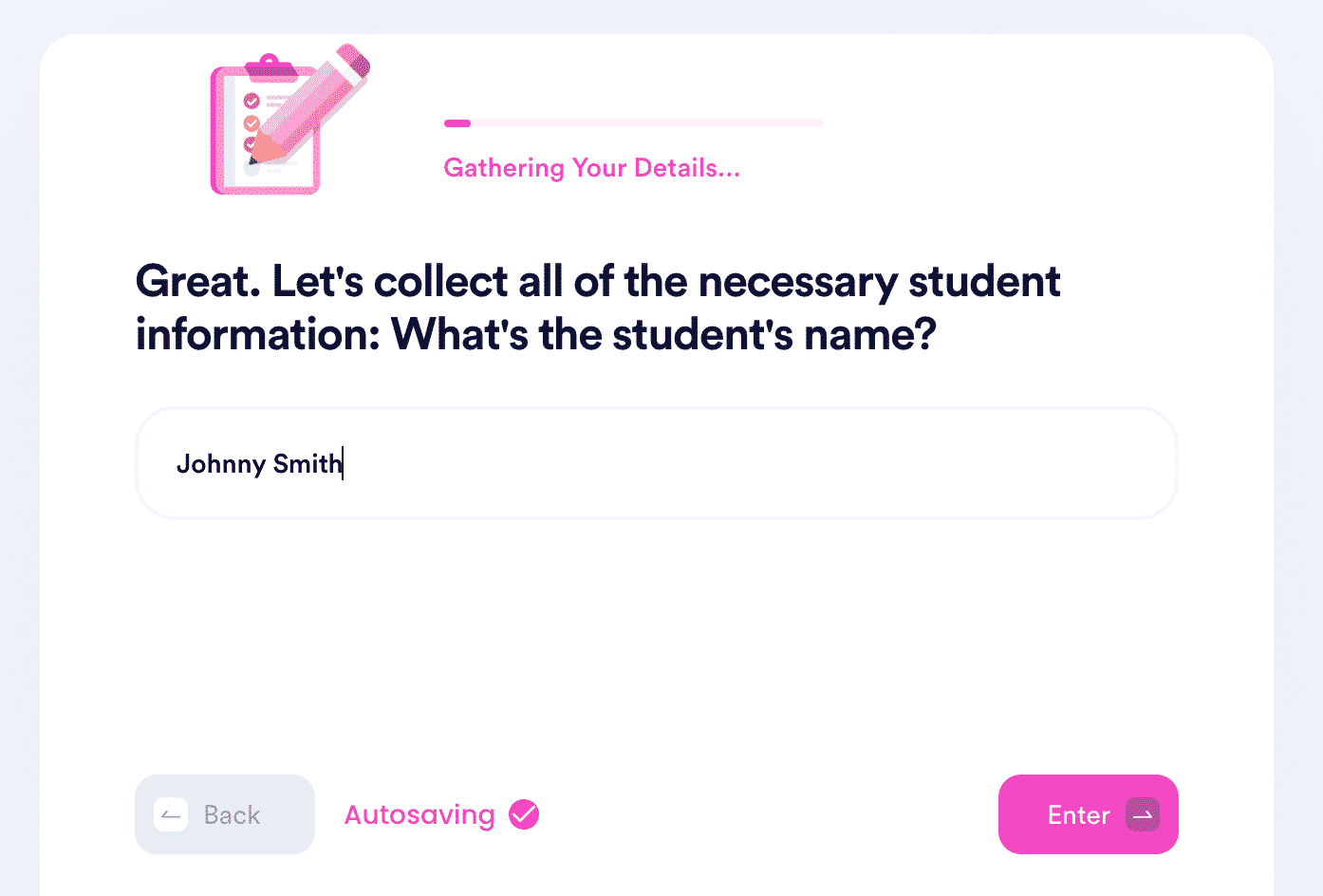 Find Out More About Homeschooling
We also provide a bunch of great articles on all relevant homeschool-related topics, including:
Don't Let Admin or Legal Issues Wear You Down—Hand Them Over to DoNotPay
Do you believe you may have some missing assets? Use DoNotPay's nifty product before the government claims them! Have you ever wanted to enter sweepstakes without purchasing anything? Our app will sign you up for them instantly! Trying to figure out how to reduce your property taxes or utility bills? DoNotPay can show you the way. Want to avoid getting charged for free trials that never fail to auto-renew into paid subscriptions? We'll help you cancel them before they expire.
Anything else you may need? Check out how our app can:
Check Out Our Other Robust Products
It doesn't stop there—DoNotPay can help you send a defamation demand letter, create passport photos, get gift card cash back, get any document notarized, request access to public records, claim insurance and warranty, request a college application fee waiver, appeal parking tickets, and much more.
Sign up now to get access to any of our products for one low monthly fee!