Georgia Homeschool Association—Requirements and More
Whether you're still questioning homeschooling your child, you need help with homeschooling, or you're worried about the expenses, joining the Georgia homeschool association might be the right decision for you.
Don't know much about this organization? Don't worry—DoNotPay has prepared an article to provide the necessary details!
What Is the GA Homeschool Association?
Since 1992, Georgia Homeschool Education Association (GHEA) has been protecting homeschoolers' rights to educate their children, regardless of religious or philosophical beliefs. Governed by a Christian Board of Directors who serve voluntarily, their mission is to support and promote home-based, parent-directed homeschooling in Georgia. They want to make Georgia one of the easiest states to homeschool in and:
Inform homeschooling families about any legislative changes or policy issues that may affect their home education
Act on behalf of the Georgia homeschool community with the governor's office, the Georgia Department of Education, the Georgia Student Finance Commission, and other similar agencies
Give counseling via telephone or email
Aid in the growth of homeschooling support and co-op groups
Help new homeschooling families understand the Georgia home education system and law
Maintain a website that's rich with information relevant to homeschoolers in Georgia
Conduct statewide homeschool workshops and other educational events
Communicate with their members and homeschool community via social media and email
Organize the annual Homeschool Day at the Capitol
Offer a graduation ceremony for the members of the association
Why Should You Join the GA Homeschool Association?
Thinking of joining GHEA? If you decide to become a member, you will be able to:
Get answers to any question you have related to homeschooling
Get information that will help you comply with Georgia laws
Receive updated news and information related to homeschooling in Georgia
Take part in any activities that the association organizes
How To Join the GA Homeschool Association
To be eligible for GHEA membership and teaching your kid at home in GA, you will have to meet the following requirements:
Provide the necessary amount of homeschool hours—In Georgia, you must provide at least 180 days of homeschooling yearly
Have a high school diploma or GED—To homeschool in GA, you must have a high school diploma or pass the General Education Development (GED) test
Get a suitable curriculum—The program you choose for your child has to include the following subjects:

Math
Science
Reading
Social studies
Language arts

Write annual progress reports—You must write a report about your child's progress at the end of every school year. This report must be kept for at least three years
Test your child annually—In GA, you must test your child every school year after they pass the third grade
File a letter of intent to homeschool—To start homeschooling in Georgia, you must notify the superintendent of the school district of your wish to homeschool your child. You can do this by submitting a notice of intent to homeschool. The easiest way of obtaining and filing this letter is
DoNotPay Provides an Easy Way of Getting a Letter of Intent To Homeschool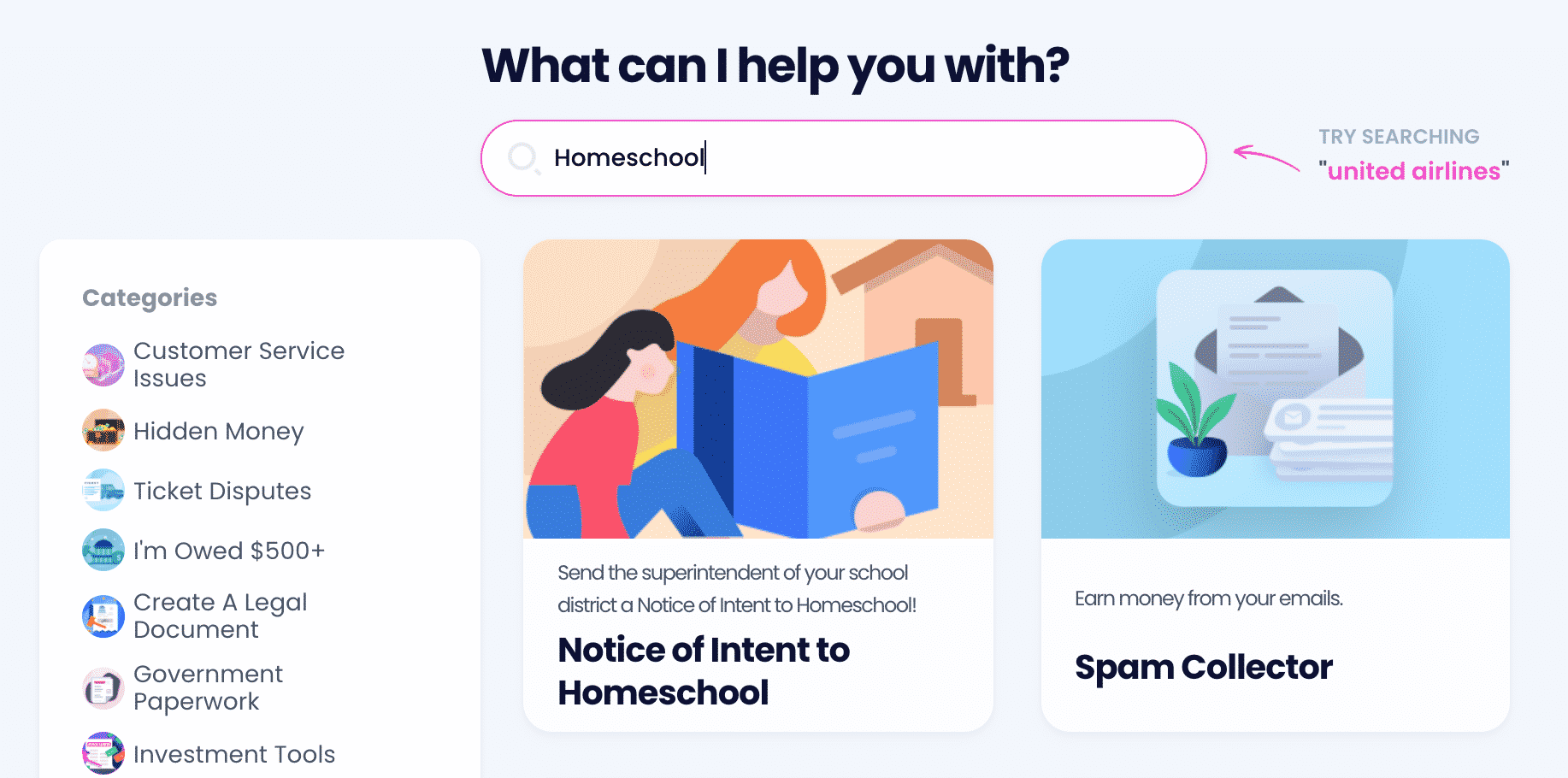 Whether you're planning on being your child's teacher or hiring someone else, getting a letter of intent to homeschool is a must to get started. That's why DoNotPay has developed a tool to make your life easier! We'll draw up this crucial document for you in no time so that you can withdraw your kid from school with ease.
All you have to do is:
Select our Letter of Intent to Homeschool feature
Answer our chatbot's questions about your child, plan, and other key details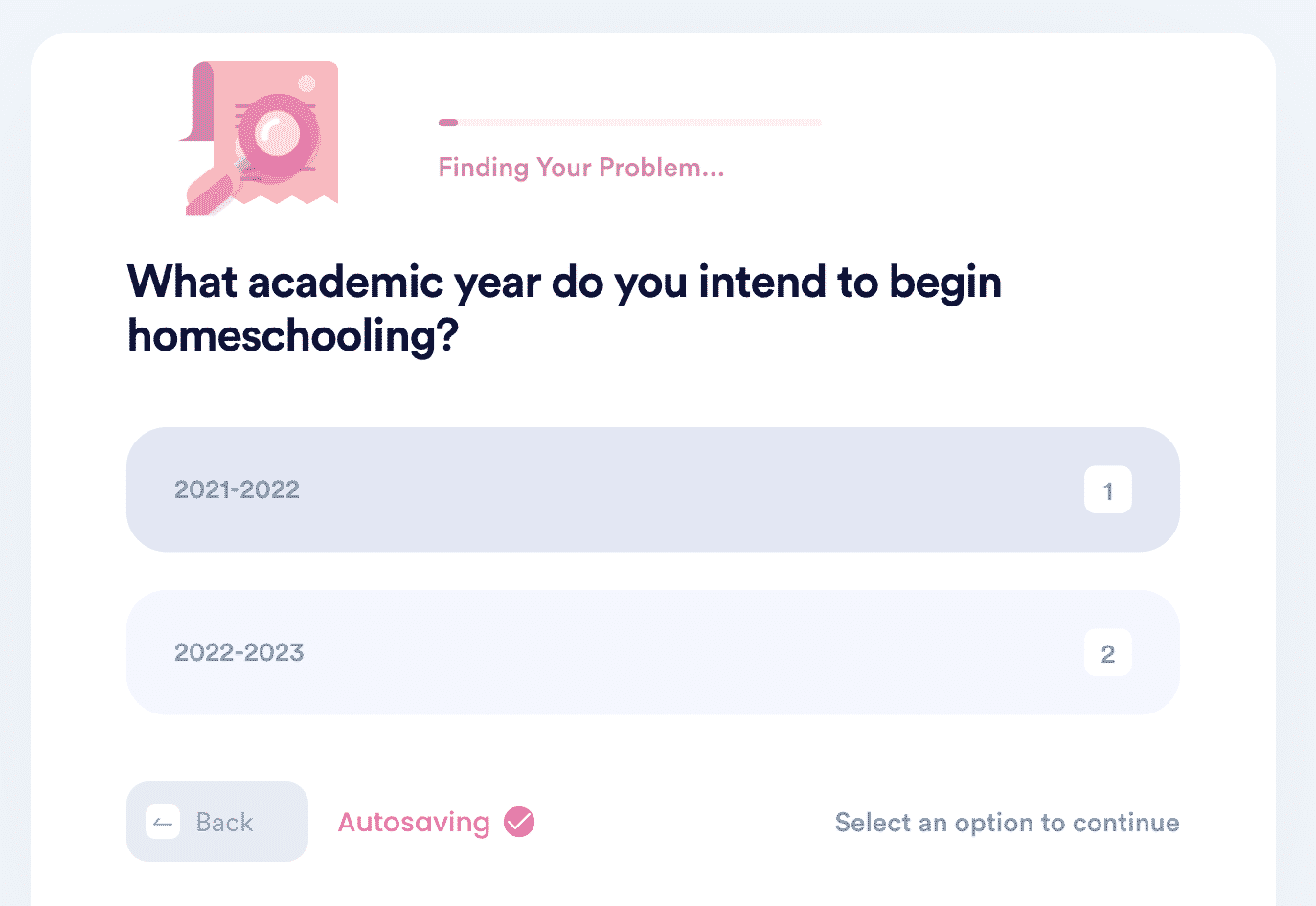 We'll generate the letter in a jiffy, and depending on what you select, send it your way via email in PDF form or forward it in your stead.
Need more answers to your homeschool-related questions? Check out DoNotPay's learning center and read our insightful articles, such as:
Becoming a GA Homeschooling Association Member
To become a GHEA member, you have to donate at least $35 as they're a non-profit organization that's supported by member donations and volunteers. You will also have to complete a form on its website.
Are There Any Georgia Homeschool Groups?
There are various homeschool groups and co-ops in Georgia, which you can join if you want to connect your child with other homeschooled students.
Some are faith-based, while others focus on a specific homeschooling style, such as Waldorf or classical. We've selected a few to help you with the choice:
Discover DoNotPay's Solutions to Mundane Tasks
Our product range doesn't end there—we can also help you sue anyone in small claims court, cancel any subscription, start a free trial risk-free with our virtual credit card, get refunds and chargebacks, send anything through online fax, pay your utility bills, demand airline compensation, and deal with your annoying neighbors.
As soon as you sign up, we can also put an end to robocalls, copyright infringement, email and text spam, and stalkers and harassers. Our app's abilities don't stop there either—get perfect passport photos, free raffle tickets, compensation for victims of crime, or insurance or warranty quickly!
There's So Much More We Can Assist You With
Check out how else we can help—DoNotPay can:
Sign up now to take advantage of our nifty products!