Facts About Religious Homeschooling in the U.S.
Religious homeschoolers are one of the fastest-growing segments of the homeschool population.
For several years, homeschooling has been on the rise in the U.S, and it is estimated that two and a half million children are now educated at home by their parents. If you're religious but not sure whether to opt for religious homeschooling or not, this guide may give you more clarity.
Homeschooling and Religion
One of the most common reasons for parents to withdraw their children from public school is to raise them in a religious environment.
The majority of homeschooling parents in the U.S. are conservative Christians. They believe that the material taught in most public schools undermines real Christian values. For them, homeschooling is not just about opting for certain school programs—it is about an entire worldview.
The United States Supreme Court has ruled that parents have a constitutional right to homeschool their children in the U.S. but need to ensure they are including secular material and not only religious teachings.
How To Start Your Religious Homeschooling
The requirements to begin with homeschooling differ across the United States, but the process of getting started is pretty much the same everywhere. If you are planning to start homeschooling in the near future, here are some of the most important steps you should take:
Research your state's homeschooling laws
Define homeschooling goals
Get familiar with your student's learning styles and find out what motivates them
Find a suitable teaching method
Choose or create a curriculum that supports your homeschool goals and can be adapted to your student's needs
Connect with other homeschooling parents in your community
Create a yearly plan and daily/weekly schedules
Set up a learning corner in your home
Consider joining a homeschool support group
Plan your finances because homeschooling is not cheap
Why You Should Join a Faith-Based Homeschool Support Group
Joining a faith-based homeschool group is one of the smartest moves a religious homeschool beginner can make. Some of the major reasons for taking this step as soon as you decide to homeschool your child include:
Emotional and academic support
Information and resources for homeschoolers
The opportunity to socialize with people who hold the same values
Extracurricular activities, such as field trips, excursions, and special events for members
Various discounts given by religious institutions
Christian homeschool support groups are the most widespread—but there are some Islamic and Jewish homeschool groups you can join.
Homeschooling Laws in the U.S.
Homeschooling is allowed in all U.S. states. Some states have lenient homeschooling laws, while others have a lot of requirements for homeschooling parents or instructors. The most common requirements you need to meet as a homeschool teacher are:
Submitting a letter of intent to homeschool to your school district superintendent
Having a high school diploma or GED
Keeping homeschool records
Administering yearly testing
Teaching a certain number of hours a year
You are usually allowed to start homeschooling your child in the U.S. whenever you want. You may be able to hire someone else to homeschool your child, but that person must be qualified for the job.
Pros and Cons of Homeschooling
If you're considering teaching your kid at home for the first time, you're probably aware that there are numerous pros and cons to homeschooling. Even if teaching from a religious perspective is your main priority, it is vital to take various factors of homeschooling into consideration to make the right decision for your family.
Some of the most important advantages and disadvantages of homeschooling are in the table below:
Pros
Cons

Flexibility
No peer pressure
No bullying
Individualized education
Closer family relationships
Religious freedom

Less free time
Facing judgment
High costs
Extracurricular activities require more effort
Recordkeeping
What a Letter of Intent To Homeschool Is and How To Write It
Submitting a letter of intent to homeschool is necessary for most U.S. states because it relieves a public school of the responsibility to provide education for your child and prevents potential penalties for truancy.
This letter usually includes the following details:
The student's name, address, birth date, and grade
Name and address of the homeschool teacher
A statement saying that the child will be homeschooled for the following school year
Start date of homeschooling
Date and signature
If you don't want to spend your free time on the tedious task of writing a homeschool letter of intent, sign up for our service! We'll draft a perfect letter for you.
Use DoNotPay To Create a Perfect Letter of Intent To Homeschool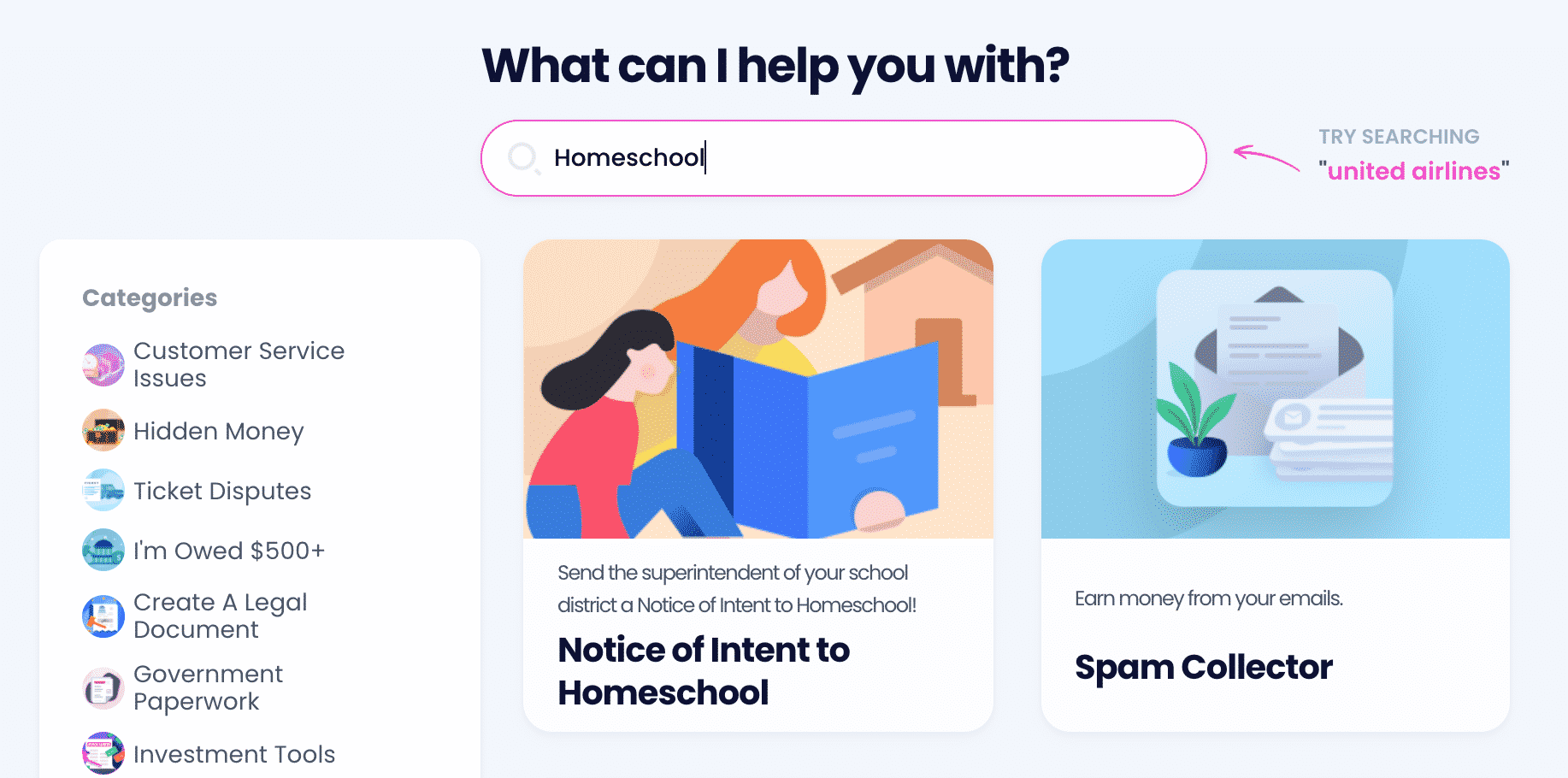 Don't waste your time reading the homeschooling laws for your state. Instead, take a few minutes to complete four simple steps:
Log in to your DoNotPay account using any web browser
Look for the Notice of Intent to Homeschool feature
Provide us with basic information about:

Your child
Yourself
Your homeschooling plan

Click on the Submit button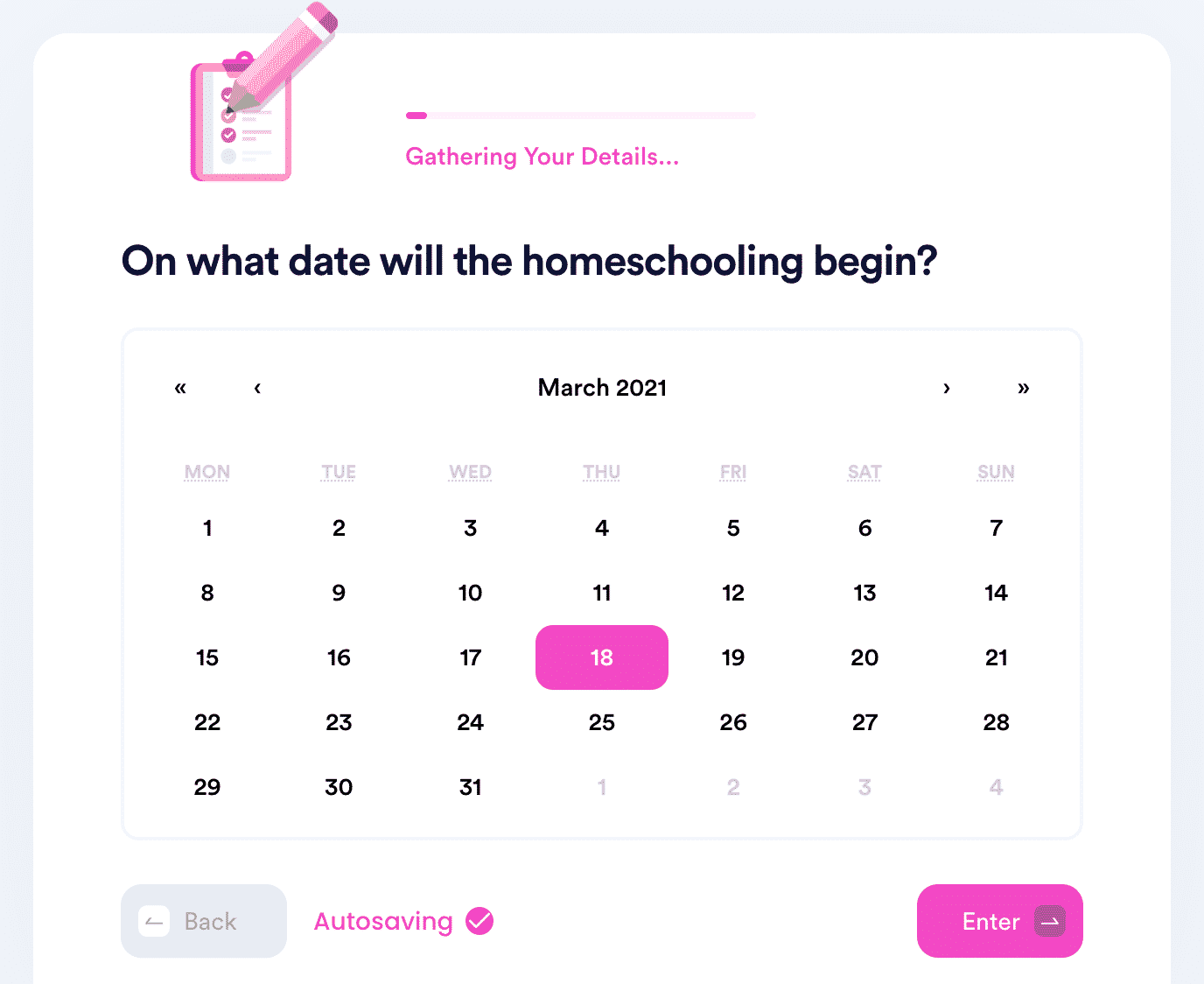 We will analyze the information you provided in minutes and generate a personalized letter of intent to homeschool. You may choose to get your document notarized virtually. You can download it in PDF format and send it to your school district office yourself, or we can do it on your behalf.
Resolve Any Other Issue You Have Swiftly With Our Assistance
The world's first robot lawyer is capable of tackling any legal or administrative task in your stead. We can draw up any legal document for you—including a power of attorney, child travel consent form, and divorce settlement agreement, to name just a few—help you sue any company or individual in small claims court, send a letter of warning to your noisy neighbors, help you reduce your property taxes and utility bills, and a lot more.
Sign up now if you want to stop email and text spam, claim any insurance or warranty, appeal parking tickets, schedule a DMV appointment in a flash, mail anything worry-free, find your missing assets, create passport photos, or contact embassies and consulates effortlessly.
Let DoNotPay Guide You Through Any Obstacle
Are you tired of corporations not taking their customers seriously? So are we, and that's why our nifty product will assist you in suing any company or individual in small claims court!
If you don't want to have any online service take advantage of you, you can sign up for any free trial completely risk-free with our virtual credit card's help, cancel any membership on time, and demand a refund or chargeback in a split second. DoNotPay can also draw up an airtight return request and send it to a company of your choice instantly.