Homeschooling in Colorado Made Understandable by DoNotPay
Whatever your reasons for deciding to homeschool your child, you want your loved one to reap the benefits and not be faced with any barriers further down the line.
Colorado is not the easiest state to homeschool in, and the laws on pulling your child out of the school system are fairly strict. They are designed to make sure your child receives a good education, though, so it pays to understand and comply with the rules.
DoNotPay is your go-to resource to understand the ins and outs of homeschooling in Colorado—get all the advice you need here!
Colorado Homeschool Laws—What You Need To Know
From the age of six up to 17, CO homeschool laws state that children must attend a public or private school.
The only way to get around this law is by:
Giving notice of your intent to homeschool
Registering with an umbrella organization
Homeschooling through a licensed Colorado teacher
Giving Notice of Your Intent To Homeschool
As a parent, you can elect to homeschool your child yourself by giving notice to your local school district.
If you take this route, you will be subject to fairly tight control, including:
Teaching a minimum number of hours and days each year
Taking standard tests at regular intervals
Reporting attendance, test results, and immunization records
Registering With an Umbrella Organization
An umbrella school oversees homeschooling activities and may offer:
Administrative support
Extracurricular activities
Curriculum help
Umbrella schools offer various levels of oversight, and children enrolled in such an organization are usually considered privately educated. They do not, therefore, fall under Colorado homeschooling law.
Homeschooling Through a Licensed Colorado Teacher
You can engage a licensed teacher to homeschool your child, in which case the teacher will be responsible for all reporting, monitoring, and ongoing compliance with state homeschooling law.
Using someone else who is a qualified teacher to homeschool your child takes away much of the administrative burden of homeschooling.
What Are the Requirements if You Decide To Homeschool Yourself?
If you choose to homeschool your child on your own, you will have to fulfill the following requirements:
Homeschooling Requirements
Explanation
School hours
Your child must receive at least 172 days' teaching per year, with an average of four hours of instruction per day
Curriculum
You can choose your curriculum, but it must include these subjects:

Reading
Writing
Speaking
Math
History, the U.S. Constitution, and civics
Literature
Science

Record keeping
You need to keep detailed records of:

Attendance
Test results
Immunization

Testing
Your child has to take standard Colorada assessment tests in grades 3, 5, 7, 9, and 11. The tests have to be evaluated by an external examiner qualified to do so
Submission of records
All your child's test scores have to be submitted to your school district, and your attendance records should be available for inspection at any time
How Should You Choose a Curriculum?
Within the stipulations of Colorado homeschooling law, you have to teach the subjects mentioned above, but you have some leeway in setting up the exact curriculum.
Your options for setting up your curriculum are:
Design Your Own
Colorado allows you to design your own curriculum, but you should remember that it will have to be aligned with the state's subject requirements and must be robust enough to get your child through the standard tests at various stages.
The advantages of designing your own curriculum are that you can:
Vary the teaching methods you use according to your child's preferences
Advance at the child's preferred pace
Save money
Buy a Pre-Packaged Curriculum
Numerous homeschooling organizations offer pre-designed curriculums that cover all the subjects you need for your child.
Methodologies vary between traditional classroom-based teaching, active teaching, and project-based learning, and you should choose the curriculum you buy based on:
Your child's favored learning style
Schedules demanded by the curriculum
Any religious considerations that are important to you
Testimonials from other parents are a great way to make an informed choice, but bear in mind that, the more your child enjoys the learning experience, the more effective the education will be.
What's the First Step in Colorado Homeschooling?
You can begin homeschooling at any time in Colorado, but you need to follow the correct procedures to ensure you stay within Colorado homeschool law.
Getting started with homeschooling in Colorado involves the following steps:
Prepare your homeschooling environment
Decide on a curriculum
Send a letter of intent to homeschool to your school district if you have decided to do it yourself
Take your child out of school and start the journey
The most important of these steps is sending your letter of intent.
This must be done at least 14 days before you begin homeschooling, and the letter needs to contain the following details:
The name, age, and address of the student to be homeschooled
The number of hours they will be attending homeschool
Details of the person designated to teach the child
This may sound a bit complicated, but DoNotPay is here to make your life easier—we can and even send it on your behalf!
DoNotPay Gets You Started With Homeschooling in Colorado!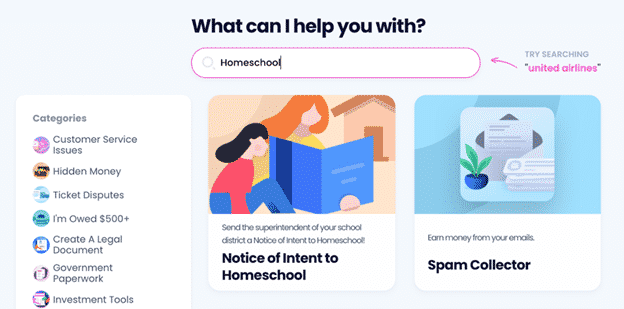 Children who have been homeschooled can benefit from a much rounder, more fulfilling education than the traditional school system offers—DoNotPay is committed to helping you along the homeschooling road!
Our Notice of Intent to Homeschool product generates the perfect letter of intent for your school district—send it within the required deadline, and your homeschooling can begin as soon as you and your child are ready!
Here's what you need to do to get your letter:
Click on our Notice of Intent to Homeschool feature
Answer a few questions about your homeschooling plans
In a few moments, your letter will be ready—you can either print it out or have it sent automatically to your school district.
Colorado doesn't require the letter to be notarized, but if you do want this done, DoNotPay can get you sorted in a few clicks with our online notarization service!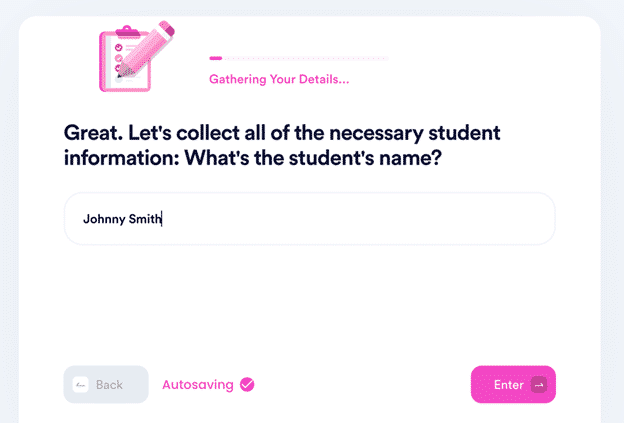 Don't Let Admin or Legal Issues Wear You Down—Hand Them Over to DoNotPay
Do you believe you may have some missing assets? Use DoNotPay's nifty product before the government claims them! Have you ever wanted to enter sweepstakes without purchasing anything? Our app will sign you up for them quickly! Trying to figure out how to reduce your property taxes or utility bills? DoNotPay can show you the way. Want to avoid getting charged for free trials that never fail to auto-renew into paid subscriptions? We'll help you cancel them before they expire.
Anything else you may need? Check out how our app can:
Check Out Our Other Robust Products
It doesn't stop there—DoNotPay can help you send a defamation demand letter, create passport photos, get gift card cash back, get any document notarized, request access to public records, claim insurance and warranty, request a college application fee waiver, appeal parking tickets, and much more.
Sign up now to get access to any of our products for one low monthly fee!