How Do I Take My Child Out of School To Homeschool—All You Need To Know
Homeschooling is a popular solution for many parents who need to take their child from school for any reason. In case you believe that your child would benefit from this type of education, this helpful guide is for you.
If you're wondering, "how do I take my child out of school to homeschool," we are here to help you find the answer. DoNotPay will explain how to homeschool your child and what the requirements for such an endeavor are.
Learn about DoNotPay's feature designed for homeschool parents who wish to make a transition to homeschooling stress-free.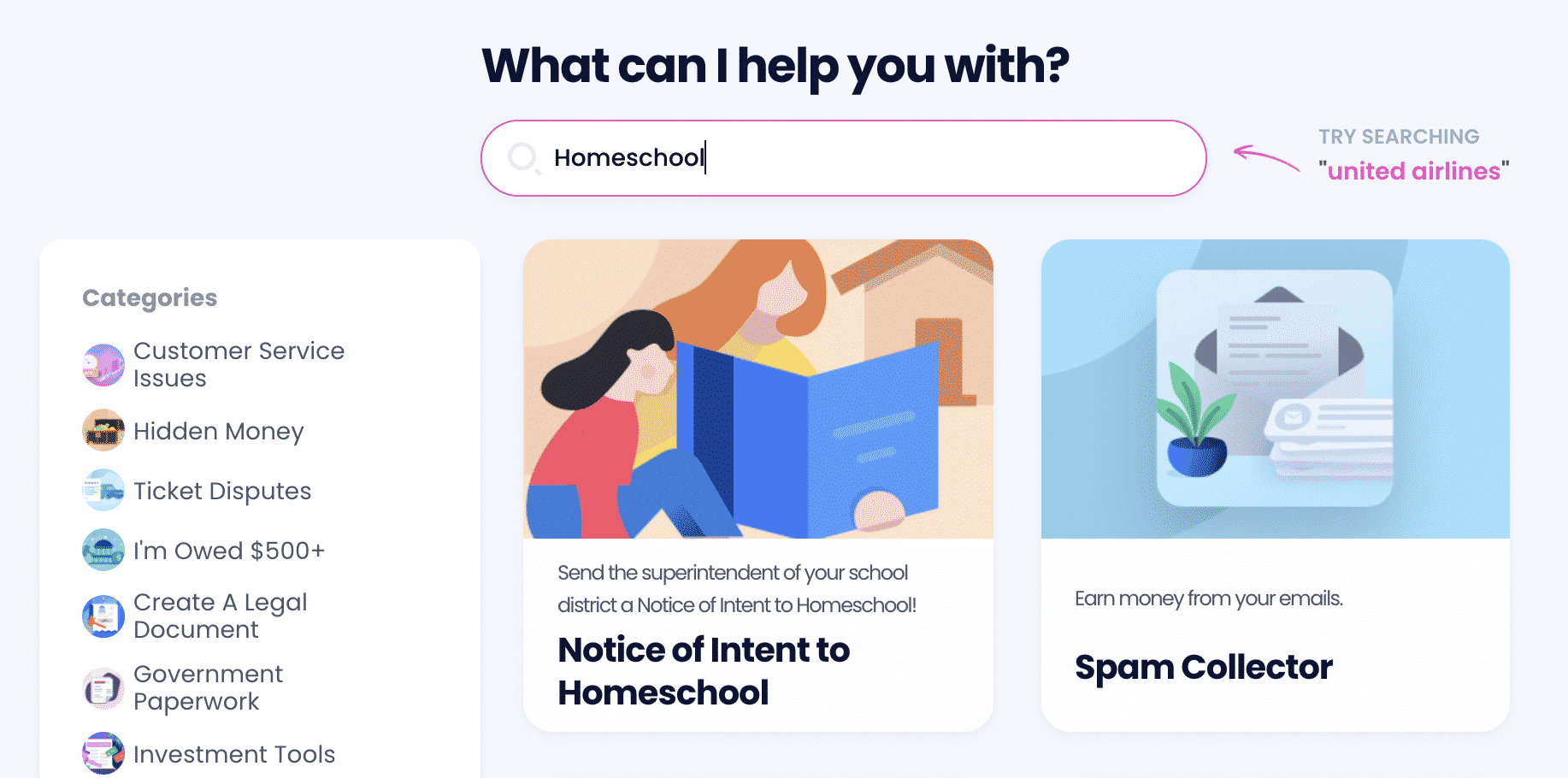 Taking Your Child Out of School To Homeschool—Homeschooling Laws Explained
Homeschooling is legal across the U.S. The homeschool laws prescribe requirements for:
Each state in the U.S. has a different homeschooling law, which is why we created the following guides:
How Can You Start Homeschooling?
To start homeschooling your child, you should create a meticulous plan of action. You should begin by:
Checking the homeschool regulations in your state
Finding out what your homeschool district is
Creating or choosing a homeschooling curriculum and specific subjects
Selecting the best

teaching method

Determining how many hours in a day you will be homeschooling
Figuring out where to look for the teaching resources
Sending the letter of intent to homeschool to the school your child is attending at the moment
You should check out the way homeschooling in America works and which states are the easiest for homeschooling. Consider the cost of this type of schooling and discover whether it is possible to homeschool your child for free. In case you need help while you're figuring out how to be a homeschool teacher, you may want to find someone experienced to educate your child at home.
How To Write a Letter of Intent To Homeschool
The first step you will take to initiate a transition to homeschool is writing a letter of intent.
This letter should include details about you and your child as well as a statement that you intend to homeschool your child.
If you aren't sure what to include in this letter, and let us draw it up and send it instead of you.
In case you are interested in learning about the letters of intent in a specific state, take a look at the following table:
Make the Transition to Homeschooling a Walk in the Park With DoNotPay
DoNotPay will ensure that the letter of intent to homeschool you send is straightforward and includes all the important info about yourself as the homeschool parent and your child.
To get our help with this document, you will have to:
Select the Notice of Intent To Homeschool product
Provide us with info about your child
Select the date when you will start with homeschooling
Our app will create the letter fast and save you from unnecessary complications. Even if you decide to switch to homeschooling in the middle of the school year, you can count on our help.
The law in your state might also require you to get your letter notarized. You can do that through DoNotPay as well—we'll connect you with an online notary.
Once your document is notarized, DoNotPay will offer to send the letter to the school instead of you or create a PDF version you can print and mail yourself.
Can a Homeschooled Student Attend College?
Yes, they can. Most homeschooled students have a high success rate at college.
To apply for university, homeschooled students will have to:
You can also give a homeschool diploma to your child. To do that, check the process of affidavit completion—this way, your child will be legally covered when applying for college.
Is Bureaucracy Getting on Your Nerves? We Have a Solution!
We all know that dealing with bureaucracy isn't pleasant, and it often leads to overwhelming frustration. The good news is that DoNotPay has found a workaround! You can now do the following by using our app:
Let DoNotPay Make Your Legal Troubles Disappear!
Drafting contracts and other legal documents isn't a task you should handle on your own. Don't want to spend a fortune on lawyers? That is why DoNotPay—the world's first robot lawyer—is here to take the lead and help you out! Check out the list below to see some of the legal documents that our app can draft for you:
We don't stop there! Cut through the red tape and let DoNotPay assist you in taking anyone to small claims court, getting your documents notarized, submitting anonymous HR complaints, or requesting crime victims' compensation.