The Rules and Regulations of Homeschooling in GA
It is your duty as a parent to check the local homeschooling laws before taking your child out of school to homeschool. The requirements differ drastically among states, with some being more homeschool-friendly than others.
If you wish to start homeschooling in GA, you can to break down the essential information about teaching your child at home. We can even create a notice of intent to homeschool for you and take the unnecessary administrative burden off your back!
How To Get Started With Homeschooling in GA
If you want to homeschool your child in Georgia, it is necessary to file a declaration of intent with the Georgia Department of Education. You must repeat this action each school year by September 1. This document needs to include the:
Name and age of your student
Homeschool location
Your school district
12-month period that is your home study program's school year
There's no need to worry about this administrative chore because DoNotPay can help you draft and send the notice of intent to homeschool!
DoNotPay Generates a Notice of Intent To Homeschool in a Jiffy
You don't have to fight bureaucracy on your own—DoNotPay can create and send the declaration of intent to homeschool for you! We will make sure all the relevant information is included in this legal document. If you wish, you can download the notice and mail it yourself.
These are the only instructions you should follow:
Select the Notice of Intent to Homeschool product
Provide us with some info about your home school district
Give us the necessary information about your child
Once we create your letter of intent, you can also have it notarized with our help!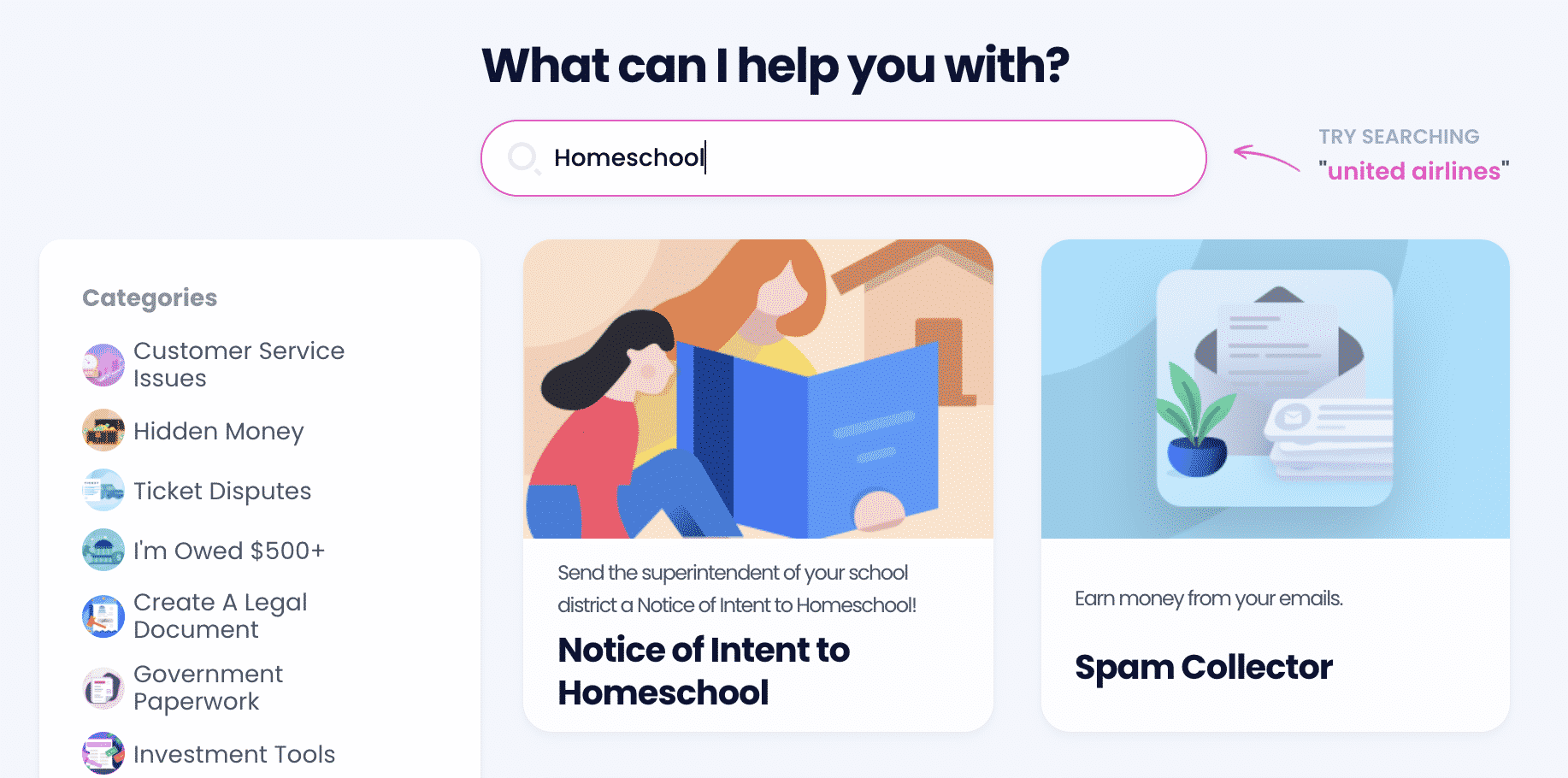 DoNotPay tackles the essential issues of home-based education. Check out our helpful articles and find answers to the following questions:
Georgia Homeschool Laws—How the Peach State Views Homeschooling
Georgia law refers to homeschools as home study programs. The table below offers additional information about the requirements:
Georgia Homeschool Requirements
Explanation
Who can homeschool
Parents or legal guardians are allowed to teach their children. You can also hire a tutor to help you homeschool your child
Attendance age
Children between six and 16 must attend school
Immunization requirements
There are no immunization requirements in Georgia
Required number of days you should teach
You need to provide your child with 180 days of education
Homeschooling hours
Your child's school day should consist of at least four and a half school hours. This can be avoided only if your child is physically unable to comply with this requirement
Subjects required
The following subjects are mandatory:

Reading
Language arts
Mathematics
Social studies
Science

Curriculum
Homeschool curriculum choice is up to you
Teacher requirements
To be a teacher to your child, you need to have a high school diploma or a General Education Development (GED)
Reporting process
At the end of every school year, you must write a report of the progress your child achieved in each of the required subjects
Recordkeeping
You must keep the annual report of your child's progress in your records for at least three years. It is not necessary to submit it to public school officials
Assessment requirements
You have to test your child at least every three years after they complete 3rd grade. It is not necessary to submit the test results to public school officials
Field Trip Ideas for Homeschoolers in Georgia
If you want to add some fun to these tedious rules and requirements, you should include field trips in your curriculum. There is much to see in the Peach State, and traveling together is an excellent opportunity for family bonding. Here are some spots in Georgia you should consider visiting:
North Georgia
Other Benefits of Homeschooling Your Child
You may be a bit overwhelmed by Georgia's homeschooling requirements, but you should know that home-based education can be beneficial for your child. Teaching at home is a good idea because it:
Lets you spend more time with your child
Enables your child to study in a safe environment without peer pressure or bullying
Allows you to tailor lessons to your child's specific learning needs and abilities
Lets you decide how long your child will be sitting behind a desk
Can DoNotPay Help Me With Any Other Admin or Legal Issue? You Bet It Can!
DoNotPay's robust products can assist you in fighting companies, individuals, and institutions that have wronged you in any way. Once you subscribe to our platform, we'll ensure that you never have to deal with any of the following again:
Our Product Range Offers So Much More
Subscribing to DoNotPay will bring you peace of mind as you won't have to go through tedious task completion on your own anymore. With our AI-powered app, you can get what's rightfully yours in the blink of an eye.
If you want to claim warranty or insurance, find your missing assets, get compensated for a canceled flight or a violent crime that you were a victim of, track your missing parcel, or draw up a child travel consent form, divorce settlement agreement, power of attorney, or any other legal document, you can count on us to lend you a helping hand.
Sign up today to get access to the entirety of our product range and forget about dealing with time-consuming and energy-draining chores!