Parent's Guide on How To Get Started in Homeschooling
If the idea of becoming a homeschool parent sounds appealing, you've come to the right place. Our comprehensive guide on how to get started in homeschooling has all the information you need. We'll walk you through the entire procedure—from enrollment to getting a diploma, one step at a time.
While the legal requirements vary from state to state, there's plenty of common ground, especially in regards to administration. A subscription to DoNotPay will get you out of bureaucratic nightmares—homeschool edition!
Educate Yourself on the Law
It's important to familiarize yourself with the local homeschool laws. Each state regulates the practice differently, and some are more lenient towards homeschooling than others.
When researching how to get started in homeschooling, consider the following legal questions:
Keep in mind that regulations often change. To stay in the loop, it's best to consult official resources in your state from time to time. For example, if you wanted to start homeschooling in Arizona, you'd visit the Arizona Department of Education website to get the information.
Research Different Teaching Methods
Most education experts agree that there are three main types of learners:
When figuring out the best way to homeschool your child, think about what type of learner they are. Pay attention to how they retain information and choose a teaching style based on that.
Homeschooled students can prosper in the right circumstances, so employing the appropriate teaching methods is vital. If you don't feel like you should be the one to homeschool your child, you can hire someone else to do it.
Design a Curriculum and Create a Schedule
You need to start working on your curriculum long before (home)school is in session. Here's what parents should consider when devising a lesson plan:
Make it your goal to stick to the curriculum and homeschool schedule as close as you can during the first year. You can also consult a homeschool teacher to help you map out the lessons.
File a Letter of Intent To Homeschool
If you want to get started in homeschooling fast, you'll need to master the paperwork. Parents who decide to teach their children independently have to formally declare their intent to homeschool.
The filing process can vary slightly for different states, but the steps below are pretty much the gist:
Fill in a declaration of intent
Print it out
Get it notarized
Send it to the district superintendent
You can get the document from:
Your state's Department of Education website
State-supported homeschool organizations
DoNotPay
The document's mock-up is also specific to your place of residence. Most declarations of intent (or affidavits) require you to include the following:
| What To Include | Details |
| --- | --- |
| Information about the student | You'll need to list the child's name, age, and current address |
| Information about the parent/legal guardian | It's likely you'll have to enclose your contact information and place of residence |
| Curriculum details | Some states require parents to submit their homeschool program along with the form. You'll have to name the official supervisor (yourself or a homeschool teacher) and provide the lesson plan |
| Identification | You may have to provide a notarized copy of your child's birth certificate. Depending on the state, you can send other documents as proof of identification |
| Other | In certain states, you have to provide evidence that you don't have a criminal record |
How To Get Started in Homeschooling Fast—Try DoNotPay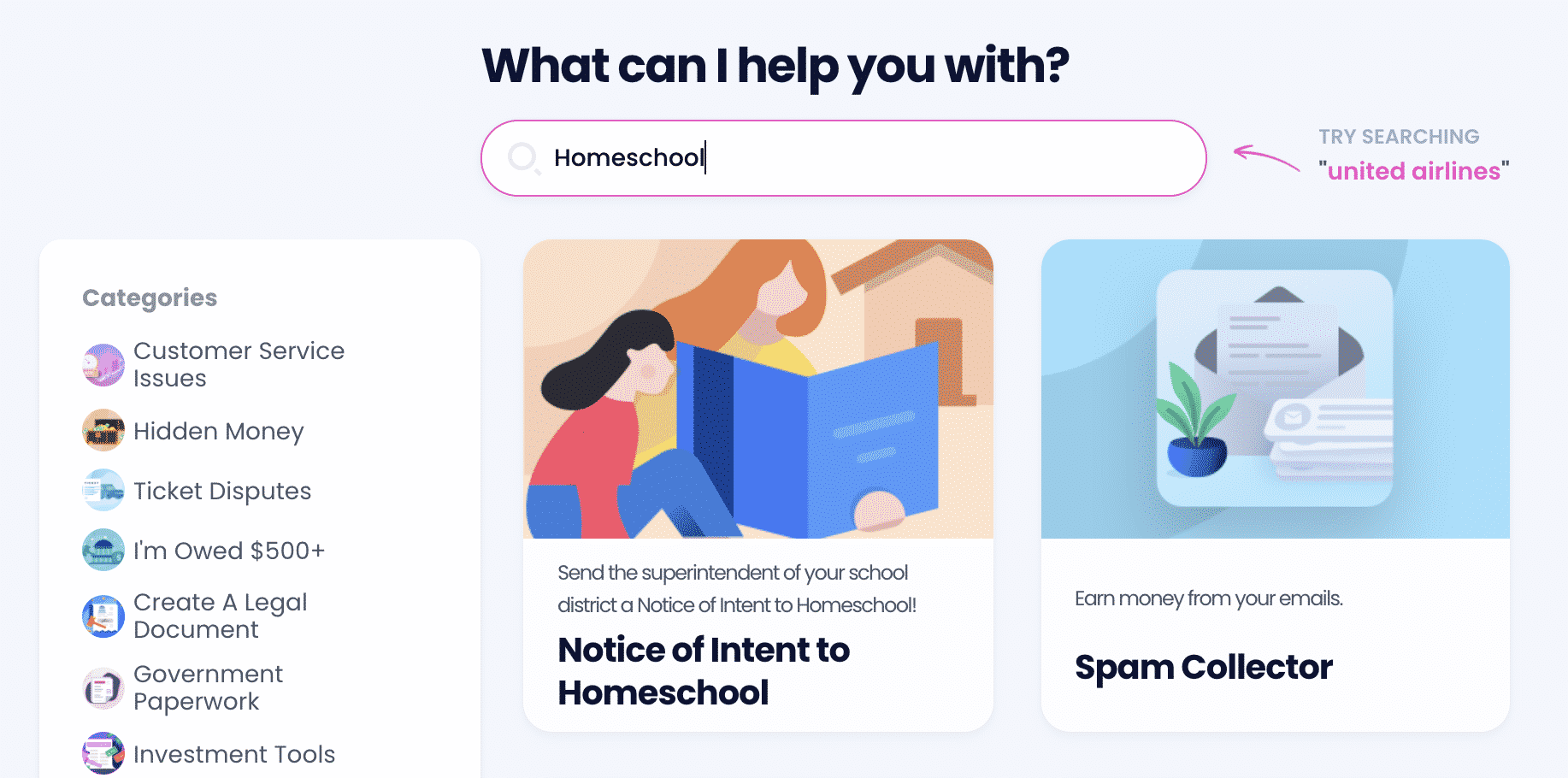 Compiling a letter of intent to homeschool is how you'll officially get started in homeschooling. Not only is it the first step, but it's also an annual administrative requirement. If that sounds like a chore, try DoNotPay! The Notice of Intent to Homeschool product can create a declaration of intent in the blink of an eye.
Here's how to do it:
Find the Notice of Intent to Homeschool product and click on it
Provide the necessary information about the school district you live in
Answer questions about the student and yourself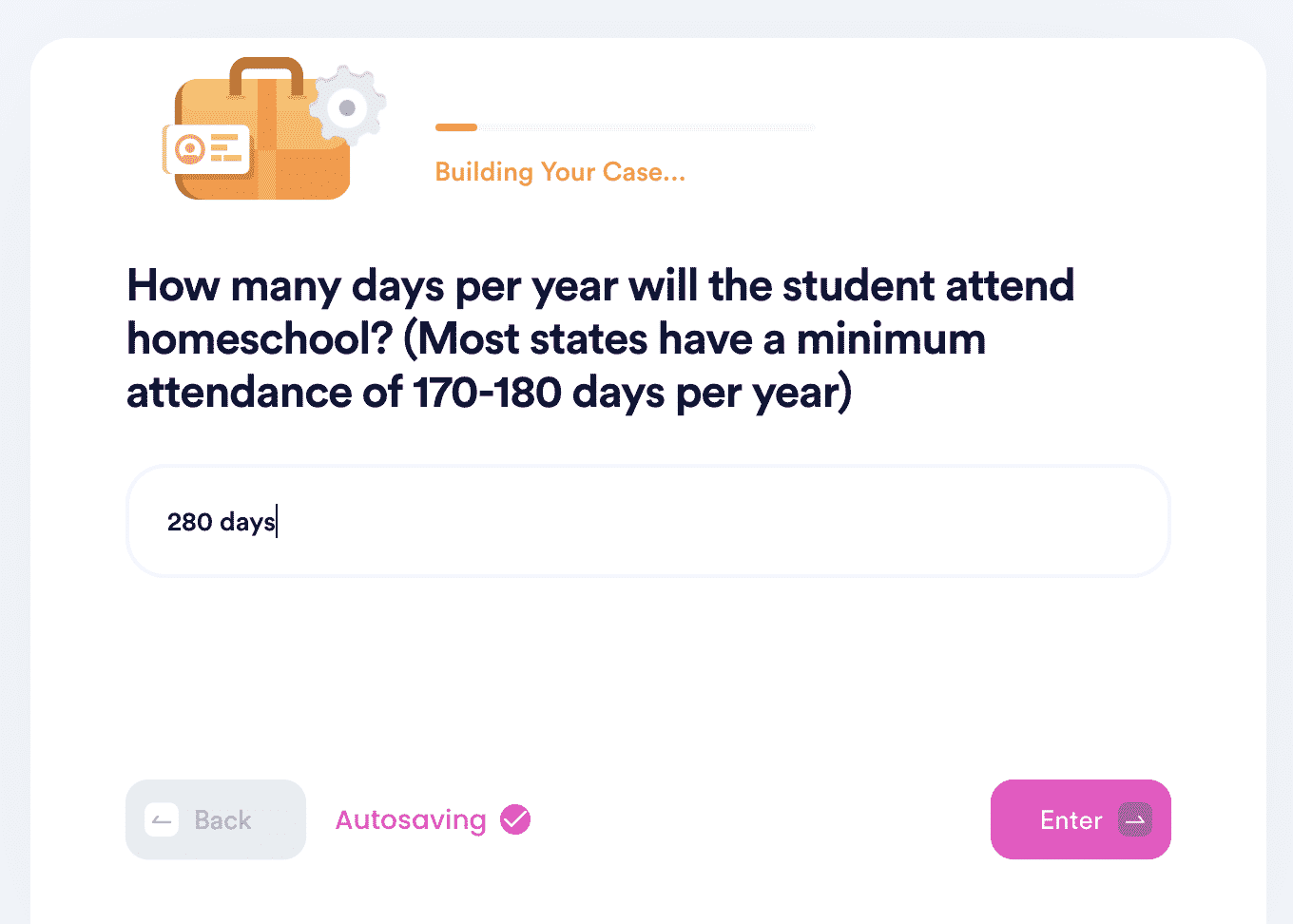 You can use our other stellar product—Notarize Any Document, and save yourself the trip to the notary office. Feel free to entrust our robotic lawyer to forward the document to the district superintendent directly. DoNotPay is there to save your time.
Don't Stop There—Check Out DoNotPay's Product Range
DoNotPay has many tricks up its sleeve—no matter the admin or legal issue at hand, our AI-enabled app can power through it in a split second. Look into our product range to find out how you can:
What Else Do You Need? DoNotPay Will Provide!
If you want to cancel a subscription before your free trial expires so that you don't get charged, you can count on our virtual credit card to do it in your stead! We can also make sure that you get what's rightfully yours—be it a refund, insurance, warranty, unclaimed money, flight refund, raffle ticket, or gift card cash back.
You no longer have to go through legal or administrative hurdles on your own—as soon as you sign up for DoNotPay, you'll get access to our app's assistance and will be able to use it to fight injustice.