All You Need To Know About Homeschooling in TN
If you've decided to homeschool your child in Tennessee for the first time, you probably don't know where to start.
Not to worry because we will guide you through it! Read this quick guide and learn everything about homeschooling in TN, including how to get started and what is required by the state's homeschool laws.
Tennessee Homeschool Laws—Learn the Rules
In the state of Tennessee, you have three options to homeschool your child:
As an independent homeschool
Under a Church-related umbrella school
By enrolling your child in an accredited online school
Independent Homeschool
Parents may homeschool their children independently if they fulfill the following requirements:
Submitting a notice of intent to homeschool to the local school district
Having a high school diploma or GED
Keeping student attendance records and submitting them to the school district superintendent at the end of the school year
Submitting proof of vaccination
Providing four hours of home instruction per day (180 days a year)
Homeschooled children must take standardized tests approved by the state board in the fifth, seventh, and ninth grade. Testing takes place at a local public school, and it's free, but the parent can also pay for a professional testing service. Tests will assess student's knowledge of the following subjects:
Language arts
Math
Science
Social studies
Keep in mind that you have the option of hiring someone else to homeschool your child if you're too busy to do it by yourself.
Church-Related Umbrella Schools
Enrolling a child in an umbrella school is the most popular homeschooling option in Tennessee. These schools are run by religious organizations and must adhere to specific standards of accreditation.
The state board of education has no authority over the school's curriculum or operational procedures. According to the law, umbrella schools must:
Submit details about each student to the school district superintendent
Comply with state vaccination requirements
Keep attendance records for each student they teach
Provide classes for the same number of hours as public schools
Before enrolling your child in an umbrella school, you should ask yourself the following questions:
What is the cost of tuition?
Do I need to be a member of a specific church?
Does the school require a statement of faith?
What curriculum options are available?
What extracurricular activities are offered to students?
What kind of support does the school offer to new students?
Accredited Online School
Parents choosing to enroll their children in an online school must make sure it is accredited by one of the following regional agencies:
Cognia (formerly AdvancED)
MSA—Middle States Association of Colleges and Schools
NWAC—Northwest Accreditation Commission
NAIS—National Association of Independent Schools
NCPSA—National Council of Private School Accreditation
NEASC—New England Association of Schools and Colleges
WASC—Western Association of Schools and Colleges
MSCES—Middle States Commission on Elementary Schools
MSCSS—Middle States Commission on Secondary Schools
NCA CASI—North Central Association Commission on Accreditation and School Improvement
How To Start Homeschooling in TN
You are free to start homeschooling in Tennessee at any time during the school year. If your child is already enrolled in a public school and you are planning to take them out to homeschool independently, you should notify your school district about it by sending a notice of intent to homeschool.
This way, you'll prevent potential truancy penalties. If you are enrolling your child in an umbrella school, they will notify the student's previous school for you.
In case you wish to enroll your child back in a public school after a while, it is possible. Schools might ask you to provide homeschool records (portfolio, transcripts, report cards, etc.) to help them understand at what grade level your child is. They can also organize additional placement testing if necessary.
TN Homeschooling—Should You Join a Homeschool Group?
Joining a homeschool group is the best decision you can make as a homeschooling beginner. As a member, you'll have many benefits that will make your homeschooling journey easier, including:
Academic support
Emotional encouragement
The opportunity to socialize with other homeschooling families at different events and field trips
Discounts
Popular Tennessee homeschool groups you may want to join are listed in the table below:
Starting a Homeschool in TN? Learn How To Write a Letter of Intent To Homeschool
A letter of intent to homeschool should include the following information:
Name, age, and grade level of the homeschooled student
Location of the school
Proposed curriculum
Proposed hours of instruction
Name and qualifications of the homeschool teacher
To avoid wasting time on drafting this formal document, . Our app can generate a custom-made notice of intent in no time.
DoNotPay Can Draft a TN Homeschool Letter of Intent To Homeschool in Minutes!
DoNotPay is here to make the beginning of your homeschool journey as simple as possible. We will draft a personalized letter of intent for you in minutes, saving your time and energy.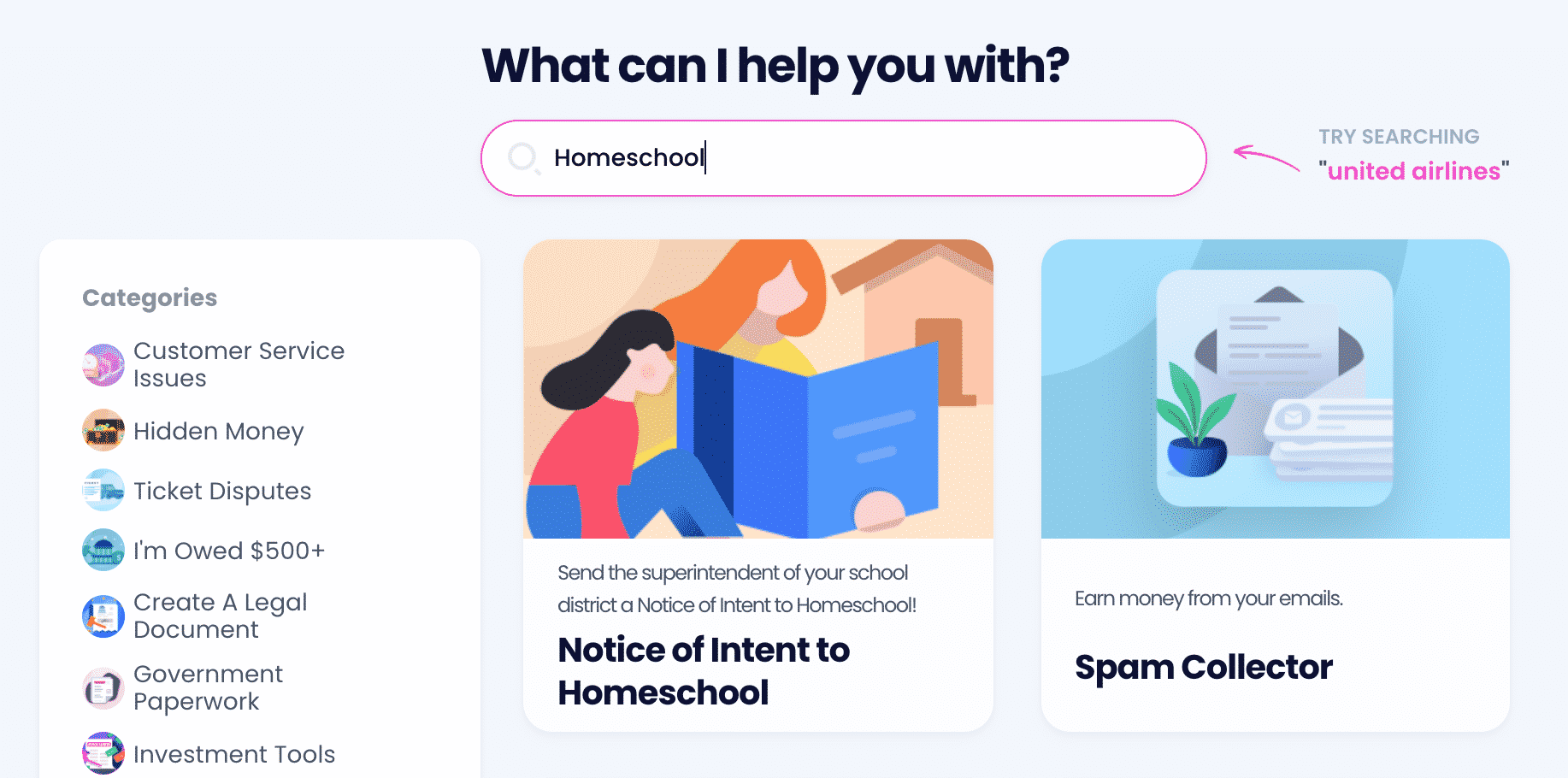 All you need to do is:
Access our Notice of Intent to Homeschool product
Provide us with essential details about yourself and your child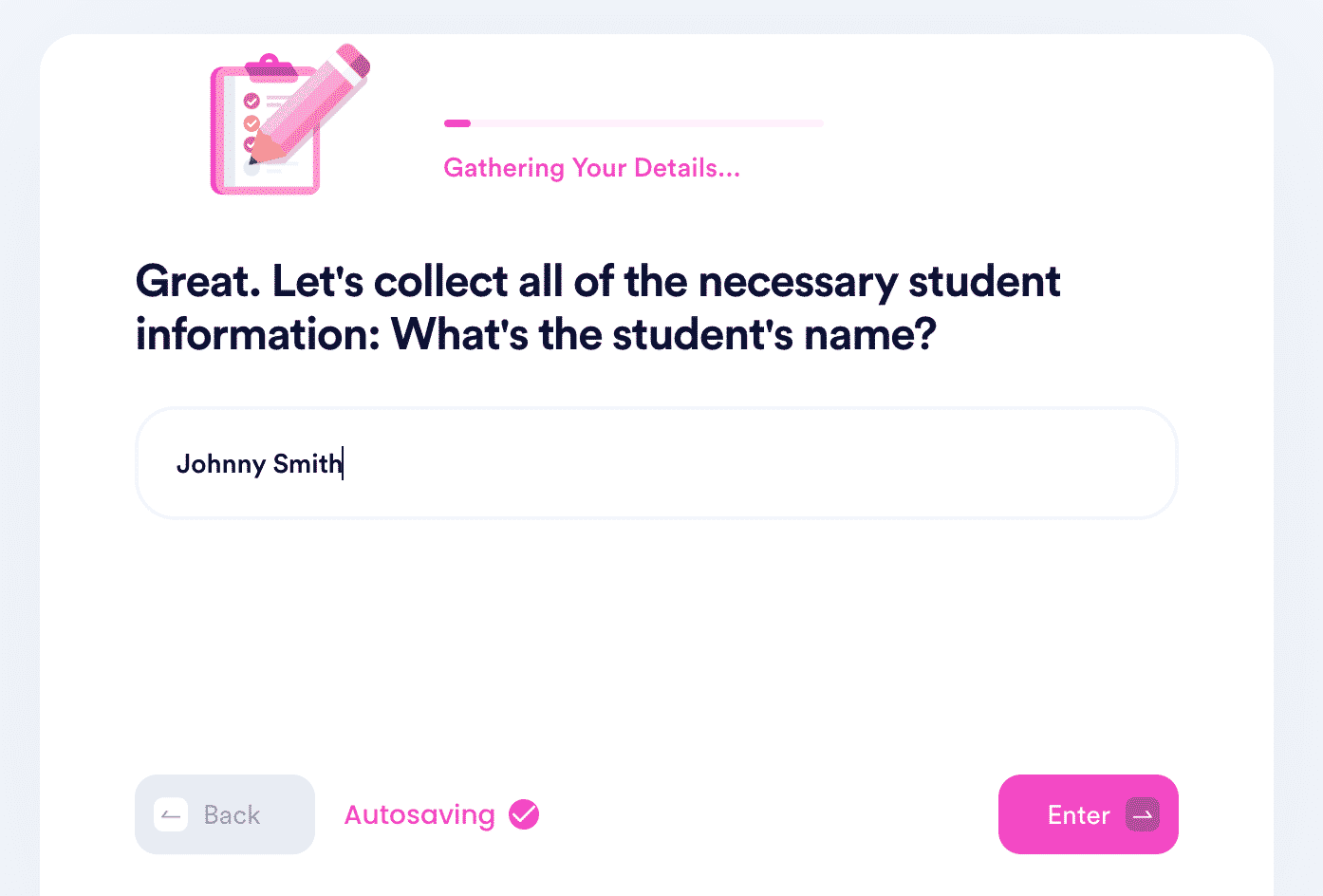 We can send the letter to your school district office, or you can download it and send it yourself. You also have the option to get the letter notarized with our help.
Resolve Any Other Issue You Have Swiftly With Our Assistance
The world's first robot lawyer is capable of tackling any legal or administrative task in your stead. We can draw up any legal document for you—including a power of attorney, child travel consent form, and divorce settlement agreement, to name just a few—help you sue any company or individual in small claims court, send a letter of warning to your noisy neighbors, help you reduce your property taxes and utility bills, and a lot more.
Sign up now if you want to stop email and text spam, claim any insurance or warranty, appeal parking tickets, schedule a DMV appointment in a flash, mail anything worry-free, find your missing assets, create passport photos, or contact embassies and consulates effortlessly.
Let DoNotPay Guide You Through Any Obstacle
Are you tired of corporations not taking their customers seriously? So are we, and that's why our nifty product will assist you in suing any company or individual in small claims court!
If you don't want to have any online service take advantage of you, you can sign up for any free trial completely risk-free with our virtual credit card's help, cancel any membership on time, and demand a refund or chargeback in a split second. DoNotPay can also draw up an airtight return request and send it to a company of your choice quickly.