Homeschooling in Ohio Made Easy With DoNotPay!
As a parent, you want your children to have the best chances in life—education is the key to setting them up for success.
As a resident of the Buckeye State, homeschooling your kids is a fairly easy option, as long as you follow Ohio homeschool laws.
DoNotPay has all the facts, advice, and watch-outs you need to know about to begin homeschooling in Ohio—we can make the process simple!
Ohio Homeschool Laws From A to Z
Deciding to take your child out of the traditional school system and begin homeschooling is a major step. The State of Ohio wants to make sure you are doing things the right way and fulfilling the minimum Ohio homeschooling requirements.
You are eligible to teach your child if you hold at least a:
High school diploma
GED or equivalent
Standardized test results that show you are educated to the required standard
You need to teach your child for a minimum of 900 hours per year, which can be broken down to an average of five hours per day for 180 days.
As a homeschool teacher in Ohio, you have to keep extensive records of your child's progress, including:
Standardized test results
A summary of the curriculum you have taught
A breakdown of the topics you have taught within each subject
A transcript of the year's work for a child of high school age
Work samples to show your child's progress
Is There a Prescribed Ohio Homeschool Curriculum?
The State of Ohio states that every child should be taught the following subjects:
Language arts
Math
Science
Geography
Physical education, health, and safety
Fine arts
Government and Ohio state history
Ohio homeschooling parents can set their own graduation criteria, though—whereas high school students in public and private schools have to accrue a certain number of credits to pass a course or take standardized exams to graduate, homeschooled students are assessed by their parents.
There is a risk that your child might not achieve the required standard to enter college after their homeschool education. To that end, homeschool students are eligible to take the state High School Equivalency exam (previously called the GED).
If you decide that your child would be better off in a public school after a period of homeschooling in Ohio, re-entering the school system is relatively easy.
Your local school district will test your child to determine which grade is most suitable and place them accordingly.
What Curriculum Options Do You Have in Ohio?
Deciding to homeschool your child is a matter of personal choice, usually driven by:
Unhappiness with the local public school system
The need to accommodate your religious beliefs
The child's special needs
Scheduling difficulties
The cost of homeschooling versus private or public education
One of the most crucial areas to be considered is that of the curriculum you want to teach.
Apart from covering the subjects that are required under state law, you are free to choose the teaching methods, materials, and activities that:
Your curriculum options are:
Curriculum Options
Explanation
Build your own
Designing and building your own curriculum means that you can customize everything to get the best results for your child. You are free to choose teaching approaches such as:

Traditional classroom teaching
Active education

This is also an option if you face scheduling issues or your child has special needs.

If there are subjects or topics you don't feel comfortable with, you also have the option of getting someone else to help you or joining a homeschooling co-op to cover those areas

Buy a package

Off-the-shelf curricula are widely available and are guaranteed to cover the required subject material for each grade. While the curriculum you choose may limit you to a specific teaching style, you can benefit from the convenience of prepared lesson plans and ongoing assessment tools
How To Start Homeschooling in Ohio
Once you have decided to homeschool and considered the curriculum you want to follow, it's time to start the process of removing your child from school.
You can start homeschooling at any time in the school year, but you have to inform your school superintendent of your intention at least one week in advance.
To do this, you have to send a letter of intent with the following details:
The name, address, and contact details of both parents
The name and school grade of the child
Proof of your eligibility to teach
A promise to teach all the required subjects for the required time
An outline of your proposed curriculum
A list of the teaching materials you intend to use
This can be complicated, and if you get it wrong, you could jeopardize your child's homeschooling chances.
Thankfully, DoNotPay has the solution—we can and even send it automatically if you choose!
DoNotPay to the Rescue in Ohio!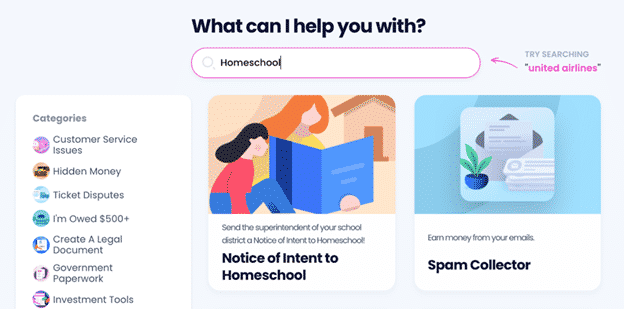 DoNotPay is here to make your homeschooling journey hassle-free!
As always, we find ways to make your life simpler—your notice of intent to homeschool is no exception.
In a few clicks, you will have the perfect letter of intent, and we can even take over the task of having it notarized and sending it for you!
Here's what you need to do to get your letter ready:
Go to our Notice of Intent to Homeschool feature
Answer a few quick questions with the details we need
That's all, folks! Your letter will be ready in a flash for you to print or have sent automatically, and your homeschool fun can begin!
Don't Let Admin or Legal Issues Wear You Down—Hand Them Over to DoNotPay
Do you believe you may have some missing assets? Use DoNotPay's nifty product before the government claims them! Have you ever wanted to enter sweepstakes without purchasing anything? Our app will sign you up for them quickly! Trying to figure out how to reduce your property taxes or utility bills? DoNotPay can show you the way. Want to avoid getting charged for free trials that never fail to auto-renew into paid subscriptions? We'll help you cancel them before they expire.
Anything else you may need? Check out how our app can:
Check Out Our Other Robust Products
It doesn't stop there—DoNotPay can help you send a defamation demand letter, create passport photos, get gift card cash back, get any document notarized, request access to public records, claim insurance and warranty, request a college application fee waiver, appeal parking tickets, and much more.
Sign up now to get access to any of our products for one low monthly fee!