Everything You Should Know Before Choosing the Montessori Homeschool Curriculum
Once you decide to take your child out of school to homeschool them, you need to research the available options for home-based education thoroughly. It is important to explore various learning methods and curriculums you can use. The choice you make should match your child's learning needs and your schedule and teaching style.
If you decide to use the Montessori homeschool curriculum, you can consult for the essential info about this program. We can also help you create a notice of intent to homeschool and take some of the extensive paperwork related to homeschooling off your back!
What You Should Know About the Montessori Learning Method
The Montessori learning approach was created by an Italian doctor Maria Montessori with a focus on early childhood education. This method is child-centered and highlights the uniqueness of each student. The Montessori approach also values curiosity and creativity, prompting children to appreciate and seek knowledge independently.
The distinctive characteristics of this practice are:
Active learning methods
Mixed-age classrooms
Options for

students

to choose learning activities
Teachers who demonstrate the behaviors and values that they want children to adopt and mimic
Cooperation and collaboration among students
Understanding and making connections between traditional subjects
Respect for every student's unique learning style
Guidance on positive behavior and conflict resolution
Montessori Homeschool Program
Even though the Montessori method was initially created to be used in classrooms, parents have soon realized how beneficial it would be to incorporate it in homeschooling because it allows designing a customized education plan for their children.
As long as you facilitate an inviting learning environment, Montessori will work regardless of the physical surroundings. To achieve this, you must get the essential Montessori homeschool materials, such as:
Craft supplies
Athletic equipment
Imaginative playwear
Building tools
Montessori Homeschool Curriculum
Most Montessori curriculums are recommendations rather than strict programs because the learning method in question is more of an educational philosophy than a defined program. As a homeschool teacher, you can create a personalized curriculum aligning with the essential Montessori postulates.
This program is mostly used for:
Montessori preschool homeschool curriculum
Montessori homeschool curriculum for kindergarten
Numerous families mix and match the sources and materials to offer their children the best learning experience. You can figure out what works for your child by trying out various options.
Advantages and Disadvantages of the Montessori Approach
If you can't decide whether the Montessori method is the right option for you, check out the table below for a list of benefits and downsides:
Montessori Pros
Montessori Cons

Using a hands-on approach makes learning much more interesting
Acquiring knowledge this way is known to help children retain the information better
Allowing children to have a part in the learning choices leads to a happier environment
Encouraging peer-learning and respectful socializing

Having to hire a tutor—Parents may not be able to

teach

using this method without proper teacher training
Being expensive compared to other methods because of the cost of the materials necessary to make this program work
What Should You Do Before Choosing a Homeschool Curriculum?
Before you decide what curriculum to use or subjects to cover, it is important to notify the authorities of your decision to start teaching at home and meet other state-specific requirements related to home-based education. It usually entails drafting and sending a letter of intent to homeschool to the superintendent of your school district.
Some homeschool-friendly states don't impose this requirement, but most homeschooling laws mandate it. The good news is that you don't have to write the notice yourself—DoNotPay can help every step of the way!
Looking for an Easy Way To Create a Letter of Intent? DoNotPay Can Help!
Writing a notice of intent yourself is a dull and time-consuming task, so don't hesitate to ask DoNotPay for help! We will include all the relevant information and deliver a top-notch legal document. All you have to do is:
Choose our Notice of Intent to Homeschool product
Answer a few questions about your school district
Enter some info about yourself and your child
DoNotPay can also help you get your letter of intent notarized using the same tool. We can mail the document on your behalf, or you can download the file and send it yourself.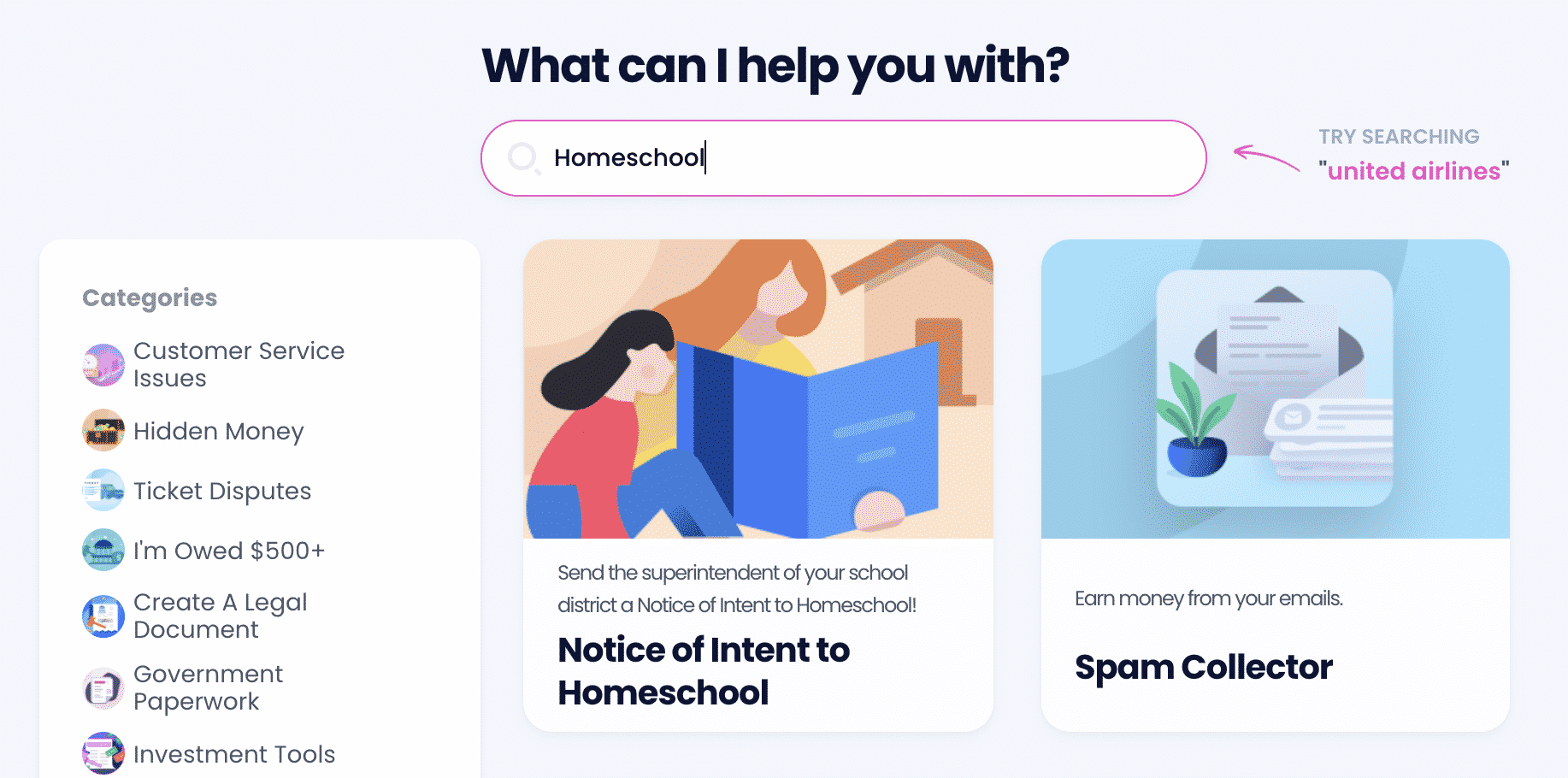 DoNotPay is your source of reliable homeschool information. Get straight answers to the following questions in our helpful guides:
Should you homeschool your child?
DoNotPay Has More Products in Store for You!
Our app is adept at solving numerous issues and completing various tasks in your stead.
You may want to use DoNotPay to protect your work from copyright infringement, reduce your property taxes, send defamation demand letters, or file FOIA requests.
Through the same app, you'll be able to skip many bureaucratic hurdles. Here are more tasks DoNotPay can help you with:
Use DoNotPay To Keep in Touch
If your friend or family member is in jail, we can help you locate them and send and receive letters with ease. Do you need to send other letters but hate going to the post office? You can use our Mailing Service product and save time.
We can also help you send online faxes, reach customer service, and contact embassies or government representatives.
In case you're drowning in email and text spam, our app can end it for good. Even if robocalls are bothering you, we have a solution!