North Dakota Homeschool Deets Explained by DoNotPay
As a parent, you want the best education for your child—sometimes, this can mean taking matters into your own hands!
If you live in North Dakota, homeschooling is not an easy option, but it is manageable if you follow all the required procedures.
DoNotPay has all the information you need to start your North Dakota homeschool journey quickly and easily and without falling foul of state laws.
How Does Homeschooling in North Dakota Work?
As an alternative to public schooling, homeschooling is becoming ever more popular in the Peace Garden State.
Under North Dakota homeschool laws, you have two choices for homeschooling your child, as follows:
Homeschooling as an individual
Homeschooling as an Individual
If you want to homeschool your child by taking over the teaching responsibilities yourself, you will fall under the ND Home Education Law and need to fulfill these criteria:
Homeschooling as a Private School
You can opt to set yourself up as a private school, meaning you could—in theory—teach other children after your successful registration.
The requirements for private schools in North Dakota are:
You have to be a certified teacher in ND
You need to submit to a criminal record check
Your child has to be taught for a minimum of 180 days each year
You must teach the same subjects as are taught in public schools
You need to register as a private school, and you need to update your registration each year.
For the majority of parents, homeschooling as an individual is the easier route.
What Subjects Do You Have To Teach in ND?
The State of North Dakota prescribes the following subjects at elementary, middle, and secondary levels:
School Level
Mandatory Subjects
Elementary and middle school

Math
Language arts
Social studies
Science
Physical education and health

High school

Math
Language arts
Social studies
Science
Physical education
One of:

Languages
Fine arts
Technical education
If your child is being homeschooled in North Dakota, they don't have to miss out on the social element of public schooling or the extracurricular activities offered in traditional schools.
Homeschooled students are eligible to take part in all the extracurricular activities offered by their local public school under the same rules that apply to students enrolled there.
Where Can You Get a School Curriculum?
To get a curriculum that covers the subjects and topics for your child's grade, you can:
Develop Your Own Plan
If you are confident in your subject knowledge and teaching ability, you can design your own curriculum.
This is not an easy route to follow, though, as North Dakota is one of the few states that confers high school diplomas on homeschool students. The diplomas are regulated by your local school district.
To get a high school diploma, your child has to follow the high school curriculum closely, and you must submit a:
Summary of what course material you have taught in each subject
List of each course's targets and the way your child met them
Transcript of your child's achievements from grade nine through grade 12
Body of evidence as required by your school district
Your child also has to take four standard tests while in homeschool, meaning that your freedom to design a bespoke curriculum is relatively limited.
Designing your own curriculum can include varied teaching methods, though. If your child favors active or project-based learning, you can still use these approaches as long as the desired results are delivered.
You can also use third-party certified teachers to teach subjects you are not comfortable with.
Buy a Ready-Made Curriculum
Numerous organizations offer off-the-shelf curricula for homeschoolers in North Dakota.
Buying a curriculum package often means you are tied to one teaching approach, so you should be careful that your choice takes account of:
Your child's learning preferences
The teaching style you are comfortable with
Your child's grade and performance on tests compared to your school districts averages
Your budget
Ready-made curricula may not be as flexible as ones you design yourself, but you do have the peace of mind that the required subjects for your child's grade are covered adequately.
Getting Started With Homeschooling in ND
If you are happy that you have fulfilled all the requirements to homeschool, your first step is to let authorities know of your intention to take your child out of school.
You need to do this at any time by sending a letter of intent to your school district at least 14 days before you start homeschooling.
The letter needs to include:
Your child's name, address, and grade
The names of both parents, including their contact details
A list of any extracurricular activities or courses your child intends to take part in within the public school system
You can draw the letter up yourself, but any mistakes will mean that your notification will be seen as non-compliant—meaning your child may be labeled a truant.
DoNotPay has you covered, though—we can in a couple of clicks!
Get Your ND Homeschool Off to the Right Start With DoNotPay!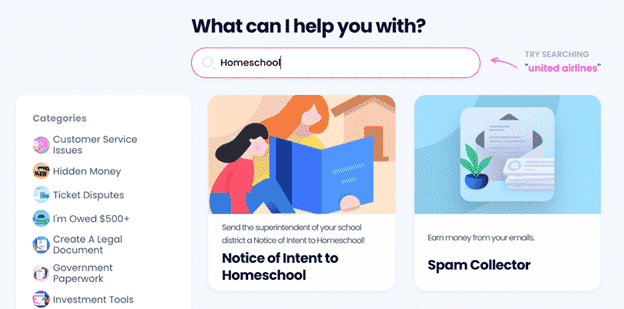 DoNotPay believes that your homeschooling journey in North Dakota should be hassle-free!
To help you on your way, we can draw up a perfect letter of intent and even send it automatically to your school district—you can concentrate on the challenge of becoming the best teacher your child has ever had!
Here's how to get your letter of intent:
in your web browser
Click on our Notice of Intent to Homeschool feature
Answer a few questions so we can capture all the necessary info
Job done—your letter will be ready in a flash! You can choose to have it sent automatically, or you can print it out and deliver it yourself. We can even get it notarized for you with no fuss using our online notarization service!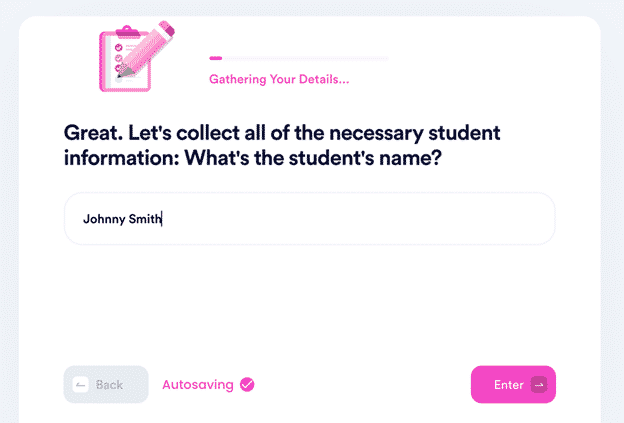 Don't Let Admin or Legal Issues Wear You Down—Hand Them Over to DoNotPay
Do you believe you may have some missing assets? Use DoNotPay's nifty product before the government claims them! Have you ever wanted to enter sweepstakes without purchasing anything? Our app will sign you up for them quickly! Trying to figure out how to reduce your property taxes or utility bills? DoNotPay can show you the way. Want to avoid getting charged for free trials that never fail to auto-renew into paid subscriptions? We'll help you cancel them before they expire.
Anything else you may need? Check out how our app can:
Check Out Our Other Robust Products
It doesn't stop there—DoNotPay can help you send a defamation demand letter, create passport photos, get gift card cash back, get any document notarized, request access to public records, claim insurance and warranty, request a college application fee waiver, appeal parking tickets, and much more.
Sign up now to get access to any of our products for one low monthly fee!