What Is My Home School District? All Questions Answered
"What is my home school district?" This may be only one of the many questions on your mind if you're deciding to homeschool your child.
Not to worry—We've created this useful guide to help you figure out your school district and assist you in starting your child's homeschool journey with ease.
What Is a School District?
School districts are administrative units that run schools in your region or state. They can be completely independent school systems or under the administration of local government or the state.
Knowing your school district is necessary so that you can send the letter of intent to homeschool to the correct address so that you're able to start homeschooling your kid. Your school district may also have a crucial role if you, as a homeschool parent, wish to rely on public resources.
How Can I Figure Out the School District for My Home?
To find out what the school district is for your home, you can use various online programs that will help you find your school district. You will be able to search for your school district by your:
Typing in your location is a type of search that will provide you with the most precise result as states and regions have multiple school districts.
How To Find the School District by Your Home Address
If you are trying to discover your school district, the best way is to use your home address while searching online. Some of the websites you can visit to find your district are the following:
How Do I Start Homeschooling Once I've Found My Home School District?
When you find your school district, you will be one step closer to starting homeschooling your child. Here are some of the requirements you will have to meet to choose homeschooling over attending regular schools:
What Are Homeschooling Laws?
While you're finding out what your school district is, you should gather all other necessary info before you start homeschooling. That is why you should learn more about homeschooling laws in your state.
These laws regulate various aspects of homeschooling, such as:
Parent's qualifications to teach
Homeschooling hours
Homeschooled student tests
Requirements to obtain a homeschool diploma
We can help you get familiar with the state-specific homeschool laws. Check out the table below:
Writing a Letter of Intent To Homeschool
When you start transitioning to homeschooling, you will have to notify your child's school about this by sending a letter of intent to homeschool. This letter has to include your and your child's information as well as your homeschool plan.
If you are not sure how to write the letter of intent, you can always turn to DoNotPay. By using our app, you will not have to worry whether you'll formulate the letter correctly. Whether you decide to start homeschooling your child at the beginning of the school year or in the middle of it, you can count on us.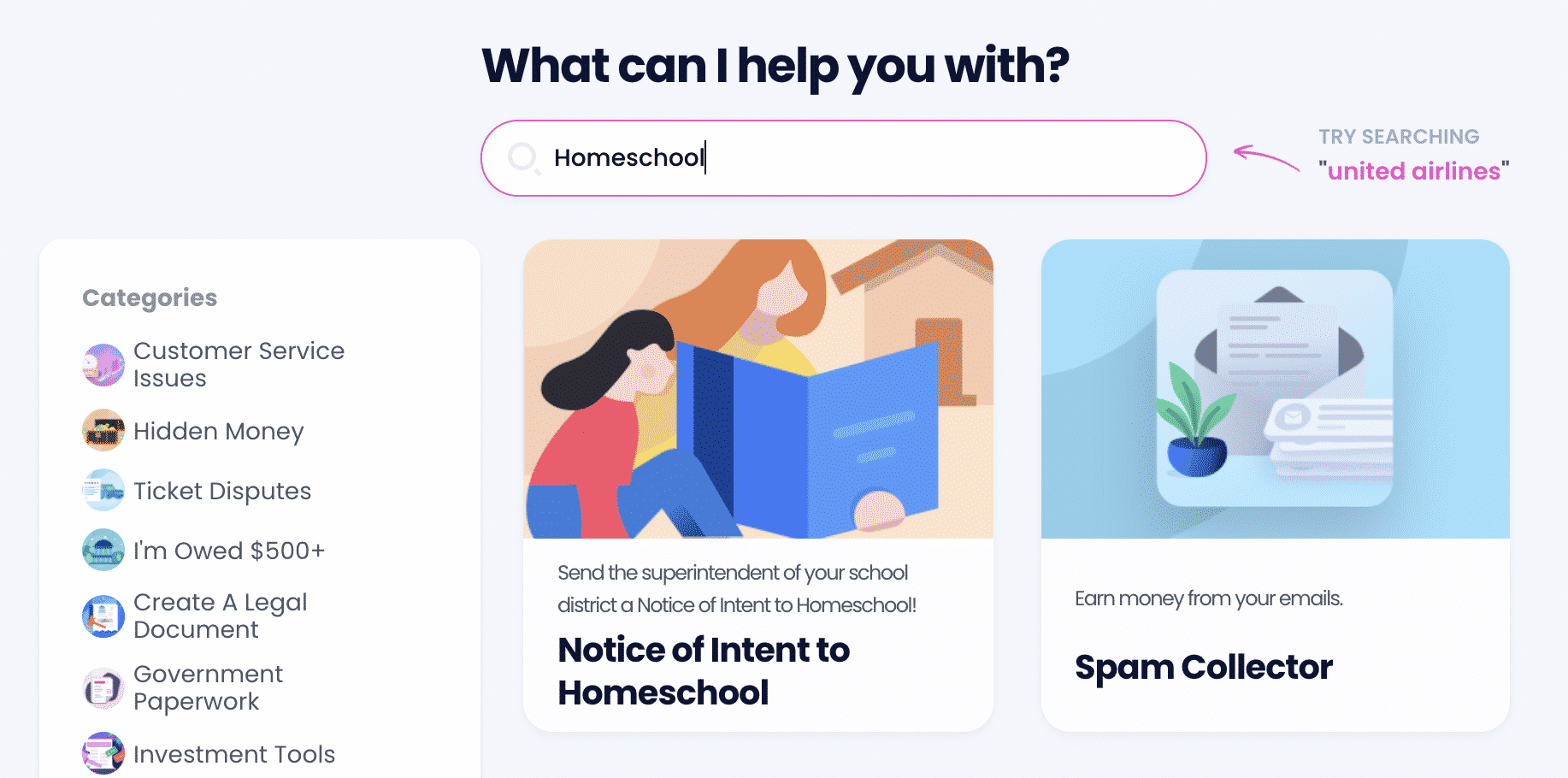 Use DoNotPay and Make a Smooth Transition to Homeschooling
If your state of residence requires you to send a letter of intent to homeschool to the school superintendent or submit the notice to the State Department of Education, trust DoNotPay to help you with the task. To receive the assistance you need from us, you only have to:
Select the Notice of Intent to Homeschool product
Provide us with the information about your school district
Answer some questions about yourself and your child
Our app can draft this document for you in a matter of minutes and let you choose whether you want to:
Have DoNotPay send the letter on your behalf
Download the PDF version of the letter and mail it yourself
Another option we include is helping you have your letter of intent to homeschool notarized. Select this option in our app, and we will connect you with an online notary and get your document notarized fast.
If you wish to learn more about homeschooling in America, our learning center offers you the answers to many questions, including:
Explore DoNotPay's Product Range
Are you looking for additional assistance from our app? We're happy to inform you that DoNotPay provides you with a number of useful tools that you can use to complete mundane tasks in the blink of an eye! Sign up for our app and let us help you get:
DoNotPay Resolves Your Financial Issues in a Few Taps
You don't have to struggle to figure out how to resolve financial problems yourself when you have our app at your disposal. In only a few clicks, you'll be able to discover any unclaimed money under your name, submit insurance and warranty claims, or request compensation for delayed flights.
But that is not all! Lowering your utility bills, appealing parking tickets, or canceling memberships and subscriptions is also something you can do in no time and with minimum effort if you use DoNotPay! Work smarter, not harder!