Looking for a Mississippi Homeschool Association? DoNotPay Has the Info You Need!
Deciding to homeschool and then trying to figure out how to do it can be a lonely and overwhelming prospect.
As a parent and teacher, you are in danger of burning out as you try to juggle the demands of your child, working to a curriculum, and staying within homeschooling laws all at once.
Help is available in Mississippi, though, with a support network of like-minded people.
DoNotPay looks at the Mississippi homeschool association setup and shows how it can help you cope with the demands of homeschooling!
What Is a Homeschooling Association, and What Does Mississippi Offer?
Homeschooling associations are volunteer groups that aim to help homeschooling families with:
Clarification of state homeschooling laws
Events, forums, and meetings
Interaction with state lawmakers
In Mississippi, the largest such group is the Mississippi Home Educators Association (MHEA), which offers a wealth of advice and support for homeschoolers in the Magnolia State.
The MHEA is a faith-based organization, but it does not exclude families that are homeschooling for non-religious reasons.
Among its services, the MHEA offers:
An annual homeschooling conference
A Capitol Day event at the state capitol building
Local affiliated support groups covering 36 of the state's counties
What Are the Mississippi Laws on Homeschooling?
Mississippi is an easy state to homeschool your kids in.
Whereas many states regulate homeschooling heavily, the Magnolia State imposes few limitations on:
Teaching qualifications
Record keeping
Graduation criteria
Teaching Qualifications
As a parent intending to homeschool your child, you do not have to have any formal teaching qualifications in Mississippi.
If you feel confident in your subject knowledge and teaching ability, you can teach your homeschooled child with no certification necessary.
Record Keeping
Mississippi does not require you to keep formal records of your child's schooling, achievements, or attendance.
It is a good idea to keep track of your child's progress with a yearly portfolio, though, as this will enable you to:
Spot any education gaps and close them
Re-enroll in public schooling if necessary
Apply to college more easily after high school graduation
Graduation Criteria
Although your child must attend school—either a recognized schooling facility or a homeschool—up to the age of 17, you can determine your own criteria for graduation.
You should align your graduation requirements to the public school system and your school district's expectations, though. By doing this, you can make sure your child can fulfill the entry requirements of the college they plan to attend.
How Can You Choose a Curriculum?
The MHEA offers a wealth of resources for choosing and planning a curriculum for:
Elementary schooling
High school
Special needs education
Your choice of curriculum should depend on your:
Child's learning preferences
Experience and ability as a teacher
To set up a curriculum, you need to understand the Mississippi educational framework and the requirements of the state Subject Area Testing Program (SATP). Once you are clear on what needs to be taught, your curriculum choices are:
Curriculum Options
Explanation
Designing your own curriculum
If you are confident in your abilities as an educator, you can design your own curriculum and lesson plans, with the advantage that you:

Are free to choose the subject matter you want
Can mix teaching styles and methods to suit your child
Can engage outside help on subjects you don't feel comfortable teaching
Have the freedom to plan timetables according to your availability

Purchasing a curriculum package
Numerous suppliers offer curriculum packages for every school grade and many special circumstances. A pre-designed curriculum package means that you:

Pre-packaged curriculum teaching does limit you to a specific learning approach, though, so you should be careful that the educational methods you choose will get the best out of your child
How Do You Start the Homeschooling Process in Mississippi?
You can start homeschooling in MS at any time of the school year, but you need to make sure you comply with state laws on homeschooling.
Before you take your child out of school, you need to signal your intent to homeschool by sending a certificate of enrollment—effectively a letter of intent—to your school district or private school.
The deadline for sending the certificate is September 15 each year, but you can also send it at any time during the school year. If you neglect to send the notification, you will be given ten days to rectify the situation, after which your child may be deemed guilty of truancy.
DoNotPay knows that you have a lot on your mind when you begin your homeschooling journey, so we can take over the task of notifying your school district for you.
Our Notice of Intent to Homeschool product gives you !
DoNotPay Gets You Off to the Right Start in Mississippi!
Homeschooling is a huge leap, but DoNotPay is here to hold your hand!
Our Notice of Intent to Homeschool feature takes the major headache of complying with Mississippi homeschooling law away. Our letter of intent captures all the details required in Mississippi and makes sure nothing stands in the way of your homeschooling ambitions.
Here's what you need to do to get your letter prepared:
Go to our Notice of Intent to Homeschool feature
Answer the on-screen questions about you and your child
As soon as we have the details required in Mississippi, your letter will be created—you can choose to have it sent automatically or print it out to send on your own.
You don't need to have your letter notarized, but if you want the added verification, DoNotPay can get the job done with our online notarization service.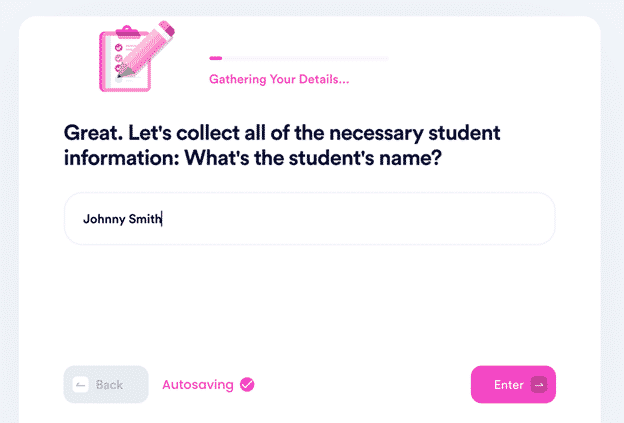 Don't Let Admin or Legal Issues Wear You Down—Hand Them Over to DoNotPay
Do you believe you may have some missing assets? Use DoNotPay's nifty product before the government claims them! Have you ever wanted to enter sweepstakes without purchasing anything? Our app will sign you up for them quickly! Trying to figure out how to reduce your property taxes or utility bills? DoNotPay can show you the way. Want to avoid getting charged for free trials that never fail to auto-renew into paid subscriptions? We'll help you cancel them before they expire.
Anything else you may need? Check out how our app can:
Check Out Our Other Robust Products
It doesn't stop there—DoNotPay can help you send a defamation demand letter, create passport photos, get gift card cash back, get any document notarized, request access to public records, claim insurance and warranty, request a college application fee waiver, appeal parking tickets, and much more.
Sign up now to get access to any of our products for one low monthly fee!