The Ins and Outs of Homeschooling in Maryland
Moving your child from regular school to homeschool can be the best decision for the whole family. Once you gather all data about legal aspects and technical requirements regarding days, hours, and the curriculum, you're ready to go.
Keep in mind that state laws regulate education, so you must check the local legislation. This article provides the necessary information about homeschooling in Maryland. DoNotPay presents the specifics of the process so that you can make an easy transition.
Maryland Homeschool Laws
If you've set your mind on homeschooling in MD, you can do so legally under one of the following options:
Portfolio
Church umbrella
Church-exempt school umbrella
State-approved school umbrella
Maryland Homeschooling Under the Portfolio Option
To teach your child at home under the portfolio option in MD, you must take the following steps:
Submit an MD notice of consent form—Sign up for DoNotPay to:

Create your notice of intent to homeschool hassle-free
File it to the superintendent of your school district

Cover the required subjects—Homeschool classes in Maryland must include:

The English language
Physical education
Social studies
Science
Health
Music
Math
Art

Keep a homeschool portfolio—Your portfolio should contain:

Instruction details
Reading material
Samples of your child's writing, worksheets, and tests

Provide your child's portfolio for review—You need to present the portfolio if the superintendent requires it
How To Homeschool in MD Under the Church Umbrella Option
You need to follow these steps to meet Maryland homeschool requirements for the church umbrella option:
Choose a church umbrella—Once you pick a suitable church umbrella, you should join it
File a notice of consent—You have to submit the notice to the school district's superintendent
Provide the instruction—The church umbrella will:

Review your lesson plans
Visit your homeschooling location every year
Organize conferences for homeschool parents and teachers

Notify your church umbrella regularly—You must inform the church umbrella of your plans to:

Move
Select another homeschooling option
Continue or stop teaching your homeschooled student every year
Maryland Homeschool Under the Church-Exempt School Umbrella
Take a look at the following table to understand how to start homeschooling under the church-exempt school umbrella option in MD:
Steps To Take
Details
Pick a church-exempt school umbrella
You first need to find and join a church-exempt school umbrella, i.e., a school that is:

Operated by a church
Exempt from state school approval requirements

Submit a notice of consent
To take your child out of public school, you need to file the notice of consent form to the superintendent 15 days before starting homeschooling your child
Provide instruction for review
A church-exempt school umbrella can supervise your instruction through:

Reviews of textbooks and lesson plans
Periodic (telephone) conferences with parents

Verify your involvement
Every year, you need to inform your church-exempt school umbrella that you'll continue homeschooling or if you plan to:

Relocate
Terminate homeschooling
Switch to another Maryland homeschooling option
Homeschool in Maryland Under the State-Approved School Umbrella Option
If you'd like to homeschool your kid under the state-approved school umbrella option, you must:
Have a local school appoint a teacher—This teacher needs to provide:

Progress reports
Tests

File a notice of consent—As in all other homeschooling programs in Maryland, you must notify your school district of your intent to homeschool your child
Confirm your involvement regularly—You have to let your state-approved school umbrella know about any homeschooling plans and potential changes
Maryland Homeschooling Laws on Recordkeeping and Graduation
If you've chosen to homeschool your child under the portfolio option in MD, you must maintain records with relevant information, such as:
Grades
Attendance
Samples of your child's work
As the church and school umbrellas need to keep and issue all records and progress reports, you don't have to do it yourself if you've selected these Maryland homeschooling options.
While the Old Line State is not one of the easiest U.S. states to homeschool in, you don't need to fulfill any special graduation requirements in Maryland. Since homeschooled students cannot get a state-issued high school diploma, you can decide if your child will:
Volunteer
Receive credits
Take standardized tests
Attend some special courses
Keep in mind that if your kid wants to go to college, you should:
Research the college requirements
Adjust coursework to those specific criteria
Create a homeschool transcript
DoNotPay Can Help You Start Homeschooling Your Child Swimmingly
Besides providing important information about the homeschooling process, DoNotPay offers an efficient product that can generate the required notice of intent.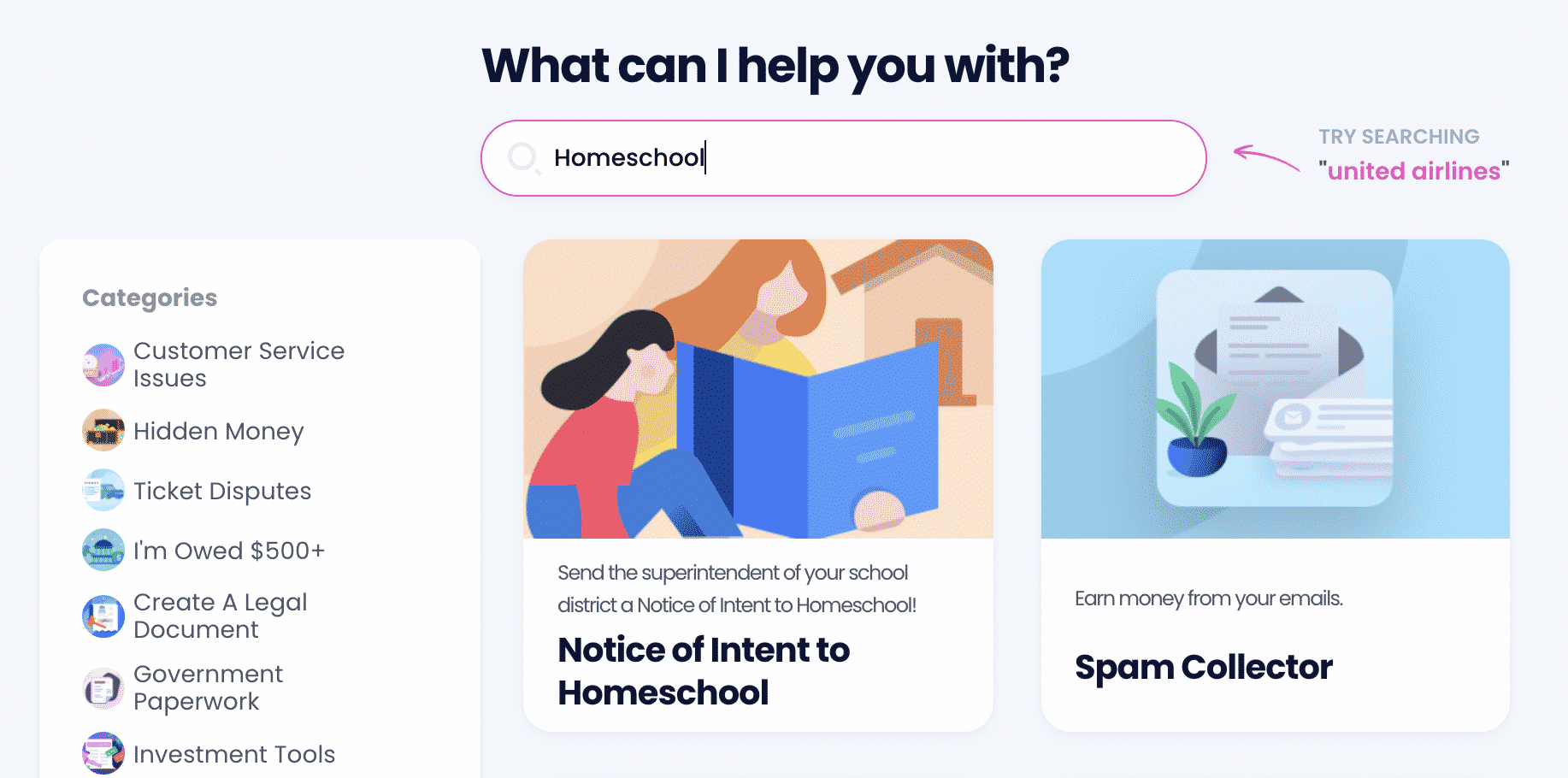 Would you like to access our fast and cost-effective solution? Subscribe to DoNotPay and:
Select the Notice of Intent to Homeschool product
Type in details about your child and yourself
Choose to:

Have your notice of intent notarized
Send the letter of intent via DoNotPay
Receive a PDF file to submit the notice of intent yourself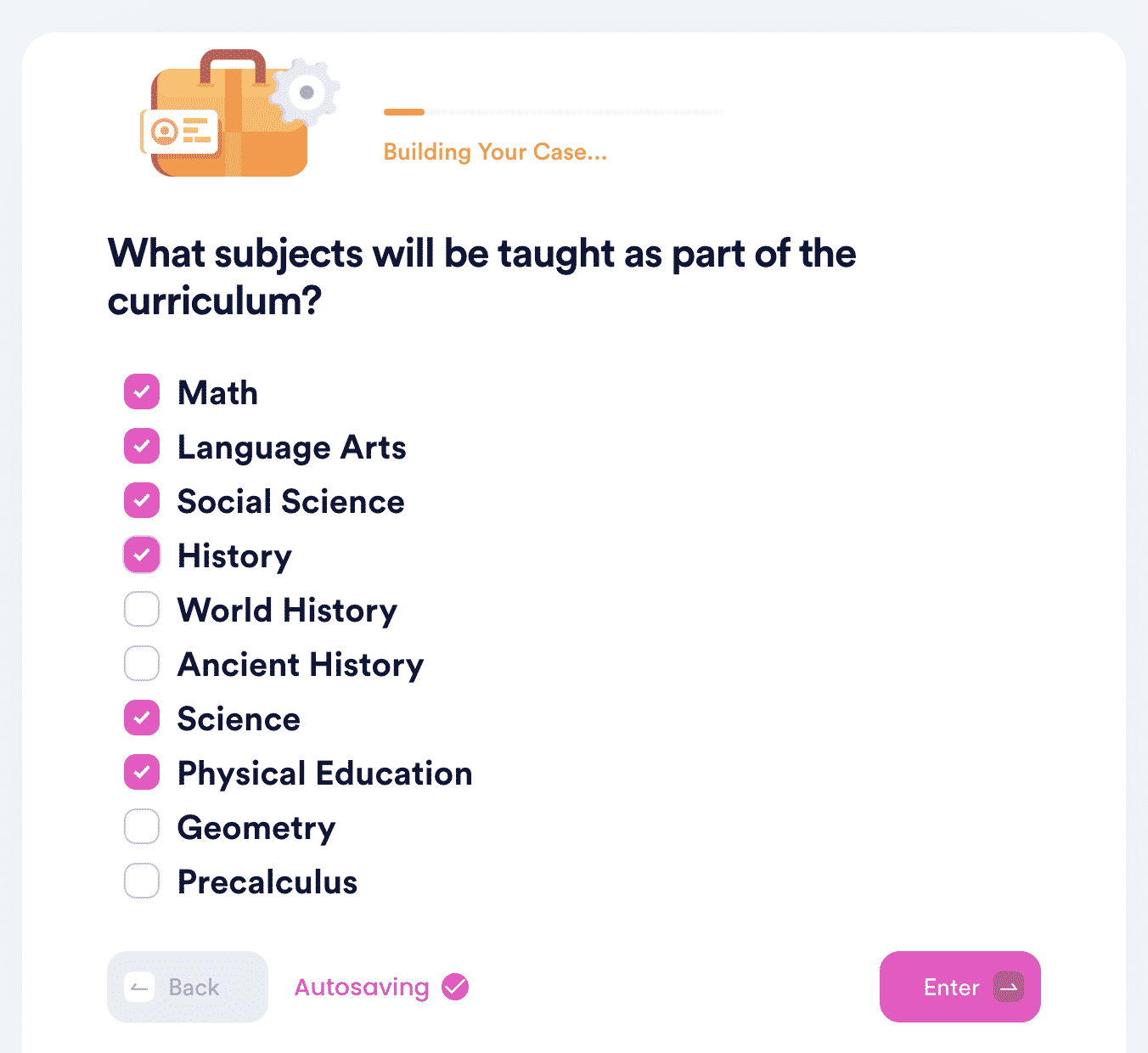 Explore various homeschool-specific issues with DoNotPay and find out:
Can DoNotPay Help Me With Any Other Admin or Legal Issue? You Bet It Can!
DoNotPay's robust products can assist you in fighting companies, individuals, and institutions that have wronged you in any way. Once you subscribe to our platform, we'll ensure that you never have to deal with any of the following again:
Our Product Range Offers So Much More
Subscribing to DoNotPay will bring you peace of mind as you won't have to go through tedious task completion on your own anymore. With our AI-powered app, you can get what's rightfully yours in the blink of an eye.
If you want to claim warranty or insurance, find your missing assets, get compensated for a canceled flight or a violent crime that you were a victim of, track your missing parcel, or draw up a child travel consent form, divorce settlement agreement, power of attorney, or any other legal document, you can count on us to lend you a helping hand.
Sign up today to get access to the entirety of our product range and forget about dealing with time-consuming and energy-draining chores!