Alaska Homeschool Laws—Everything You Should Know
Once you decide to homeschool your child, you need to do your research and find out what the laws in your state mandate for teaching at home. Some parts of the country have strict requirements, while other states have pretty lax homeschool statutes.
What group do Alaska homeschool laws fall into? DoNotPay offers a detailed guide to homeschooling in the Last Frontier.
Homeschooling in Alaska—What Are the Requirements?
According to the Home School Legal Defense Association (HSLDA), Alaska has the least restrictive homeschooling legislation, making it a perfect place for parents to teach their children at home. Here is a brief overview of homeschooling requirements in Alaska:
Number of homeschool hours—You should teach your child 180 days during the year, which boils down to four hours a day for grades 1–3 and five hours a day for grades 4–12
Mandated subjects—There are no mandatory subjects for homeschoolers in Alaska
Immunization requirements—There are none unless your child is a member of a religious private school
Assessment requirements—Religious private schools are solely subject to assessment requirements
Recordkeeping requirement—There are none, but it is recommended to maintain a student portfolio throughout the school year
What Are the Homeschooling Options in Alaska?
In the Last Frontier, there are four options to legally homeschool your child, as presented in the table below:
Homeschooling
Details
Under the homeschool statute
You can homeschool as long as you are the child's parent or a legal guardian. You don't need to:

Notify the state
Seek approval
Test
File forms
Have any teacher qualifications

With a private tutor
Any Alaska-certified teacher can homeschool your child
With school board approval
If your child is "equally well-served by an educational experience approved by a school board", they don't need to attend a public school. To homeschool under this option, you will need to submit a written request to the principal of the school your child attends
As a religious private school
To homeschool under this option, you will need to:

Submit a notice of enrollment to the superintendent
File the Exempt Religious and Other Private Schools Enrollment and School Calendar forms
Keep monthly attendance records
Maintain permanent records
Submit a corporal discipline policy
Not accept any state or federal funding
Comply with testing requirements
What Is the School Age in Alaska?
In Alaska, the law requires children between 7 and 16 to attend school. The only exception is a child who is six years old and is already in the first grade at a public school. If this is the case, the child needs to continue going to school unless you take them out of school within 60 days of enrollment.
What Is the Alaska Homeschool Allotment?
Alaska offers financial assistance to homeschooling families through the homeschool allotment fund. This aid should be used for purchasing school materials or reimbursing families who have already bought educational supplies.
How To Take Your Child Out of School in Alaska
If you want to start homeschooling in the middle of the year while your child is attending a private or public school, you should formally withdraw the child following the HSLDA recommendations.
If you want to begin teaching at home when the school year ends and your child is considered enrolled for the next year, you should withdraw your child before it starts. This way, the school won't mark your child as absent.
You should keep copies of the withdrawal letter and other paperwork for personal records.
Sending a letter of intent to homeschool is not necessary in Alaska as it is in most states in the U.S. In case you ever need to deal with this mundane task, you can count on DoNotPay to create the legal document for you.
DoNotPay Creates a Letter of Intent to Homeschool in a Jiffy
If you move from Alaska but decide to keep homeschooling your child, you'll probably have to submit a notice of intent to homeschool to the superintendent of the school district. The good news is that you can delegate this administrative ordeal to DoNotPay! Our app will create the legal document in a matter of minutes. You only need to follow these instructions:
Select the Notice of Intent to Homeschool product
Provide the information about your school district
Give us some details about you and your child
Once you've answered the chatbot's questions, you can choose to:
Have your letter of intent notarized
Download the PDF and send it to the school district yourself
Have us send the letter in your stead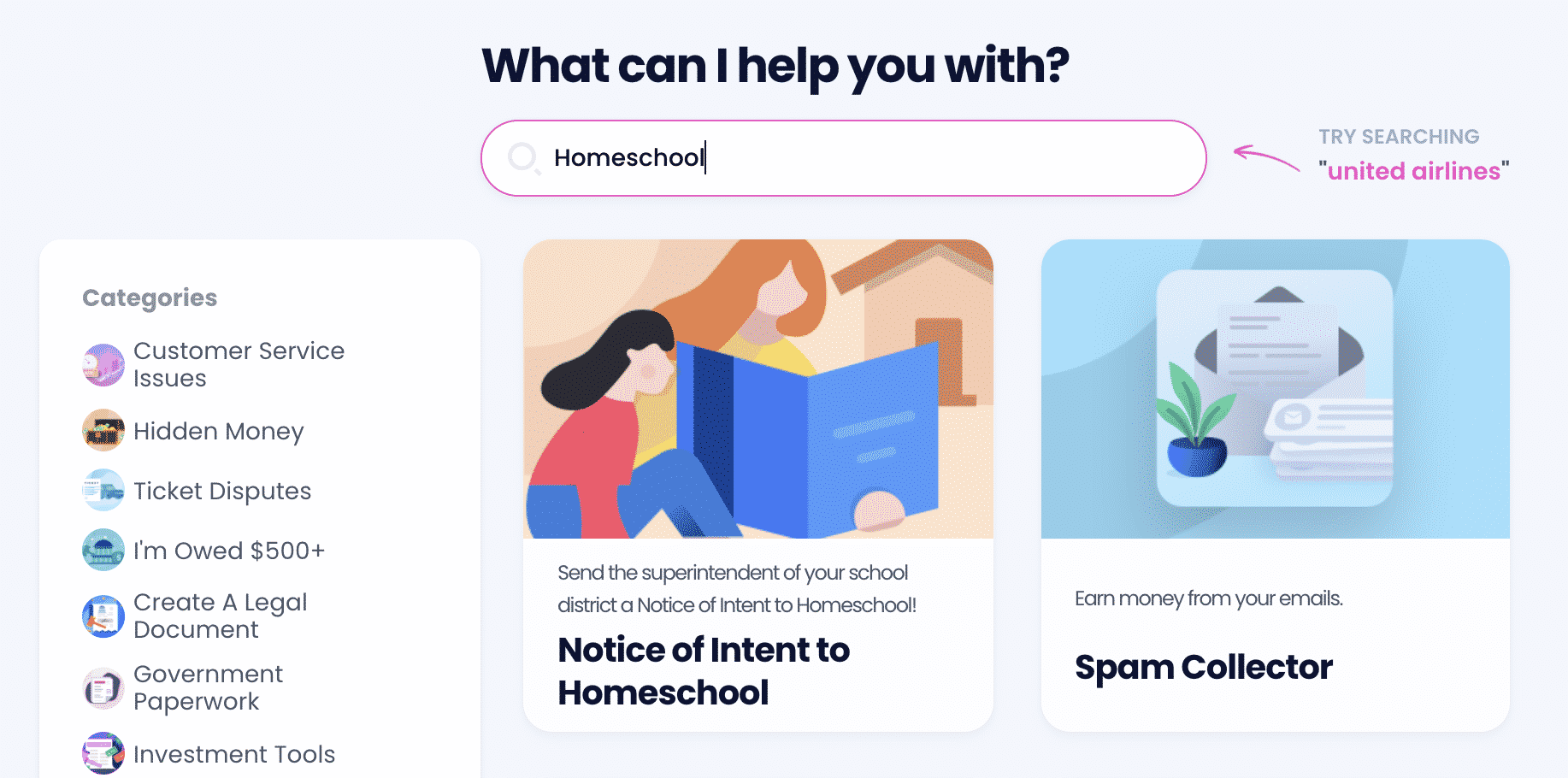 DoNotPay can also tell you:
DoNotPay Helps You Run Errands Without Leaving the Comfort of Your Home!
If you're on a tight schedule and you can't afford to spend hours running errands, DoNotPay steps in with a perfect solution! You can skip going to the post office to request an item return or visiting a notary public to get your documents notarized—Our app will help you get it all done without going anywhere!
Visiting your local Walmart to have your passport photo taken is unnecessary since DoNotPay can help you get it at home!
Consult the list below to see what other tasks you can complete using our app:
Unsubscribe From Unwanted Services at Any Time
Companies tend to keep charging their clients monthly subscription fees automatically if they don't end their subscriptions. Stop wasting money on forgotten memberships—DoNotPay will show you how to terminate your subscription in a few clicks!
You can also learn how to sign up for a free trial without getting charged, create a burner phone number or a virtual credit card hassle-free!