Delaware Homeschool Laws—The Essential Info
Numerous parents in the U.S. are homeschooling their children, but homeschooling laws differ vastly in each state, and not everyone has it as easy. Before you embark on the teaching-at-home journey, you should investigate the local homeschooling requirements.
Are Delaware homeschool laws strict or lax? to find out everything about home-based education in the Diamond State.
What Are Your Options for Homeschooling in Delaware?
Three options are available for homeschooling in Delaware. Check out the table below for more information:
Homeschooling Option
What It Means
Steps You Need To Take
As a single-family homeschool
Parents or legal guardians teach the students in their home

Report enrollment at the beginning of the school year
Report attendance at the end of the school year

As a multi-family homeschool
Homeschooling under this option includes parents or legal guardians teaching children from more than one family.

If you opt for this type, you will need to appoint a person to act as a liaison to the Department of Education.

The chosen individual will be responsible for submitting the attendance and enrollment information for all the families

As a single-family homeschool in coordination with the local school district
This option is similar to the first one. Students are taught at home by their parents and guardians, but there are more requirements

Contact the superintendent
Report enrollment at the beginning of the school year
Teach the same subjects as in the public schools
Report attendance at the end of the school year
Other Requirements for Homeschooling in Delaware
To learn more about homeschool-related matters in Delaware, refer to the following table:
| Requirements | Details |
| --- | --- |
| Who can homeschool | Parents or legal guardians |
| Attendance age | Children who are between 5 and 16 need to attend school |
| Homeschooling hours | There is no specific number of hours or days to homeschool |
| Mandatory subjects | The state does not mandate subjects unless you choose to homeschool as a single-family homeschool coordinated with the local school district |
| Curriculum | You can choose the homeschool curriculum yourself |
| Record keeping | Record keeping is not required, but you need to maintain and provide attendance records to your school district by July 31st of each school year |
| Required testing | No testing is required |
| Teacher requirements | You don't need to be a certified teacher to homeschool in Delaware |
Delaware Homeschool Support Groups You Should Check Out
Homeschooling doesn't need to be a solitary job, and becoming a member of a homeschool support group can be helpful. You can get reliable resources and learn from the experience of other homeschooling parents.
Joining a homeschool support group is beneficial for numerous reasons, including:
Guidance and fellowship
Group activities and special events
Up-to-date information on changes in homeschool legislation
Opportunity for your child to socialize
Homeschooling trips at a lower cost
Ideas for Homeschooling Trips in Delaware
Homeschool trips are a great opportunity for learning and quality family time. If you are a part of a homeschool support group, these trips are also an excellent opportunity for children to socialize.
Delaware has various spots worth a visit, including numerous museums and state parks perfect for teaching art, history, or science. Here are some of the ideas for you to explore:
Northern Region
Central Region
Southern Region
Use DoNotPay To Send a Letter of Intent To Homeschool
Home-based education is a full-time commitment, so the related paperwork can be an unnecessary burden. To make the process easier for beginners, DoNotPay helps with drafting a letter of intent to homeschool.
We can generate this document for you in the blink of an eye and send it to the superintendent of your school district, or you can download the PDf and mail the letter of intent to homeschool yourself.
These are the steps to take:
Choose the Notice of Intent to Homeschool product
Let us know the essential information about your family and homeschool district
If you wish, you can get your letter of intent notarized with DoNotPay's help as well!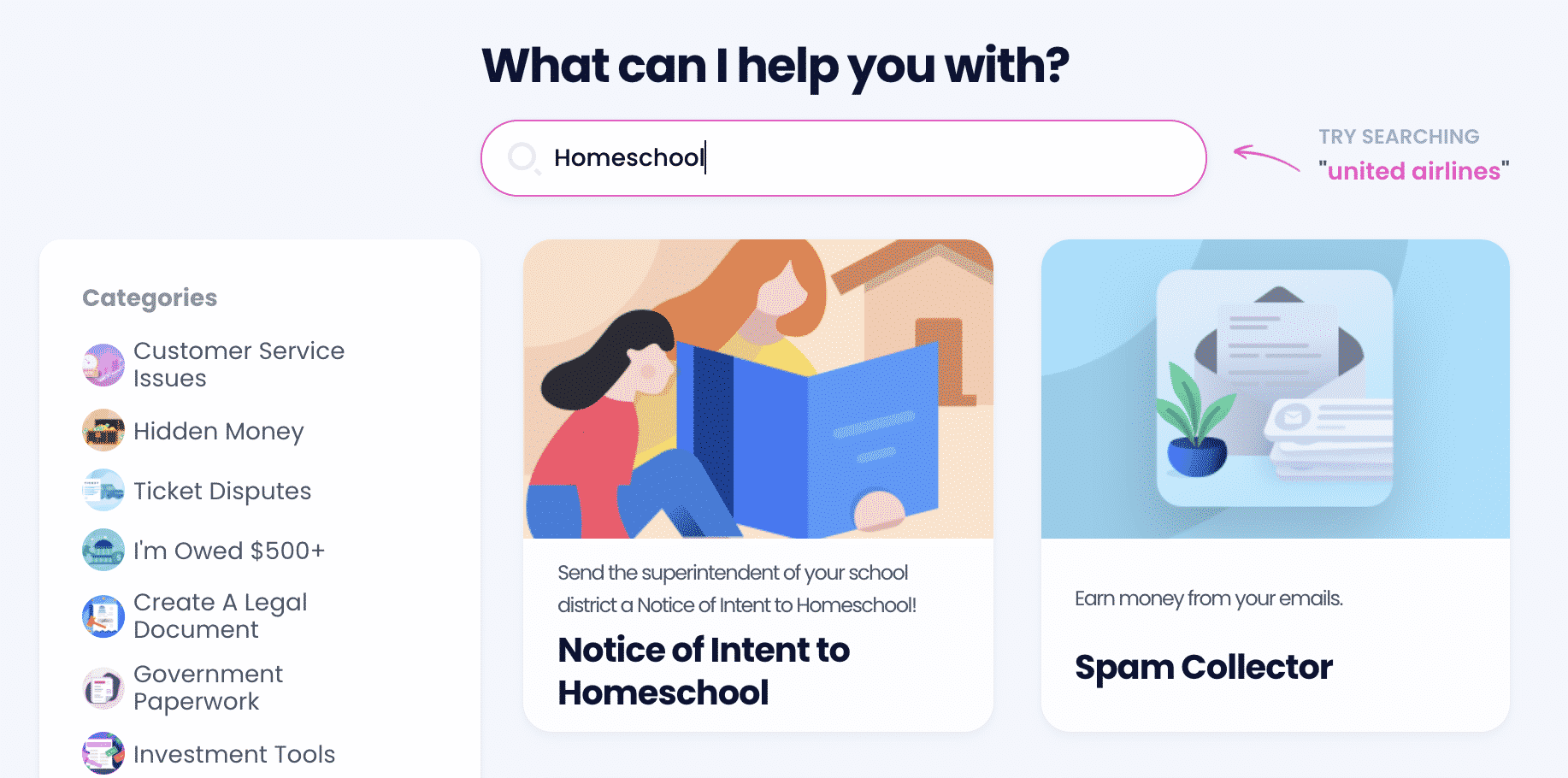 Here are some other homeschooling mysteries DoNotPay can solve:
Can DoNotPay Help Me With Any Other Admin or Legal Issue? You Bet It Can!
DoNotPay's robust products can assist you in fighting companies, individuals, and institutions that have wronged you in any way. Once you subscribe to our platform, we'll ensure that you never have to deal with any of the following again:
Our Product Range Offers So Much More
Subscribing to DoNotPay will bring you peace of mind as you won't have to go through tedious task completion on your own anymore. With our AI-powered app, you can get what's rightfully yours in the blink of an eye.
If you want to claim warranty or insurance, find your missing assets, get compensated for a canceled flight or a violent crime that you were a victim of, track your missing parcel, or draw up a child travel consent form, divorce settlement agreement, power of attorney, or any other legal document, you can count on us to lend you a helping hand.
Sign up today to get access to the entirety of our product range and forget about dealing with time-consuming and energy-draining chores!