Should You Join the North Carolina Homeschool Association?
Do you intend to homeschool your child in North Carolina? If so, you're in luck because NC is one of the easiest states to homeschool due to various support groups and the North Carolina homeschool association.
DoNotPay will tell you all about them and help you decide whether you should become a member or not. We can also help you figure out what your homeschool hours should be, which subjects you should pick, and how to excel at teaching. Check out our knowledge base to learn whether someone else can homeschool your child, when you can start homeschooling, how many homeschooled children end up going to college, and whether you need a teaching certificate.
What Is the NC Homeschool Association?
Founded in 1984, the North Carolinians for Home Education (NCHE) has been advancing legislation and making it easier for families to homeschool without heavy government involvement. The association provides resources for families, helps them get started, and turns their homeschool journey into a breeze. Their mission is to:
Encourage families to homeschool by providing them with essential info
Connect homeschooling families and groups all over the States
Protect North Carolina citizens' homeschool rights
Does the NC Homeschool Association Have a Curriculum?
The NCHE doesn't have a specific curriculum or methodology for homeschooling. Instead, they encourage their members to share their curriculums and methods with other teachers and parents.
What Does the NC Homeschool Association Offer?
The North Carolina homeschool association provides various activities and features, such as:
What the NCHE Offers
Details
Annual conference
The NCHE organizes an annual conference called 'The Thrive!,' which occurs in Winston-Salem in late May. It features:

National and regional speakers
Workshops
Activities for teens and alums
Children programs
Book fair of over 45,000 ft

Flagship magazine
The association has been publishing the Greenhouse magazine for 37 years. In the magazine, you can read about homeschooling methods, success stories, and important news for students and parents. It's available in:

Print—mailed to the NCHE members and gifted to NC legislators
PDF—available for download on the NCHE website
Online—published weekly on the official website

Legislative watch
The NCHE monitors state and national legislation for any changes that may restrict people's right to homeschool. They also support any positive legislation
Athletic commission
The NCHE athletic commission offers various sports, such as:

Baseball
Basketball
Cross country
Golf
Soccer
Swimming
Volleyball
Fencing

Graduation services
The association hosts a state-wide graduation ceremony for high school seniors. They also print a distinctive homeschool diploma
Social media pages
You can find the NCHE on Facebook, Instagram, Youtube, and Pinterest, and participate in homeschool-related conversations
Field trips
The NCHE organizes state-wide field trips once a month in different parts of North Carolina
How Much Does It Cost To Be an NC Homeschool Association Member?
Anyone who wants to join the NCHE can do so by paying $5 or more. The only requirement for joining families is to abide by North Carolina's homeschool laws.
Are There Any Homeschool Groups in NC?
There are various homeschool groups in North Carolina, including:
As Facebook is the primary platform for these groups, you should create an account if you don't have one already.
The main benefits of joining a homeschool group in NC are:
Field trips
Park days
Geography, robotics, 4H, and other similar clubs
Curriculum and book exchanges
Email loops and Facebook groups for information sharing
Organized athletic events
Opportunity to socialize and meet new people
Whether you decide to join the NCHE or one of the homeschool groups in NC or not, you will need a letter of intent to homeschool your child. With it, you notify your school district's superintendent of your wish to take your child out of a public or private school to homeschool. If you , obtaining and forwarding this letter is a piece of cake.
DoNotPay Helps You Draw Up a Letter of Intent To Homeschool Fast and Easy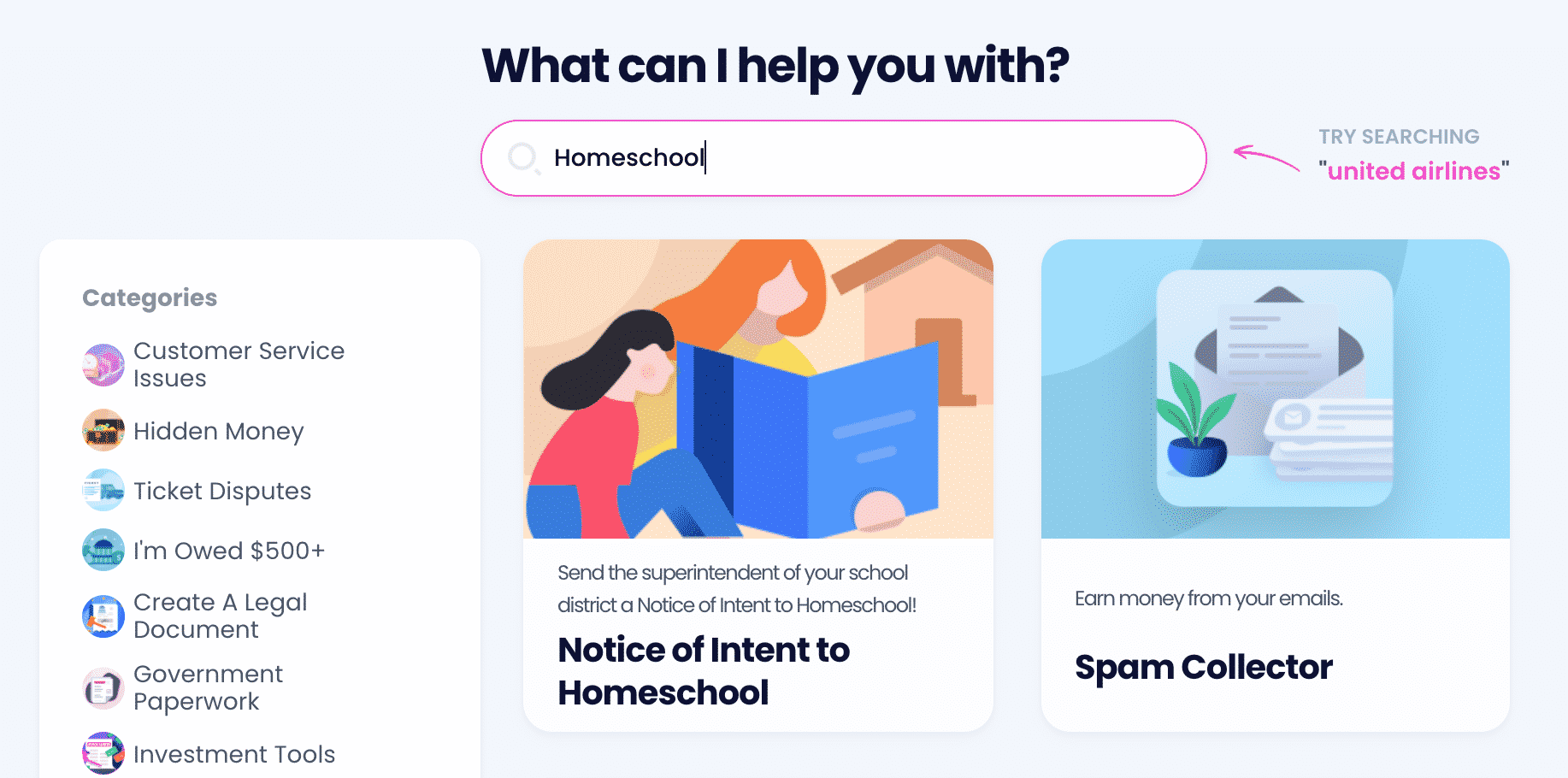 The first step you need to take if you want to homeschool your child is to write a letter of intent yourself or hire expensive lawyers to do it for you. If you want to save time and money, our AI-powered app can create this crucial document for you in a matter of minutes.
You'll only need to and:
Select the Notice of Intent to Homeschool product
Give us information about your child, yourself, and your school district
Hit Submit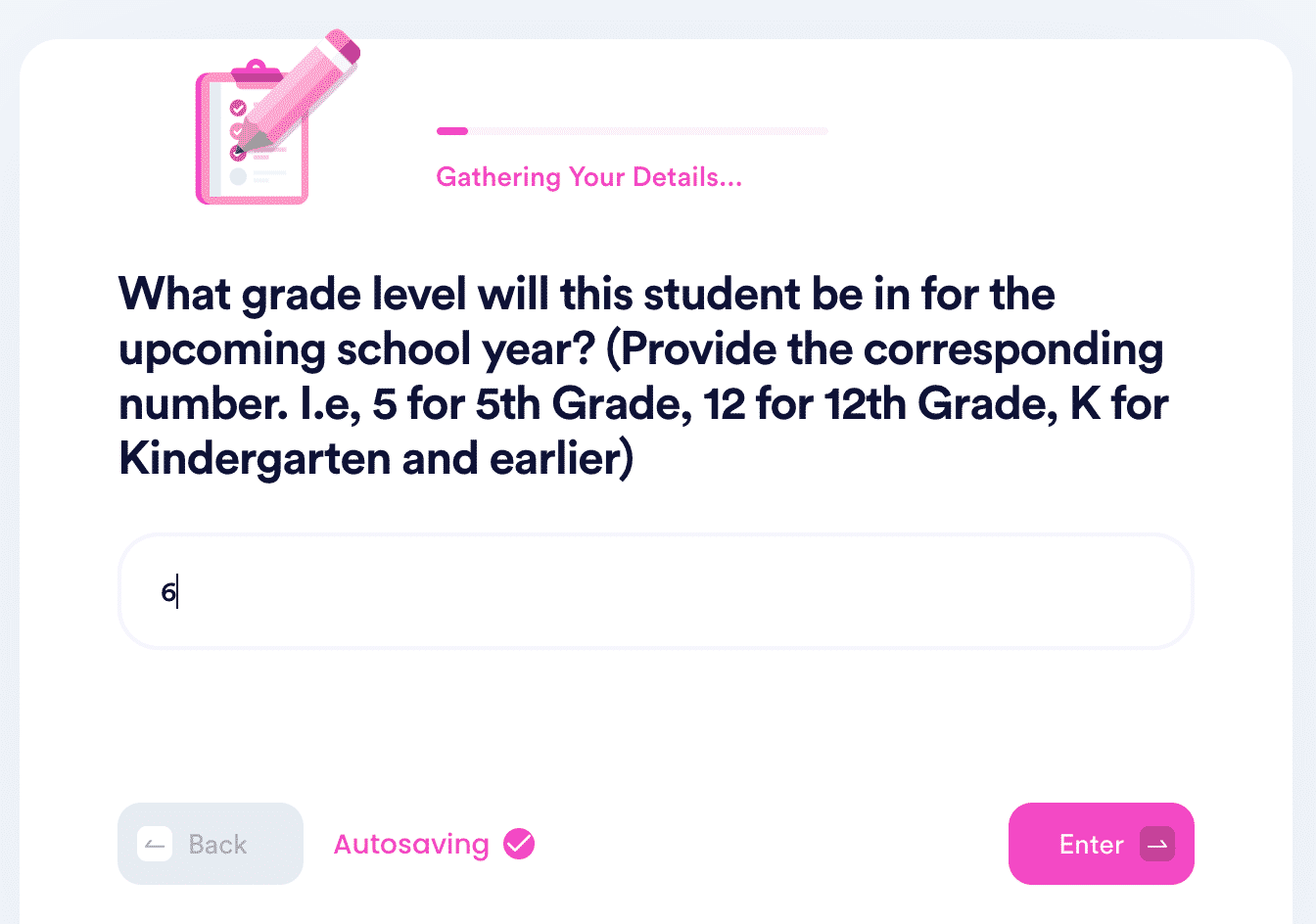 Once we process your request, we'll use the details you give us to generate a top-notch letter of intent according to your needs. We can then send it to you in PDF form or forward it to your school district's superintendent in your name.
Want to have it notarized? Why not do it online? You can do it by following the link we send you via email.
If you're facing any issues on your journey to homeschooling your child, check out DoNotPay's learning center! We'll help you figure out the effects of homeschooling later on in your child's life and so much more!
Discover DoNotPay's Solutions to Mundane Tasks
Our product range doesn't end there—we can also help you sue anyone in small claims court, cancel any subscription, start a free trial risk-free with our virtual credit card, get refunds and chargebacks, send anything through online fax, pay your utility bills, demand airline compensation, and deal with your annoying neighbors.
As soon as you sign up, we can also put an end to robocalls, copyright infringement, email and text spam, and stalkers and harassers. Our app's abilities don't stop there either—get perfect passport photos, free raffle tickets, compensation for victims of crime, or insurance or warranty quickly!
There's So Much More We Can Assist You With
Check out how else we can help—DoNotPay can:
Sign up now to take advantage of our nifty products!