Getting Over the Learning Curve—The Homeschool Curriculum for Kinesthetic Learners
The choice to homeschool your child is one of the biggest decisions you can make as a parent. Apart from navigating intricate state laws, you need to figure out what teaching style is best suited for your kid. We present DoNotPay's guide to creating a homeschool curriculum for kinesthetic learners for those interested in a more hands-on approach.
We'll help you with the choice of subjects and provide study tips for this type of student. Sign up for DoNotPay, and learn how to get started in homeschooling.
The Importance of Choosing the Right Learning Style
If you're unsure how to homeschool your child, deciding on a learning style is a good place to start. Depending on their age and general disposition, kids have an affinity for a certain type of curriculum.
Based on the way information is communicated, we can categorize homeschool curriculum by learning style:
| Learning Style | Curriculum Description |
| --- | --- |
| Visual | Lessons centered around visual stimulation and demonstrations |
| Auditory | Teaching through music, singing, and oral lessons |
| Kinesthetic | Curriculum based on movement, tactile sensations, and multitasking |
The categories can serve as guidelines for parents who teach at home. By picking the right learning style, you'll likely increase the efficiency of your lessons and pave the way for academic success.
Many kids respond well to combining different approaches in one curriculum. You can add movement-based exercises to a homeschool curriculum for visual learners and vice versa. Don't be afraid of trial and error when coming up with your lesson plan.
How To Identify a Kinesthetic Learner
Kinesthetic learners typically share the following characteristics:
High levels of energy
Affinity for sports and athleticism
Slight issues with attention
Inability to sit still for longer periods
Exceptional motoric skills and muscle coordination
Parents occasionally confuse some of these characteristics for symptoms of ADHD. While studies have shown that kids with attention disorders benefit from a hands-on homeschool curriculum, the two aren't inherently linked.
If you can't identify what your child's learning type is, have them take a learning assessment. Know that it's not uncommon for kids to switch between different learning types as they grow older.
What Does the Hands-On Homeschool Curriculum Entail?
Kids who are kinesthetic learners need movement and tactile stimulation to stay focused. The hands-on homeschool curriculum is typically filled with interactive games, movement-based lessons, and exciting visuals.
The more dynamic your approach is, the easier it'll be for your child to retain information. You don't have to be a teacher to come up with an effective kinesthetic homeschool curriculum.
When mapping out your hands-on homeschool curriculum, make sure you:
Choose lessons that can translate into this learning style
Come up with different activities and learning exercises
Research the cost in advance and create a budget plan for the activities
Keep the schedule light and include several shorter breaks. Excessive homeschooling hours can be counter-productive
Ask other parents for advice and exchange experiences
Study Hacks To Include in Your Homeschool Curriculum for Kinesthetic Learners
Motivating homeschooled students can be a Herculean task, especially when it comes to kinesthetic learners. Here are some study hacks you can incorporate in your kinesthetic homeschool curriculum for optimal results:
Use visual aids such as flashcards, interactive boards, projectors, and other
Play educational games that require participation, like Scrabble or Hangman
Give them props or toys they can touch, squeeze, and move around
Let them chew gum in class
Have them role-play as the teacher and ask them to explain the lesson back to you
Encourage them to perform. You can reenact scenes from books and history lessons using dolls and props
Make them multitask (e.g., standing on one leg while solving an equation, reading a book while sitting on a bouncy ball, etc.)
Organize educational trips and go outside
Incorporate arts, crafts, and music into your lessons
Don't Play Hooky With Administrative Tasks—Sign Up for DoNotPay and Generate a Letter of Intent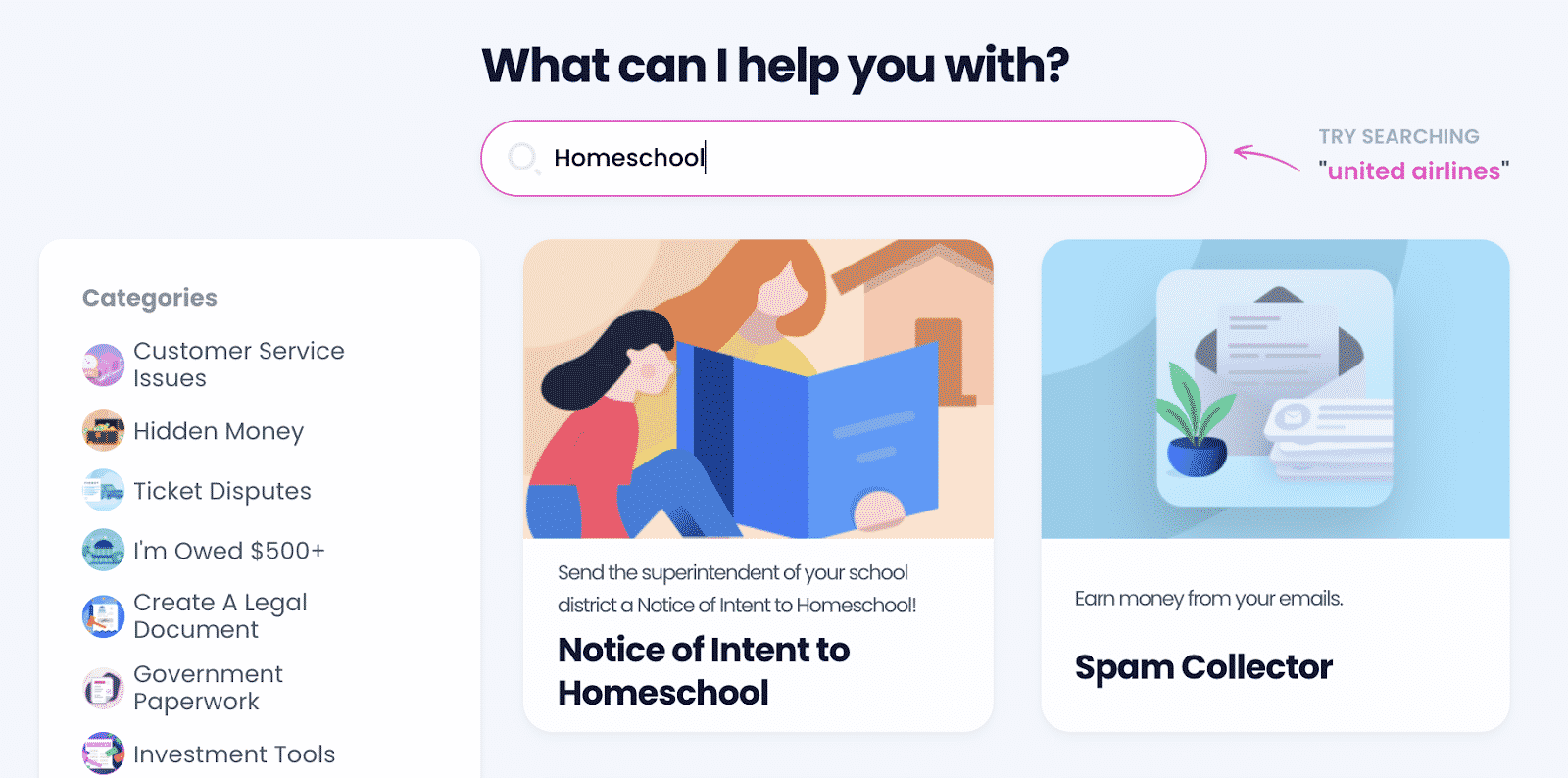 Before you take your child out of school, you'll need to compose a declaration of intent. You're obligated to inform the superintendent of your school district about homeschooling your child at the beginning of each school year, which is quite bothersome.
DoNotPay's Notice of Intent to Homeschool product can generate a declaration of intent within seconds. You can say goodbye to paperwork and focus on creating a stellar hands-on homeschool curriculum instead.
Here's how to use it:
Select the Notice of Intent to Homeschool product
Enter the information about your school district
Answer questions about yourself and the student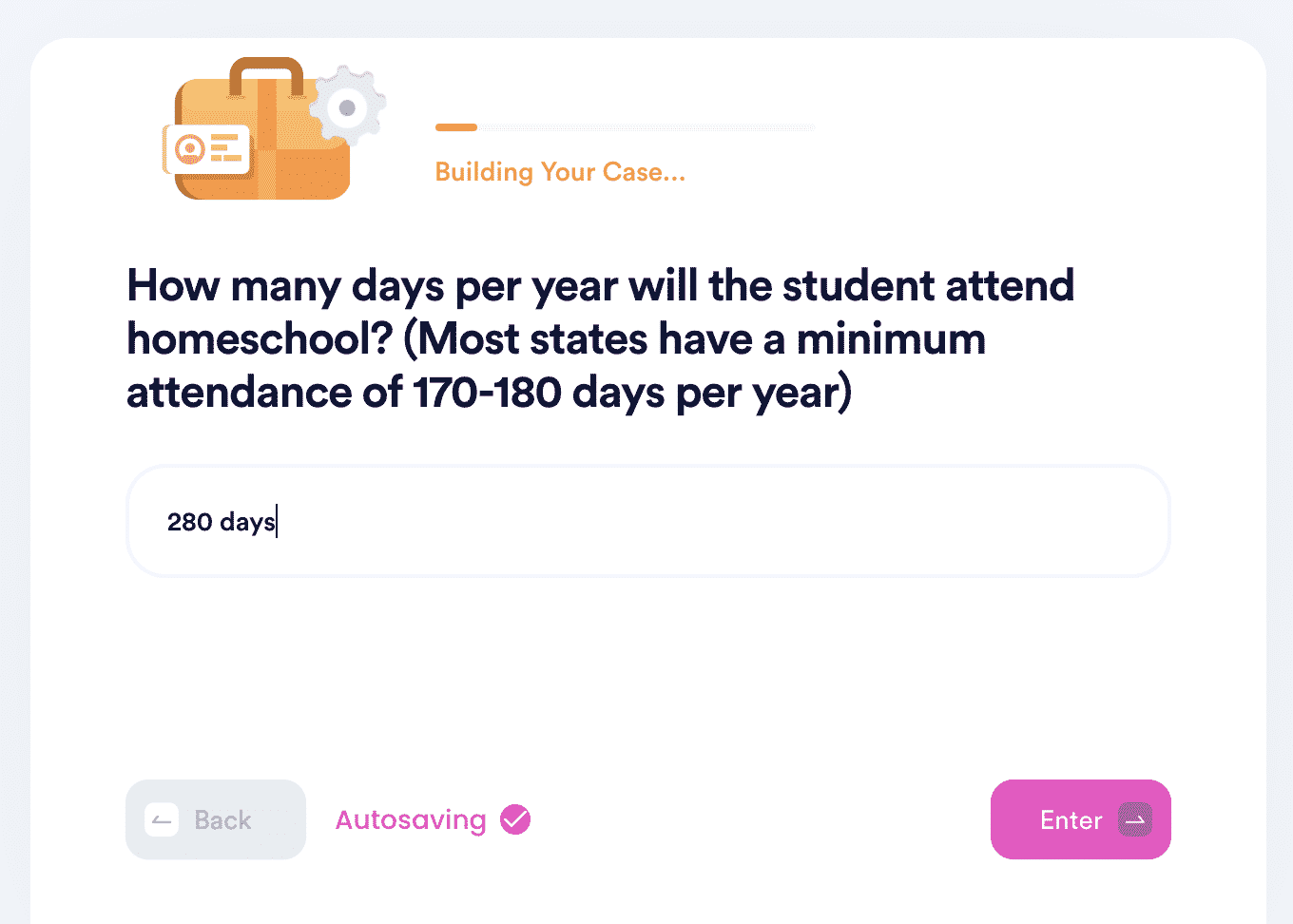 Once our robotic lawyer has composed your letter, you'll be able to print out a PDF version immediately. You can then get it notarized or let us send it for you.
Learn More About Homeschooling With DoNotPay
If you're still unsure whether you should homeschool your child, we can offer further guidance. DoNotPay holds an impressive library of articles, expert guides, and overviews of various homeschool-related topics. Apart from composing your letter of intent to homeschool, we can also provide reliable information on topics such as:
Don't Stop There—Check Out DoNotPay's Product Range
DoNotPay has many tricks up its sleeve—no matter the admin or legal issue at hand, our AI-enabled app can power through it in a split second. Look into our product range to find out how you can:
What Else Do You Need? DoNotPay Will Provide!
If you want to cancel a subscription before your free trial expires so that you don't get charged, you can count on our virtual credit card to do it in your stead! We can also make sure that you get what's rightfully yours—be it a refund, insurance, warranty, unclaimed money, flight refund, raffle ticket, or gift card cash back.
You no longer have to go through legal or administrative hurdles on your own—as soon as you sign up for DoNotPay, you'll get access to our app's assistance and will be able to use it to fight injustice.