A Complete Guide to Homeschooling in California
Homeschooling laws are not under federal jurisdiction, so every state has different regulations. Before you start teaching your child at home in the Golden State, you must research and understand the local homeschooling requirements.
to get the relevant information about homeschooling in California. We can also help you create and send a letter of intent to homeschool to the district's superintendent and take a portion of the administrative burden off your back.
How To Homeschool in California—Your Options for Teaching at Home
If you decide to homeschool your child in California, you can do so in three ways:
Via instruction by a private tutor
As a home-based private school
With a private school satellite program (PSP)
Homeschooling via Instruction by a Private Tutor in California
To homeschool with the help of a private tutor in California, you need to meet specific requirements. Take a look at the table below for more details:
California Homeschool Requirement
Explanation
Homeschooling hours
The tutor must

teach

the

student

at least three hours a day, between 8 a.m. and 4 p.m.
Homeschooling days
The child must be taught for 175 days each school year
Attendance age
Children between six and 18 must attend school in California
California homeschool required subjects
The tutor should primarily teach the subjects taught in CA public schools. The lessons must be in English
Teacher requirements
Anyone can teach the child as long as they have the required California teaching credentials (including

parents

)
Homeschool curriculum
You can choose a curriculum you find fit
Assessment requirements
There aren't any
Immunization requirements
There aren't any
If you decide to homeschool under this option, you don't need to file a notice of intent to homeschool.
Homeschooling as a Home-Based Private School or With a Private School Satellite Program (PSP)
If you decide to homeschool under the option of home-based private school or with a private school satellite program (PSP), you must follow these steps:
Keep an attendance register
Teach in English
Cover the required subjects
Have a personal beliefs exemption or keep immunization records
Maintain a list of instructors with their qualifications and addresses
File a notice of intent to homeschool between October 1 and October 15 every year
If you need help with the last step on the list, you can use DoNotPay to handle this task!
Compose a Letter of Intent To Homeschool With DoNotPay' Help
The simplest way to create a letter of intent to homeschool is DoNotPay. We can draft a rock-solid legal document containing the required information. Here's what you should do:
Open the Notice of Intent to Homeschool product
Give us the required details about your school district
Answer additional questions about you and your child
If you want, you can download the PDF and send the letter to the superintendent yourself. In case you don't want to waste time on mundane chores, we can send the notice on your behalf. DoNotPay can also connect you with a remote notary, should you decide to get the document notarized.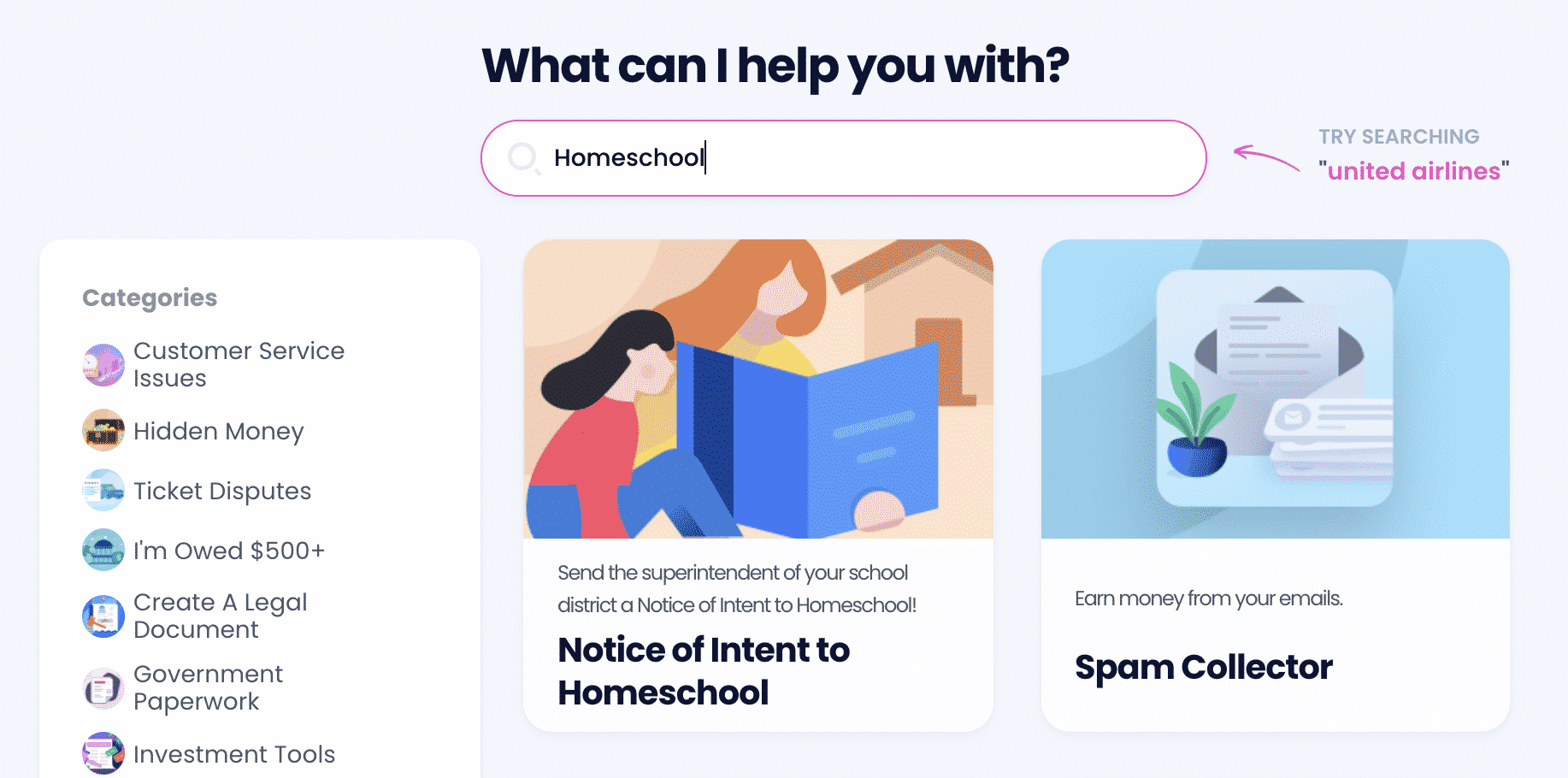 Field Trips To Consider When Homeschooling in California
Teaching at home comes with numerous benefits, including the field trips you find suitable. They are a fantastic opportunity for fun lessons and bonding with your child.
You don't have to spend much money on these trips if you find exciting locations near you. Here are some destinations you shouldn't miss in the Golden State:
Northern California
The Bay Area
Central California
The Greater LA Area
Southern California
The California Desert Region
Benefits of Homeschooling You Should Know About
If you are still deciding whether you should homeschool, you should know that teaching your child at home comes with numerous perks, including:
Keeping them in a safe environment without the fear of school shootings
Not having to deal with bullying or peer pressure
Having lessons specifically tailored for your child's learning needs
Spending more time together as a family
Being creative in combining various learning methods and materials
Do You Have More Questions About Homeschooling? DoNotPay Has Your Answers!
It is entirely normal to have numerous questions when embarking on the homeschooling journey. DoNotPay tackles the essential issues of home-based education, such as:
Can DoNotPay Help Me With Any Other Admin or Legal Issue? You Bet It Can!
DoNotPay's robust products can assist you in fighting companies, individuals, and institutions that have wronged you in any way. Once you subscribe to our platform, we'll ensure that you never have to deal with any of the following again:
Our Product Range Offers So Much More
Subscribing to DoNotPay will bring you peace of mind as you won't have to go through tedious task completion on your own anymore. With our AI-powered app, you can get what's rightfully yours in the blink of an eye.
If you want to claim warranty or insurance, find your missing assets, get compensated for a canceled flight or a violent crime that you were a victim of, track your missing parcel, or draw up a child travel consent form, divorce settlement agreement, power of attorney, or any other legal document, you can count on us to lend you a helping hand.
Sign up today to get access to the entirety of our product range and forget about dealing with time-consuming and energy-draining chores!