The Scoop on the Tennessee Homeschool Association
Getting started with homeschooling can be overwhelming. You need to arm yourself with patience and obtain lots of information regarding the legal aspects, subjects, and hours you must cover when teaching your child at home.
Becoming a member of the Tennessee homeschool association could provide you with the right info about the cost, suggested curriculums, and additional activities you and your homeschooled student can participate in.
Why Should You Join the Tennessee Homeschool Association?
You should consider becoming a member of the homeschool association since this organization:
Keeps track of state law changes and updates
Provides homeschool parents with relevant information and resources
Informs their members of all new requirements promptly
Besides the above-listed benefits, another advantage of the Tennessee homeschool association is that it connects homeschoolers from the same area, allowing members to exchange experiences and seek guidance from more experienced families.
Tennessee Home Education Association
Tennessee Home Education Association (THEA) is a statewide organization dedicated to:
Defending the rights of parents who choose to manage their children's education
Providing support and assistance to homeschooling families throughout the Volunteer State
You can join this Christian-led association at the state or local level as they offer dual membership.
While THEA has seven local chapters and area coordinators, they don't organize an annual Tennessee homeschool convention. Instead of one statewide event, THEA holds a few regional conferences and fairs you can attend.
Benefits for Tennessee Homeschool Association Members
You can get lots of data on the Tennessee Home Education Association website for free.
If you decide to become a THEA member, you could also enjoy the following perks:
Statewide THEA
Local Chapter THEA

Keeps track of state legislation to protect homeschoolers':
Represents homeschooling families in the:

Senate
House education committee

Organizes:
Cooperates with:

Media
Education agencies
Government officials
Tennessee homeschool groups

Offers help with homeschool curriculums
Organizes and hosts:

Academic and science fairs
Spelling and geography bees
Banquet and graduation ceremonies
Regional events, including conferences, workshops, sports activities

Provides:

Training for support group leaders
Support for Tennessee homeschool umbrella schools
Regional homeschool materials
Relevant area information via websites, social media, newsletters, and emails

Cooperates with local:

Media
Education agencies
Government officials
Tennessee Homeschool Groups and Co-Ops
Since Tennessee is not on the list of the easiest states for homeschooling, you need all the support you can get. Connect with THEA or local homeschool co-ops and groups to homeschool your child in the best possible way.
Here's a list of prominent Tennessee homeschool groups you could join:
Advantages of Tennessee Homeschool Groups and Co-Ops
Joining a Tennessee homeschool association, group, or co-op can provide homeschool teachers and families with all necessary information about the homeschooling process in TN.
You can easily find out:
Aside from getting support and connecting with other homeschool parents, you and your kid could also participate in various activities Tennessee homeschool groups organize, such as:
Field trips
Different clubs
Nature and sports days
Book and curriculum fairs
Start Homeschooling With a Notice of Intent To Homeschool
You need to draw up a notice of intent if you've decided to homeschool your child by registering an independent homeschool with your school district. This way, you inform the local director of schools and the principal of your kid's school of your intent to switch to home-based education.
to prepare a notice of intent quickly and without hassle.
DoNotPay Generates the Notice of Intent To Homeschool in a Few Clicks
Our AI-powered app knows the state and local regulations and can help you create a notice of intent to homeschool in a matter of minutes!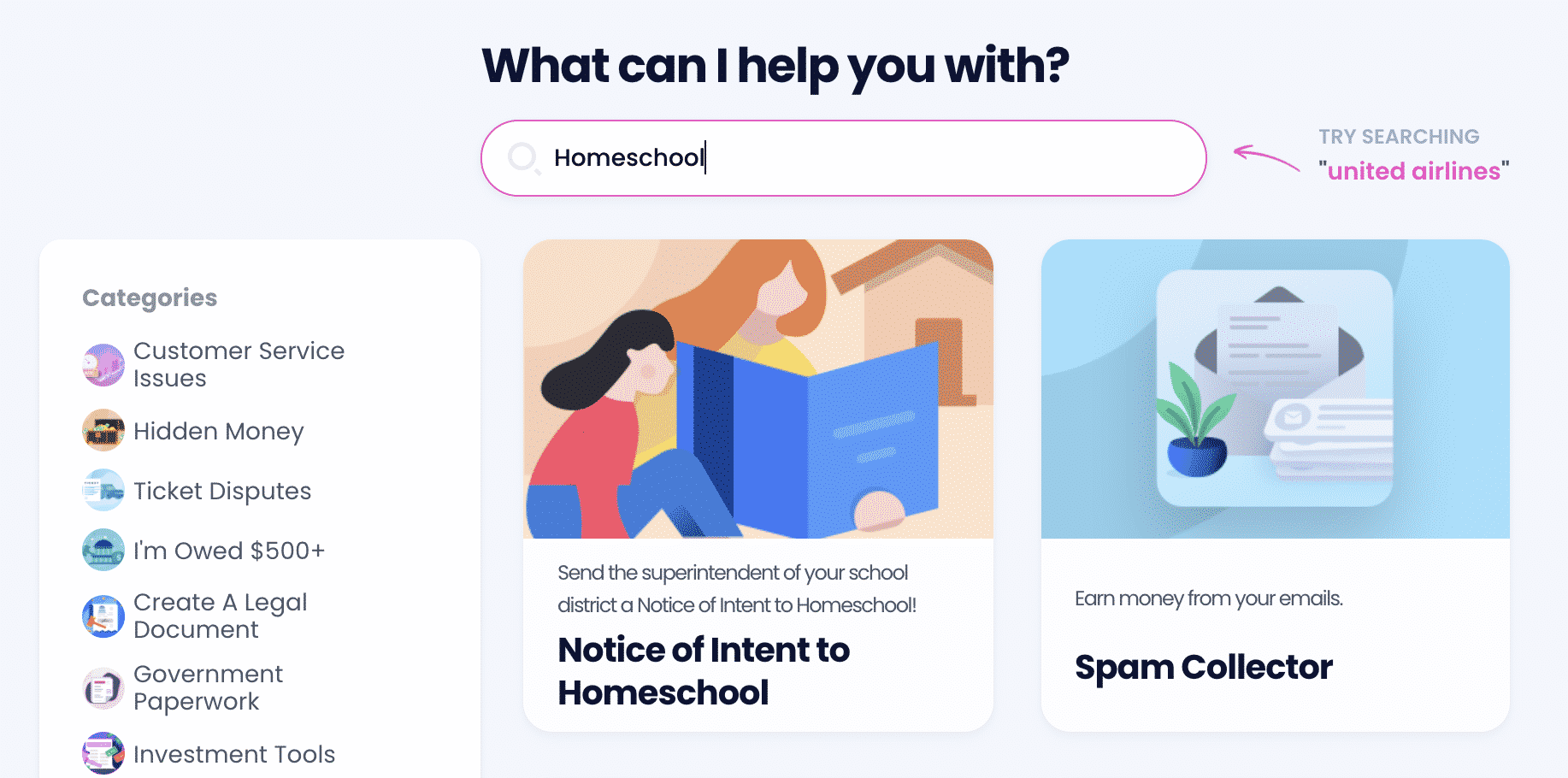 and take these steps:
Open the Notice of Intent to Homeschool product
Enter the necessary details about your family and school district
Choose if you'd like our app to:

Help you get your notice of intent notarized
Send the document on your behalf
Provide a PDF file you could print and file yourself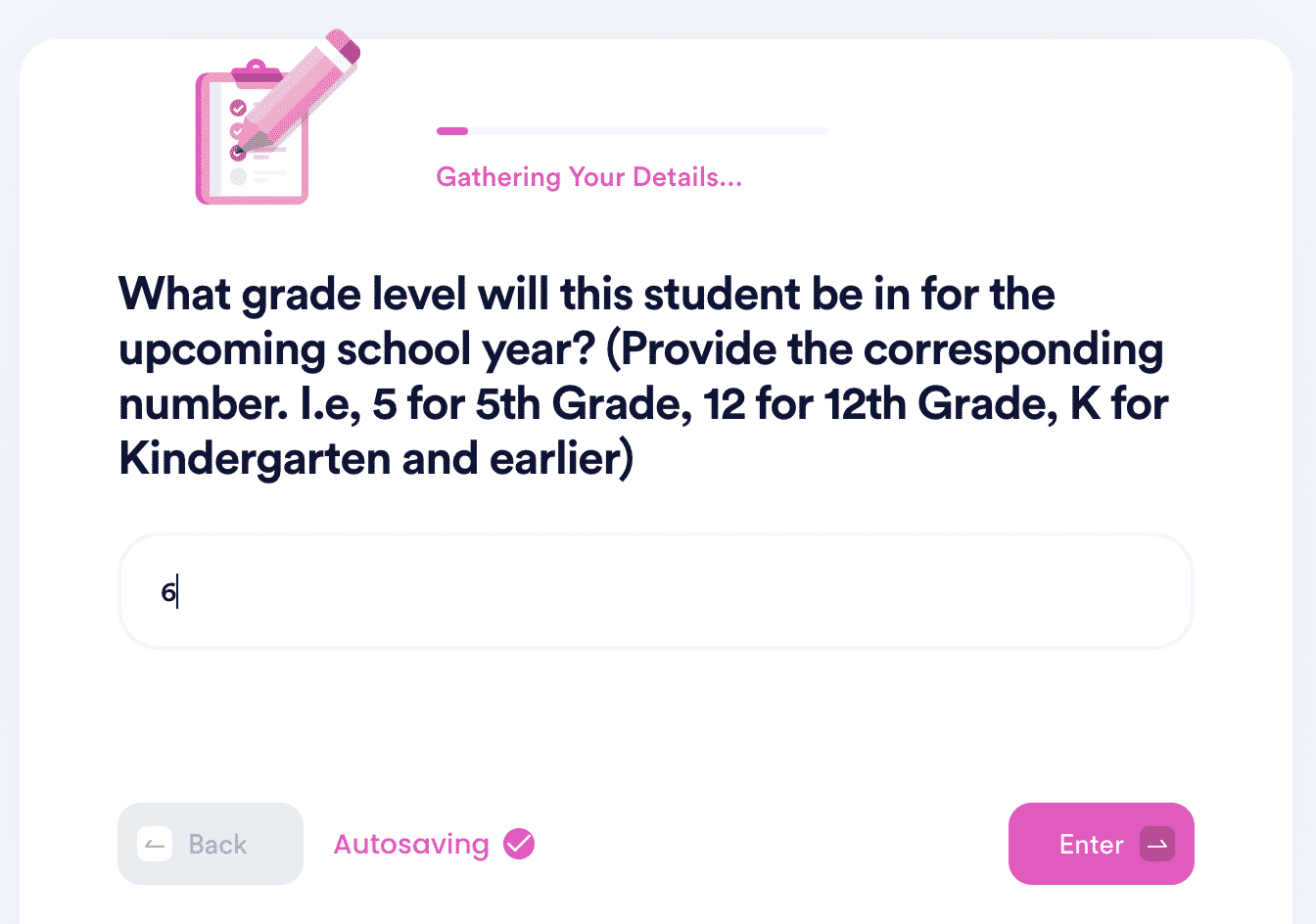 Would you like to explore the topic of homeschooling further? Use our learning center to clear up your doubts and find answers to the following burning questions:
Can DoNotPay Help Me With Any Other Admin or Legal Issue? You Bet It Can!
DoNotPay's robust products can assist you in fighting companies, individuals, and institutions that have wronged you in any way. Once you subscribe to our platform, we'll ensure that you never have to deal with any of the following again:
Our Product Range Offers So Much More
Subscribing to DoNotPay will bring you peace of mind as you won't have to go through tedious task completion on your own anymore. With our AI-powered app, you can get what's rightfully yours in the blink of an eye.
If you want to claim warranty or insurance, find your missing assets, get compensated for a canceled flight or a violent crime that you were a victim of, track your missing parcel, or draw up a child travel consent form, divorce settlement agreement, power of attorney, or any other legal document, you can count on us to lend you a helping hand.
Sign up today to get access to the entirety of our product range and forget about dealing with time-consuming and energy-draining chores!