The Scoop on Homeschooling in RI
Getting started with homeschooling can seem demanding since you need to deal with numerous different issues. You should get familiar with state laws, homeschool curricula, the related cost, and required hours.
If you'd like to know what's necessary for homeschooling in RI, this article offers the deets.
Laws on Homeschooling in Rhode Island
To homeschool in RI, you need to comply with the following state rules:
School is compulsory for all children age 6–17
Attendance in home-based schools should resemble that required for public schools

Homeschool parents

must keep attendance records and make them available to their local school district
Keep in mind that local school districts make most homeschooling regulations in RI. Besides the above-listed state criteria, you should check what local school district's requirements you'll need to meet.
Start Homeschooling in RI
Once you've decided to homeschool your child in RI, here are the steps to follow to comply with related legal requirements:
Steps To Take
Specifics
File a notice of intent to homeschool
You need to:

Notify your school district of your intent to homeschool your kid
Wait for approval from your school district committee

Withdraw your child from the current school
If your child already attends a regular school, you can take them out once you've received the committee's approval

Choose the curriculum

You can:
Cover the required subjects
To comply with RI state law, you need to

teach

the following subjects:

Writing
Reading
Arithmetic
Geography
History of:
Health and physical education
Principles of American Government

If your child is in:

The fourth grade, you'll also need to cover the history and government of Rhode Island
High school, you'll need to teach the Constitution of:

The USA
Rhode Island

Keep an attendance register
You must:

Keep and maintain an attendance register for your

homeschooled student

Present it to the school committee at the end of each school year
How To Keep Records for Homeschooling in Rhode Island
While RI state law requires you to maintain attendance records when homeschooling your child and submit them to your school district, your local school district might have additional demands. Keep in mind that some districts, for instance, could also mandate filing a report at the end of each year.
You should consider keeping a homeschool portfolio that includes:
Curriculum
Lesson plans
Samples of your kid's works
Progress reports or report cards
Scores in standardized tests
A portfolio might be useful for making transcripts in case your student wants to go back to public school or attend college.
Can a Homeschooled Student Return to a Public School?
Although some families choose to homeschool their children long-term, most do it temporarily. If you want your child to go back to public school after homeschooling in Rhode Island, you must:
Notify your school district
Register your kid with a local school
Keep in mind that some RI schools might require your child to take a placement test to confirm the grade level
Homeschooling in RI—Graduation Requirements
Once your student has met all requirements you've set for graduation, they become a homeschool graduate. You can prepare and issue a diploma to your child.
While there are no special state homeschool graduation rules to comply with, you might want to check the requirements of an educational institution your kid would like to attend.
You should design or adapt your homeschool curriculum to college requirements when deciding what coursework, tests, or extracurricular activities to cover at home.
How To Create a Notice of Intent To Homeschool
The first step you must take towards your homeschooling adventure is to prepare a notice of intent to homeschool and file it with your school district.
Your notice of intent must include your student's:
Aside from your child's information, you should also enclose
A copy of the chosen homeschool curriculum
A written agreement stating that you'll fulfill all state and local homeschooling requirements
Keep in mind that you cannot start homeschooling in RI until you receive a letter of approval from the school district committee.
to create a notice of intent that meets all legal criteria adapted to your specific situation.
Let DoNotPay Take Care of Your Notice of Intent To Homeschool
Since home-based education is as demanding as it is rewarding, dealing with additional paperwork can affect the quality of lessons and the learning process. DoNotPay jumps in to help with initial administrative hurdles by drafting a letter of intent to homeschool for you.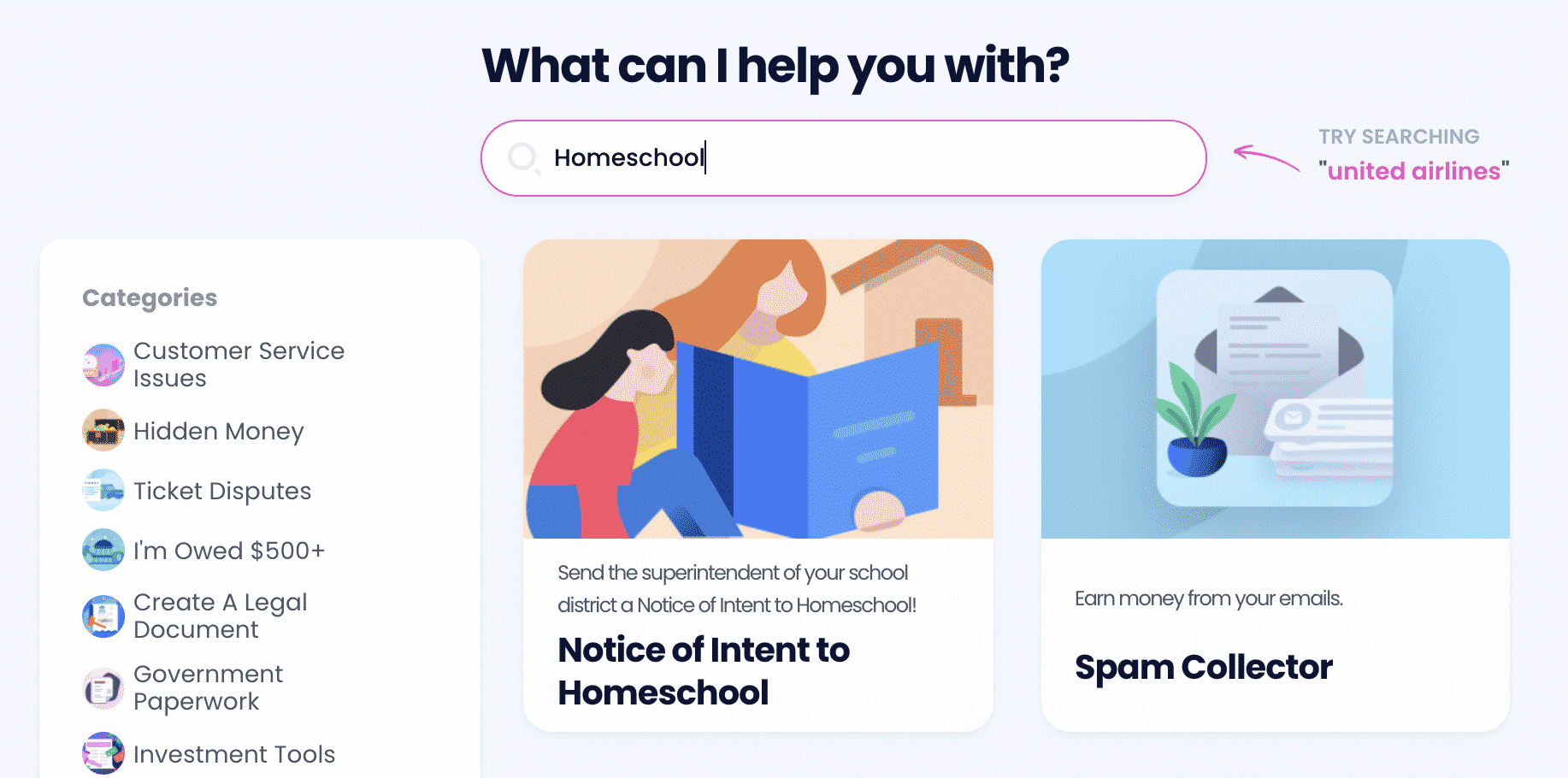 and take these steps to get this legal document easily:
Access the Notice of Intent to Homeschool feature
Enter information about your child, local school district, and yourself
Choose if you'd like DoNotPay to:

Help you get your notice of intent notarized
Send the notice of intent to your school district on your behalf
Deliver a PDF file to you so that you can file the document yourself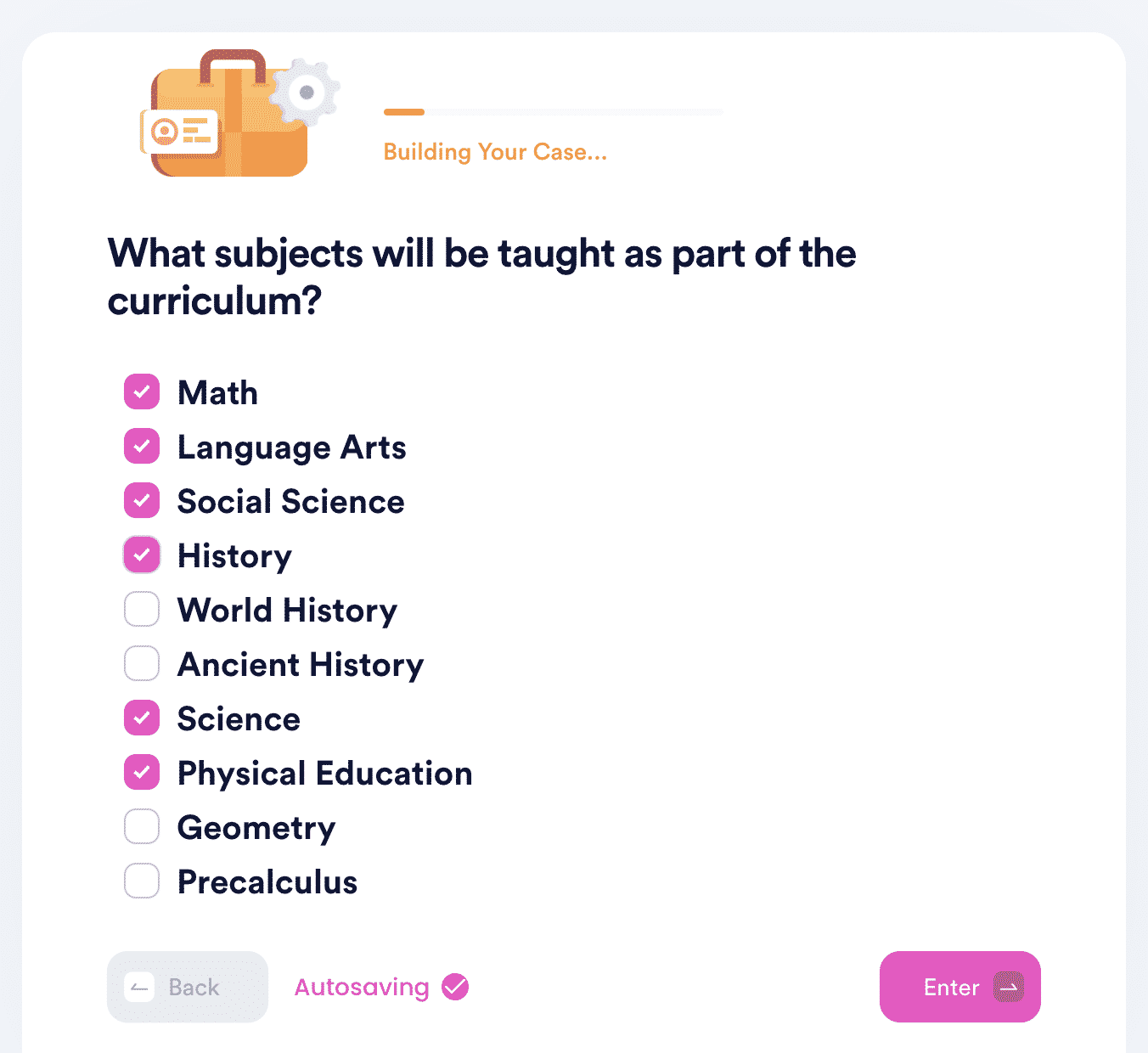 To get more information on the homeschooling process, check out our helpful articles and find out:
Why do parents homeschool

their children?
Should I join a homeschool co-op or association?
Can DoNotPay Help Me With Any Other Admin or Legal Issue? You Bet It Can!
DoNotPay's robust products can assist you in fighting companies, individuals, and institutions that have wronged you in any way. Once you subscribe to our platform, we'll ensure that you never have to deal with any of the following again:
Our Product Range Offers So Much More
Subscribing to DoNotPay will bring you peace of mind as you won't have to go through tedious task completion on your own anymore. With our AI-powered app, you can get what's rightfully yours in the blink of an eye.
If you want to claim warranty or insurance, find your missing assets, get compensated for a canceled flight or a violent crime that you were a victim of, track your missing parcel, or draw up a child travel consent form, divorce settlement agreement, power of attorney, or any other legal document, you can count on us to lend you a helping hand.
Sign up today to get access to the entirety of our product range and forget about dealing with time-consuming and energy-draining chores!