Homeschool Subjects From A to Z
Homeschooling is legal in all states, and each one has the authority to establish its own homeschool laws.
Some states are less restrictive than others—some might not even require that you teach specific subjects.
In this easy-to-read guide, DoNotPay gives you some useful tips on how to start your homeschooling journey and choose the best homeschool subjects for your child.
How To Choose Homeschool Subjects
When choosing homeschool subjects, refer back to the legal requirements for your state. If your state requires homeschooling parents to teach certain subjects, this will be an excellent place to start. Although some subjects may be required, you are still free to choose:
How you want to teach them
What kind of curriculum you will use
After you've decided on the main subjects you'll teach, you can narrow down your choices to focus on specific areas.
Here's a list of subjects you can include in your daily timetable:
| Art | Biology | Fashion | Geography | Physical Education |
| --- | --- | --- | --- | --- |
| Agriculture | Business | Film studies | Geometry | Philosophy |
| Anatomy | Chemistry | Finance | Graphic design | Physics |
| Architecture | Cooking | First Aid | Music | Politics |
| Astronomy | Cultural studies | Language arts | Literature | Psychology |
| Sociology | Writing | Photography | Reading | Religion |
| Science | Mathematics | Sport | Zoology | Etiquette |
Most parents choose to teach traditional subjects, like language arts, math, science, and history, but you are free to add as many secondary subjects as you want.
You can always change your mind about certain subjects and curriculums if they're not the right fit for your child.
Choosing Homeschool Subjects Based on Grade Level
To help you get a better idea of what basic subjects would work well for your kid, you could choose based on your child's grade level. Check out the table below to get an idea about what your elementary or middle school kids might need:
Grade Level
Subjects
First and second grade

Reading
Writing
Maths
PE
Arts

Third to fifth grade

English
Maths
History
Science
PE
Arts

Fifth to eighth grade

English
Maths
History
Science
Social studies
If you have more kids, choose subjects you can teach at the same time even though your children are at different grade levels (for example, history and arts).
The Best Homeschooling Tips for Beginners
As a beginner in homeschooling, you need to pay attention to a few other aspects of teaching at home, besides choosing the right subjects.
To make homeschooling successful, consider doing the following:
Create a designated learning space
Define a homeschool schedule
Adjust your teaching style to your child's needs
Join a local homeschool group or a co-op
Find interesting online courses
Take learning beyond the classroom
Make sure your child socializes with other children
Remember that homeschooling is not free—the average cost per child per school year ranges from $700 to $1,800
Do You Need To Be a Certified Teacher To Homeschool Your Child?
You don't need to be a certified teacher to homeschool your child. Still, in some states, you'll have to have a high school diploma or GED. Depending on your location, you may have to report to a certified teacher as well.
You can teach your kids on your own, but that can sometimes be challenging. If you feel like you don't have enough knowledge to teach certain subjects or enough free time for homeschooling each day, you can hire a tutor.
Depending on the student's age and grade, one to five hours of homeschooling a day is enough.
Do You Need To Send a Letter of Intent To Homeschool?
Once you make the decision to homeschool (and take your child out of school if they are enrolled in one), you'll likely need to send a letter of intent to homeschool to your school district. You can do this whenever you want, even in the middle of the school year.
The letter of intent:
Protects you and your children from being charged with truancy
Relieves the school of the responsibility of educating your child
Sending a letter of intent to homeschool is not mandatory in every state. Take a look at the table below to find the requirements for your place of residency:
Is sending a letter of intent mandatory in your state? No need to mess with the paperwork on your own— and let us take care of it.
Let DoNotPay Submit a Letter of Intent in Your Stead
Why waste an hour or two on drafting a letter of intent to homeschool when our app can do it in minutes? Not only that—we can also send it straight to your school district superintendent! If there's a need for it, you can even get your document notarized virtually through our app.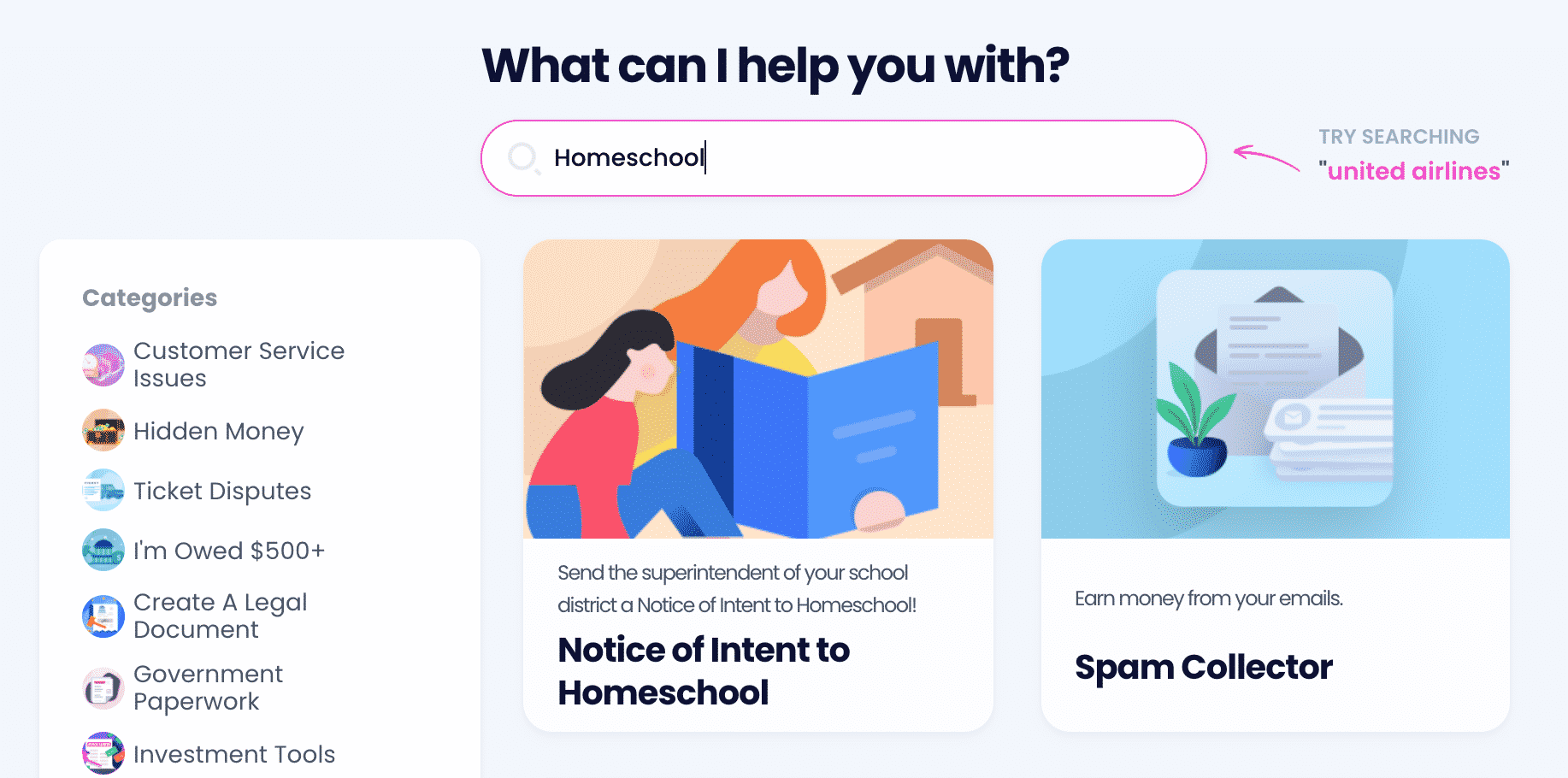 To make all of this possible, you'll need to:
Choose the Notice of Intent to Homeschool product
Answer a few questions from our chatbot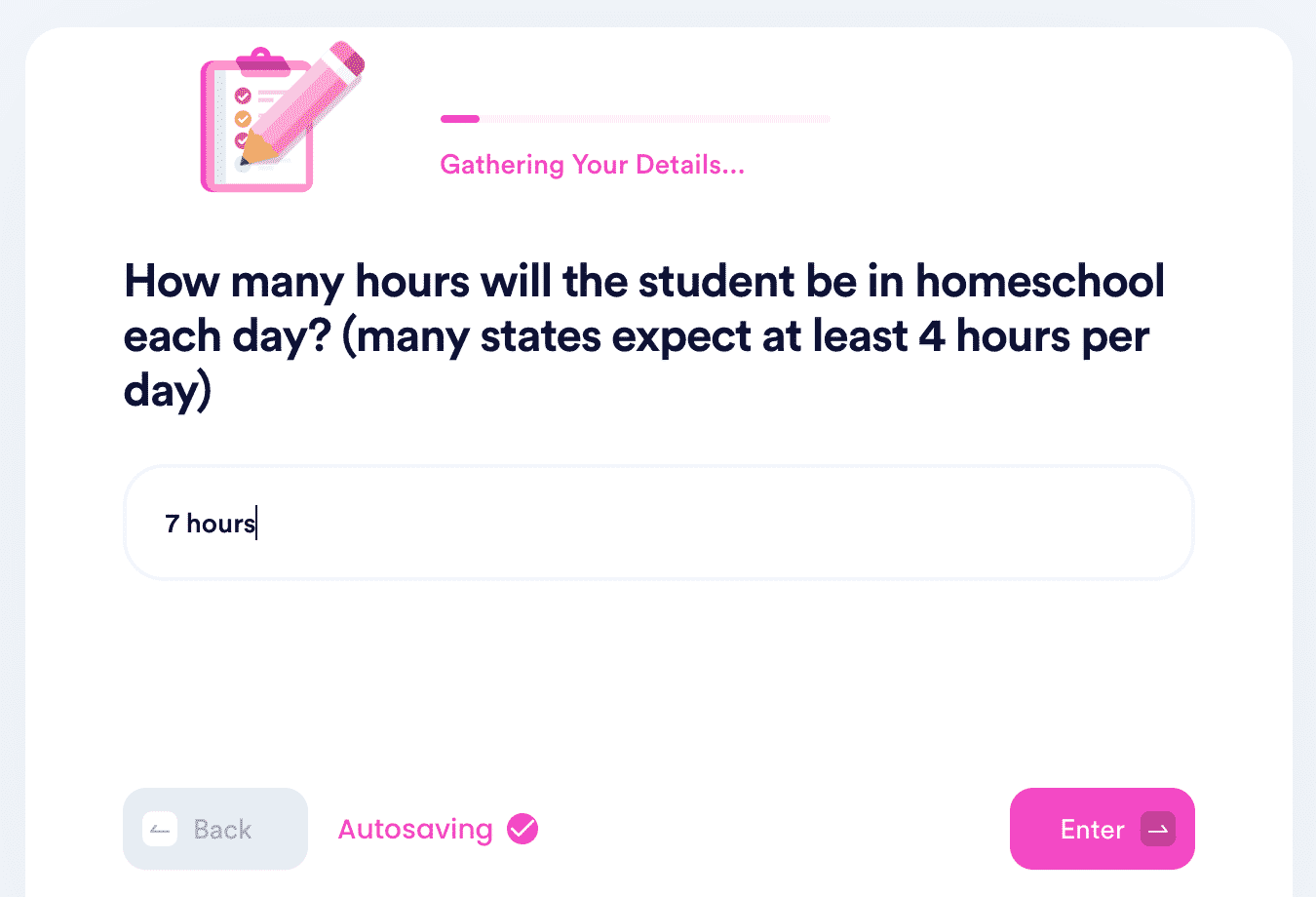 Resolve Any Other Issue You Have Swiftly With Our Assistance
The world's first robot lawyer is capable of tackling any legal or administrative task in your stead. We can draw up any legal document for you—including a power of attorney, child travel consent form, and divorce settlement agreement, to name just a few—help you sue any company or individual in small claims court, send a letter of warning to your noisy neighbors, help you reduce your property taxes and utility bills, and a lot more.
Sign up now if you want to stop email and text spam, claim any insurance or warranty, appeal parking tickets, schedule a DMV appointment in a flash, mail anything worry-free, find your missing assets, create passport photos, or contact embassies and consulates effortlessly.
Let DoNotPay Guide You Through Any Obstacle
Are you tired of corporations not taking their customers seriously? So are we, and that's why our nifty product will assist you in suing any company or individual in small claims court!
If you don't want to have any online service take advantage of you, you can sign up for any free trial completely risk-free with our virtual credit card's help, cancel any membership on time, and demand a refund or chargeback in a split second. DoNotPay can also draw up an airtight return request and send it to a company of your choice quickly.